Homesteading?
Homesteading keeps you busy!
This post is what our month to month homesteading to do lists look like in a given season. When growing food or homesteading it helps to set monthly goals and write lists of tasks that need to be done. When you know what your goals are you can create your own lists based from your ambitions that year.
Of course it's hard to get it all done, but it helps to have a bit of a guideline for what you hope to accomplish, learn, make, do etc.  I hope our seasonal flow can inspire you to create your monthly homestead to do lists.
I created these monthly homesteading to do lists as a guideline that you can check back on throughout the season. Its based heavily on growing and preserving food.


A note about these monthly homesteading to do lists
For these homesteading to do lists I don't write everything we harvest, for example we usually have a continuous supply of greens throughout the year, but I will mention the foods that are harvested specifically for those months in our growing zone 5. I talk about the foraging of wild foods as we're consuming more and more of them as the years go by. I also use Brassica very vaguely rather than mentioning all of them (broccoli, cauliflower, kohl rabi, kale, collard greens, cabbages, brussel sprouts, mustards, turnips, rutabaga…).
Our homesteading currently consists of food gardening, foraging , preserving the harvests, fall/winter gardening and keeping chickens. We do not have any other livestock as of yet so our homestead to do lists reflect that.
I hope you find this monthly homesteading to do lists useful!

January
January is a great 'take it easy' month to rest as well read more about gardening and homesteading.
Lots of browsing through seed catalogues.
Go over your garden journal notes & see what you need to make improvements of.
The off-season is the perfect time for garden planning! Make your sowing, transplanting and succession sowing schedules. Learn how you can plan your best garden here.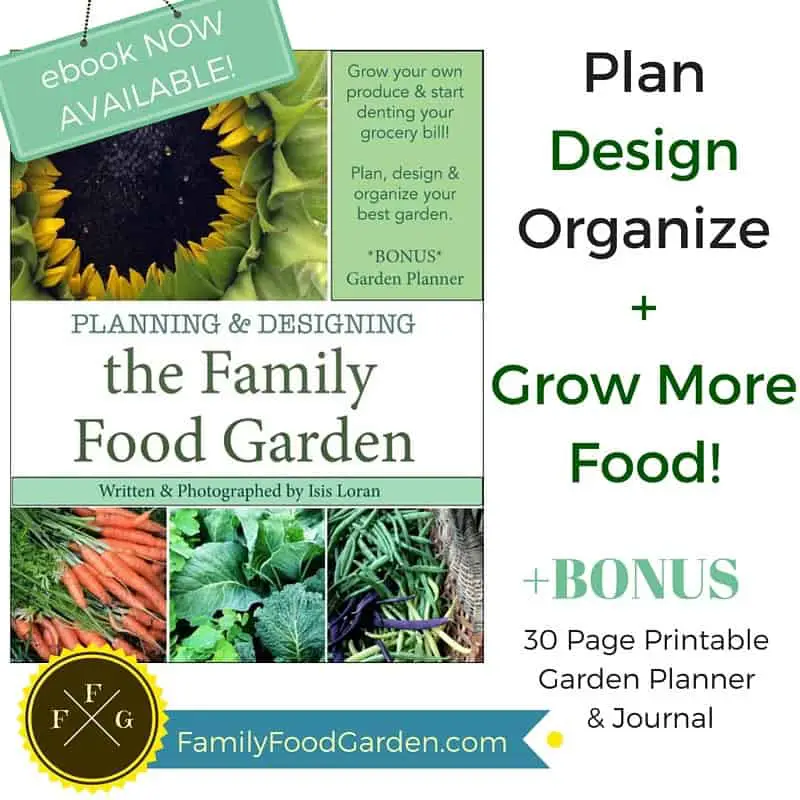 Grow some indoor fresh sprouts or micro greens to get your gardening or fresh veggie fix.
If you have chickens remember to turn the deep litter bedding  (if you're using this method).
Turn the compost pile or keep in indoor vermicomposting set up (worm composting is great for the cold months).
Enjoy home preserved goods from the previous season and remember how hard you worked to achieve this wonderful food.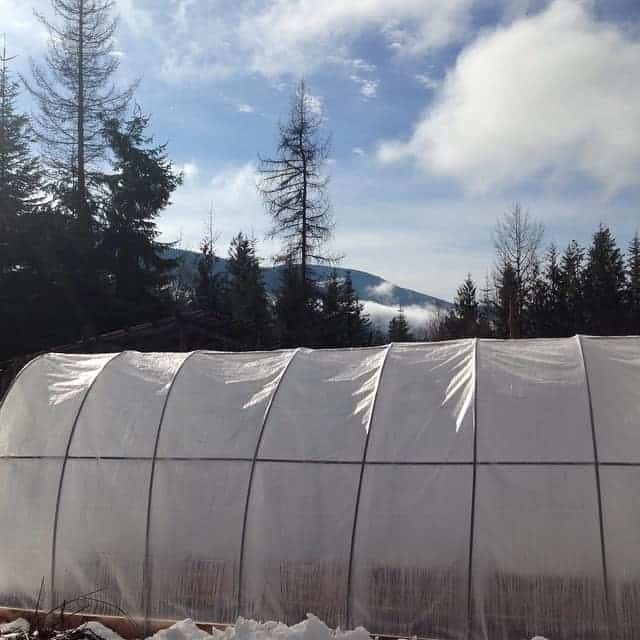 February
Seed starting begins! (onions, leeks, celery, herbs with Brassicas towards the end that are going in the greenhouse/hoop tunnels in March).
Greenhouse prep, soil amendments or garden bed building if the snow melts .
Enjoy the growing daylight hours!
Continue with the garden planning.
Keep up with the deep litter method for the chicken coop.
Grow an indoor herb garden to help with the winter blues!
Craft. Make art. Enjoy some of the slower time for reading and creating.
Sprouts!! They are the perfect nutritious winter food. You can even grow them for your chickens.
Ferment. This is a perfect thing to do in the winter months.
If the weather permits do a full clean out of the chicken coop and add fresh new bedding.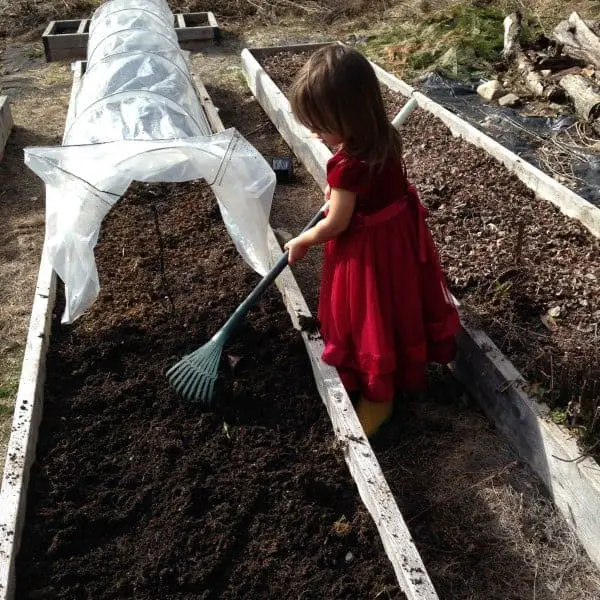 March
Sow outdoors in greenhouse/hoop tunnels weather pending. Use Heavy weight row cover for frost protection + mini hoop tunnels. Transplant Brassicas, maybe peas & favas under season extenders.
Start more seeds inside. This month we start the tomatoes, peppers, eggplant, more brassicas (collards, kale, cabbage, cauliflower, broccoli, brussel sprouts, kohl rabi), lettuce, green onions, cool season herbs like cilantro. If weather is looking decent enough chance an early sowing of peas by starting them inside and transplanting them. (it sounds crazy but I've done it before with peas & fava beans).
Get any new garden beds prepped or built if weather permits.
If no snow let the chickens free range (supervised) and stretch their legs after a long winter cooped up. Let the chickens eat some of the weeds in the garden.
Order and bring home chicks if we need any this year.
Celebrate spring Equinox by using any of the home canned food and any wild food that might be ready (like dandelion greens).
Do a full clean out of the chicken coop with fresh new bedding (do this in Feb is it's warm).
If soil is workable add compost, decomposed manure, any soil amendments needed.
If snow falls shovel and brush off snow from raised bed covers and polytunnel greenhouse.
Set up mini hoop tunnels within the polyunnel greenhouse for early Spring transplanting (Eliot Coleman's tunnel within a tunnel system).
If the end of the month is looking favourable transplant early spring crops.
Relieve gardening restlessness by reading more gardening books.
Keep an eye on indoor transplants and make sure they're happy.
Stare in wonder at the new seedlings and have gratitude for being able to grow food.
April
Sow cool season crops direct seed outside: carrots, parsnips, lettuce, arugula, radishes, green onions, spinach and orach, beets, turnips, swiss chard, mustard greens and bok choi.
Transplant kale, swiss chard, collards, broccoli, cilantro. Plant early and main-crop potatoes.
Look after baby chicks, adjust the old flock with the new.
Start transplants of peppers & tomatoes, basil.
Build a front garden gate & trellis over entrance. Build trellis to join up with the fence for scarlet runner beans.
Add more mulch to the garlic & other garden beds.
Be thankful & eat the wild free food as our spring detox greens (wild nettle, dandelions..)  Forage for: wild nettles, dandelion greens, dandelion flowers (make tempura, wine?), dandelion root, lambs quarters. Dehydrate wild nettle, dandelion roots for tea.
Plant new potatoes & storage potatoes.
Get the outdoor composting pile going again.
Call around tree service companies and ask for wood chips to use in paths as mulch. Mulch all pathways with woodchips.
Suppress weeds before they grow with cardboard to build new sheet mulched/lasagna garden beds.
Harden off early spring crops and transplant them under protection of polytunnel or hoop houses.
Mid-end of the month start winter and summer squash, melons, basil and beans (the latter apparently doesn't transplant well but I've never had a problem).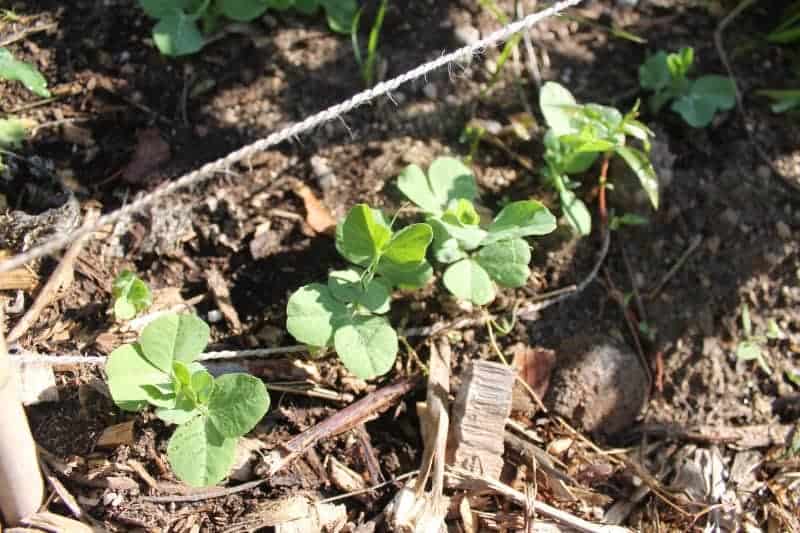 May
Start indoors: Squash, pumpkins, melons, more basil.
Foraging: more nettle (dehydrate for tea, beer?), dandelions, elder flower (dehydrate), lambs quarters.
Do a second sowing of greens after May heat wave for June (many usually bolt by now).
Freeze arugula pesto cubes. Dry lemon balm & mint for tea. Freeze cilantro cubes.
Direct seed rutabagas, parsnips for fall crops.
Add onto the chicken coop run.
Fix or upkeep any outdoor homesteading buildings.
Be thankful for the sunshine again and things beginning to grow in the garden!
Harden off transplants.
Transplant the warm season crops mid-month or earlier with hoop tunnel or frost protection and add compost or seasoil under each plant.
Transplant the remaining brassicas and add compost under each plant. Sow lettuce and radishes around brassicas as a bumper crop until plants get larger.
Continue succession sowing the 'come and cut again' greens after the May heat wave for June (many usually bolt by now).
Harvest early spring crops. Pull up any overwintered veggies and replace with transplants.
Be super excited not to worry about last spring frost. Our last frost is May 20th although it's often end of April. Early May I always expect a frost and have heavy weight row cover handy to cover plants if needed.
Create a good watering rhythm in the mornings.
Keep an eye for bolting plants and pests. Constant vigilance is the best gardening technique!
Sow flowers for companion planting and to attract beneficial insects and bees.
Thin out plants so they have space to grow and use thinnings in a salad or stir fry.
Keep up with bi-weekly weeding.
Direct seed any warm season crops if not growing transplants (bean, corn etc). Only seed bolt resistant lettuce varieties.
Continue composting.
June
Direct seed carrots, beets, turnips from bolted lettuce & greens.
Harvest all the fava beans and sow another crop. Transplant fall Brussel sprouts & fall cabbages.
Transplant remaining warm season crops if not done in May.
Harvest garlic scapes. Freeze basil into pesto cubes for freezer. Pick & freeze peas on a constant basis.
Lots of garden harvests, eat lots of the greens that will bolt with the summer heat. Enjoy some of the first root veggies.
Home canning: beets, carrots, green beans.
Keep sowing lettuce, radishes and arugula in shadier areas of the garden for the rainy season.
Start fall/winter garden transplants (more kale, cabbages, kohl rabi, broccoli).
Prune the tomato and pepper suckers.
Keep mulching the potato plants with straw and/or soil.
Keep up with bi-weekly weeding and daily watering.
Replace the spring crops with summer or fall crops. Add compost before direct seeding or transplanting to keep soil nutrients available.
Keep boosting tomato and pepper plants every two weeks. Same with corn or heavy feeding brassicas.
Keep and eye on pests. Companion plant to attract beneficial insects. Hand pick or kill many bugs (yay for organic gardening).
Harvest herbs and pinch off any basil flowers. Cilantro will have bolted by now so pull up and replace with something like green onions.
Harvest peas every couple of days (the more you pick the more you'll get). Pull up vines end of June or let them go to seed for dry peas.
Harvest and enjoy as many salads as you can as it will soon be too hot to grow most salad greens through the summer. (kale, collard greens, malabar spinach and swiss chard cover our greens for the hotter months).
Add any bitter bolted greens/pea vines etc to the compost pile or give to the chickens.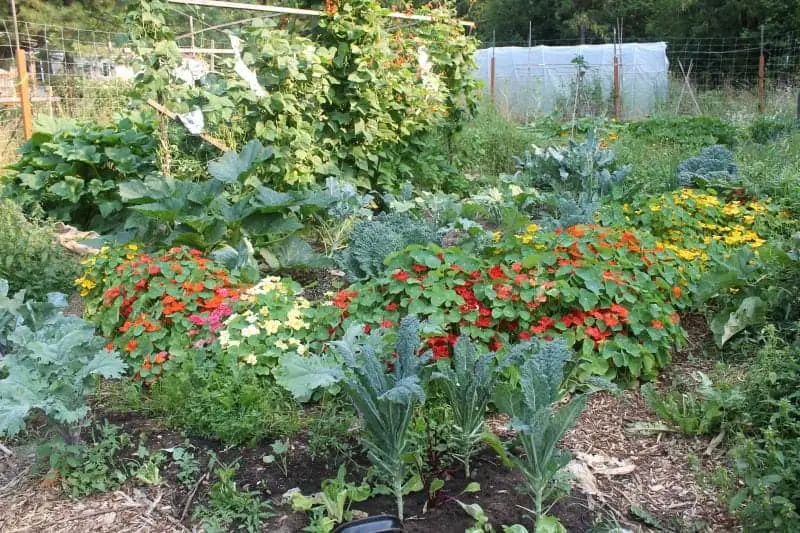 July
Direct seed fall broccoli, cauliflower & cabbages into the outdoor seed beds.
Wild foraging: BERRIES!! yea! It's wild berry season. Freeze, make jam, make pies! Dehydrate raspberry leaves for tea.
Dehydrate zucchini and root veggie chips for kids to snack on. Dehydrate lots of kale chips for the winter months.
Make jam and other fruit preserves.
Pick & freeze snap/string beans on a constant basis (every couple of days, the more you pick, the more you get!).
Harvest & dry Calendula flowers for Calendula cream.
Pull up pea vines if you didn't do it in June and replace with a quick-growing fall crop like lettuce or turnips.
If your location has very few bees or other pollinators you might need to hand pollinate certain crops like squash or tomatoes. If your corn isn't grown in blocks you'll also need to hand pollinate.
Transplant fall brassicas. If it's hot or you have lots of pests grow them under a tunnel of lightweight row cover to keep out cabbage moths and provide some shade from the sun. Add compost and any soil amendments into the fall garden beds so new crops have lots of nutrients to grow.
Keep mulching maincrop potatoes with soil or straw. Harvest early potatoes.
Harvest lots and lots of veggies.  Preserve the extra harvests or share them with friends, family members or neighbours.
Any crops that are ready to harvest mid-season direct seed the fast growing crops for a bumper crop.
Sow the rest of the fall root crops.
Harvest garlic when the tops have yellowed and have died down (stop watering 3 weeks prior and also remove any mulch to help keep bulbs dry).
Amend garlic bed with compost and decomposed manure and transplant or direct seed Fall/Winter garden low tunnel crops.
Reduce watering at the end of the month to create heat stress for the tomato and pepper plants to encourage fruit ripening.
Continue to hoe and weed on a regular basis to prevent weeds!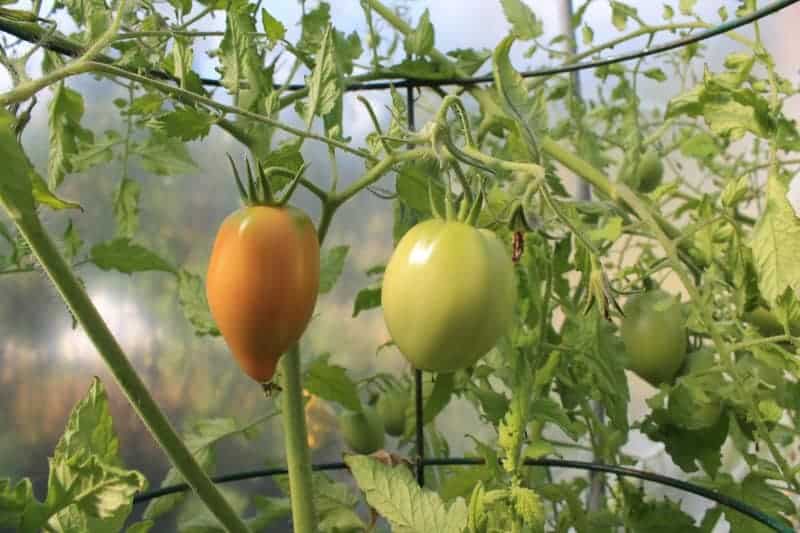 August
Transplant or direct seed fall and winter gardening crops.
Keep harvesting, dehydrating, canning. Freeze herbs into cubes or dehydrate.
Stop watering dry beans so they can dry on the plant. Harvest and shell for dry storage. Keep freezing string beans.
Keep an eye out for powdery mildew on squash and reduce watering.
Harvest & dry garden culinary, medicinal & tea herbs.
Direct seed lots of kale, swiss chard, lettuce, radishes, for fall garden.
Stop watering onions so the tops die down and yellow. Harvest and cure. Cure garlic for winter storage.
Harvest any early winter squash and begin curing.
Keep up with the weeding.
Make wild foraged Elderberry wine!!!  Dehydrate or freeze the berries to make elderberry syrup for cold and flu season.
Harvest & cure onions, garlic, some of the small squash (kuri, spaghetti, buttercup).
Tomato canning if they are ripe.. Tomato sauce, paste, salsa, ketchup. Hot sauce with the peppers. Make jam and other fruit preserves.
Harvest & make oregano oil tincture if we have enough.
Eat fresh melons and other fruit.
September
Direct seed fast growing fall greens after Sept heat wave (spinach, tat soi, bok choi, arugula, mache..) plus more radishes.
Harvest Echinacea root to make Echinacea tincture (after a frost, leave 30% to grow back).
Harvest all the summer & winter squash, beans, tomatoes, peppers, and any frost sensitive vegetable. If a hard frost threatens cover fall greens with heavy weight row cover.
Keep dehydrating greens, herbs..
Direct sow fall crops in the greenhouse.
Keep up with home canning, freezing and other food preservation.
Cure winter long storage squash carefully and keep aside jack o lanterns for Halloween carving.
Build cold frames.
Harvest maincrop/storage potatoes.
Sow fall cover crops.
Harvest and cure winter squash.
Add any old vegetable vines from beans, squash etc to the compost pile.
Succession sow arugula, radishes and spinach mid-Sept onwards.
Transplant polytunnel cold hardy greenhouse plants where heat loving plants were.
Sow cover crops mid- to end of the month.
Keep weeding and hoeing.
Allow any plants to flower for the bees as the days get colder (they need all the pollen they can get before winter).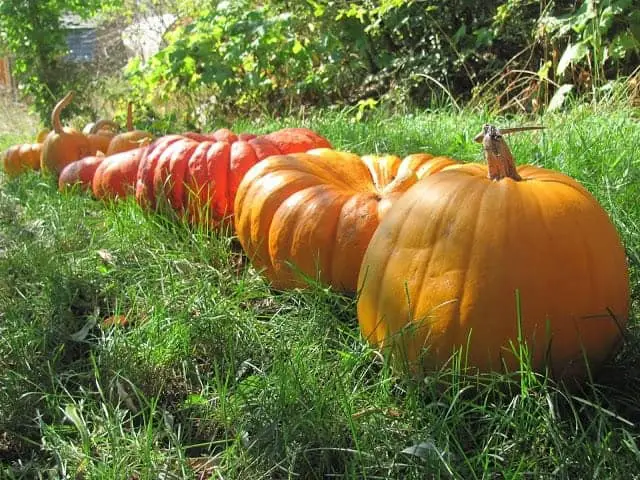 October
Protect plants as needed from frost with heavy weight row covers.
Direct seed in cold frames.
Sow overwintering crops in cold frames or low tunnels.
Mulch the root crops, harvest some of them to store in sand.
If a hard frost threatens cover fall greens with heavy weight row cover. If snow threatens harvest anything left in the garden that isn't being mulched or shovel snow off the winter season extenders.
Make vanilla extract to sit for 3 months so it's ready for Christmas gifts.
Prepare garlic bed and plant garlic. Mulch the garlic bed with leaves.
Sow cover crops, overwintering fava beans and amend beds as necessary.
Harvest rutabagas & turnips and other root veggies.
Cover garden beds with a healthy layer of leaves to decompose over the winter and add nutrition to the soil.
Enjoy a wonderful Thanksgiving dinner from lots of homegrown veggies (our Thanksgiving is in Oct as we're in Canada 🙂 )
Add any needed protection to the perennial plants.
Add any fall soil amendments.
General garden and fall clean up before the snow arrives.

November
Relax. Seriously. It's been a long haul by now, and it's time to enjoy the fruits of your labour on those first snow falls. Home canned fruit, tea, green bean casseroles…squash..yum
Make notes in a garden journal from this past gardening season, what worked, what didn't, what needs to be improved, pests, etc
Keep snow off of season extenders and keep harvesting cold hardy greens from the low tunnels etc.
Harvest all the cabbages & broccoli before the first heavy snow fall. The kale & brussel sprouts can stay.
Enjoy winter squash meals, starting by using the thin-skinned ones first.
Allow chickens to free range in the garden to do weed and garden clean up.
Get the chicken coop ready for the deep litter mulch method.

December
Enjoy veggies from the greenhouse, cold frame, harvest brussel sprouts and rest of the kale before the heavy snow arrives.
Craft & make Christmas tree ornaments & gifts.
Relax with our little family!
Find a Christmas tree in our mountain forest.
Garden Plan, enjoy our preserved harvests for meals.
Eat lots and lots of squash, start to eat some of the long storage squash as they would of gotten sweeter by now.
Mid-December take off polytunnel greenhouse plastic and keep low tunnel over the greenhouse beds instead (less height reduces potential damage from snow).
If it warms up vent tunnels and cold frames.
Write a garden journal and set intentions & goals for the next year.

I hope these monthly homesteading to do lists helped you stay a little organized this season!