Hoop houses & low tunnels
can give you more from your garden!
Do you get frustrated when your broccoli or bok choi bolts (goes to flower?) before you get to eat it wasting space, time and energy?
Do you wish to get more harvests from your garden by extending your season?
Do you feel frustrated when a whole patch of cabbage or kale gets covered in cabbage moth caterpillars consuming your food before you can?
Can you not afford a greenhouse but want the same effect?
You're ready to venture into using hoop tunnels!

What are mini hoop or low tunnels?
Mini hoop and low tunnels offers protection for your crops from many elements, bugs, pests and diseases. They are extremely useful for season extending and can be purchased as a mini hoop tunnel or you can construct your own using plastic pvc pipes and greenhouse plastic or row cover.
What is row cover?
Row cover is a type of garden fabric used for many reasons depending on the weight. There are two types of row cover: heavy-weight which is meant for season extending, protecting plants from frosts and natures elements. Light-weight row cover is used for blocking too much direct sunlight over your crops, or to shield them from certain bugs during the peak times.

Top Reasons to use Tunnels in your Garden
Frost Protection– many crops can handle frosts (see full list here) however once it starts to get too cold offering your crops extra protection extends your harvest period. Learn more about growing year-round here.
Sunlight Protection- the majority of cool season crops will bolt (try and flower and go to seed) once the summer temperatures set in. This means you might lose some or many of your spring sown crops. Using light-weight row cover hoop tunnels over your crops ensures reduced direct sunlight to extend the harvest and reduce the bolting. Learn more bolting tips here.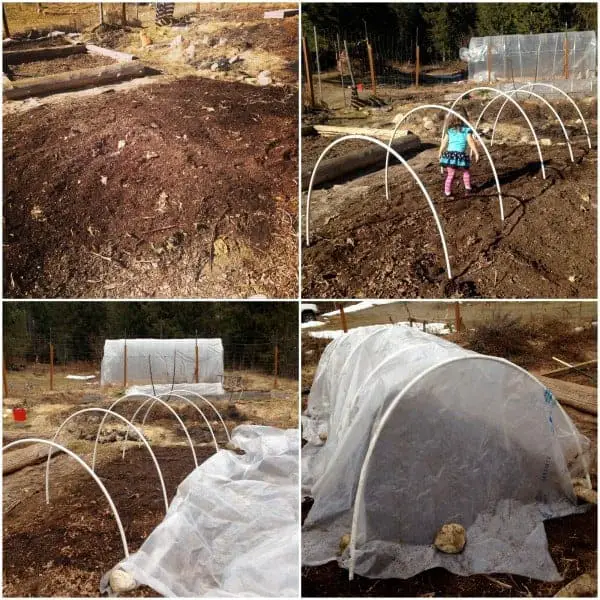 Warming the Soil in the Spring – this is one of my favorite ways to use hoop tunnels, to warm up the soil in the early spring to allow for early spring sowing or transplanting. For this I use plastic covers not the row cover to create that greenhouse effect.
Early Spring Sowing & Transplanting- Above you can see a low tunnel that was placed over a bed and an early sowing of peas, spinach, arugula, lettuce and radishes which offered us early spring harvests. I tend to use a mix of greenhouse plastic or heavy weight row cover if a big frost threatens the crops. Learn more about intensive year-round growing.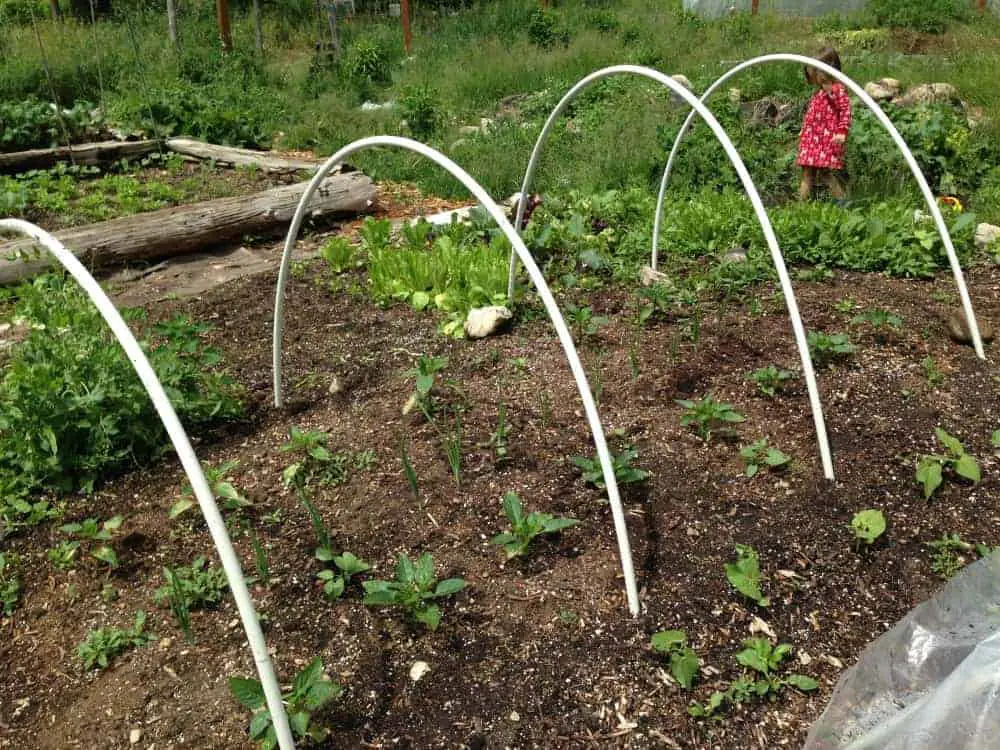 Protecting Summer Transplants- warm season crops need to be transplanted after the risk of frosts, however spring and early summer can still offer stressful weather for your young seedlings. One year it rained for 5 weeks straight in June in our location and I lost all but 1 pepper plant! The following season I used hoop tunnels over many of the warm season crops to increase the temperature and offer some wind and rain protection. I sometimes leave the tunnel and have the plastic over handy ready to place over if needed. Although it's a tad risky, you can also use hoop tunnels to transplant warm season crops earlier than normal and keep heavy weight row cover handy for late season light frosts.
Winter Gardening – those of your following by site for awhile know I'm a HUGE fan of winter gardening. Every year I experiment and push our zone 5 Canadian mountain climate further by using season extenders for more harvests. Below is a mid-Dec harvest of 'January King' cabbage, 'Lacinato' kale and 'Giant red' mustard greens. Learn more about how to plant your fall and winter garden.
Bug Protection– Using light-weight row cover tunnels over your brassicas (cabbage, kale, broccoli, cauliflower etc) will stop the cabbage moth from laying eggs that create those pesky caterpillar worms that devastate your crops if you're not vigilant! Many crops can be protected from bad bugs and then later on removed once the risk of infection is gone.
Chicken Gardening- Have lots of weeds in your garden paths? Using low tunnels with chicken wire over your beds will allow full chicken roaming without them eating up all your crops.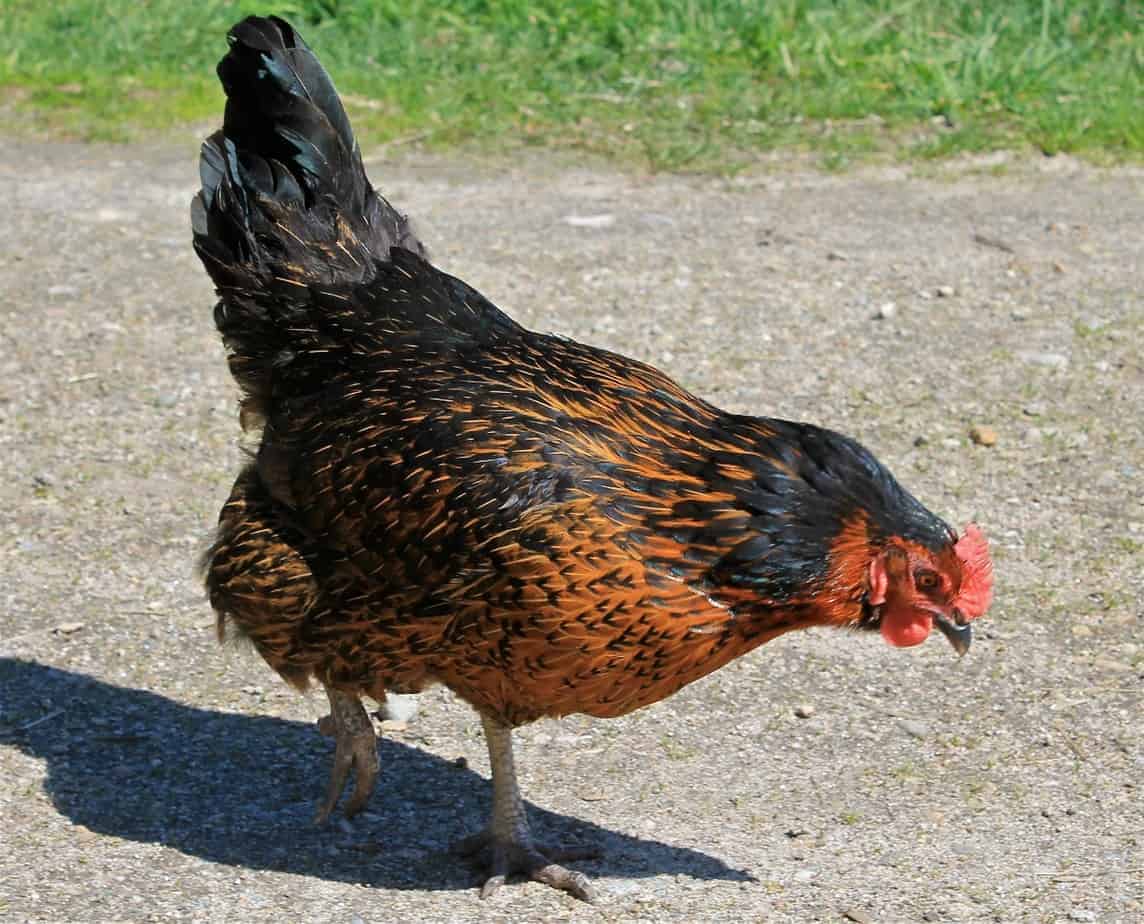 Conclusion
Although it will take a some practice, patience and observation, using hoop tunnels in your garden is a great gardening skill to master!