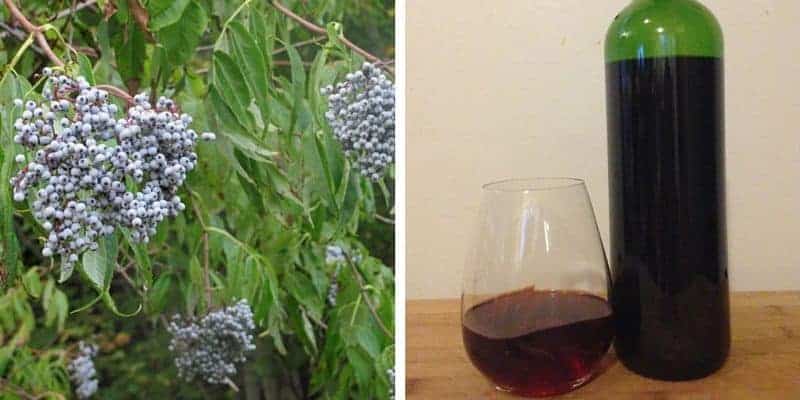 Elderberry wine is delicious!
We love making elderberry wine with wild elderberries.
It's also our family's seasonal tradition to harvest elderberries to make elderberry syrup every fall for boosting our immune system. In our region, we harvest them late Aug or early Sept. We usually either freeze or dehydrate the berries and use them as we need to.

Elderberry varieties for making elderberry wine
The most common varieties you see are the American Elder (Sambucus Canadensis) and the Blue Elder (S. glauca). Here in the west Kootenays of British Columbia Canada, we get the blue elderberries but most of you are more familiar with the darker, almost black, American Elderberry.
This recipe is from the 1976 'Winemakers' Recipe Handbook'. Although I found a few elderberry wine recipes online, we ended up going with this one as we wanted to learn and understand using a hydrometer and testing the S.G.

Many people choose to mix elderberries with another fruit to make a blend, a common one being elderberry and blackberry. Many winemakers also use elderberries to add some flavor and color to other wines. We chose to only use elderberries in this recipe to know the base taste of blue elderberries then we can make adjustments as time goes on. 

Supplies needed for making Elderberry wine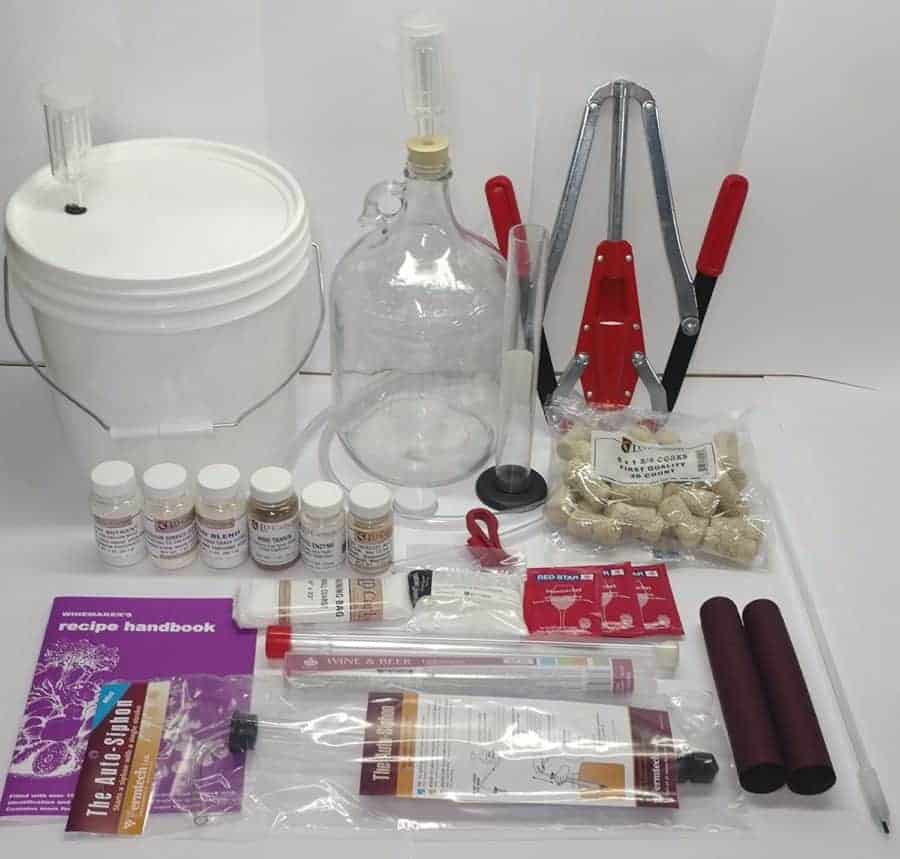 Primary Fermentor * 
Secondary carboy Fermentor *
* The size of your primary and secondary fermentor will depend on how much wine you plan on making. The above recipe is for a 1-gallon size. We used a 5-gallon size (so we multiplied the recipe by 5). We just bought a 5-gallon winemaking kit, (you can also get the smaller 1-gallon wine making kit), as it was easier than shopping for all the individual supplies.

Elderberry wine recipe
(using Fresh or Dried elderberries)
This recipe makes 1 gallon of wine. If you're using a larger wine vessel then you need to increase everything except the yeast. 
You need to know the basics of wine making for this recipe.
I don't go into the details of what primary or secondary vessels are, how to clean and sanitize etc.
Here is one link for some basics
but please do a little research before diving into fermenting wine yourself as if not done correctly you'll end up with vinegar or contaminating your batch.
Some people choose to make a  'juice' and not use any pulp when wine making (which is often heated and will be a different end product).
We chose the whole fruit method in a nylon bag as this recipe calls for that. Using a nylon bag skips the messy step of straining the berries for the secondary fermentation stage. I don't know how this recipe would work with just the juice and without the pulp in the primary stage. Even if you use a cold pressed juice you still benefit from having some pulp in the primary stage for flavor and color. Read more info here on how different processes affect wine.
We froze the elderberries before using them. This kills off the wild yeast that's present on the berries so you have more control of the flavor and fermentation.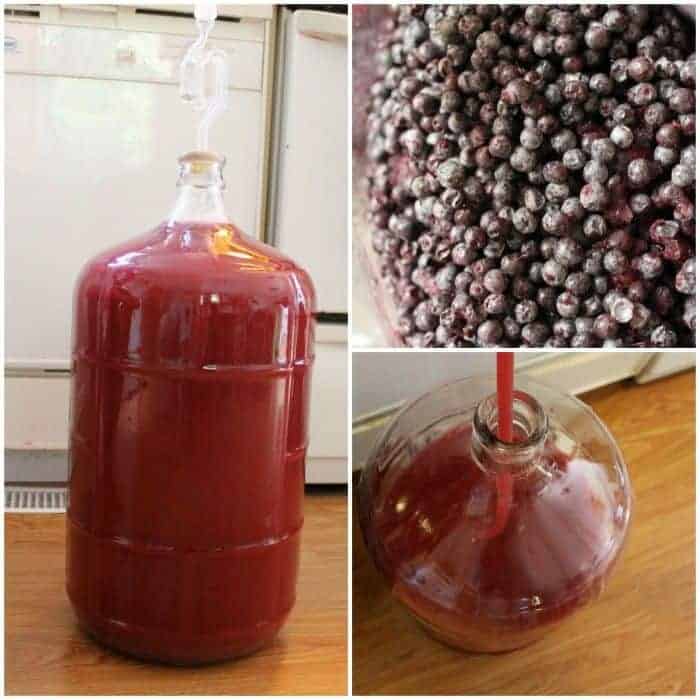 Instructions for Elderberry Wine
Strip berries from stems. Wash and sort out any blemished or moldy berries. Using a nylon straining bag (or with a press) mash and strain out the juice into the primary fermenter. Keeping all the pulp in the bag (with dried berries put in with chopped raisins), tie top, and place in primary.
Stir in all the ingredients EXCEPT the wine yeast. Starting S.G 1.095- 1.100. Cover primary.
After 24 hours add yeast (we proofed it first). Cover primary.
Stir daily, check S.G and press pulp lightly to aid in juice extraction.
When ferment reaches an S.G of 1.030 (about 5 days) strain juice lightly from bag. Syphon wine off sediment into sterilized glass secondary. Attach airlock.
When ferment is complete (S.G has dropped to 1.000- about 3 weeks) syphon off sediment into clean secondary. Reattach airlock.
To aid in clearing syphon again in 2 months and again if necessary before bottling.
Notes for Making Elderberry Wine
These blue-blackberries will result in a 'Chianti' type of wine. You can also make a 'Port' type wine by increasing the elderberries to 4 1/2 lbs and another 3/4 lb of sugar and use Sherry or Port Yeast. Keep in mind that if you're multiplying the batch for a port wine it has more berries and sugar for increased volume (so you might only be able to multiply it 4 times for a 5 gallon for example)
Using 1/4 oz of oak chips per gallon of wine will benefit this wine with an 'aged-in-oak' flavour.(we're choosing to not do this as this is our first time making this batch and we want to see what the base flavour is).
The wine color darkened a lot after it was ready to bottle. It's recommended that you wait 6 months-1 year for the wine to age before drinking as the taste gets better. As we're newbie wine makers we dug into a bottle after 4 months, 6 months, 8 months and so on to notice the change in flavor over time. It definitely got better! We quite liked it 'as is' although next time we hope to try a blend, perhaps blackberry and elderberry.