In our region, elderberries are plentiful, so we like to make old-fashioned elderberry wine recipes.
Winemakers often mix elderberries with other fruit to make an elderberry wine blend, a common one being elderberry and blackberry. Many winemakers also use elderberries to add some flavor and color to other grape wines.
For our winemaking, we chose to only use elderberries in this elderberry wine recipe. That way we understand the base taste of blue elderberries.


Elderberry Wine Recipes
The below recipes are elderberry wine recipes for 1 gallon of wine. If you're using a larger wine vessel, then you need to increase everything except the yeast.
I prefer to
freeze the elderberries
before using them because this kills off the wild yeast that's present on the berries so you have more control of the flavor and fermentation. Traditionally wild yeast would be used for fermenting instead of 'buying' yeast, but I've yet to dive into wild fermentation as we're learning, so maybe one day!
Dried Elderberry Wine Recipe
5

 

oz

 

Dried Elderberry

1/2

 

pt

 

Red Grape Concentrate

 

or 1lb Dk raisins

1

 

gal

 

Water

2 1/4

 

lb

 

Sugar

1 1/2

 

tsp

 

Acid Blend

1

 

tsp

 

Nutrient

1

 

crushed

 

Campden

1

 

pkg

 

Wine Yeast
Fresh Elderberry Wine Recipe
3

 

lbs

 

Elderberries

7

 

pints

 

Water

2 1/4

 

lbs

 

Sugar

1

 

tsp

 

Acid Blend

1

 

tsp

 

Nutrient

1

 

crushed

 

Campden

1

 

pkg

 

Wine Yeast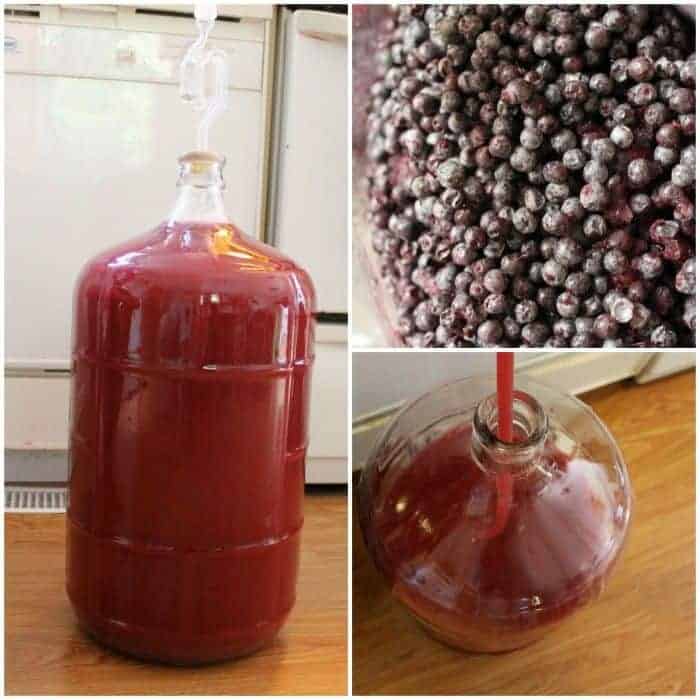 Making Elderberry Wine (Step-by-Step)
Strip berries from stems. Wash and sort out any blemished or moldy berries. Using a nylon straining bag (or with a press) mash and strain out the juice into the primary fermenter. Keeping all the pulp in the bag (with dried berries put in with chopped raisins), tie top, and place in primary.

 Next stir in all the ingredients except the wine yeast. Starting S.G 1.095- 1.100. Cover primary.

After 24 hours add yeast (we proofed it first). Cover primary.
Stir daily, check S.G and press pulp lightly to aid in juice extraction.
When ferment reaches an S.G of 1.030 (about 5 days) strain juice lightly from bag. Syphon wine off sediment into sterilized glass secondary. Attach airlock.
When ferment is complete (S.G has dropped to 1.000- about 3 weeks) syphon off sediment into clean secondary. Reattach airlock.
To aid in clearing syphon again in 2 months and again if necessary before bottling.
Making Elderberry Wine Tips
Blue-blackberries will result in a 'Chianti' type of wine. You can also make a 'Port' type wine by increasing the elderberries to 4 1/2 lbs and another 3/4 lb of sugar and use Sherry or Port Yeast. Keep in mind that if you're multiplying the batch for a port wine it has more berries and sugar for increased volume (so you might only be able to multiply it 4 times for a 5 gallon for example)
Using 1/4 oz of oak chips per gallon of wine will benefit this wine with an 'aged-in-oak' flavor.(we're choosing to not do this as this is our first time making this batch and we want to see what the base flavor is).
The wine color darkened a lot after it was ready to bottle. It's recommended that you wait six months to a year for the wine to age before drinking as the taste gets better. As we're newbie wine makers we dug into a bottle after 4 months, 6 months, 8 months and so on to notice the change in flavor over time. It definitely got better! We quite liked it 'as is' although next time we hope to try a blend, perhaps blackberry and elderberry
Elderberry Wine Recipe Supplies
Primary Fermentor * 
Secondary carboy Fermentor *
The size of your primary and secondary fermentor will depend on how much wine you plan on making. Today's recipe is for a 1-gallon size. When we made our wine, we used a 5-gallon size (so we multiplied the recipe by 5). We just bought a 5-gallon winemaking kit, (you can also get the smaller 1-gallon wine making kit), as it was easier than shopping for all the individual supplies.
Other Elderberry Wine Making Supplies
Have you made elderberry wine? Do you like blending it? How did it turn out?