We forage for wild elderberries every year from August to September and then we make elderberry syrup throughout the winter when a cold or flu strikes our family.
You can also buy elderberry bushes to plant in your backyard if foraging isn't an option. In order to preserve the elderberries, we freeze them for the winter months when we need to use them.
Freezing elderberries is a great way to preserve fresh elderberries.

Picking Elderberries
Elderberries tend to grow wild, although you can also buy certain varieties at garden centers. Where we live in the Canadian mountains, (West Kootenays, B.C) we have the blue elderberries. Many people in the United States and Europe have wild black elderberries.
Be sure you've correctly identified wild elderberries or seek a local professional.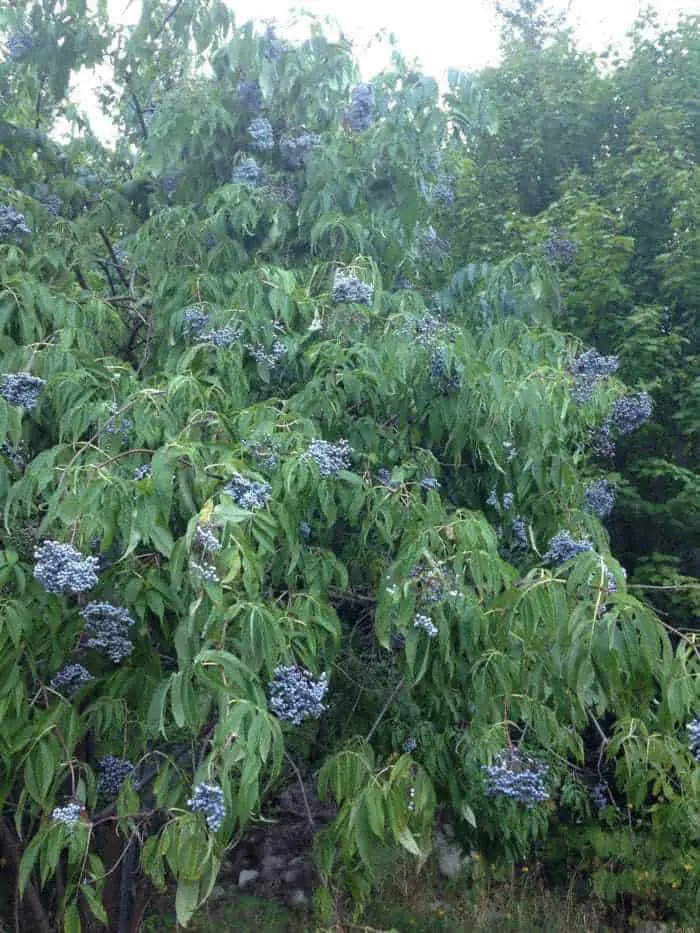 Harvesting Elderberries
We always harvest elderberries every year from August to September in Canada.
When to Harvest Elderberries?
In our location (zone 5) it tends to be Aug-Sept. This depends on the season, some years we have an early melt and they produce sooner, other years it's much later. There's the 'local wisdom' that says to harvest after the first fall frost, but I disagree with that because some years we don't get a frost until October. I watch the tree carefully and watch for the signs.
When elderberries are ready they turn from green to blue or black.
They ripen at intervals, just like most berries. You'll see clusters that are green, and some that are ready. They get heavy and start to droop when they're ready to harvest. The birds will start to get them later in the season.
When the berries are overripe they will fall off to the ground. When a few clusters are doing this on the tree, this is a good sign that the many are ready to harvest and use.
The higher the elevation, the slower the ripening.
When you live in the mountains the elderberries lower down in elevation are ready first, but if you missed that window go for a hike as you'll find them ripening slower the higher you go.
Preserving Elderberries
When you harvest elderberries they tend to be in large clusters. We harvest elderberries at the base of the large cluster because we like to freeze them that way.
Make sure you're not freezing any elderberry stems!
The seeds, stems, leaves and roots of the Black Elder are all poisonous to humans. They contain a cyanide-inducing glycoside. Eating a sufficient quantity of these cyanide-inducing glycosides can cause a toxic buildup of cyanide in the body and make you quite ill. Cooking the berries destroys the glycosides present in the seeds, making the berries with their seeds safe to eat. Norms Farm 'Are Eldberry Bushes Poisonous' 
Freezing Elderberries Methods
in large clusters then separate the berries
or to separate the berries first and freeze on a tray.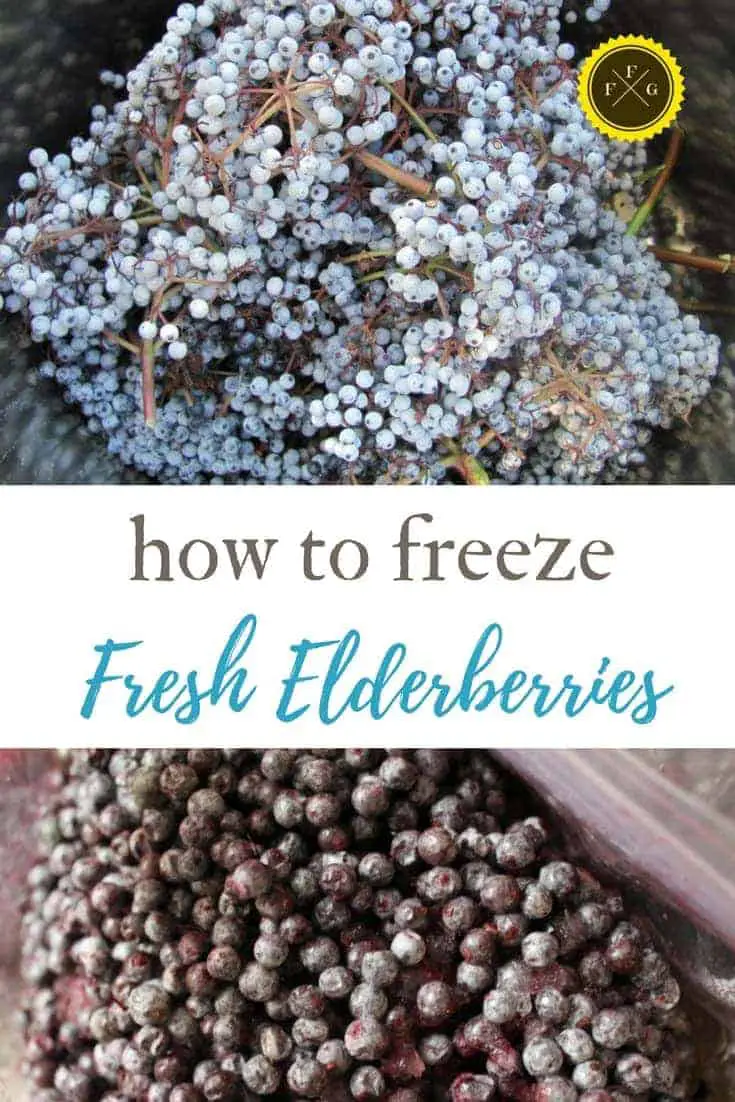 Both methods require you to freeze them on a large tray so that they don't stick together before bagging them.
When we make elderberry wine or syrup in the fall, we freeze large clusters on a tray and then separate the berries into a large bowl. This tends to be easier than separating the tiny berries fresh because they stick to your hand and break apart. Once we separate the berries we place them in a freezer safe Ziploc bag.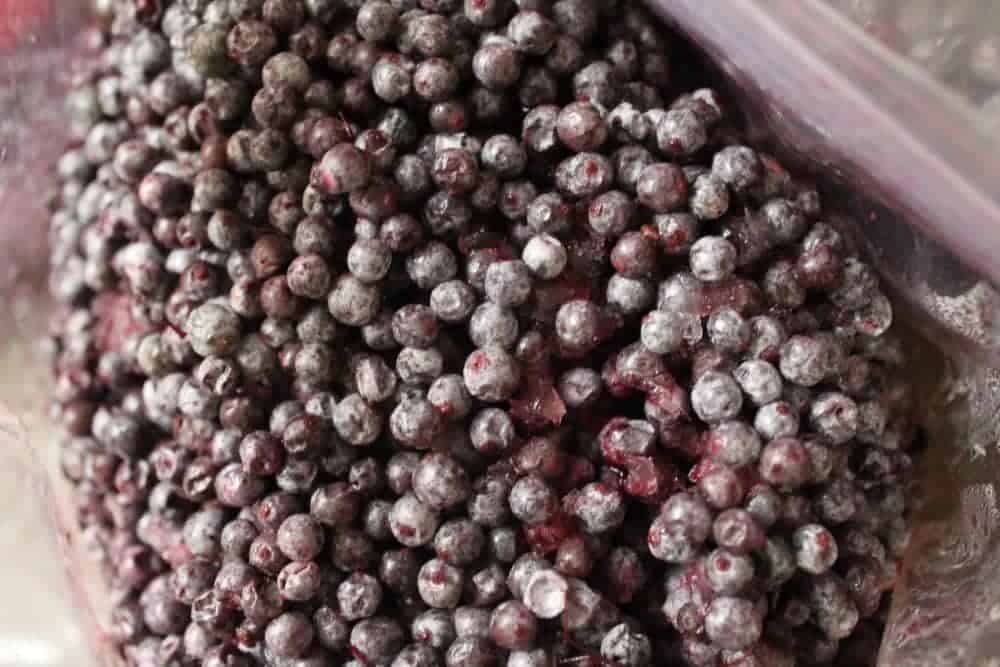 How to Freeze Elderberries (Step-by-Step)
Wash and sort through the berries. Often there are bits of old elderflower or bugs in the berries. Allow them to air dry.
Place large clusters of elderberries on a tray or individually separate berries and place on the tray.
Once the berries are frozen (a few hours) place berries into a Ziploc. If you froze in large clusters, separate the berries from the stem and place in bowl. Often they will start to thaw out during this process so place them back into the freezer in intervals if you need to. You can also grab one cluster at a time so the rest stay frozen instead of having the whole tray out.
Place in a large freezer proof container or Ziploc bag and return to the freezer.
Keeps frozen for 6-8 months, we often run out by the end of winter.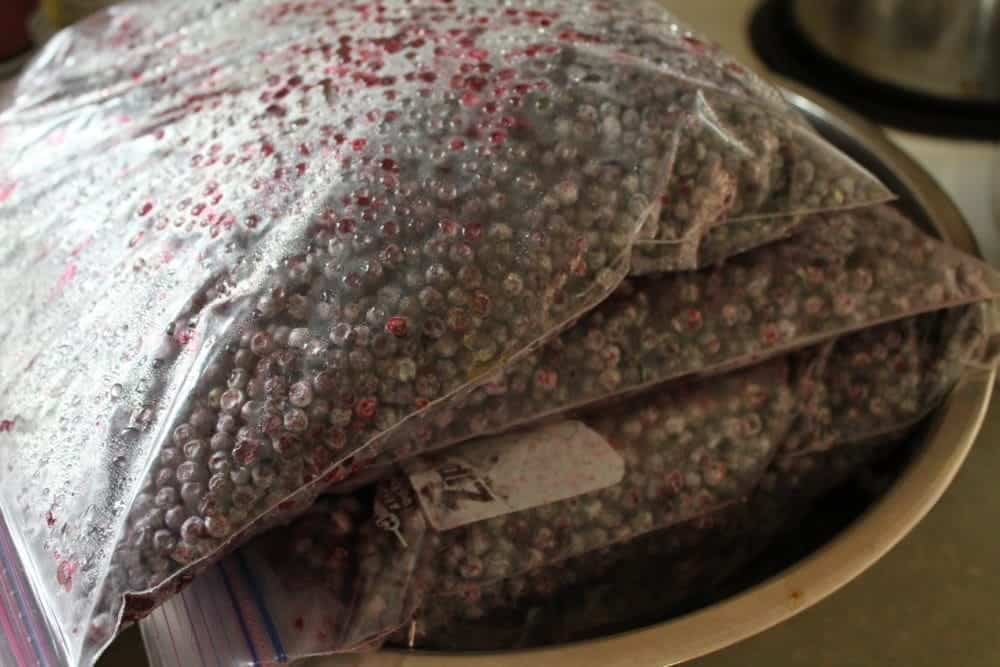 Would you like to learn more about wildcrafting? Check out this great online botany and wildcrafting course from the Herbal Academy of New England. (affiliate link)