Family Food Garden may collect a share of sales or other compensation from the links on this page.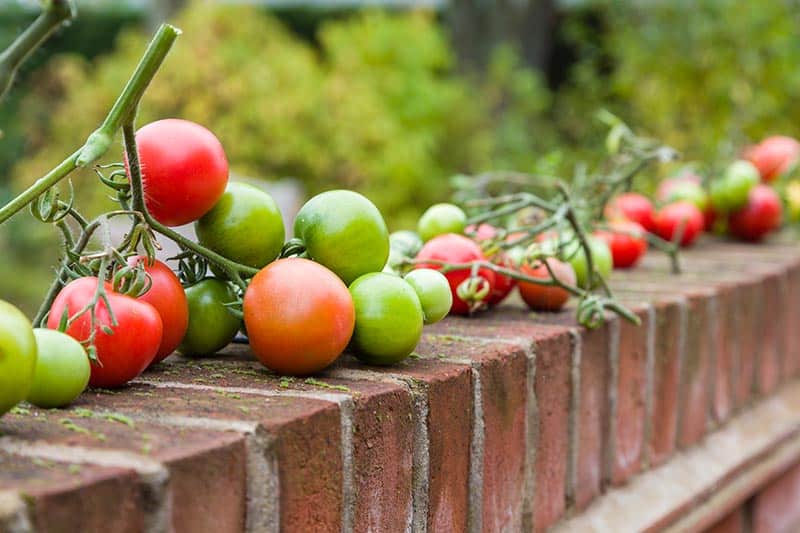 The little tomato is truly a wonder of nature. There are so many different varieties, with a wide range of colors, sizes, and shapes. We get baby tomatoes and big tomatoes, determinate and indeterminate tomatoes, yellow and red tomatoes.  If you, like me, are a huge lover of tomatoes, you may want to know which are the best determinate tomatoes.
When you are wandering the fresh produce section of your local supermarket, buying the ingredients for tonight's dinner, you probably seldom stop to think about the simple tomato. Your shopping list says 'tomatoes', so you reach out to the pile, and select the best looking ones.
But do you know what variety of tomato that is? Does it matter if it is a determinate or an indeterminate tomato? Right now, you may even be wondering what these terms mean, and what the difference is between these two types of tomatoes.
Is a Tomato A Fruit Or A Vegetable?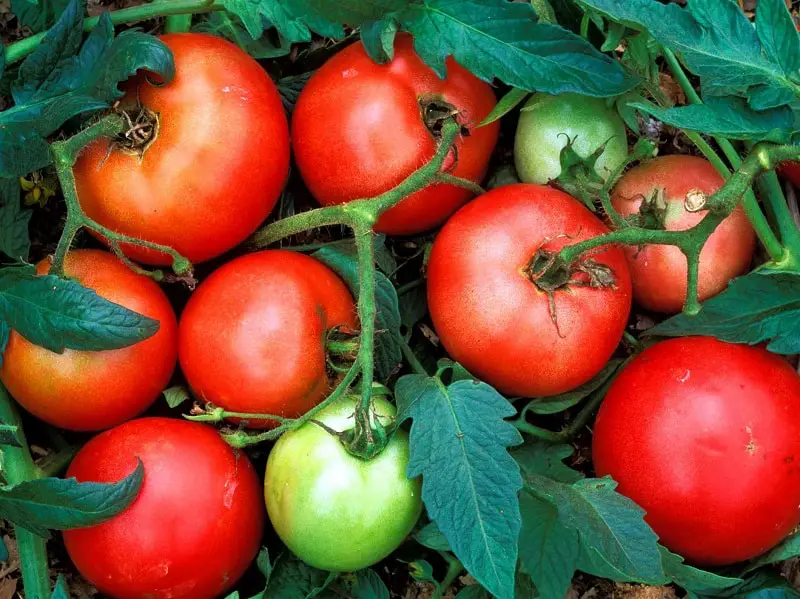 This is probably the most commonly asked question about tomatoes. Fruit, or vegetable? We usually treat it as a vegetable and use it as we would use other vegetables, but in fact, botanically, the tomato is a fruit.
What is it that makes a tomato a fruit and not a vegetable? Fruits are species that grow from the plant's flower and have either one seed or a multitude of seeds inside.
As you bite into that juicy tomato, those tiny little seeds squirt out and spray you. It is those same tiny little seeds, along with the pretty yellow flowers of the tomato plant, that make it fruit and not a vegetable.
What Is The Difference Between Determinate And Indeterminate Tomatoes?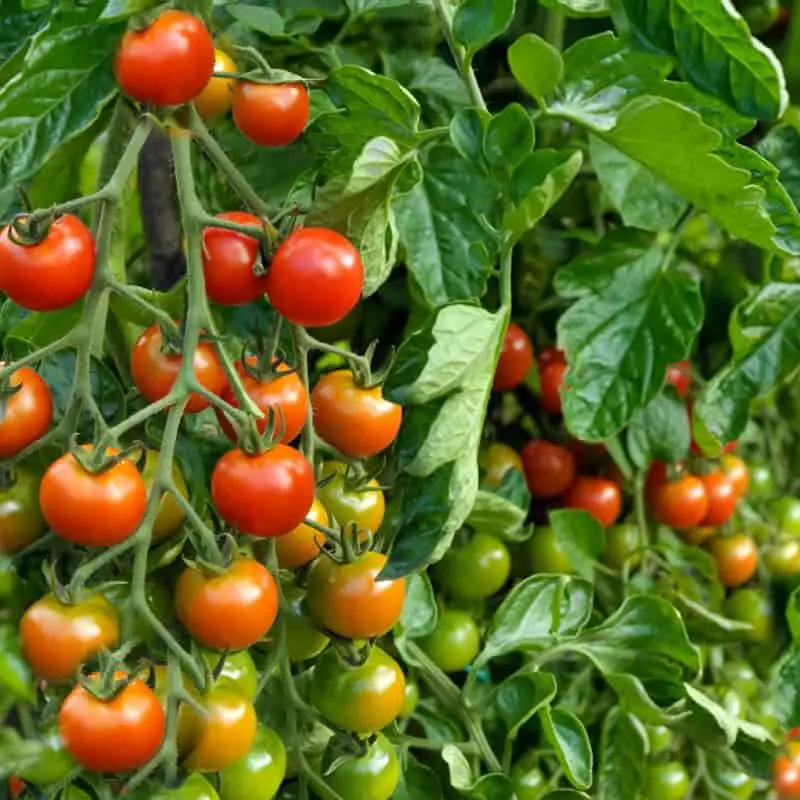 Determinate tomatoes are cultivated in such a way that the size of the bush is restricted and will only grow to a certain height. Most varieties of determinate tomatoes grow to a height of about 3-4 feet tall.
The fruit production period of determinate tomatoes is relatively short. The determinate tomato plant will get all its flowers at the same time. These flowers eventually become the fruit, and they all tend to ripen simultaneously. They need to be harvested within a brief period.
You will usually have about 2-3 weeks of harvesting time before the tomatoes are finished, and the plant will not grow any more fruit once they have all been picked.
Indeterminate tomatoes, on the other hand, can grow to an indefinite length and height. They are usually more of a 'vine' type of plant, rather than a bush. They can be as long as 20 feet and can grow to a height of 10-12 feet.
Indeterminate tomato plants will yield a constant supply of tomatoes until the end of the season. After picking the first fruit, the plant will continue to flower and produce more fruit, usually until the first frost starts to fall.
Now that you know the difference between the two, let us take a look at the different varieties of determinate tomatoes, and consider which are the best determinate tomatoes.
What Are The Different Varieties Of Determinate Tomatoes?
There are many different varieties of determinate tomatoes, in fact, far too many to go into detail here. So I have selected some of the best determinate tomatoes to share with you.
Determinate tomatoes are so wonderful, because they are easy to grow, even in cooler conditions, their bushes don't need pruning, and they are easy to support with just a stick or a pole.
Their fruit ripens quickly, and as little as two months after planting, you will be picking those delicious ripe tomatoes and adding them to your salads and other dishes.
A great benefit of growing determinate tomatoes is that they are not too fussy about their growing conditions. Determinate tomatoes will do well in different climates, from cooler areas to very hot climates.
Determinate tomatoes will even thrive in areas with very high humidity. This is especially useful because indeterminate tomatoes might succumb to certain diseases later in the summer, as the humidity climbs.
Because determinate tomatoes all ripen within a short period, it is a good idea to use these if you want to make preserves. When you have huge piles of ripe tomatoes, what could be better than making a big batch of tomato jelly? Look out for my amazing recipe later on.
When considering which are the best determinate tomatoes, we can look at things like the size – cherry tomatoes, or bigger tomatoes for slicing-, and when you want them – early or late summer, or even through the winter months. There are lots of options.
Some of the varieties that ripen early in the season are the Legend, Bush Early Girl, and Glacier.
These are big tomatoes with a bright red hue. They are exceptionally sweet and juicy, with a slightly tart tang to them. They do not have many seeds and usually ripen early in the season. Because of their large size and firm form, they are highly suited to slicing thinly for sandwiches.
As their name suggests, these tomatoes grow on a true bush and ripen very early in the season. They are extra-large, bright red, and super-tasty. Because they are so sweet, they are great for adding to sauces and making tomato soup.
Glacier tomatoes are one of the best determinate tomatoes, because, unlike most other varieties, they will ripen throughout the season. The fruit is a reddish-orange color and has quite an acidic flavor. They are good for cooking and will add fabulous flavor to stews. I also love them in salads.
Many determinate tomatoes mature and ripen midseason, and need a little longer from planting to harvesting, usually 70-80 days. The fruit of these tomato plants is usually medium to large in size. They are best in warmer climates. The best varieties are Celebrity, Patio, and Defiant.
These tomatoes are very big and plump. They have a full flavor and are fantastic in both cooking and salads.
As you may have guessed, these tomatoes do particularly well in containers or pots on a patio, because they don't need a lot of space. The fruit is small and full of flavor. They are wonderful in salads and are also great for eating individually for a low-calorie, healthy and tasty snack.
You may be wondering about the name of this variety of tomato. Why is it called 'Defiant'? Well, that's because it is particularly rugged and hardy, and manages to resist, or defy, most diseases that normally attack tomato bushes. It is a plump, round, bright red tomato that is excellent for slicing.
Many tomatoes are used specifically for sauces or for canning whole. These varieties are known as 'Paste Tomatoes', and there are a few different types, such as Sunrise Sauce, Plum Regal, and Tiren.
These tomatoes are a bright orange color and oval shape, like a Roma tomato. They are sweet and tangy, and perfect for cooking. They are ideal for salsa and sauces.
These plum tomatoes have a deep red, almost purplish color, and are bright red inside. They have a particularly strong flavor, and should therefore be used in moderation when making sauces or soups.
These tomatoes were originally cultivated in Italy, so they are perfect for those Italian sauces like Napoletana Sauce, because of their strong flavor. They are also good for salsa and are very fleshy inside.
You May Also Like: Canning Tomatoes Recipes
What Can Determinate Tomatoes Be Used For?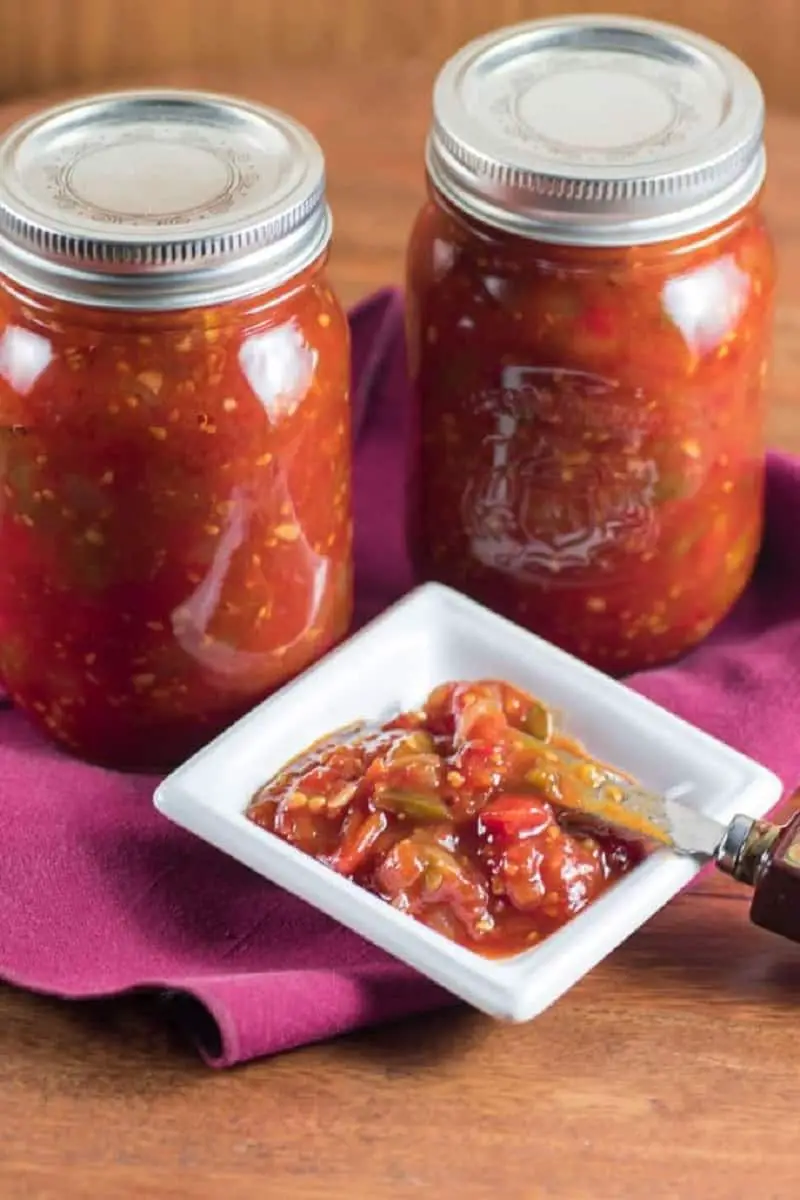 Any of the best determinate tomatoes can be used for most dishes that require tomatoes, but, because most varieties ripen all at the same time, they are generally recommended for canning and preserves, and for things like soups and sauces that require a large number of tomatoes.
I promised you my recipe for tomato jelly. It is simple and scrumptious.
Tomato Jelly Recipe
Ingredients
5-6 large ripe tomatoes
2 cups of sugar
¼ teaspoon salt
¼ teaspoon freshly ground black pepper
Juice of half a lemon
Method
Boil a large saucepan full of water.
Prepare a bowl of ice-cold
Score an 'X' in the base of each tomato.
Place the tomatoes in the boiling water for one minute.
Using a spoon, remove the tomatoes from the boiling water and plunge them into a bowl of ice-cold Discard the boiling water.
Take them out after two minutes and peel off the skins.
Cut the tomatoes in half and scrape out the seeds.
Cut the tomatoes into chunks.
Return the tomatoes to the saucepan and add the sugar and salt and pepper.
Cook over a medium flame, stirring frequently and removing the foam that bubbles up.
Cook until it reaches a temperature of 220° Fahrenheit.
Remove from heat and stir in the lemon juice.
Cool slightly and pour into sterilized jars. This recipe will make about 1 pint or 2 cups of jelly.
Allow it to cool fully before sealing and place in the fridge.
My name is Isis Loran, creator of the Family Food Garden. I've been gardening for over 10 years now and push the limits of our zone 5 climates. I love growing heirlooms & experimenting with hundreds of varieties, season extending, crunchy homesteading and permaculture.