Canning tomato sauce is a great way to preserve your tomatoes.
This canning tomato sauce recipe is from the Bernardin Canning Guide that came with the home canning kit that we purchased when we started canning 8 years ago. Since then we've got a glass stove top and have to use a flat bottomed canning pot.
This canning tomato sauce recipe is very basic and safe for water bath canning because of the added citric acid. You can also use lemon juice to increase the acidity, however, there's a slight lemon taste to the sauce.

Best Tomato Varieties for Canning Tomato Sauce
The best tomatoes for home canning are the roma/paste tomatoes because there are fewer seeds and water content to them creating a thicker sauce. Some of my fav heirloom tomatoes to grow and can tomato sauce with are black icicle, san marzano and amish paste. However depending on the growing season and when harvests need to be used up, I often use an assortment of tomatoes, even the cherry tomatoes, just to use up the harvests. This means a longer boil time if you want a thicker sauce and more seeds to strain.
Yield for this Canning Tomato Sauce Recipe
This tomato sauce recipe is flexible for how many lbs of tomatoes you have! Here's a handy conversion chart.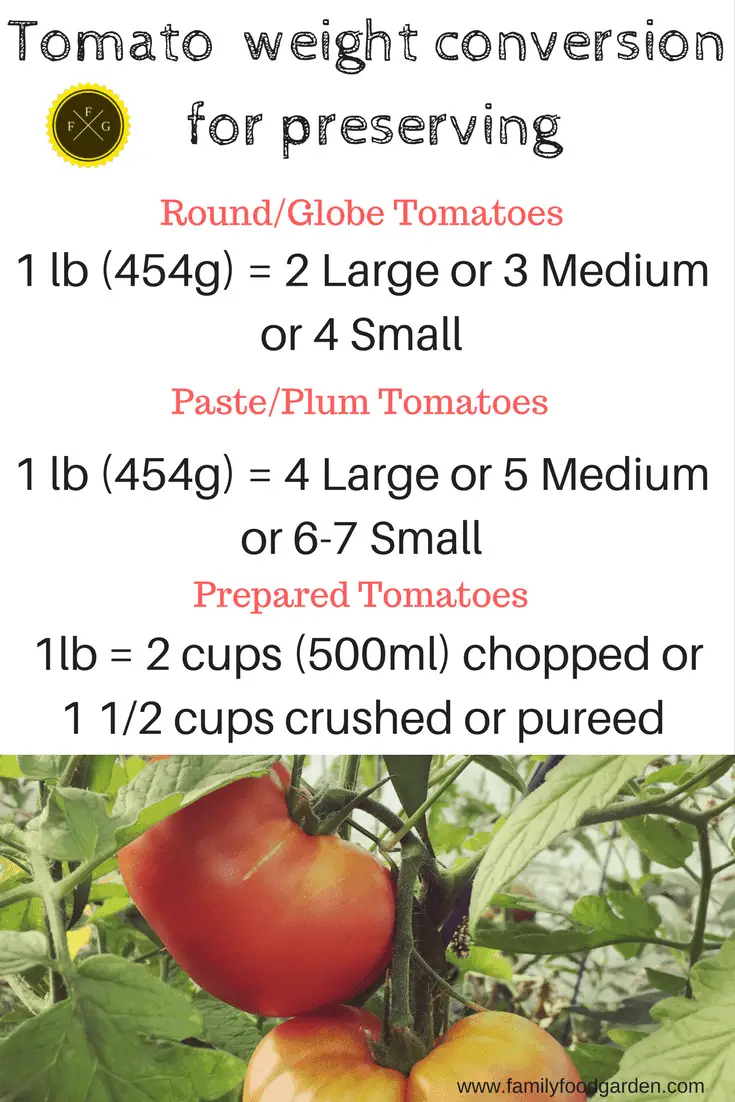 An important canning safety tip
Tomatoes can only be preserved in a waterbath canner if there's added acidity. For recipes like canning fresh tomato salsa that's done by adding vinegar (5%). For canning tomato sauce that's done by adding citric acid. You can also add lemon juice but as I mentioned, it also adds a different taste to your sauce. Depending on what you're cooking that can be a good thing but if you don't want a lemony taste then use citric acid.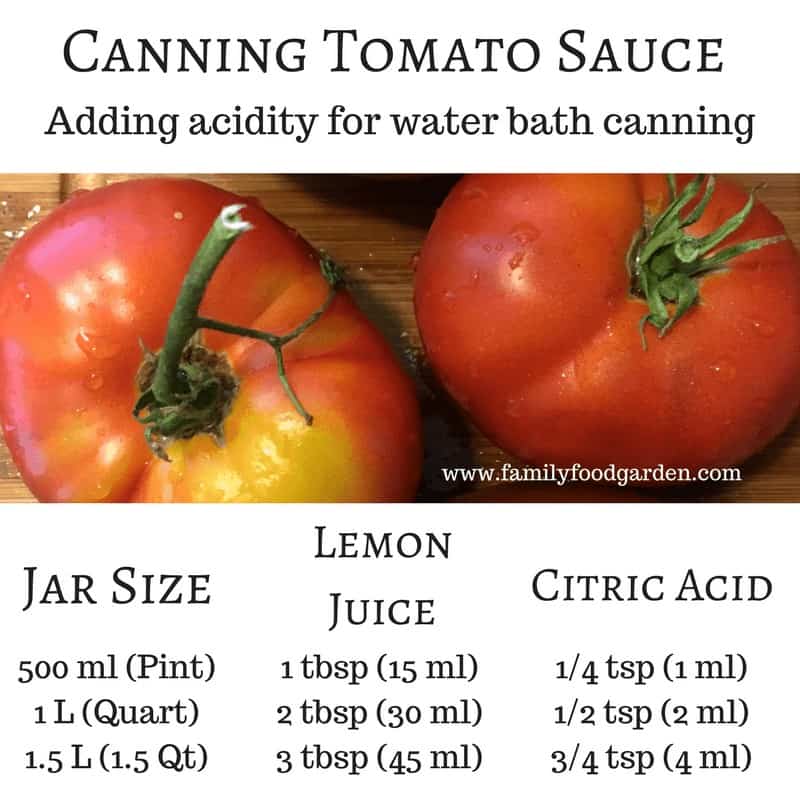 Canning Tomato Sauce Recipe
This tomato sauce recipe can be adapted for however many lbs of tomatoes you have so there's no 'exact' jar yield. If you have a little extra in the pot that doesn't fit into a jar then just use it fresh! The important thing to take note of is the added citric acid or lemon for each jar, the processing times and the salt or herbs should you wish to add them to each jar.
If you are new to canning be sure to read the basic safety of home canning before starting.
Ingredients
Tomatoes
Bottled lemon juice or citric acid
Salt, optional
Dried herbs to taste, optional
Process
Place number of clean jars on a rack in boiling water bath canner; cover jars with water and heat to simmer. Set screw bands aside; heat SNAP lids in hot water, not BOILING water. Keep jars and lids hot until ready to use.
Wash tomatoes, remove cores and trim off bruised or discolored portions. I find that many of the beefsteak heirloom tomatoes have lots of cracks on them, just cut around them the rest is fine to use so long as there's no mold.
Large batches of tomatoes may be pressed through a food mill or a Victorio-type strainer. I personally don't have either of these (yet!) so I just use a large sieve.
Option 1
Quarter tomatoes and pass through a food mill or victorio strainer that separates the seeds and the skin from the tomato pulp and juice. Heat the sauce to a boil.
Option 2
Quarter 1 lb (500 g) tomatoes (about 2 cups/500ml) and place in a large stainless steel saucepan over high heat. Stir and crush tomatoes until mixture boils rapidly. Then continue to slowly add and crush freshly cut tomatoes to the boiling mixture. Be sure to maintain a constant vigorous boil while adding the tomatoes. Remove from the heat and cool slightly. Press mixture through a fine sieve or food mill to remove seeds and skins.
Return the sauce to a large stainless steel pot and bring to a boil. Boil down to desired consistency. Boil until volume is reduced by one-third for a thin sauce or by one-half for thick sauce.
Add citric acid or lemon juice to the bottom of each jar.
For each Jar size:
500 ml/Pint: 1 tbsp (15 ml) of lemon juice OR 1/4 tsp (1 ml) citric acid. Optional: 1/2 tsp salt, 1-2 tsp dried herbs.
1 L/Quart: 2 tbsp (30 ml) of lemon juice OR 1/2 tsp (2 ml) citric acid. Optional: 1 tsp salt, 2-3 tsp dried herbs.
1.5 L/1.5 Quart : 3 tbsp of lemon juice OR 3/4 tsp (4 ml) citric acid. Optional: 1 1/4 tsp salt, 1 1/2 tbsp dried herbs.
Ladle sauce into a hot jar within 1/2 inch (1 cm) of the top rim (headspace). Using nonmetallic utensil, remove air bubbles. Wipe jar rim removing any stickiness. Centre SNAP lid on jar; apply screw band secrurely and firmly until resistance is fingertip tight. Do not overtighten.  Place jar in canner, repeat for remaining jars.
Cover canner and bring to a boil. At altitudes up to 1000 feet process – boil filled jars:
Processing Time:
500 ml/Pint -35 mins
1 L/Quart – 40 mins
1.5 L/1.5 Quart – 50 mins
Remove jars without tilting. Cool upright, undisturbed 24 hours; DO NOT retighten screw bands. After cooling check jars seals, they should curve downwards. Remove screw bands; wipe and dry jars and bands. Store screw bands separately or replace loosely on jars. Label and store in a cool dark place.