Canning salsa is a great way to use up the summer bounty of tomatoes
Preserving the taste of summer is the next best thing to eating fresh, and canning garden tomato salsa and enjoying it during the winter months is a true delight!
Here are two salsa recipes for canning fresh tomato salsa
What tomatoes & peppers you should use
Paste/Roma tomatoes work great for canning as there's less seed & juice ( I like San Marzano, Amish Paste, Black Icicle). You can also play around with all sorts of heirloom tomatoes just remember some have higher water content and might need to be boiled down further. They will also contain more seeds to remove (although I'm sometimes lazy and leave them). 
Salsa recipes tend to use jalapeno as the hot peppers but you can experiment with varieties and taste combinations. One year our jalapeno peppers didn't yield a crop but our hot banana peppers did so we used those instead and it tasted great.
Two salsa canning recipes
The first recipe is from a book called 'Food in Jars'. A few have mentioned that this first recipe is a little vinegary, and I do agree although I don't mind the taste. Because of this, I've added a second recipe to this post that includes less vinegar
Recipe for Canning Basic Tomato Salsa
makes 4 x pints/500 ml jars
~ Ingredients~
6 cups chopped tomatoes (approximately 3 pounds tomatoes). 

2 cups chopped yellow onion (approximately 2 medium onions)

1 cup chopped sweet red peppers (1 large peppers)

1 3/4 cups cider vinegar (5% acidity)

2 Tbsp lime juice

1 Tbsp sea salt

1/4 cup sugar

4 garlic cloves, minced

3 jalapenos, minced (you can experiment with other hot peppers too! Be sure to wear gloves)

1 cup cilantro, chopped
~Directions~
Before you start canning make sure you know your canning safety basics. Learn lots from Simply Canning about home canning safety.
Prepare a boiling water bath and 4 regular-mouth pint/500ml jars. Place lids in a small saucepan, cover them with water and simmer over very low heat. Prepare jars and lids according to manufacturers instructions. Need a water bath canner? We bought this set* and it's perfect for beginners! (*Amazon affiliate link).
Combine all ingredients except the cilantro in a large pot. Bring to a boil and simmer for 10 minutes. When that time has elapsed, stir in the chopped cilantro.
Ladle hot salsa into prepared jars, leaving a 1/2 inch of headspace. Prepare the lids according to the manufacturer's recommendations. Wipe the rims, apply lids and rings and process in a hot water bath for 15 minutes.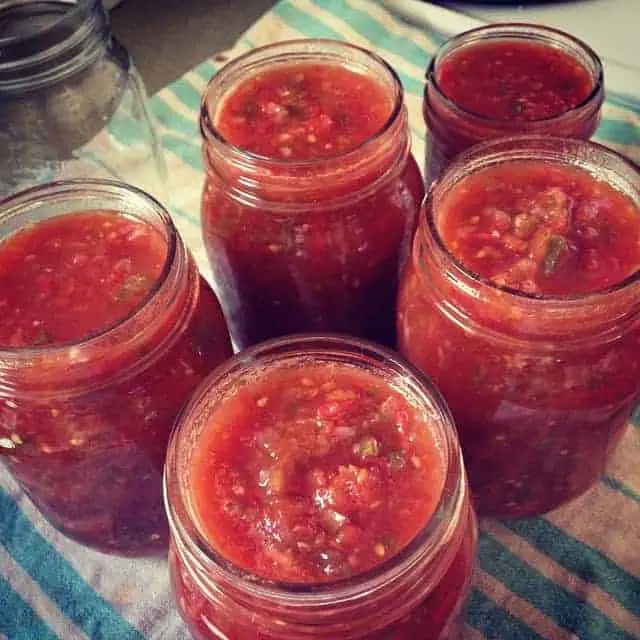 Fresh vegetable salsa from Bernardin
Yields 5 x 500ml Jars
7 cups of chopped tomatoes (about 6lbs)
2 cups of coarsely chopped onions
1 cup of coarsely chopped green peppers
8 jalapeno peppers, seeds removed & finely chopped (wear gloves!)
3 garlic cloves minced
1 can of tomato paste
3/4 cup white vinegar
1/2 cup chopped cilantro
1/2 tsp ground cumin
Directions
Blanch, peel and coarsely chop tomatoes. Measure 7 cups (1750 ml). Wearing rubber gloves remove seeds and finely chop jalapenos. Combine tomatoes, onions, green pepper, jalapeno peppers, garlic, tomato paste, vinegar, cilantro and cumin in a large stainless steel saucepan. Bring to a boil; boil gently stirring occasionally until salsa reaches desired consistency, about 30 mins.
Ladle hot salsa into prepared jars, leaving a 1/2 inch of headspace. Prepare the lids according to the manufacturer's recommendations. Wipe the rims, apply lids and rings process in a water bath canner for 20 mins with 500 ml/pints at altitudes up to 1000 ft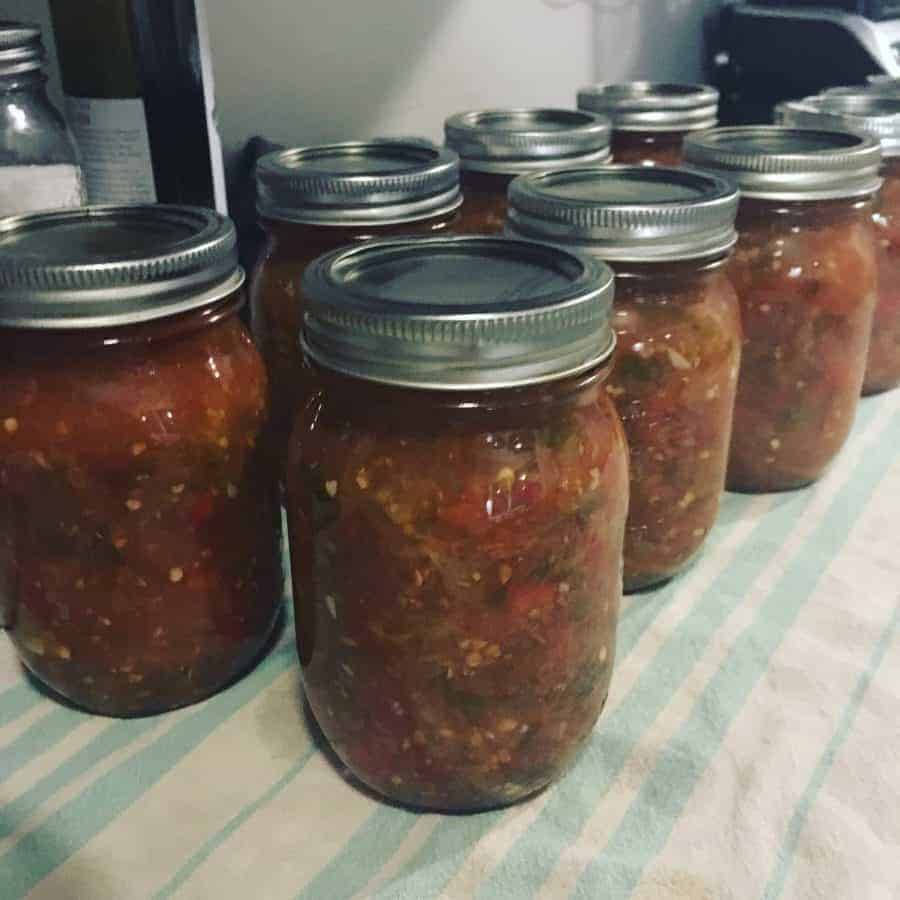 My name is Isis Loran, creator of the Family Food Garden. I've been gardening for over 10 years now and push the limits of our zone 5 climates. I love growing heirlooms & experimenting with hundreds of varieties, season extending, crunchy homesteading and permaculture.