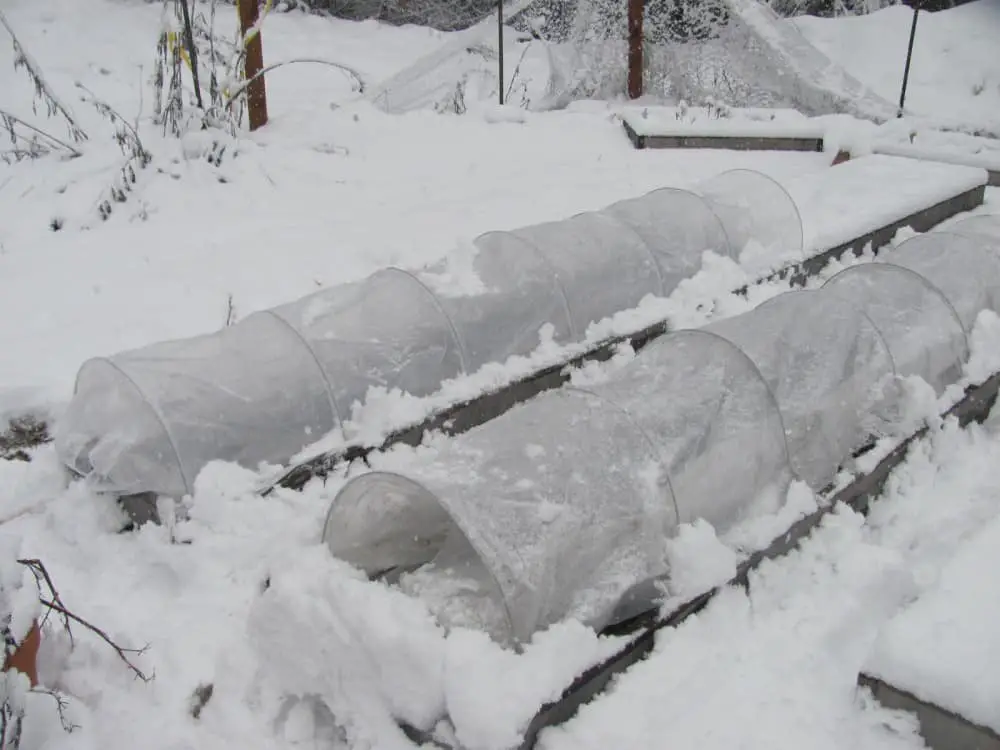 Can you really grow food year-round?
I've been trying to grow food year-round in our zone 5 Canadian climate, even with the heavy wet snowfalls and temperatures that dip down to -20C/-4F for years now.
Although growing food year-round might seem like a lot to learn at first, and requires some financial setup costs if you're using season extenders, it's really worth the time and money investment if you're serious about home food production or eating a healthy local diet.
Extending your growing season is one of the best ways to get more from your garden, especially in short season climates. One way to extend your growing seasons is to use an underground greenhouse known as a walipini.

The ability to grow year round does depend on your climate, but as you'll learn in this article there are many crops you can harvest with unheated season extenders.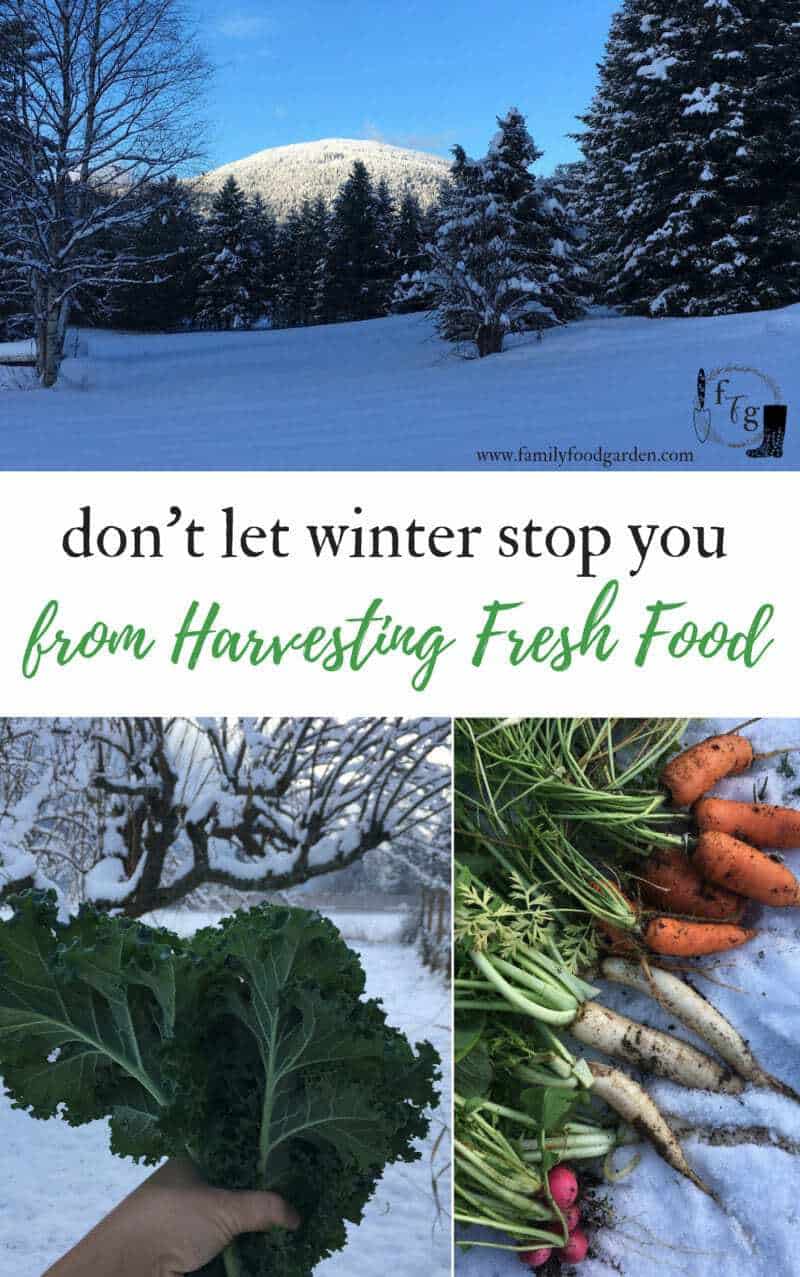 Planting the right crops can add weeks to your growing season.
I'll discuss what these vegetables are that can handle frosts and snow. I also go into overwintering veggies and growing indoors if season extending isn't possible for you.
The best time to season extend is in the spring and fall, and if you're feeling extra adventurous, the winter months even with the snow.

How to Grow Year-round
Edited: Since writing this post I've written a book on growing greens year-round as they are a super easy crop to focus on when learning how to grow year-round. Also when growing year-round it really helps to stay super organized, which is why I created the ultimate garden planner.

Selecting the Right Varieties of Crops to Grow Year-round
The days get hotter and longer in the spring so you'll want to choose cool season crops that are bolt-resistant in the spring. In the fall and winter you're selecting varieties that are cold hardy as the days get colder with shortened daylight.
Lettuce for example is not very cold hardy but if you grow varieties like 'Rouge D'hiver' or 'Winter Density' you can harvest in the colder months under tunnels. The same thing goes for springtime, choosing bolt-resistant varieties will help with the increasing heat.

Cool Season versus Cold Hardy
Cool season vegetables thrive in cool temperatures but are less likely to withstand light or hard frosts. Cold hardy vegetables can handle light or hard freezes, and may even overwinter under the snow for a spring harvest. Now this does depend on your climate & growing zone.
List of Cool Season Vegetables
Arugula, beet, broccoli, cauliflower, cabbage, celeriac, chinese cabbage, carrots, swiss chard, chicory (endive, frisee and radicchio), collards, fava bean, Florence fennel, garlic, shallots, kale, leek, lettuce, Asian/mustard greens, spinach, mache, mesclun greens, green onions, bok/pak choi, parsnip, pea, potato, radish, rutabaga, salsify, tatsoi.
Here are some Cold Hardy Crops
Arugula
Beets
Broccoli
Brussels sprouts
Cabbage
Carrots
Collards
Kale
Kohlrabi
Leeks
Lettuce
Mustard
Rutabagas
Spinach
Turnips
Mache
The cool season and cold hardy vegetables both benefit from added mulch, mini hoop tunnels, cold frames, greenhouses or heavyweight row covers.
Root veggies often taste sweeter after heavy frosts!
We've grown carrots, parsnips, turnips and beets for a fall harvest and have left them without protection (although mulching would extend the harvest). We've even harvested potatoes that were deep in the ground all winter and harvested in the early spring before they sprouted. Here's my guide to growing root vegetables year-round.

Crops to Grow with Season Extenders
Believe it or not, there are many cold-hardy crops that can handle frosts, harder freezes, and snow. Some even without the protection of season extenders However, if you want to grow food when the temperatures get really low then you'll benefit from using season extenders so long as you select the right crops.
Building & Using Season Extenders
Using season extenders might take a little practice but I promise you they're worth the time to learn (plus the start up cost).
Here's some info on building & using season extenders: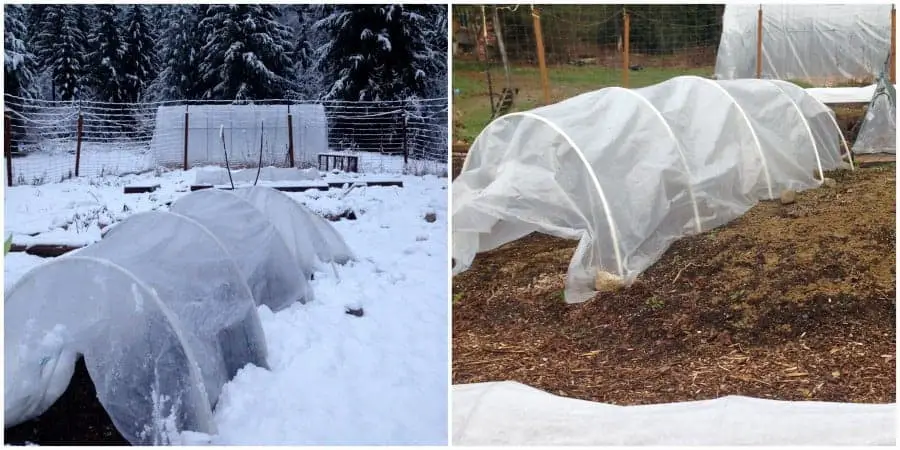 Venting Season Extenders
One of the most important things to remember is to vent your season extenders, the very thing that allows you to keep your crops warmer on the colder days can also get too hot. Venting is key to allowing good airflow and making sure your plants aren't stressed from the heat; many cool season plants can't handle and may even try to go to seed (bolt). The image below from Fix.com gives you a good idea of venting, although I strongly disagree with the row cover not needing venting; they definitely do and should be closed at both ends when it gets cold/below 0. In general temperatures above 3C/37.4F needs venting, especially with sunshine. I often don't put season extenders on until it dips below 0 in the fall to make the plants stronger for the winter.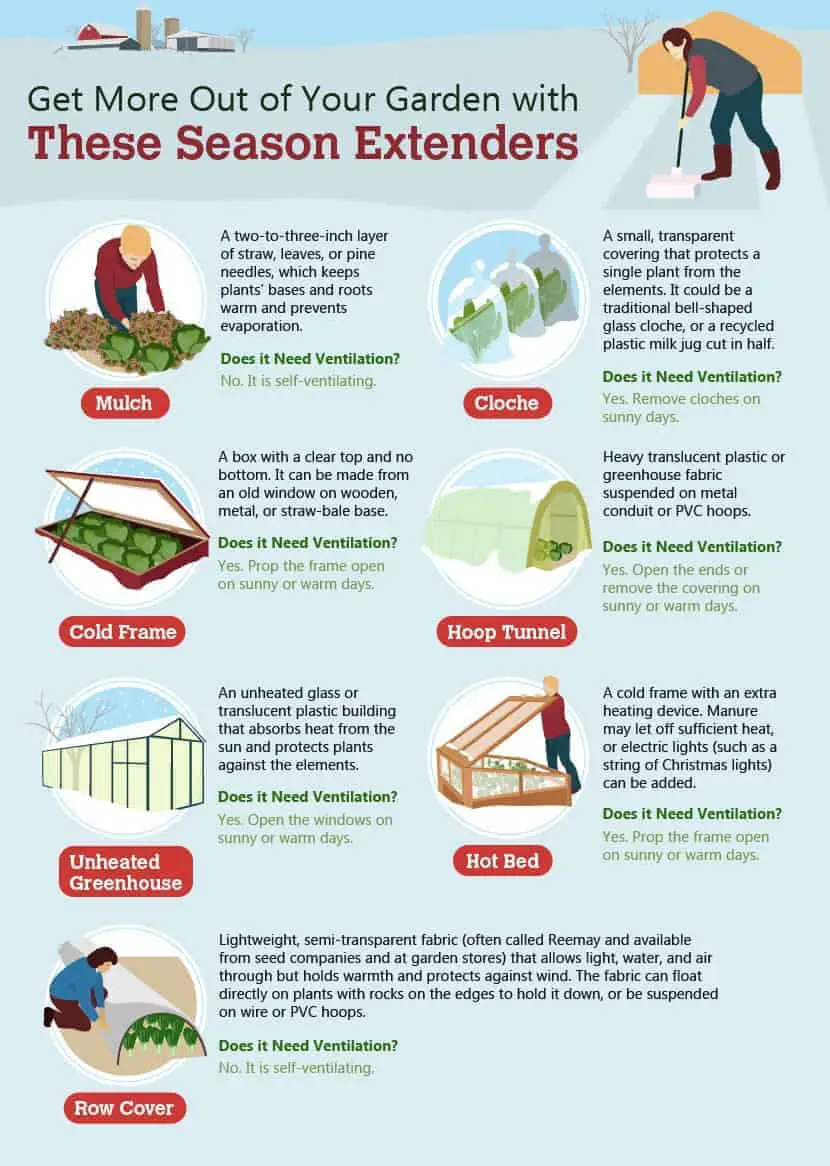 Tips for Season Extending
Practice getting the right sowing times and varieties. Every local climate will be different and need slight adjustments. I use this table from West Coast Seeds as a guideline for sowing and transplanting times.
Use transplants to get a head start in the spring and fall. Your crops will especially come sooner in the spring with transplants under tunnels!
Succession sowing every week over multiple weeks will help you get the right timing for your crops. You may get heat waves in the spring and fall which cause your plants to bolt. Sowing multiple times helps you still get crops that don't go to seed.
Restore the soil! Season extending means you're growing more crops in a single growing season. It's important to make sure you restore the soil in-between sowings otherwise your crops won't have enough nutrients to grow. This is especially important in the fall because they need to grow fast before the cool weather sets in and because of Persephone days.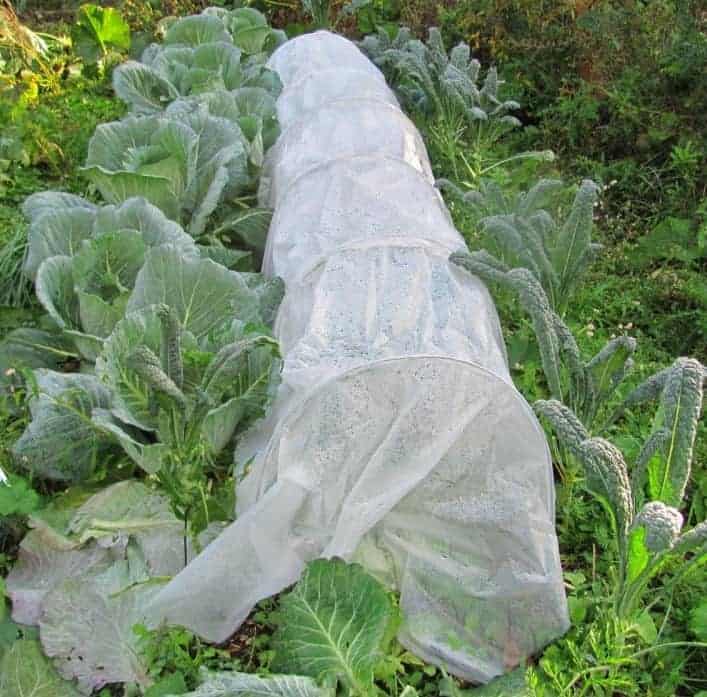 Planning your Fall/Winter Garden
Garden planning and timing is just as important as which varieties you plan to grow in your fall garden.
Here are some great posts on how to plan and plant your fall or winter garden:

Can you Really Grow Food Year–round, 365 days a year?
YES. Even with a zone 2 climate, you can grow indoors if you're not up to/it's too cold to garden outdoors!!
Indoor Gardening
Get spring greens early by foraging, perennials and overwintering
Conclusion
Growing food year-round with season extenders can give you weeks more growing time in your garden. I've been doing it for years now, experimenting with different varieties and season extenders in our colder northern climate and I can tell you it's amazing to harvest green food when there's snow on the ground!
Do you try and grow food year-round?