Greens have been all the rage for the past decade and for excellent reason.
Greens are packed with nutrition, vitamins and minerals and many have a great amount of protein. I'm not here to convince you of all the nutritional benefits that greens have but to help you have a fresh or preserved supply year-round. Greens are easy to grow, offer excellent dollar value and can be sown multiple times a year which makes them the perfect crop to learn year-round growing techniques.

Can you really grow greens year-round?
Yes, you can Grow fresh greens year-round!
Baby greens not only offer excellent dollar value but are ready to harvest in 30 days, micro greens and sprouts within a week or two. They are perfect for growing year-round because unlike many other crops, they can be harvested at multiple life stages. This means that even if your head lettuce or your collard greens didn't grow to the full-sized potential, you can still harvest your leafy crops instead of wasting space. This makes a huge difference in timing because crops that take a long time to grow like root veggies or winter cabbages can be challenging for beginners venturing into year-round gardening.
You'd be surprised at how many greens can be harvested in frosts and even snow!
I've had our kale and winter cabbages unprotected down to -10C/4F. With the help of season extenders you can protect many greens down to -20C/-4F because there are many that are frost hardy and some can even withstand minor snow. This allows year-round possibility with season extenders in colder climates. For the climates that get really cold or heavy snow you can easily grow baby or microgreens inside.
There are also many techniques to grow fresh greens
Important tips for success
One of the key elements to master when growing greens year-round is succession planting.
This means sowing multiple times a year for consistent frequent harvests and requires smart garden planning and good organization.
Because no one wants to deal with 30 heads of lettuce or too many greens to freeze all at once.
Growing greens year-round is also easier when you learn the many ways to increase yields in small spaces.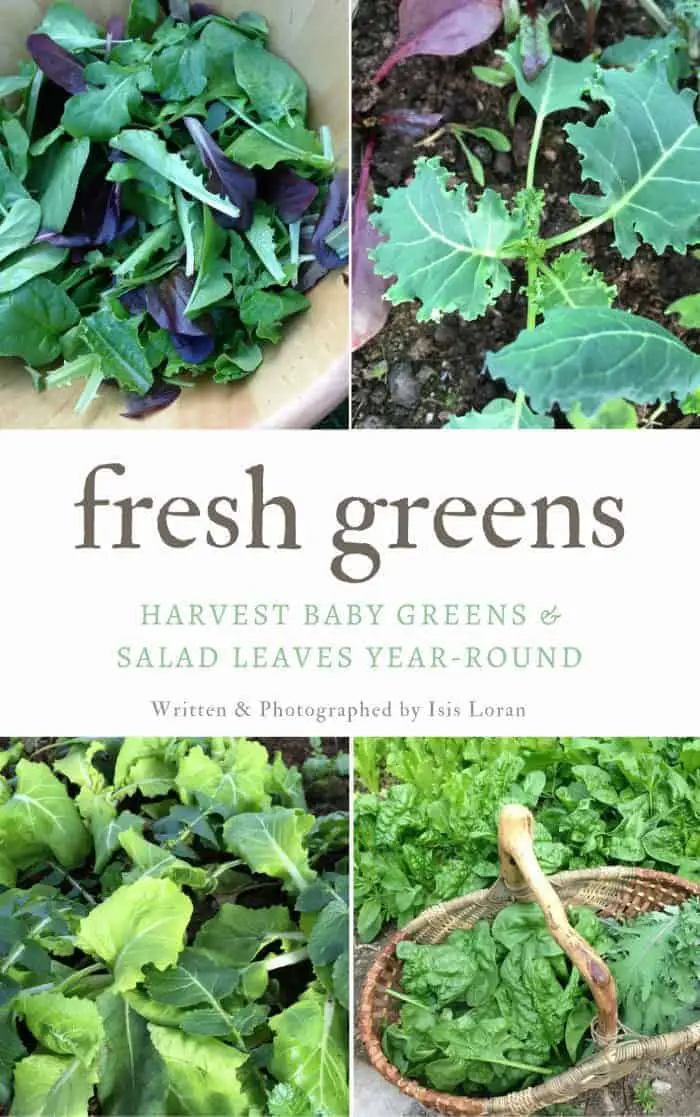 This book is only $2.99 and has everything you need to learn how to grow and harvest 52 weeks of fresh greens no matter what your climate is!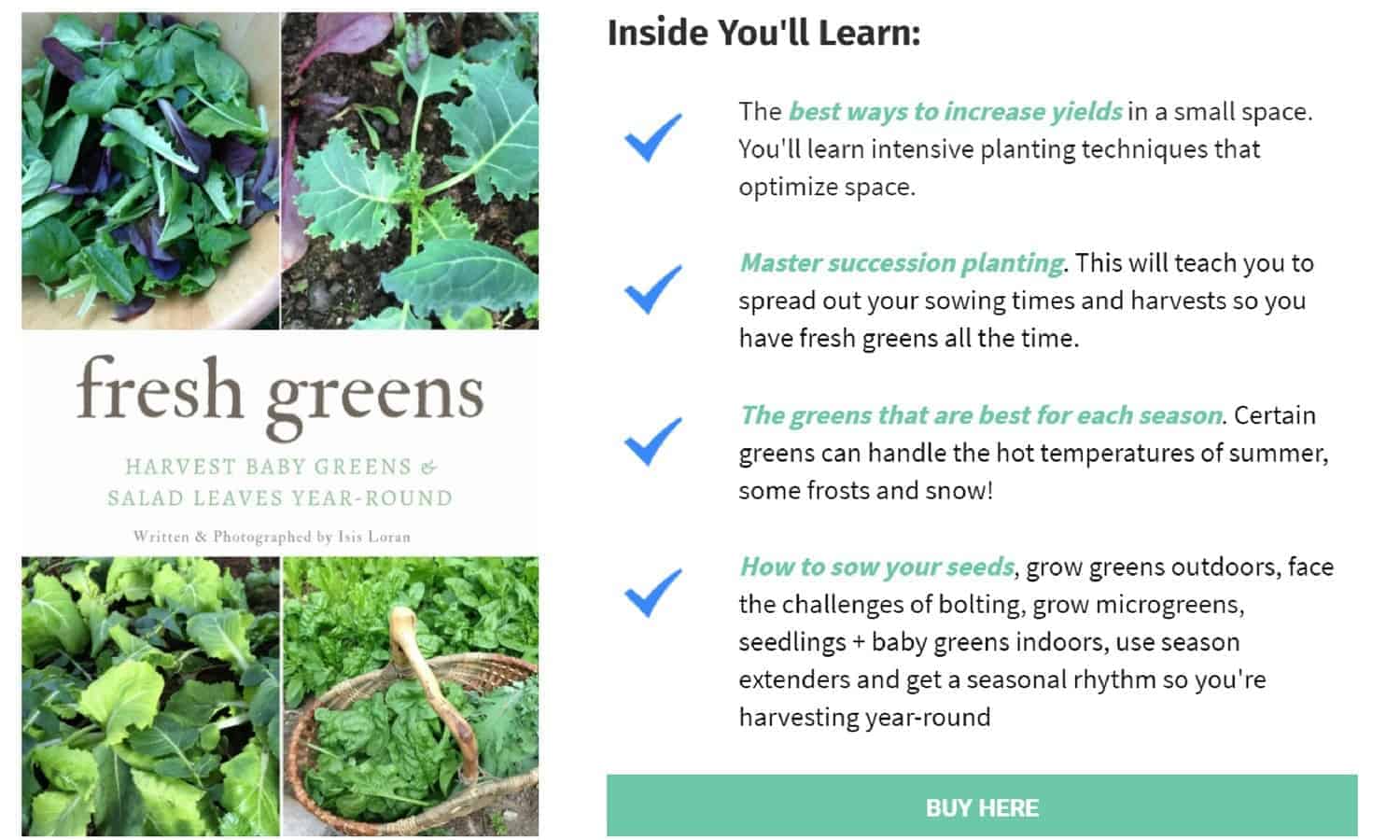 What the book will teach you:
How to grow your greens
Garden planning tips for year-round success
Get to know greens with beautiful photographs
The top ways to maximize yields
Growing for your climate
Using season extenders in the fall and winter
Dealing with challenges like bolting during heat waves, pests, drought & more
Overwintering and spring tunnels for early harvests
Growing baby greens and microgreens indoors for those deep cold climates
OR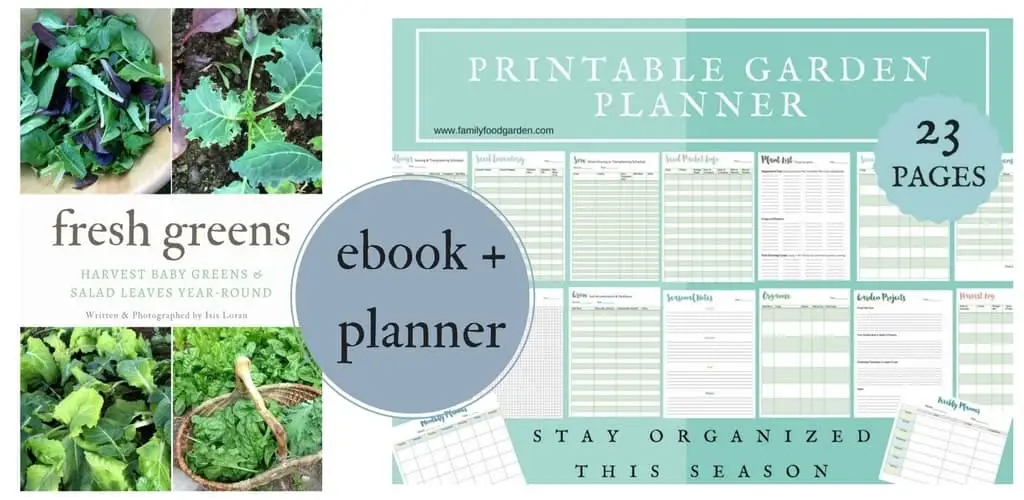 You can also save $ get this fabulous greens eBook & my ultimate printable garden planner together!
Staying organized can really help you to have a successful and bountiful gardening season. When you keep track of your seeds, seedlings or harvests you become a better gardener and can troubleshoot problems better. You can also dent your monthly grocery bill!
My garden planner will help you figure out what to grow by figuring out your monthly produce spending to find the most valuable crops to grow. These printable sheets will help you start your seeds, keep important information in one place and have detailed gardening records of your season. You can also set short-term or long-term goals, create future garden projects and keep track of your seed inventory.
This 23 page printable garden planner includes:
*What do you Eat & Spend on Produce
*What to Grow
*Seed Inventory
*Seeds to Purchase
*Seed Packet Information
*Sowing Schedule
*Seedlings (Seed Starting & Transplanting Schedule)
*Succession Sowing Schedule
*Crop Rotation Notes
*Organize your Crops into Beds/Rows
*Garden Layout Planner
*Square Foot Garden Planner
*Soil Amendments
*Monthly Planting Planner
*Weekly Planting Planner
*Seasonal Garden Chore Lists
*Pests & Disease
*Garden Projects
*Harvest Log
*Garden Expenses