The sooner you can harvest fresh food, the faster you're reducing your grocery spending!
When you sow your seeds during your spring gardening you feel hopeful, excited and renewed for the growing season ahead. The first harvest is always the most exciting and memorable. But you often have to wait 1-3 months to get your first veggies depending on what you're growing.
Can you get earlier harvests? Yes!

Ways to Garden Earlier in Spring for More Harvests

Overwintering
Overwintering is one of the best ways to get an early harvest!
You'd be surprised at how many veggies can handle being nestled under the snow and sprout again come springtime. It does depend on your climate (we're in a zone 5) although even in a zone 3 you might be able to overwinter spinach (one reader on our Facebook page did!).
One thing to keep in mind is that your overwintered veggies are ones that flower in the second year (biennial). That means they'll produce leaves or roots for early spring food however will go to flower/seed shortly after. You usually get a few weeks of greens however before that happens, and some greens is better than none!
Pictured above is a large bowl of overwintered 'Dwarf Siberian' Kale harvested in the springtime right before it bolted (flowered). Below is a photo of direct sown 'Winter Density' lettuce under season extenders (low tunnel) compared to an overwintered lettuce. Amazing the difference!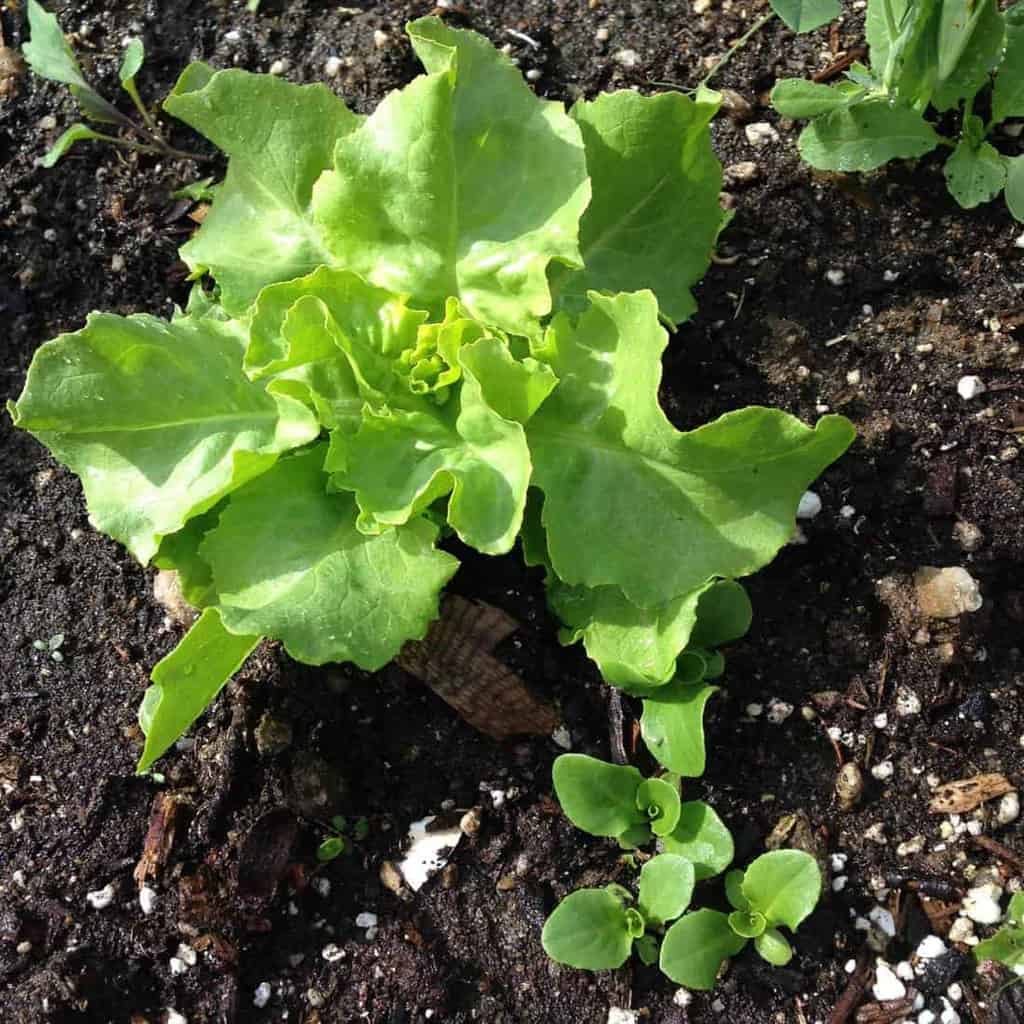 Now imagine a whole bed full of overwintered lettuce, kale, spinach and arugula for lots of early spring greens!
Below I list many of the crops and a few variety suggestions (based from my experience) for overwintering veggies. There might be more or less depending on your climate/growing zone.
Best Crops to Overwinter
Kale (Red Russian, Dwarf Siberian, Winterbor)
Arugula
Mache
Spinach
Swiss Chard (Fordhook Giant)
Parsnips
Carrots
Collards (Champion)
Cold hardy Cabbage (Deadon, January King)
Cold hardy lettuce (Rouge D'hiver, Winter Density *pictured below*)
Fava Beans
Sprouting Broccoli
Leeks (Bandit, Tadorna, I've succeeded with Bleu de Solaise too)
Green Onions
Mustard Greens (mizuna, Giant Red)
Grow or Buy Transplants
The photo above shows an overwintered cold hardy lettuce, but you could just as easily mistake it for a transplant.
Growing your own transplants is a great way to get your crops a head by a few weeks.
You should start your transplants a few weeks before last frost, and even sooner if you're using season extenders.
Season Extending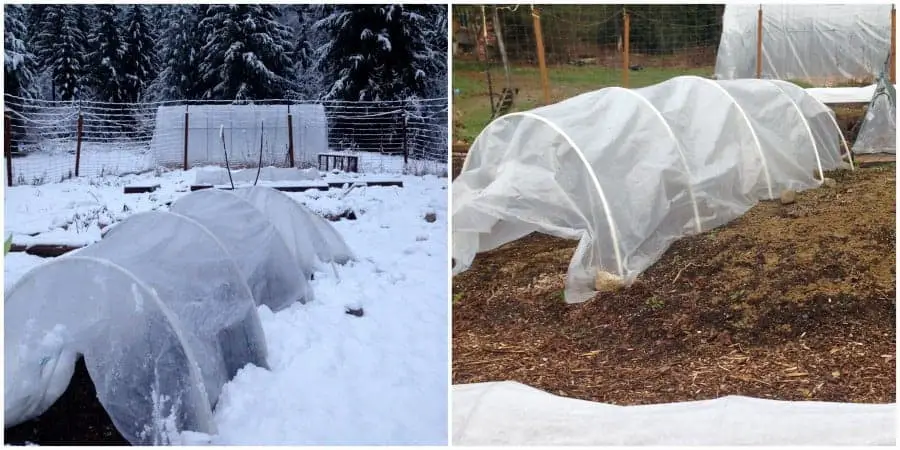 If you use season extenders then you can warm up the ground and sow or transplant your crops sooner!
I've had harvests of fresh greens weeks before than if I'd direct sown them straight into the garden. Spring weather is notorious for erratic weather like strong winds, rain, storms and sunshine.
Season extenders are a great way for your seedlings to grow faster without as much weather stress.
Above you can see photos of early spring season extending in our zone 5 climate. Sometimes I use plastic, other times just heavy weight row cover for mustard greens and other crops.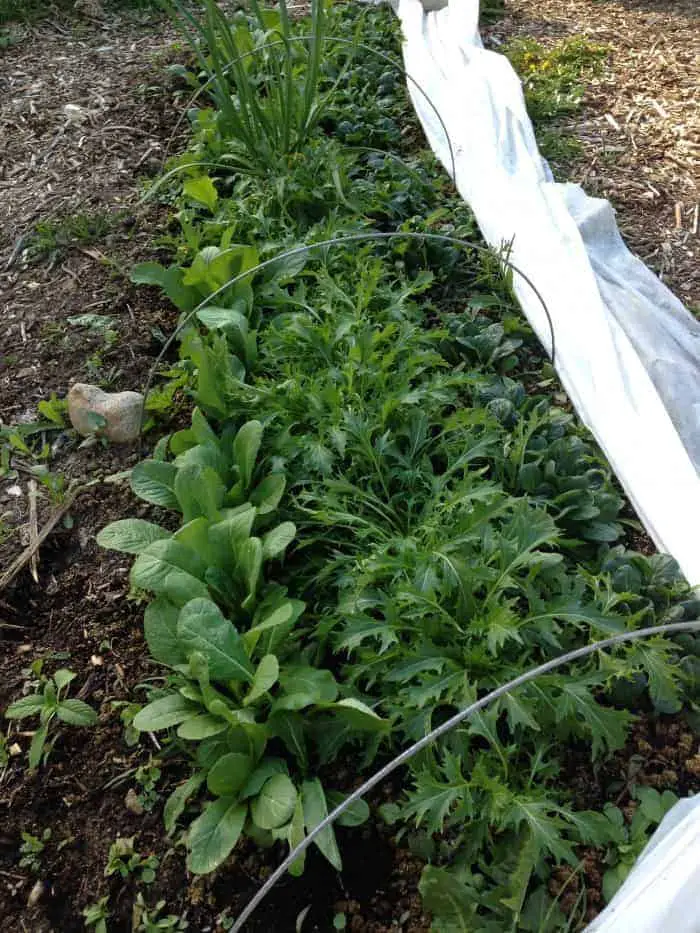 You have to choose your crops carefully though, and often the season extenders need to be in place for a few weeks with some spring sunshine to warm up the ground. Sowing too early can actually make certain crops bolt, other times seeds won't germinate as the soil is too cold. Other times you can directly sow or transplant under season extenders for early harvest. In our growing zone we almost always get a late dump of snow after weeks of nice 3-7C weather. Giving crops just a little protection means they handle that last dump of snow, and I don't have to wait until that time to sow or transplant my crops.
Perennials
Growing perennials ensures you have a crops that comes back year to year, but will the harvests come that much sooner in the spring?
Crops like Egyptian walking onions, asparagus and greens that self sow like mache or orach can be a way to get early spring harvests but they may or may not be that much sooner.
The benefit to perennials is that they are fine tuned to the weather; if it warms up earlier one season then they'll start growing before you're even ready to sow.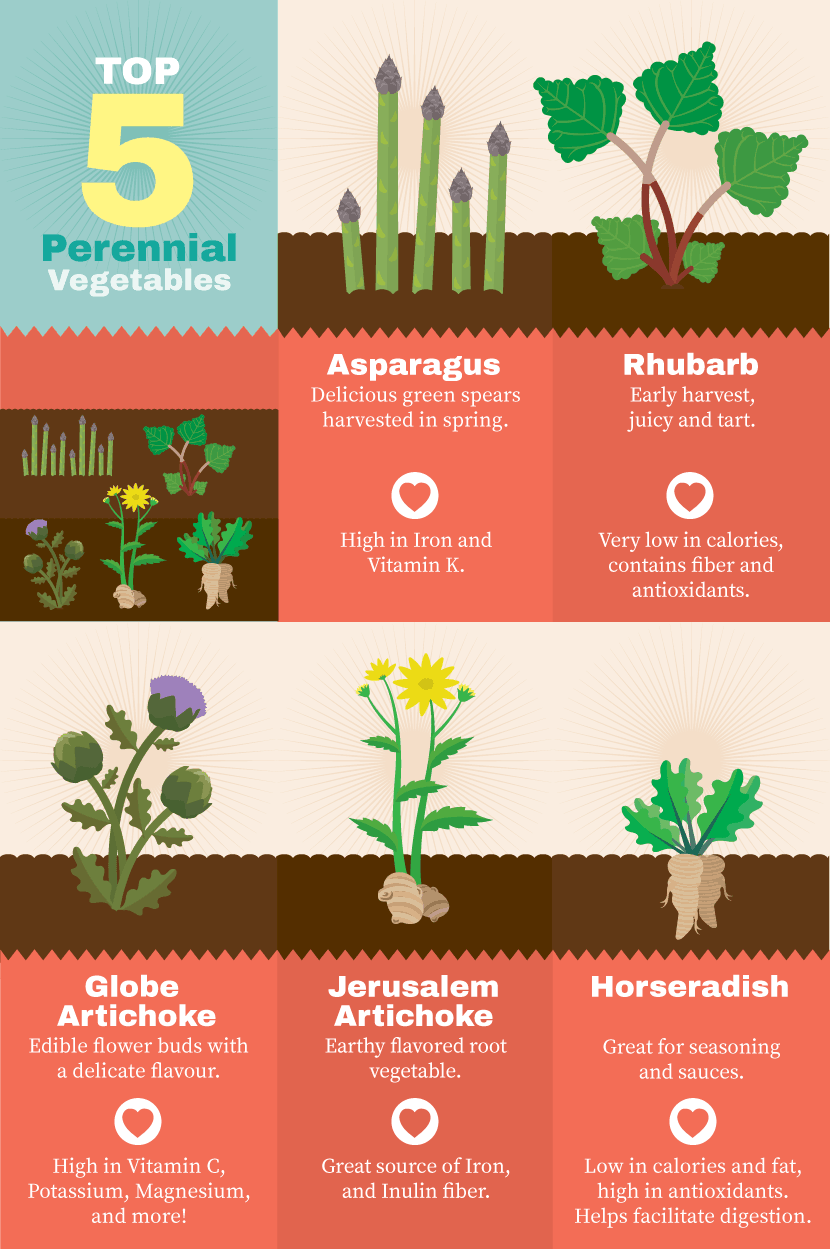 Source: Fix.com Blog
Conclusion
Using some or all of these methods will provide you with early spring harvests!
It's definitely worth it because the cost of many of these cool season crops is high. It also helps to grow fast-growing vegetables in the spring as you'll receive harvests quicker!