Garlic scapes are the unopened flowers of hardneck garlic varieties and you definitely want to harvest them because they taste great and it allows the garlic to focus its growth on the bulb instead of going to seed (this will make for larger bulbs!).
This post is full of yummy garlic scape recipes, and when and how to harvest scapes.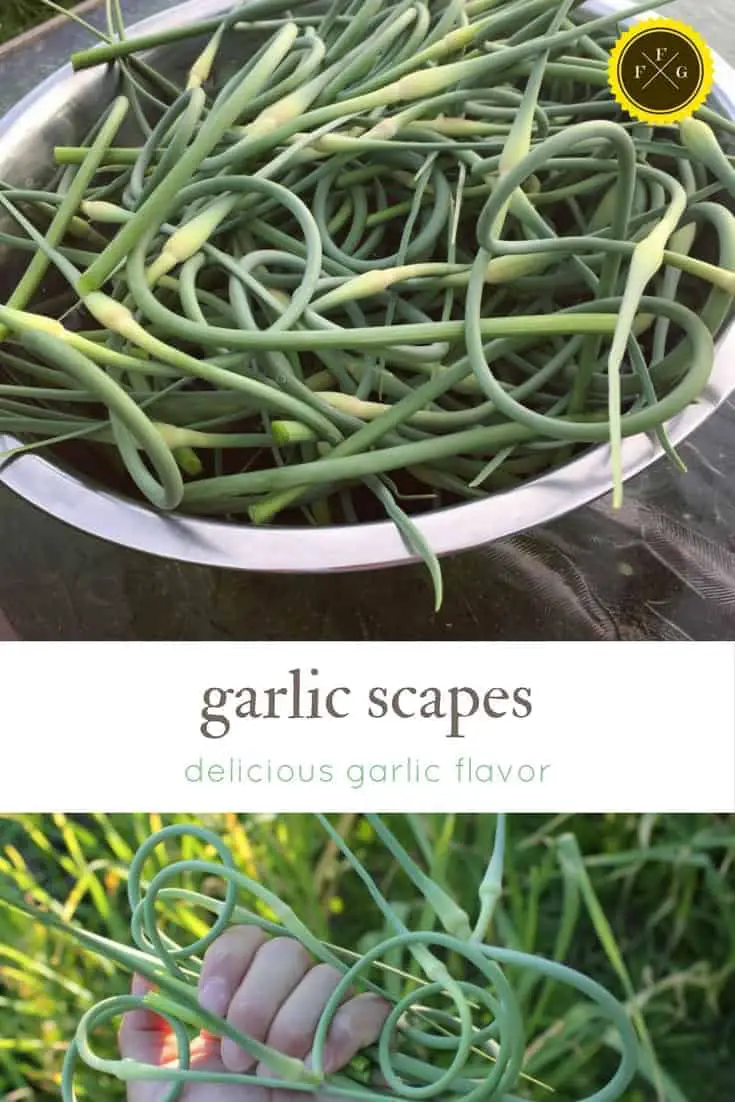 Garlic Scape Recipes

Garlic Scape Pesto Recipes

When to Harvest Garlic Scapes
Garlic scapes have a short harvest window, for our zone 5  it happens around mid to late June. They'll begin to appear and be ready within a week to 10 days.
They come out of the center of the garlic plant and grow straight and will be have a yellow tip.
Within a few days they will curl in a round fashion and grow long enough to harvest. You can see the progression of the growth in the pictures below starting on the top left.
How to Harvest Garlic Scapes
I use a knife and cut just at the base of the spiral.
Depending on the variety they will be ready at different times. They keep quite well and I often just store ours on the dinning room table for about a week, but the garlic juices are wonderful fresh as you'll notice when you cut them. I check our garlic every couple of days for scapes that are ready and harvest accordingly. They are fun to carry on your arm due to the curl (& I often forget a harvest basket!).
They freeze quite well as a pesto but I still prefer to eat them fresh & often grilled or sautéed with other veggies.
I hope you enjoyed this recipe round-up and please share your favorite recipe in the comments below!