Do you want to learn the best way to grow potatoes? Potatoes are an excellent food crop that many gardeners grow because of the high yields they produce.
I've been growing potatoes for years now and I've had the time and space to dabble in different methods of growing them.
Everyone will have a preferred method, but after trying a variety of ways I wanted to talk about my experience with each one.
In this post, I have compared four ways of planting potatoes: In deep containers (pallet), in burlap bags, in the ground, and using the hilled up soil technique.
First I'll give you some tips for how to grow potatoes & then show you 5 different ways to grow potatoes.
How to Grow Potatoes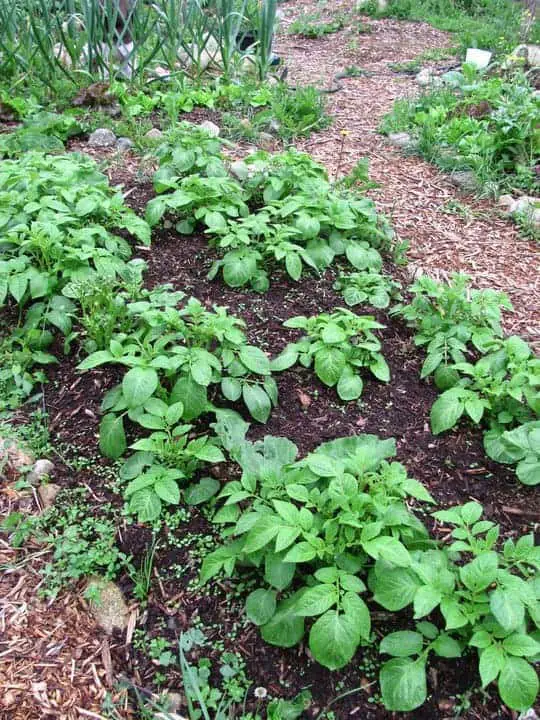 Ideal pH: 5.5-6.5. Potatoes grow better in well-drained, loamy soil rich in organic matter. I've grown potatoes in poor soil but it does reduce yields.
If your soil is heavy and clay like, double-digging really helps and add compost or manure  to increase drainage. Do not lime areas planned for potatoes. Be sure to water lots, especially when green.
Some people prefer to chop potatoes before planting as it creates more plants. Others will say that it's not worth exposing them and increasing potential diseases.
I personally do not cut the potatoes before planting. If you do cut them make sure they have a couple of good 'eyes'.
Best Way to Grow Potatoes in Containers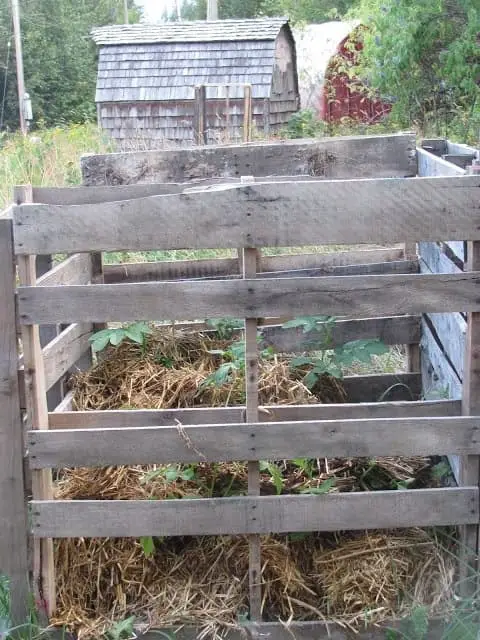 The Deep Container Method is a way to plant potatoes in containers without growing root-bound or overcrowded potatoes.
It uses wooden pallets and straw/mulch to allow the roots of the potato plants to move around freely.
This will make for less crowded potatoes with more tubers per plant, while at the same time reducing the need for harmful pesticides.
This method uses the straw from the pallets to create a deep mulch around the plants that allow for great root growth.
The roots are given more room to grow, reducing crowding, and are also kept moist by the straw.
This promotes faster growth and higher yields than normal potato planting methods. It is one of the best ways to grow potatoes in a small garden.
I was first sold by this deep container method with the promise of something like 100lbs by using a large deep container.
The idea is that the taller the potato plant grows, the more soil is added until you've doubled or tripled the height.
With the increased soil depth, the volume of growing space increases and thus the potatoes yield. That's a general rule of thumb for growing potatoes.
Does Growing Potatoes in Containers Work?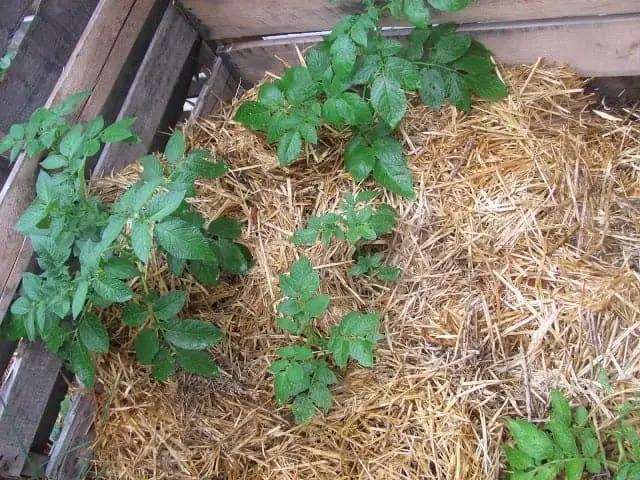 It's true that the deeper the soil is the more potatoes you'll get. I can vouch for that. However for some reason every time I've tried to grow potatoes in deep containers its failed me.
I was super excited for this, and yet, my yields were terrible (compared to the yield I should have had). I believe the main reason was lack of light.
While the potato tubers themselves should be grown away from light, the leaves need it to grow and thrive to get tall enough to keep mulching.
I used soil, straw and wood chips to mulch them as they grew. However the green parts were so short that mulching was almost pointless.
They grew very slowly, probably because of poor soil quality too, and didn't get close to the top like they should have, only about half way up before the greens stopped growing, and thus a crappy yield.
Would I try this method again?
Maybe. The soil would fall out the sides of the pallets so it wasn't the most ideal container.
I've yet to try other deeper container methods to know if this is a definite fail.
There are many people who swear by growing potatoes in containers but so far I've had no such luck.
Best Way to Grow Potatoes in Bags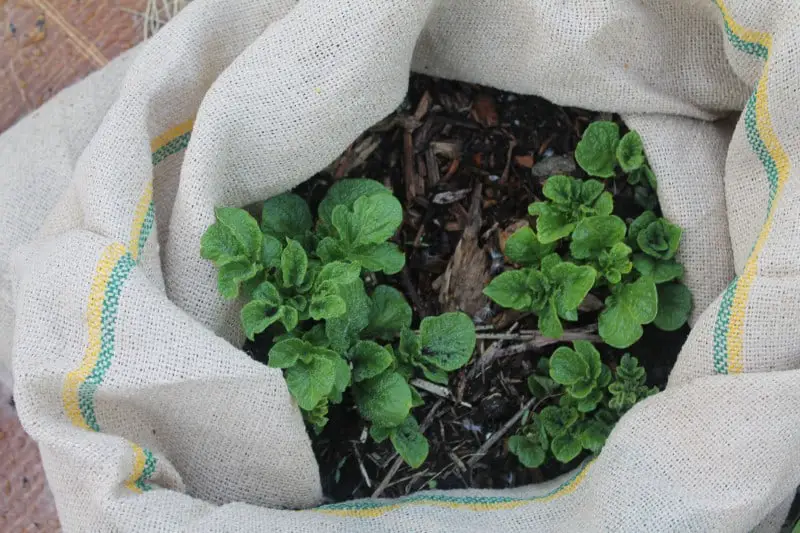 Did you know you can grow potatoes in burlap bags?
The Burlap Bag Method is a method for growing potatoes that uses burlap bags.
The bag has small cuts in it to receive the seed (potato) and also has a string attached to form a handle used to lower the seed into the dirt and pull it back up when the plant has grown enough to be harvested.
What I liked best about this method is that you can fold the burlap bags all the way down, then roll it up as the plant grows/as you need or as you need to add more soil/mulch.
I noticed that there was more light that could get to the plants compared to the pallet container method.
Does Growing Potatoes in Bags Work?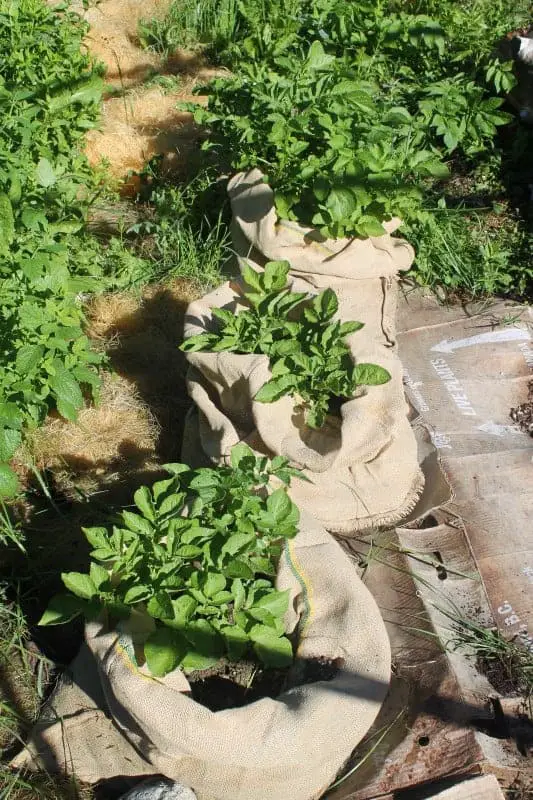 Yes, but to be honest the yield wasn't amazing. I think the main challenge with the burlap bags is consistent water retention.
The water would simply leak out of the burlap bag holes quicker than the soil could absorb it.
Like any container growing, the soil gets dry quickly compared to a garden bed and potatoes need lots of water during the green growing stage.
Would I try this method again?
I think I might try this one more time, maybe with larger bags, just to be sure it doesn't yield more.
Best Way to Grow Potatoes in a Small Garden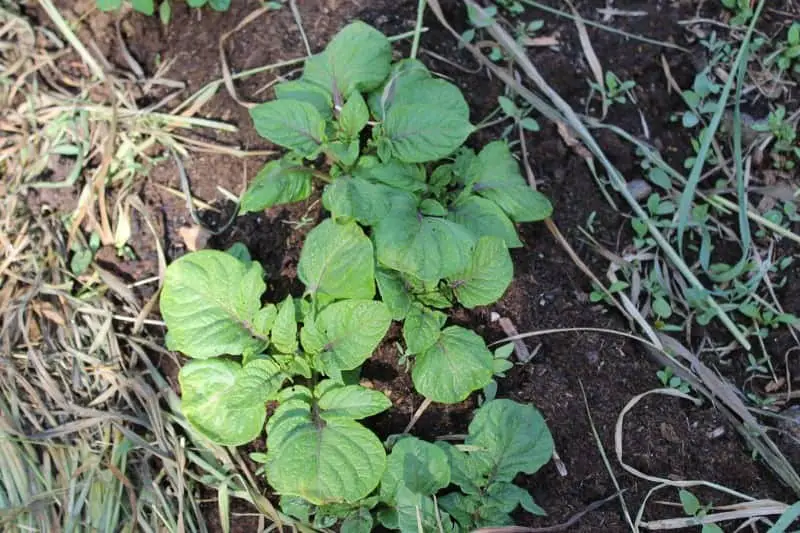 I've grown potatoes quite a few times using the 'in the ground leave them be method', especially when I was new to gardening.
There is no adding soil or mulch to the plants, and other than watering, you just let them grow.
The Ground Method is a traditional planting technique for potatoes that is also known as the hill method. This method involves digging a small trench in which to place the seed potato.
The soil from the trench is then mounded around the seed potatoes, and thus creating hills of loose soil where newly planted potatoes will grow from.
This method works best on sandy or rocky soils where mounding up loose soil is easier.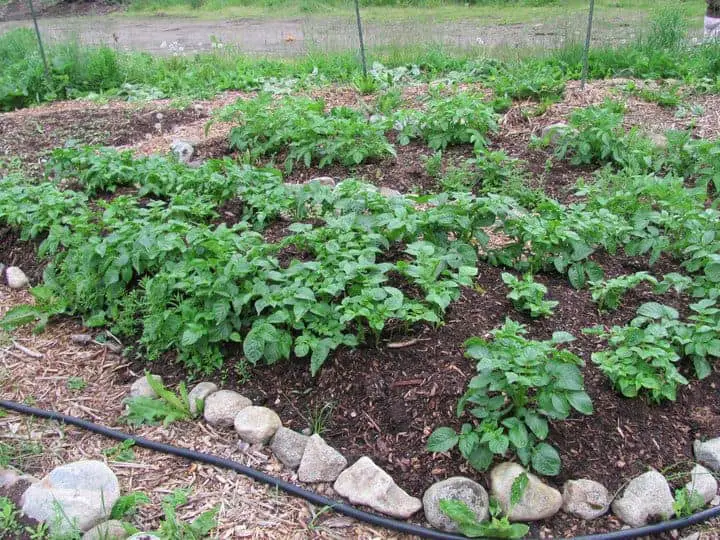 Yes, we ended up with a good yield, but as you can see below, the plants got very tall. The depth of growing space is thus greatly reduced.
The 'in the ground method' still yielded higher than the container or the burlap bag methods (for me) and I accredit it to the plants being healthier and larger from lots of sunlight and better water retention.
'Hilled Up Soil' Potato Growing Method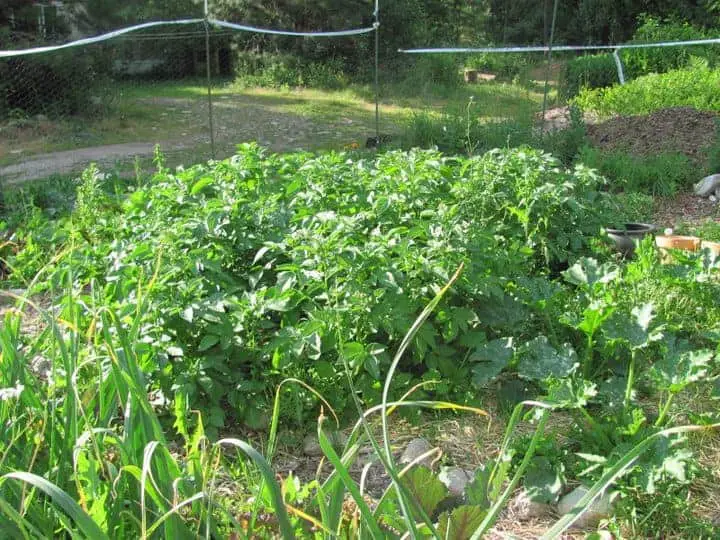 This is hands down my favorite way to grow potatoes as it's resulted in a higher yield every time compared to the other growing methods.
It uses the same principle of the container method in that as the plants grow, you keep adding potting soil so that there's increased depth to grow more tubers.
So it requires your plants to have well-prepared soil.
The "hilled-up soil" technique of planting seed potatoes is a classic style used by generations of home gardeners.
It enables the gardener to produce superior-quality tubers in an extremely small space, but it is very labor-intensive.
When you hill up the soil, you basically are making sure that there's more room for the plant's roots than there is in the normal growing conditions.
By adding soil you deprive the potatoes of light, which forces them to shoot out more roots first.
These new shoots then search for nutrients and water that are buried deeper in the ground than they would normally go if left on their own.
The extra root growth allows larger yields than normal.
I loved that I could just rake up 'or hill up' more soil & straw as the plants got bigger.
It was much easier in my opinion than trying to add soil to the pallet container or rolling up the burlap bags. It is a nice way to space seed potatoes.
Before adding more soil & mulch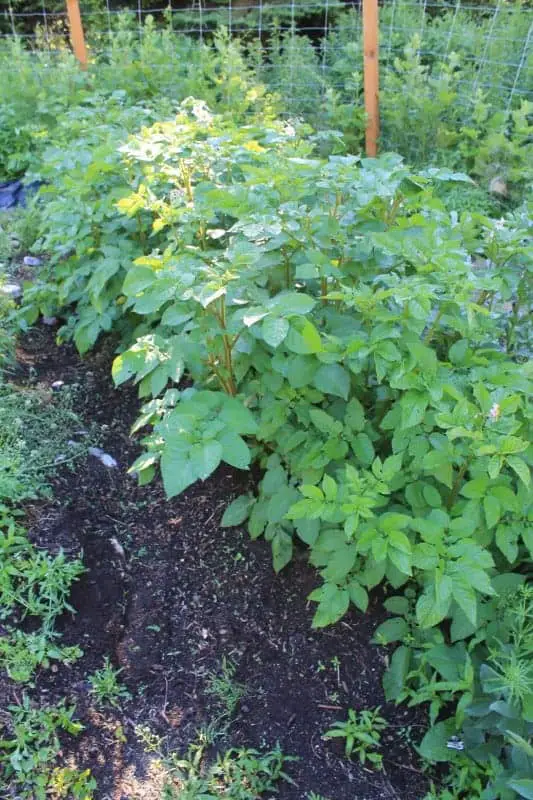 Freshly hilled up soil and straw leaving the tops of the plants for more growth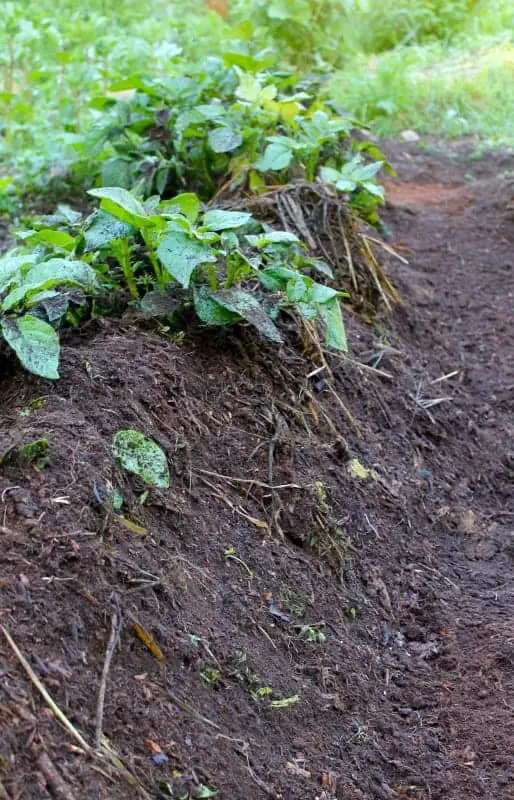 Does it work?
Yes it does!!!
However I will say that the potato plants ended up being way too tall. I kept hilling up the soil but it got to a point that the soil was falling down too much (past the 3.5 feet mark).
I ended up hacking them down because they were still green by mid-August and I needed the plants to focus on tuber growth. There might of been too much nitrogen in the soil.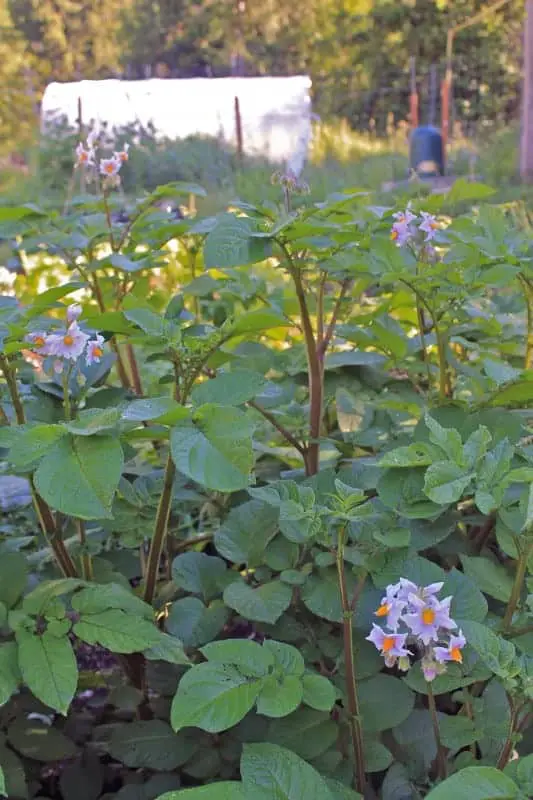 Conclusion
So what is the best way for growing potatoes? 
I would say for me, the 'hilled up' method is my favorite way to grow potatoes.
I would be happy if I could somehow get my container potato plants to be as large and luscious as the hilled up ones I've grown. Perhaps time will tell if it can be done.
What has been your experience been with the different potato growing methods? What has worked best for you?