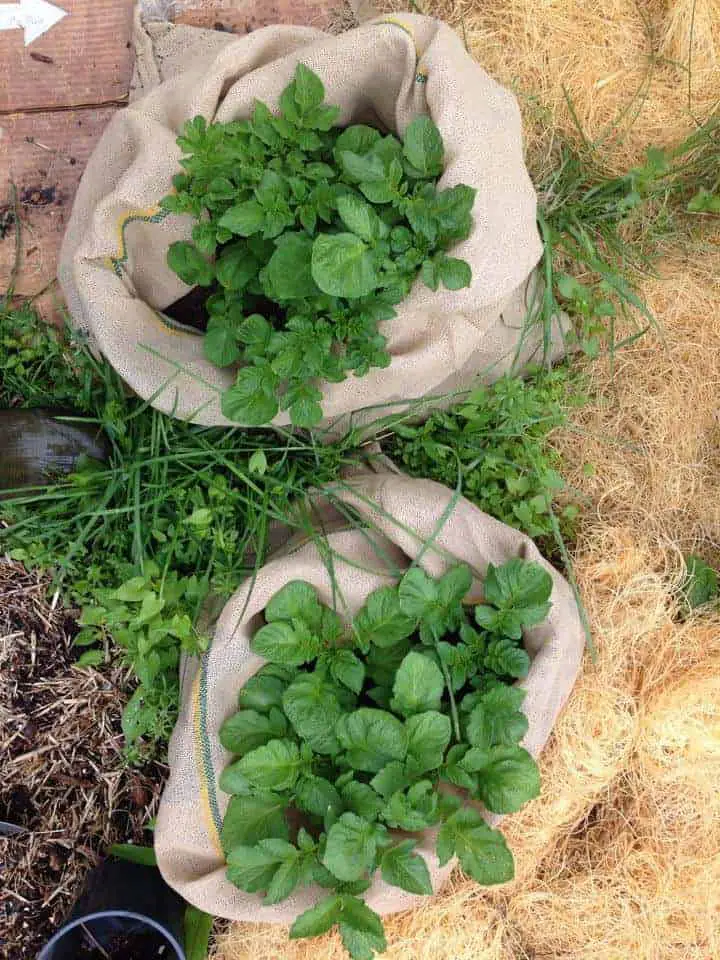 Burlap bags make a cheap container garden option
When most people think burlap sacks and potatoes they think of storing potatoes. We tried growing potatoes in burlap bags and I wanted to share with you how it went. We had the idea of growing potatoes in burlap bags because potatoes can take up a lot of space in the garden which is why growing potatoes in containers (see LOTS of ideas here) can be a great solution.



Potatoes can grow quite tall & will produce more yields if you keep 'hilling up' the soil or adding straw mulch up to the top of the greens.
That's why growing potatoes in containers works so well.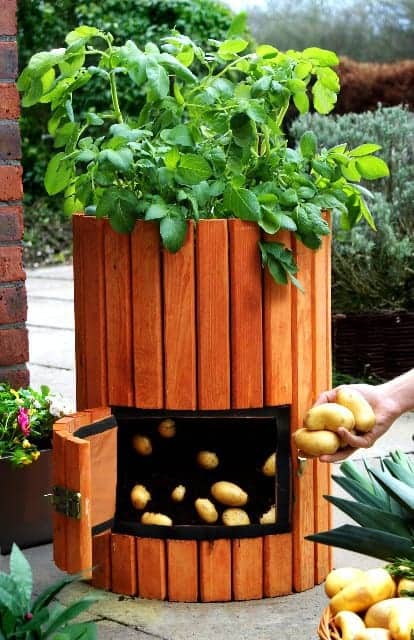 What about burlap bags? Does that work?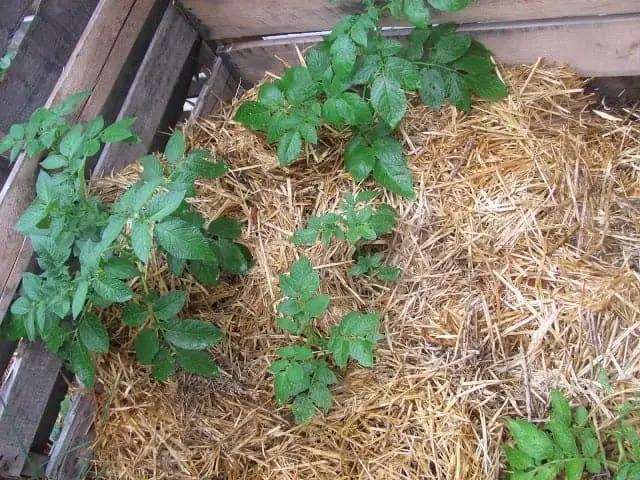 The great thing about growing potatoes in containers is instead of hilling up the soil, you just add more soil or straw to the containers as the plant grows increasing yield from the depth.
Although hilling up is still my favorite way to grow potatoes, I still enjoy growing them in containers, especially new potatoes that are ready early in the summer. I almost always have 'volunteer' potato plants that make a mess of my garden planning so gently moving them with the soil into a container, adding more soil and compost has been as easy fix for those rogues.
Growing potatoes in containers is great for renters, helps saves space and makes for easy harvesting.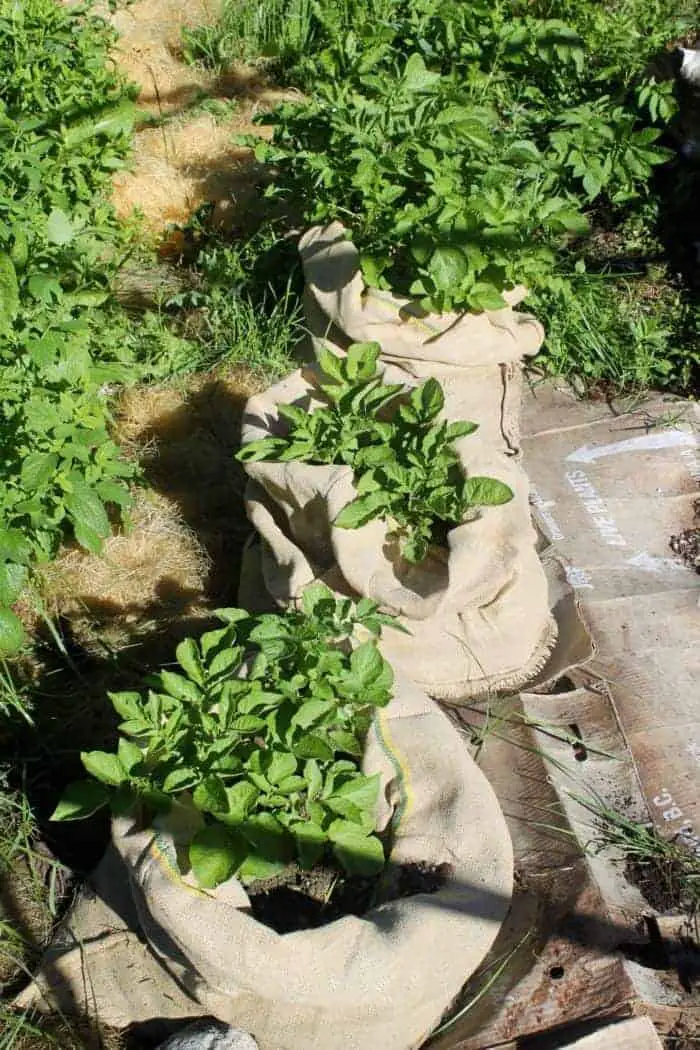 Growing Potatoes in Burlap Bags vs Potato Grow Bags
Although I highly recommend the potato grow bags, burlap bags are nice and cheap and can be 'rolled up' as the plants grow. They also come in different sizes, the small ones being better for new potatoes, if you want to grow main season potatoes, use the larger ones. Potato plants appreciate the sun during the green leaf stage and rolling them up as the plant grows works well compared to being in a container of a specific size.
The drainage is excellent, but the water can leak out easily which means the grow bags have better water retention.
West coast seeds has a wonderful growing guide for growing potatoes in grow bags.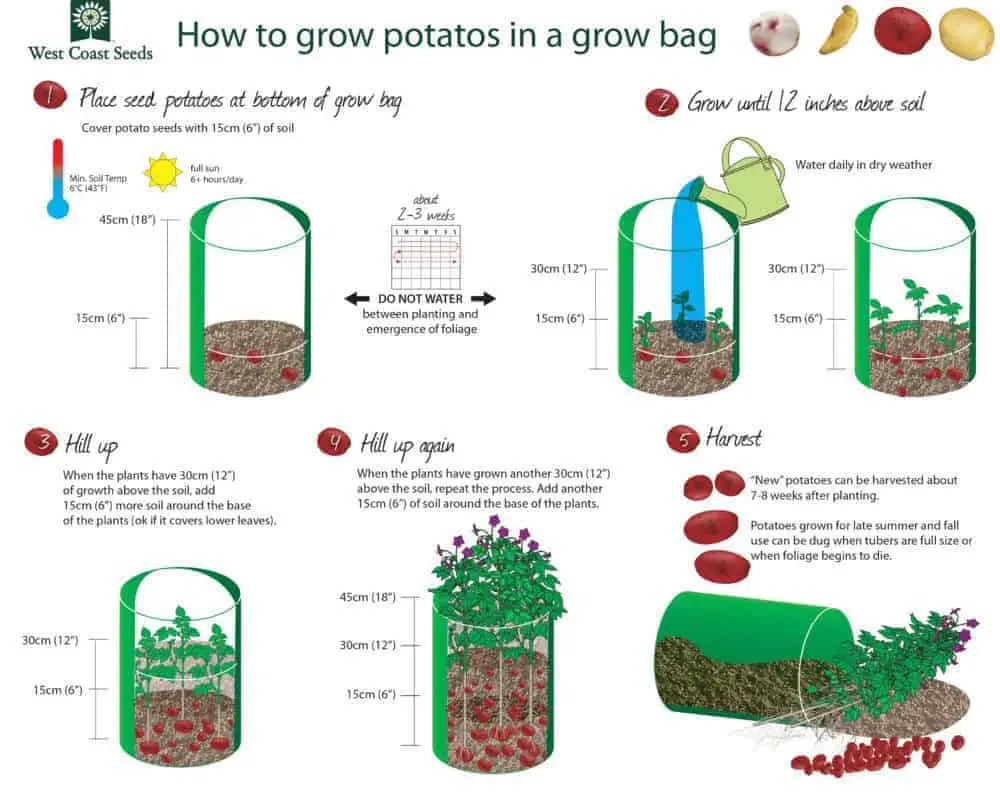 How to Grow Potatoes
Potatoes thrive in well-drained, loose soil. Well-drained, loamy soil rich in organic matter is preferred, but potatoes are not overly fussy. Ideal pH: 5.5-6.5.
Potatoes need consistent moisture, so water regularly when tubers start to form.
Hilling should be done before the potato plants bloom, when the plant is about 6 inches tall.  'Hill up' soil 15cm (6″) around the plants. It's okay to cover green leaves. Straw or grass mulch also works well. This process can be repeated up two or three times.
"New" potatoes can be harvested about 7-8 weeks after planting. Potatoes grown for late summer and fall "fresh" use can be dug when tubers are full size or when foliage begins to die.
It is recommended that no irrigation take place between planting and sprout emergence in order to avoid disease. It is important, though, not to let the soil become too dry, and to water while plants are flowering.
Companion Planting: Bush beans, Brassicas, carrots, celery, corn, garlic, marigolds, onions, and peas all do well planted near potatoes. Avoid planting potatoes near asparagus, cucumber, kohlrabi, melons, parsnips, rutabaga, squash, sunflower, and turnips.
See Related Article: Vegetables That Grow in Hot Weather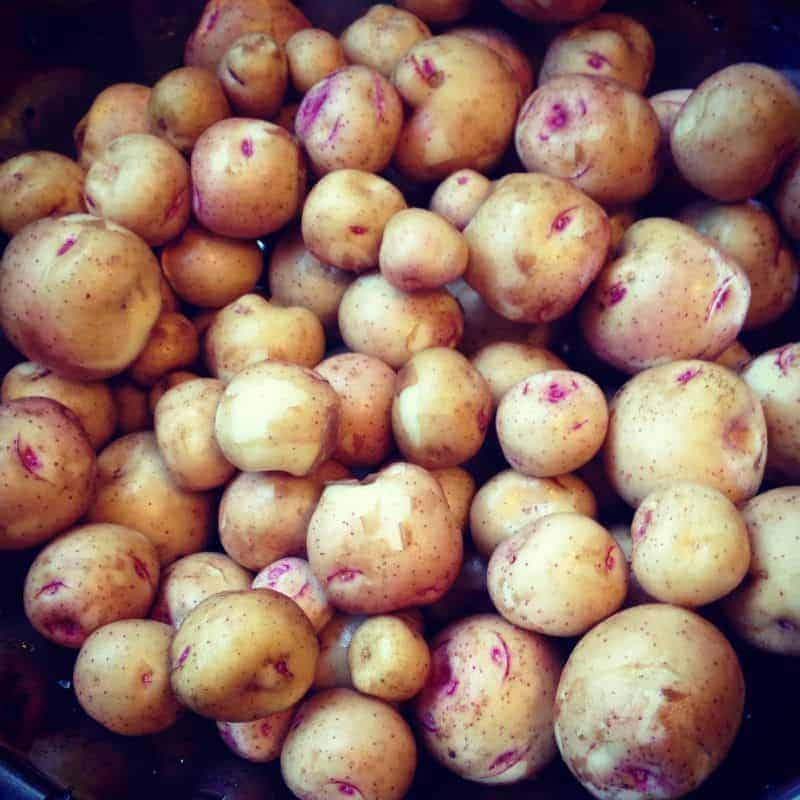 Conclusion
Growing potatoes in containers can be a great space saver and it may take some practice and personal preference with which containers you prefer to grow them in. I still want to experiment with the famous 'potato tower' which you grow potatoes in straw in a rounded fenced cage.