Family Food Garden may collect a share of sales or other compensation from the links on this page.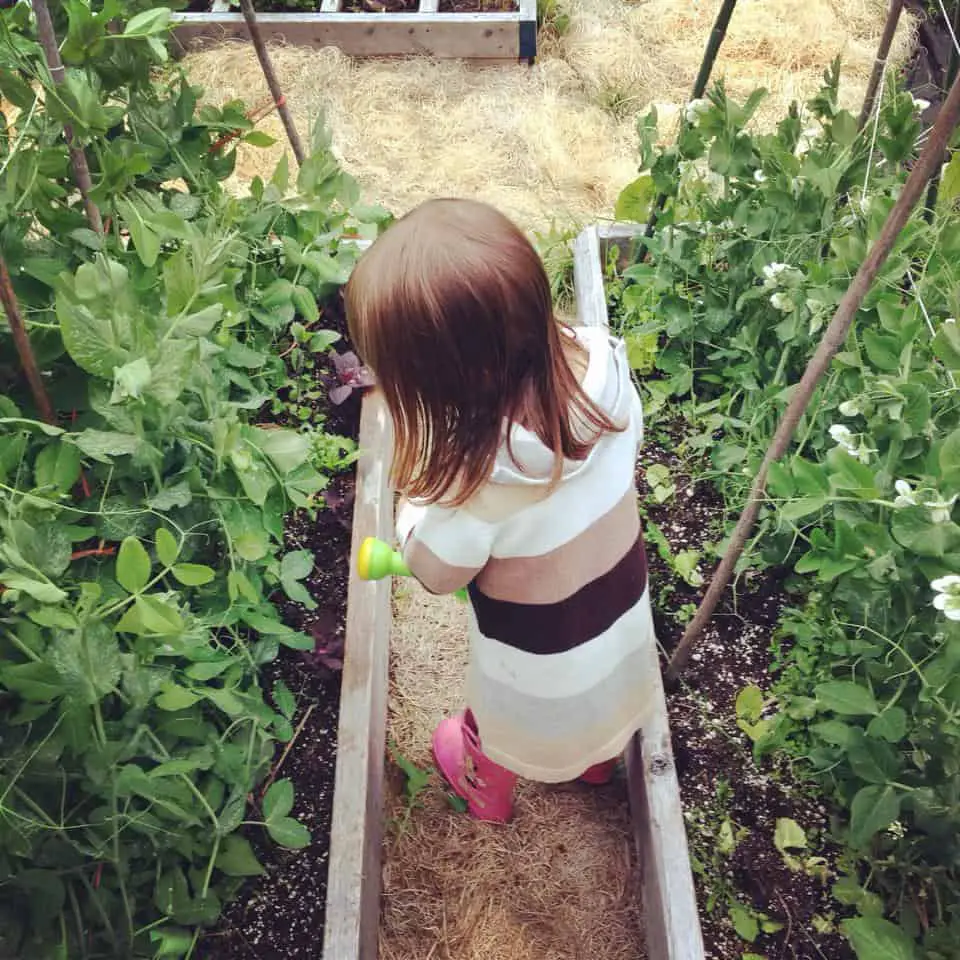 A kids garden is a wonderful place
Which is why I'm delighted to share with you some of the most fun and easiest crops to grow with your children. Growing food with your kids is a wonderful bonding experience. It teaches you both where your food comes from, how it's grown, is highly educational and gets you outside in fresh air and dirt.
Plants for kids garden can include healthy veggies but also flowers and herbs
Our kids won't touch store bought carrots, radishes or peas but from the garden they eat them raw! We like to keep track of our garden with our kids by letting them keep a cute garden journal. I created these fun printable pages that you can use as a family to keep a garden journal.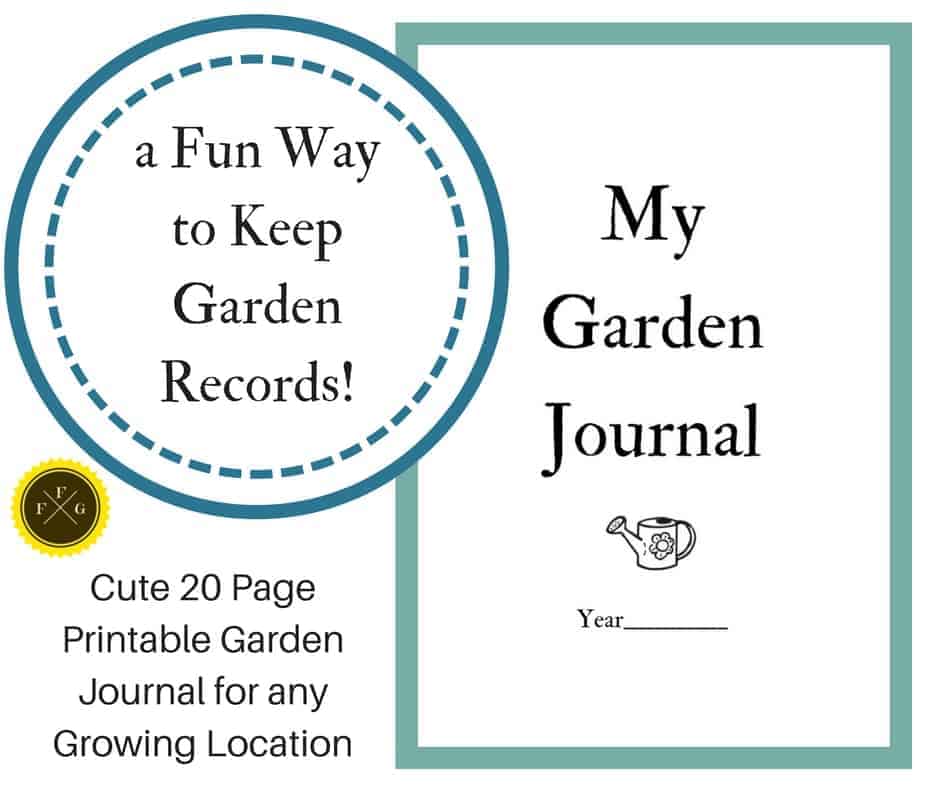 You can also create fun themes for them (check out the pizza garden at the end of this post!)

There are a few things to consider when choosing crops to grow with kids
Are they for easy for them to help plant by themselves (seed size)
Will they eat the crops you're growing?
Can the crops handle being harvested by little hands?

Best Plants for Kids Garden
Peas: are a delight to plant as the seeds are nice and large but they're also easy to harvest and fun to eat straight from the pods! Kids will love the vines and enjoy setting up the trellis. Peas come in green and even purple colors. Learn how to grow & trellis peas.
Carrots: Orange smorange; carrots come in so many other fun colors! Try purple  ('purple dragon' or 'cosmic purple') or red ('atomic red') there's also white and many shades of orange.
Pole Beans: This pretty vining crop is fun to grow as they climb upwards and produce many flowers. The more you pick, the more it grows and they're an easy crop for kids to harvest. Beans come in lots of fun colors and some are even speckled or spotted ('Orca' 'Jacobs Cattle Beans' 'Cranberry' although those tend to be the bush beans not pole). Snap/string beans come in green, yellow and even purple (which will turn green when cooked). Our kids love the yellow beans the most with a little butter and salt!
Watermelon/Muskmelon: Is there anything more tasty in the summer than fresh juicy watermelon? Try some fun varieties like 'Orangelo' which is orange inside or 'Moon & Stars' which looks like outer space.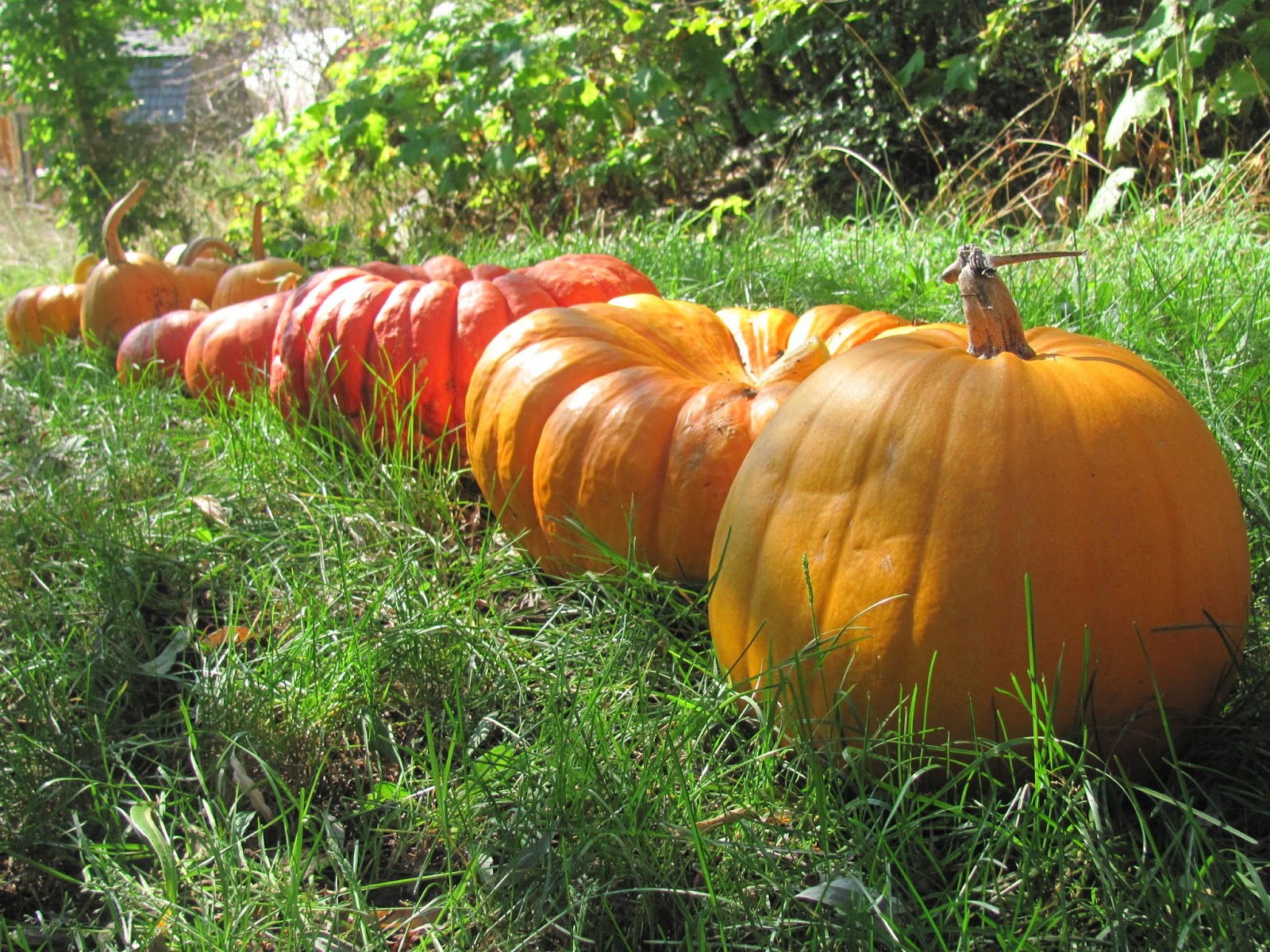 Pumpkins: Kids love growing pumpkins- the seeds are large and easy to sow and the vining crops grow enormous. Kids will love carving their own jack o lantern pumpkins for Halloween and eating pumpkin pie. The carving varieties tend to be large and a little too stringy for pies. Grow 'Small Sugar' for pies 'Jack o Lantern' for carving and 'Jack be Little' if you want cute little pumpkins for decor. Try the large Cinderella pumpkins too!

Berries:

I think most kids love berries- strawberries, blueberries, raspberries, blackberries always taste sweeter and juicer when picked at peak ripeness. Berries are perennials plants or bushes though and may take a couple of years to start producing enough to harvest. They're worth the investment though, berries cost a lot of money and taste better homegrown.
Plant a fun garden playhouse!
Kale & other salad greens: YES! Your kids can love greens if you grow them and cook them the right way. Our kids love kale chips or sauteed greens and garlic. They'll eat spinach and strawberry salad or even nibble on spicy arugula or spinach straight from the garden. Many kids will eat salad if you have the right dressing (one of our kids loves vinaigrette salads whereas the other needs caesar dressing). Many greens have tiny seeds so care is needed when sowing. I find that densely sown greens from kids sowing all over the place works out though because you can harvest them at the baby leaf stage.
Yes kids can love greens if you grow them!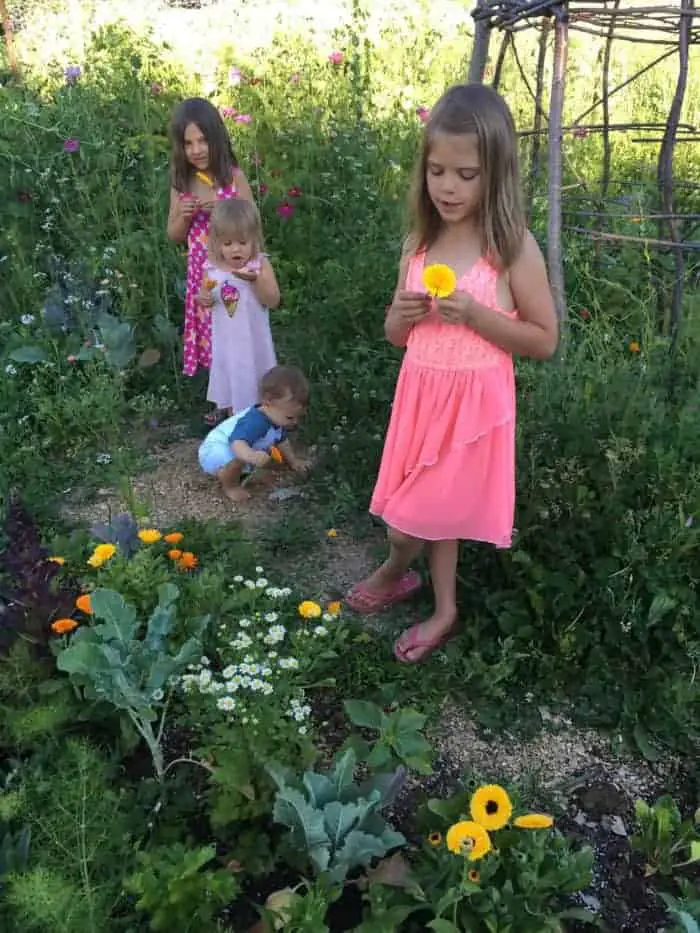 Peppers:

 Peppers are fun to eat raw with dips and come in many colors. You can grow bell peppers or sweet peppers, I'd stay clear of the hot ones. Most of the colored ones are green and will turn into red, yellow, brown, or orange with prolonged heat. There are many fun varieties and many can be grown in containers. Learn how to grow peppers. 
Cherry Tomatoes: Many kids love little bite-sized cherry tomatoes. 'Sungold' is a very sweet yellow cherry tomato that many kids love even if they don't like tomatoes. The seeds (like peppers) are a little smaller so care is needed when growing transplants or you can buy your own from a garden center.

Experimenting with Fruits & Veggies
Although this list is just some of the veggies that kids can grow and eat, each family will have certain veggies they love more than others. Some of you might love to add cucumbers (make your own home-canned pickles!) or zucchini to this list. Our kids love radishes from the garden too. Just know that if your kid doesn't like that many veggies, you'll find that if you grow them yourself they'll be curious enough to try and the mystery of confusion is gone when they see where the food comes from! If you're wondering what to plant, I created a book called Planning & Designing the Family Food Garden.
Plants for kids with Themed Garden Beds
A great way to grow some of the veggies listed above is to make themed garden beds. Some ideas are: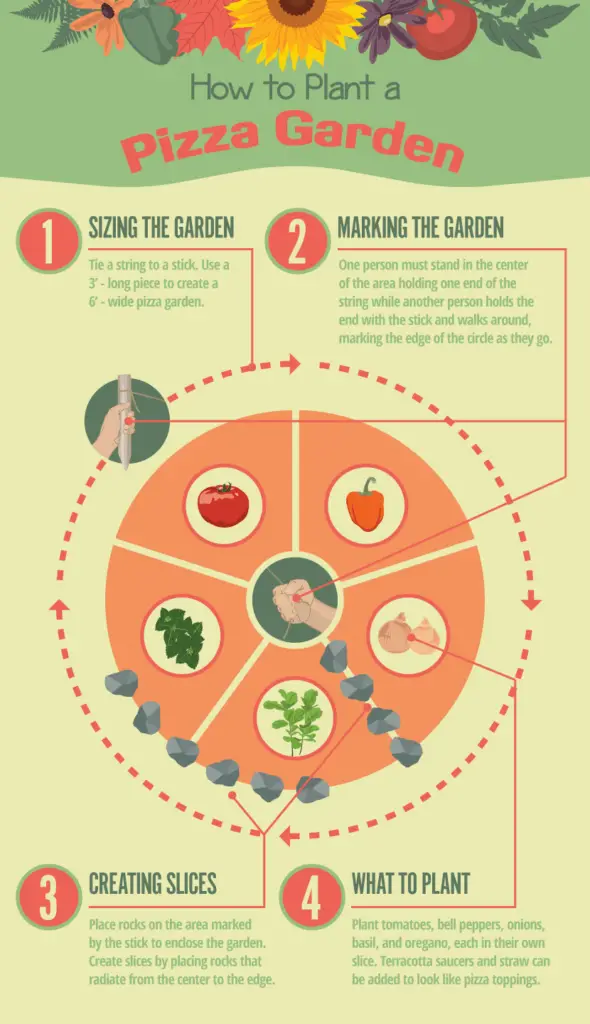 Including flowers in the kids garden
Plants aren't just ones that you eat, kids absolutely love flowers too. When creating a magical children's garden flowers add so many extra games. Our girls always love picking the flower petals and making 'fairy soup' or stringing the classic flower crowns.
Some favorite flowers for a kids garden include:
Zinnias
Calendula (we make calendula cream)
Cosmos
Bachelor buttons (cornflowers)
Poppies

Herbs for kids
We love growing calendula flowers for our kids as we dry the flower petals and make calendula oil with them, and they're excellent for companion planting. Herbs can be medicinal or for tea too. They have a strong scent and kids enjoy harvesting them. We include a herbal study with our homeschooling with this kids herbal book. It's fun to have sun steeped tea with fresh herbs, our kids love sun steeped lemon balm tea after harvesting it themselves. We enjoy adding fresh basil or oregano or sage to homemade pizza
Some great kids herbs include:
Basil- green or purple
Chamomille (a nice calming tea)
Lemon balm
Mints
Sage
Oregano
Dill
I'll end this post with a story many years ago from an Instagram photo I shared on our Facebook page:

'The girls in the garden eating icicle radishes yesterday.
Our 5.5 year old noted 'They aren't very spicy! Where are the spicy radishes?'
So I went on to explain that many cool season veggies taste different in the fall than the spring. In the spring the daylight gets longer and the sun hotter which makes many veggies taste spicier as the months head into summer (& then too spicy and can't be grown for awhile) but in the fall the daylight shortens and the days cool which makes the perfect temperature for growing cool season crops.
Moral of this little story is: If you don't like certain veggies try them grown in a different season, you might be pleasantly surprised!'