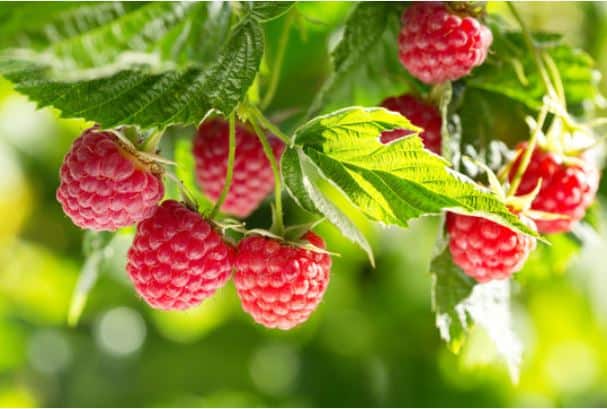 If you grow your own raspberries, you will need to know how to trim raspberry bushes. Raspberries are luscious and delicious fruit. They have many health properties and are rich in vitamins and minerals. Many people buy them regularly in stores and fresh produce markets. But it is not actually necessary to spend a lot of money in order to enjoy this wonderful fruit.
There is nothing nicer than dipping into a bowl of sweet, juicy raspberries grown in your own garden. They are relatively easy to grow, but the secret to successfully cultivating them is knowing how to trim raspberry bushes, and when to cut back your plants, in order for your bushes to keep on producing new fruit.
Raspberries are perennials. This means that they will flower and produce fruit for more than two years, unlike annuals and biennials, which only live for either one or two years. Raspberry bushes will die off every winter and then rejuvenate in the spring. Therefore it is important to know when and how to trim raspberry bushes carefully and to nurture them and look after them as well as possible, in order to encourage new growth every season.
In this article, we will not only learn about how to trim raspberry bushes, but we will also look at a few different aspects involved in planting and growing raspberries successfully. Raspberries are an extremely popular fruit. You may be interested to know that in 2018, close to 900,000 tons of raspberries were sold around the world!
How Do You Get Started?
You should always plant dormant canes in winter. A raspberry cane is a long, thin, woody stalk or stem on which raspberries grow. Dormant canes may appear to be nothing more than dead twigs, but if you break one open, you will see that it is white or very pale green and moist inside. This indicates that it is very much alive and suitable for planting. Dead canes will be light brown and dry inside. 
When Should You Plant?
The best time for planting raspberries is from mid-November to mid-March. This will ensure a good crop of summer fruit. If you trim your bushes regularly, they will continue to produce fruit throughout the summer and even into early autumn. Later in this article, I will explain exactly how to trim raspberry bushes.
Where Should You Plant?
Raspberries will do best in sunny spots. They can tolerate semi-shade, but will always be more prolific when planted in full sun. Because you will be planting in winter, remember to make sure that you turn the soil over well to ensure that there are no frozen chunks.
They need rich soil that has good drainage. They will do best in acidic soil that has a pH level of between 5.5 and 6.5. This helps to prevent deficiencies in essential nutrients such as iron and manganese. 
See Related Topic: Best Soil For Seedlings
How Should I Plant My Raspberry Canes?
There are different varieties of raspberries. The ones that ripen in summer are known as Floricanes. They have stems that will grow for a full year before producing fruit. These plants need something to support them as they grow. 
You can plant them in rows about 6 ft apart. Place a row of tall sticks in the ground, approximately 50 cm to 60 cm away from each other. Thread wire or strong string across the sticks in rows with a gap of 50 cm between rows. Plant your canes alongside the sticks. Your plants will be able to climb the support structure as they grow. 
Raspberries that produce fruit that ripens in autumn are called Primocanes. These plants will produce flowers and fruit in their first year of growth. They usually do not need a support structure and can be planted about 40 cm apart.
Both Primocanes and Floricanes have many different varieties, yielding different types of raspberries.
Which Varieties are the Most Popular?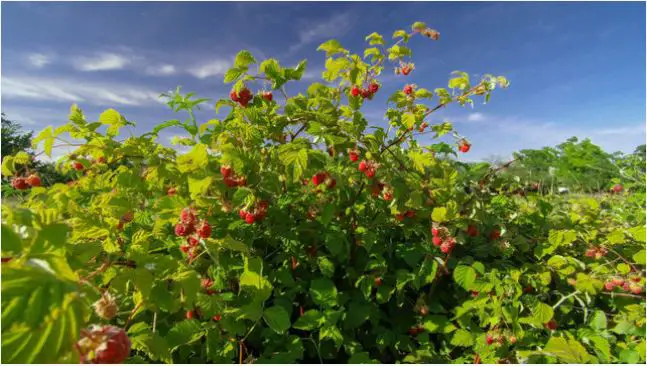 The most popular summer-fruiting raspberries are: 
BOYNE –  These raspberries are bright red and exceptionally sweet.
CASCADE DELIGHT – A very large berry with a strong flavor, and particularly strong resistance to root-rot.
RASPBERRY SHORTCAKE – These are dwarf berries, so they are ideal for small spaces and containers. They need eight hours of sunlight a day. They do need regular pruning, but more about that follows in the section on how to trim raspberry bushes.
ROYALTY – Known as the Purple raspberry, because of its deep purple color. It has a very strong, sweet flavor with a distinctive aroma.
All of the above will give excellent summer yields and will be ready for picking through June, July, and August.
There are also many ever-bearing varieties. A few of the most popular ones are:
ANNE – Have you ever eaten a golden-colored raspberry? It was probably of the ANNE variety. These are big, luscious berries with a slightly tropical flavor. They are recognized by many agricultural societies as having the best flavor of all raspberries.
HERITAGE – These berries are smallish in size and bright red. They are tough and hardy, with strong resistance to diseases. Their leaves turn a glorious shade of amber in the fall.
JEWEL – These berries are almost black when fully ripe. They have a strong flavor and are good for planting in colder conditions.
SEPTEMBER – The unusual reddish-yellow color of these berries makes them a favorite. They are also quite hardy and are tolerant of cold conditions.
There are many other varieties of raspberries, but if you select a few from those described above, you can't go wrong. It is lovely to plant more than one variety, as this will give you the opportunity to experience the many different tastes and colors of this delectable fruit.
After following all the tips given earlier in this article, your raspberry bushes should be thriving and yielding bumper crops. If you want them to continue to be prolific year after year, you will need to trim them regularly. 
How to Trim Raspberry Bushes
Trimming, or 'pruning' plants means to cut them back, removing certain parts of the bush or tree. Sometimes it is also necessary to remove young buds, leaves, and shoots. The best time to prune raspberries is right at the beginning of spring, as new branches are starting to develop. This will help to prevent the stems from getting intertwined with each other and will ensure a bountiful crop of fruit.
It is easier to trim your raspberries if you have the correct tools. You should use hand shears for those canes that are within easy reach, and lopping shears for those further away. They must be very sharp, in order to give a clean cut that does not damage or cause trauma to the canes. Remember to wear gloves, because most varieties have sharp thorns.
It is advisable to prune either early in the morning or in the late afternoon. This will prevent the cut surfaces from drying out too much in the midday sun.
You May Also Like: Freezing Leeks & How to Cut Them
There are different methods recommended for different varieties when considering how to trim raspberry plants. For the red, gold, and purple varieties, the following guidelines should be observed in order to get the most out of your raspberry bushes. 
Trim your canes down to a height of between 4 ft and  5 ft. Try to get all your canes to more or less the same height. This will prevent them from getting tangled with each other and will help them to produce more fruit. Canes that are dead will have a dark gray appearance. These should be cut right to the ground. (Do not be tempted to remove these during the summer fruiting season, as they provide support for the healthy canes.)
During the following weeks, continue to cut back any small, thin canes that are not doing well. This will give the stronger canes more space to develop to their full potential.
Black raspberry plants grow in a different formation, so the method of trimming, or pruning, is a little different. 
The tips of new shoots should be cut off when the canes reach a height of 3 ft. Doing this will discourage them from growing straight upwards, and they will be more likely to spread out sideways. These side branches should be trimmed regularly, keeping them to a maximum length of about 10 to 12 inches. This will help the bush to produce a better and more plentiful crop.
At the end of the harvesting period, remove all the old dead canes and thin out the remaining canes if the bushes are too thick. This will encourage new growth. 
With both methods of pruning, it is important to cut at a slight angle. This will allow the stems to recover quickly and easily from the pruning.
By now your raspberry bushes should be strong and healthy, and new fruit should be appearing. It is at this stage that you should consider spraying your plants. This will prevent diseases and will enable you to enjoy a bumper crop of raspberries.