Family Food Garden may collect a share of sales or other compensation from the links on this page.

Permaculture + Potager =
Wonderful Garden Design
What is permaculture? What is a potager? How do we combine these two into a beautiful and functional garden design?
A potager garden is close to your home (and especially kitchen) that offers nourishment and seasonal harvests. This garden design is often with symmetrical garden beds and is created for beauty as well as purpose. Flowers are mixed in with your veggies and herbs and easy harvesting.
The term potager means 'for the soup pot' and began during medieval times in France.
As I grew up in France (Normandy, close to Le Mont Saint-Michel) the term potager is a word I love to describe the home kitchen garden.

What is a permaculture potager?
A permaculture potager is about adding permaculture close to your home in a beautiful potager garden style. This would be your zone 1 permaculture zone (not sure what those mean? Read my backyard permaculture post).
I love permaculture design, and learning to apply it to your backyard, not matter what the size, has so many benefits
When we designed our kitchen garden, our goal was to mix the two concepts. I've talked about potager gardens and shared kitchen garden plans before, but today I wanted to dive deeper in how you can add permaculture design into your potager.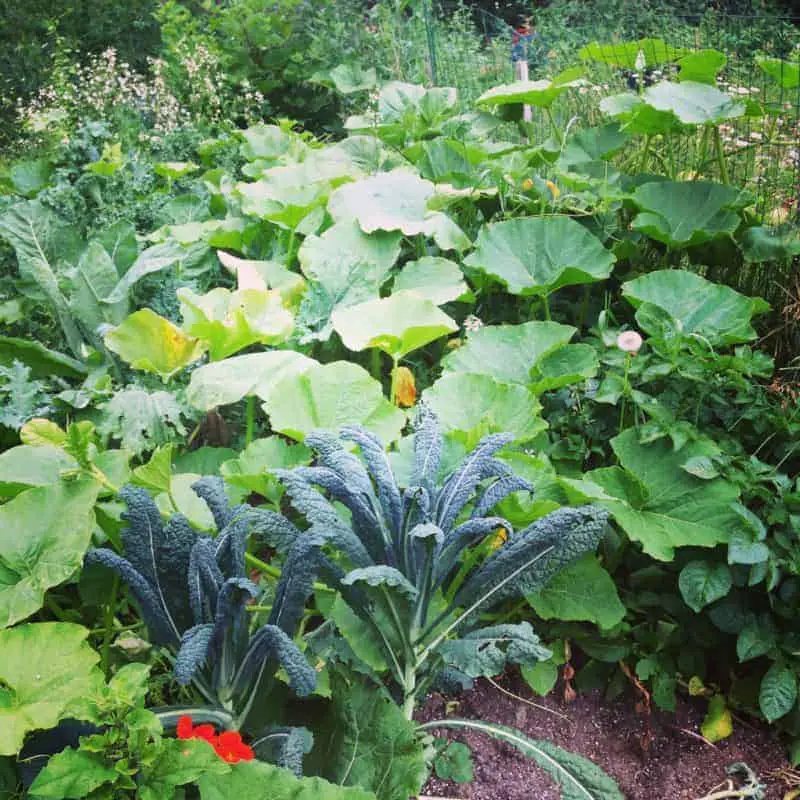 This post will cover how to add permaculture by
Observing before planting
Creating biodiversity
Attracting pollinators
Plants for beauty and edging
Mulching to reduce weeding
Flowering herbs for companion planting
Optional add-ons
Incorporating chickens
Food forests & plant guilds
I'll also show you a tour of our permaculture backyard!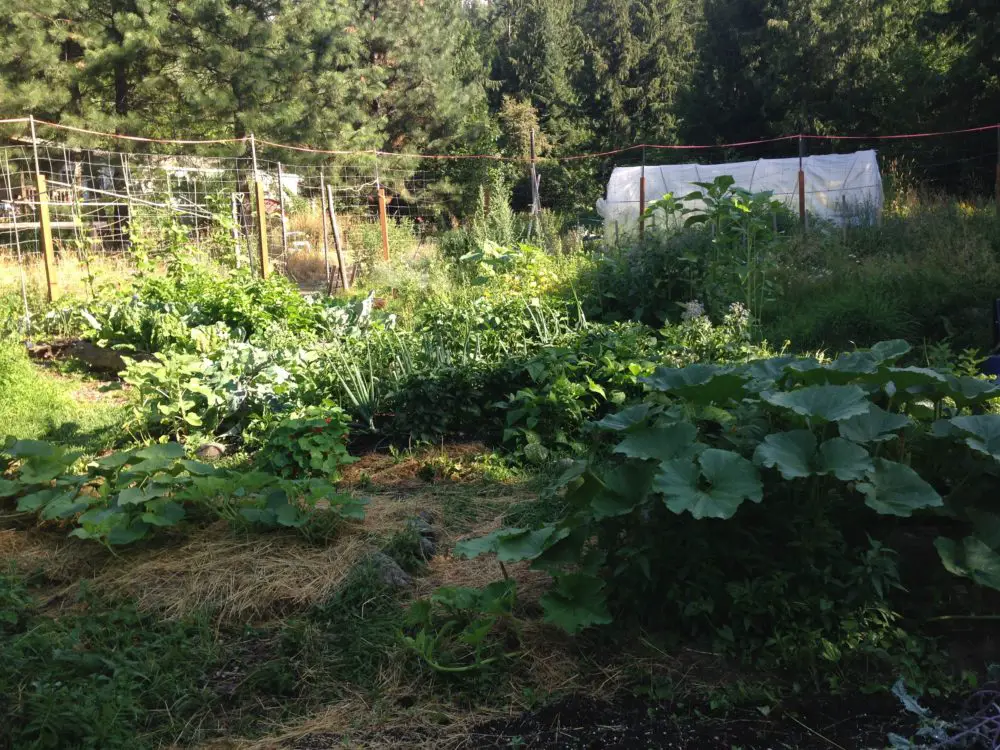 Observe before planting
One of the goals of permaculture is to store energy and make the best use of your landscape. You cannot do this without observation first. Before you do plant your potager, be sure to make sure it's in the best location. Usually zone 1 is easier to design than your other permaculture zones, because it's close to your home. It really depends on your backyard though, for us, we have huge herds of elk that come through our acreage. We built our potager not directly out of our front door, but behind the house (still super close!) because it already had some fencing.
Create biodiversity
Permaculture loves to replicate nature by increasing biodiversity. What does that mean? It means that plants intermixed with each other, instead of just one row of something, is better for creating an ecosystem. Some gardeners don't like this method of gardening because they are used to neat little rows or like the ease of weeding with tools or tilling. Creating biodiversity has huge benefits though, it helps to attract good bugs, repel the bad, deter pests, increase yields and conserve energy. I've talked about the benefits of polyculture gardening in this post.
Instead of growing your crops in neat little rows, consider growing your crops in layers.
This is one way you can increase yield by interplanting and underplanting around other plants. You can also create mini plant guilds to increase biodiversity. Grow kale, nasturtiums, onions, lettuce, calendula and carrots for example together. Another plant guild common with permaculture is the 3 sisters guild (picture below).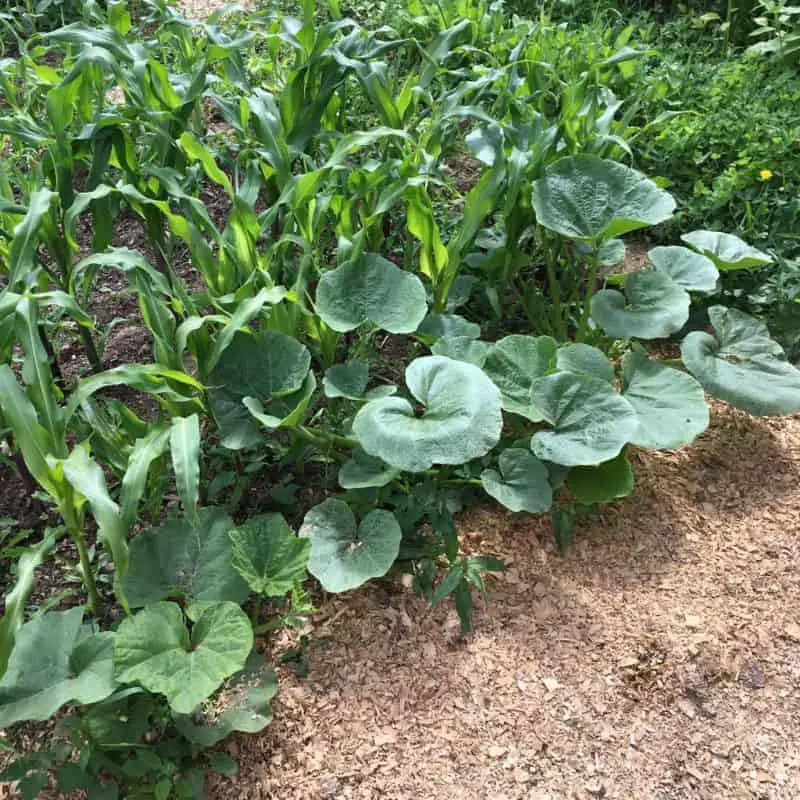 Another example is tomato companion planting, you might grow tall tomato plants and interplant with onions and underplant with calendula, marigolds and basil. By mixing plants, herbs, flowers and veggies you can create not only a visually appealing garden, but also help to deter pests or attract good bugs to eat the bad ones with organic pest control.
A diverse garden is a thriving garden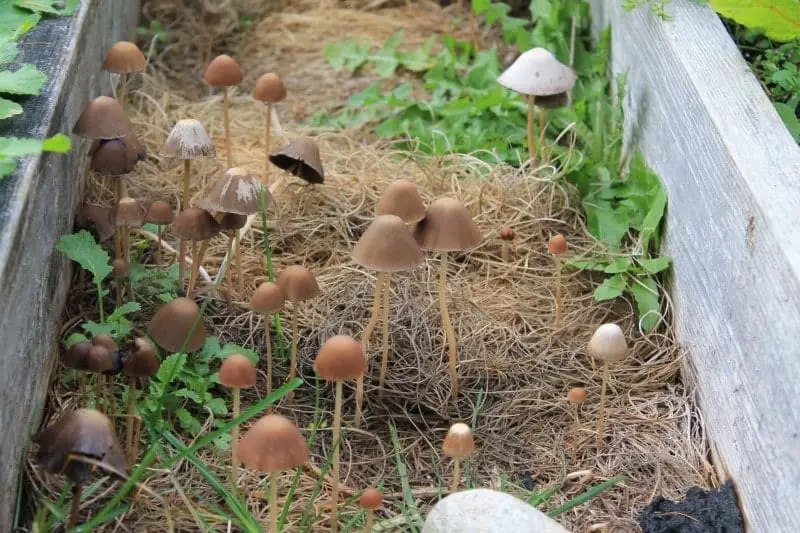 Support pollinators
Plants that support pollinators like honeybees, wild bumblebees and butterflies are important to consider and plant for. Each like different flowers, but in general, flowers that produce the most nectar are favorable. Many cottage gardens or potagers can sometimes include flowers that don't produce a lot of nectar. Consider adding flowers and color to your garden but using flowers that wild pollinators love.
You also want to spread out the blooming times from spring until fall to keep the pollinators happy
Some Flowers for pollinators
Spring flowers
Fruit tree blossoms are a favorite
Dandelions
Chives
Bulbs like daffodils, hyacinth
Early Summer
White & red clover
California poppies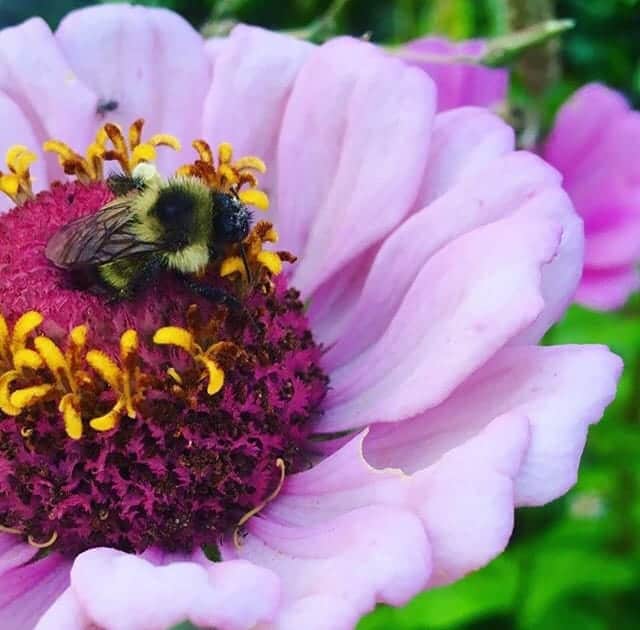 Summer Blooming flowers
Flowering mints and herbs
Borage
Agastache (licorice mint)
Zinnias
Nasturtiums
Bean flowers, especially scarlet runner beans
Fall Flowers
Sunflowers
Calendula will keep blooming after light frosts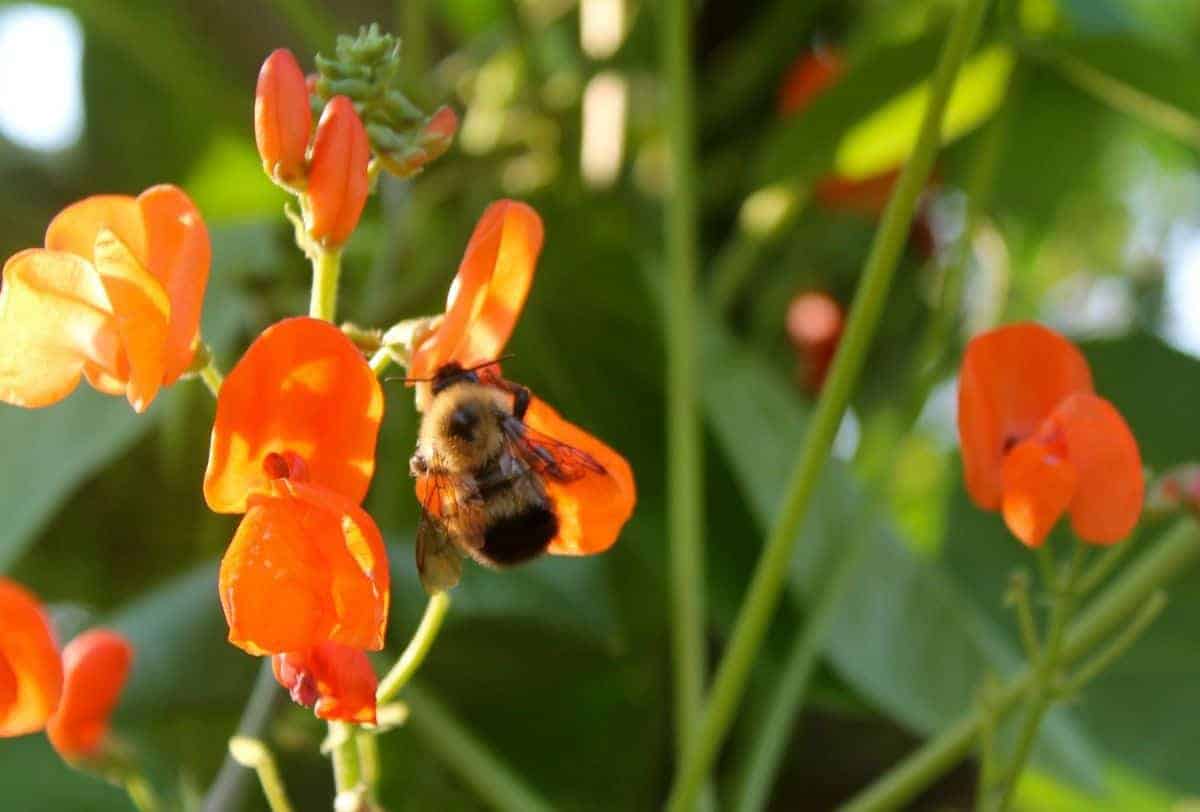 Allow your herbs to flower
Flowering herbs are pretty and bees love them. I allow dill and cilantro to flower, in fact it's wonderful to allow all your herbs to flower to attract bees and pollinators. You can also leave bolted plants to flower like arugula, pak choi or orach.
Cosmos, California poppies, Cilantro and dill flowering in the permaculture garden
Aren't sage flowers pretty?
They remind me of roses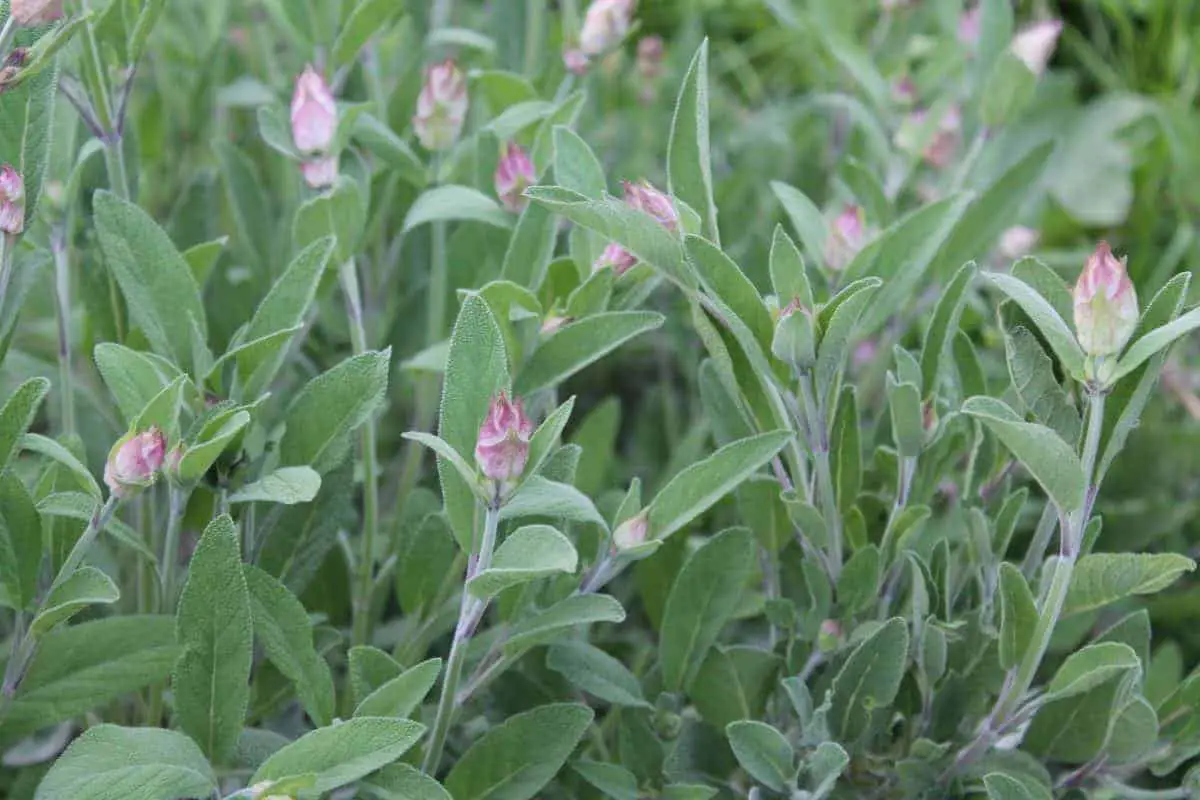 Plants for beauty + edging
Because one aspect of potager garden is beauty, adding flowers can really help but also growing beautiful plants. Think colorful veggies that contrast and different layers of texture. Grow swiss chard as an ornamental edible, allow kale plants to become tall trees, grow lots of vertical plants for added architecture. You can learn more about edible landscaping here. Other great edging plants are edible flowers. Remember to care about the middle too! We grow a patch of wildflowers in the center of our garden.
Mulch
There are many benefits of mulching your garden, from water retention to weed control, increase bug and building up soil. I've review 3 common garden mulches in this blog comparing straw vs wood chips vs hay.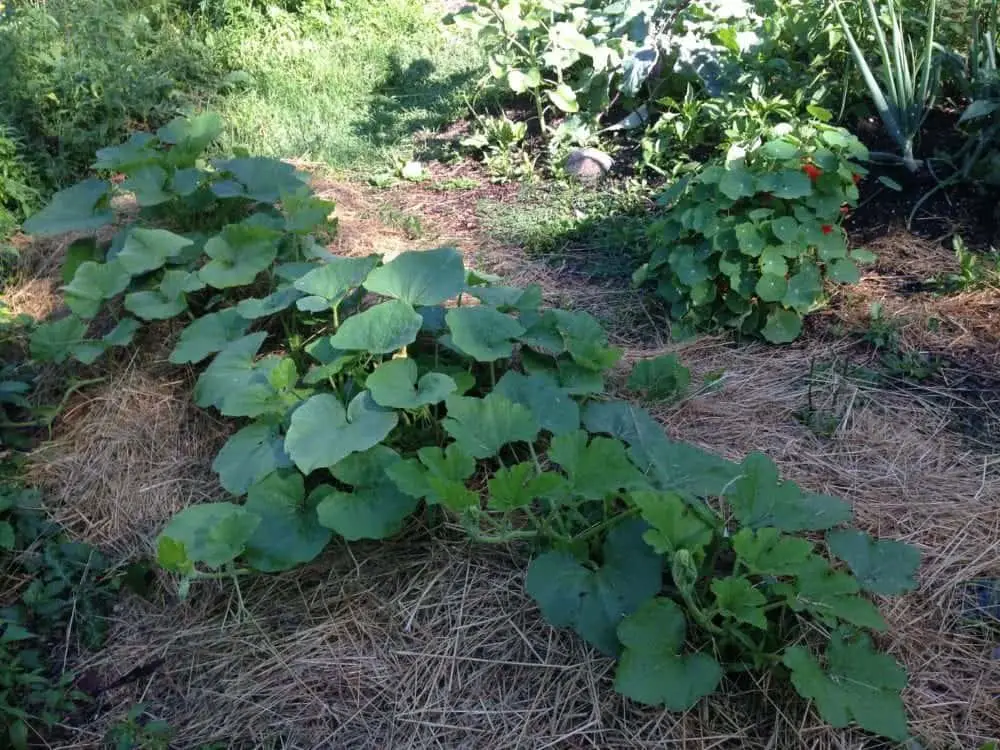 You can also use weeds as garden mulch
So long as the weeds haven't gone to seed, you can use weeds as mulch. We do that with large burdock leaves and grass clippings.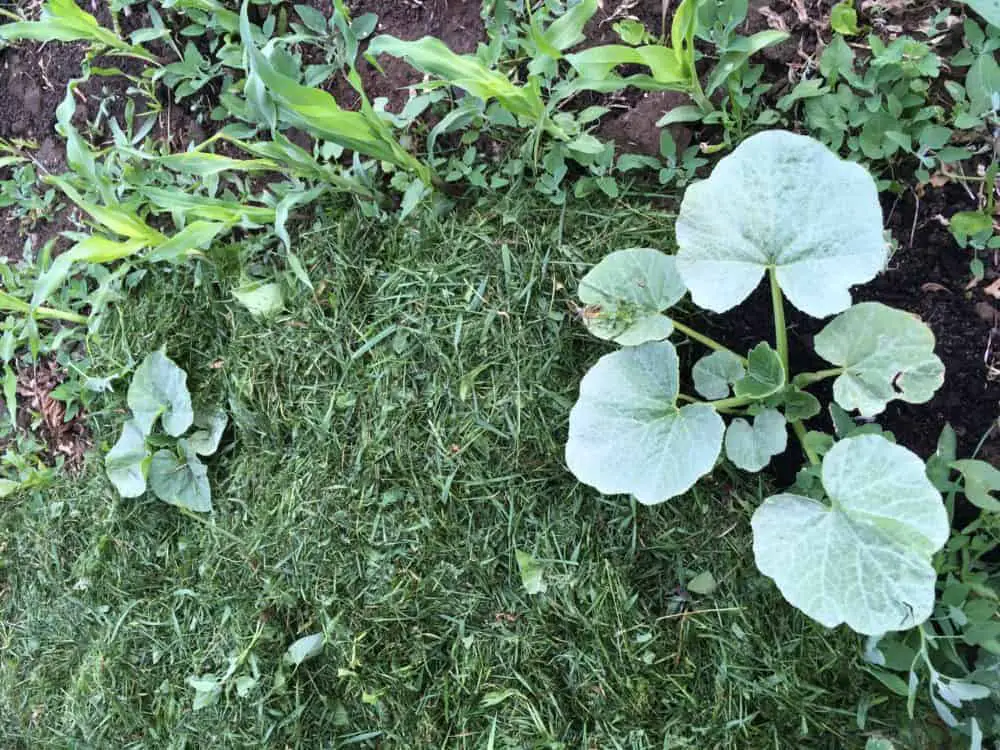 Our new permaculture potager
I've been growing gardens using permaculture principles for many years now. We're currently in our second year at our new mountain valley homestead and have designed a new garden. We made this permaculture potager design to be symmetrical with a re-purposed wooden garden trellis in the center. We used sheet mulching principles to create a lot of the main garden beds.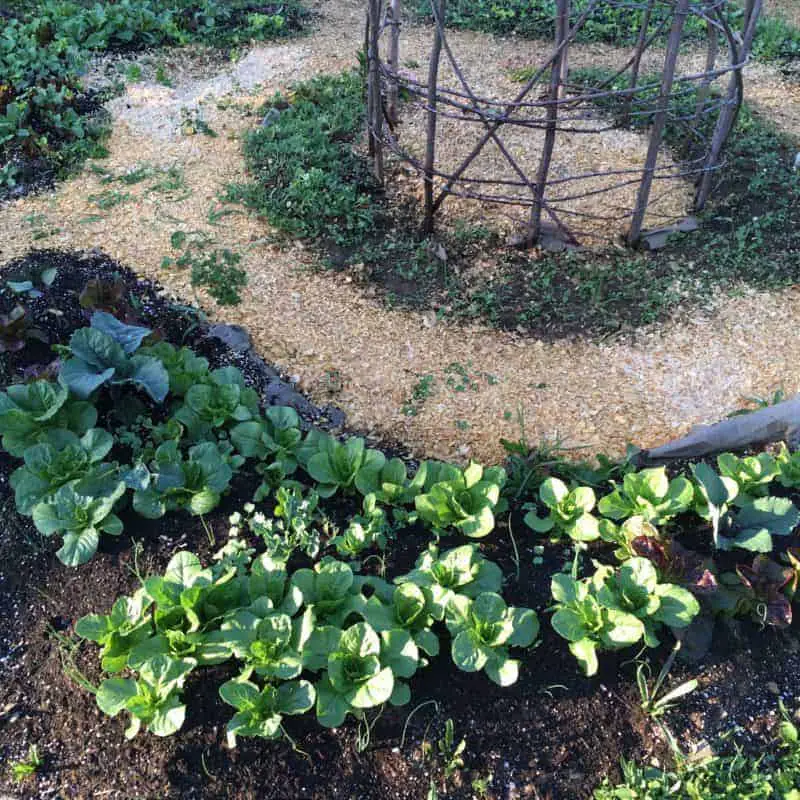 Wooden garden trellis with re-purposed wooden branches weaved with scarlet runner beans for pollinators
We also incorporated our chickens close by to create a chicken moat around the potager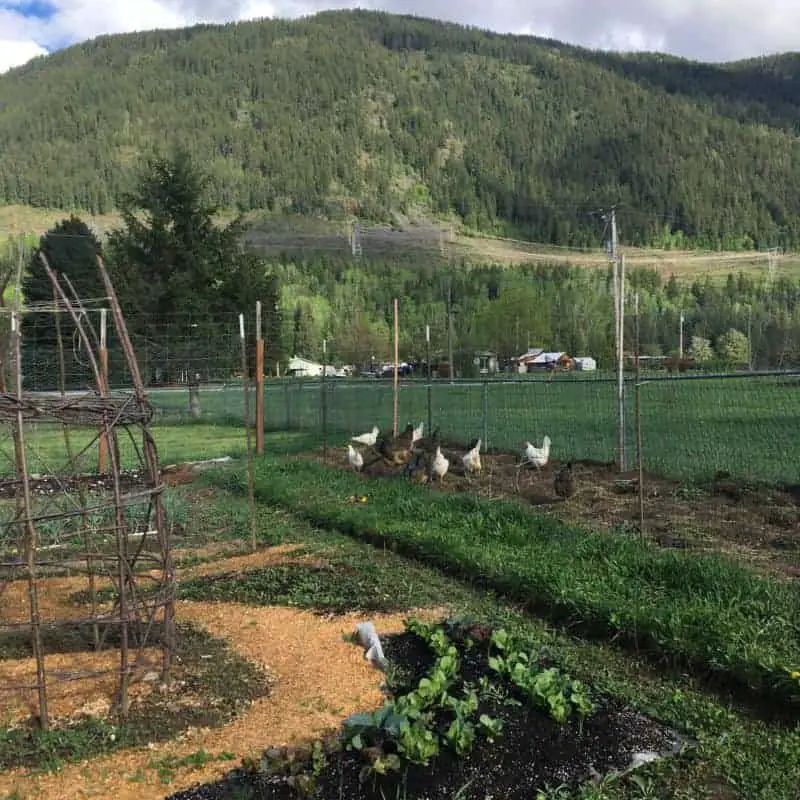 Our chicken moat goes around the garden completely with some old and new fruit trees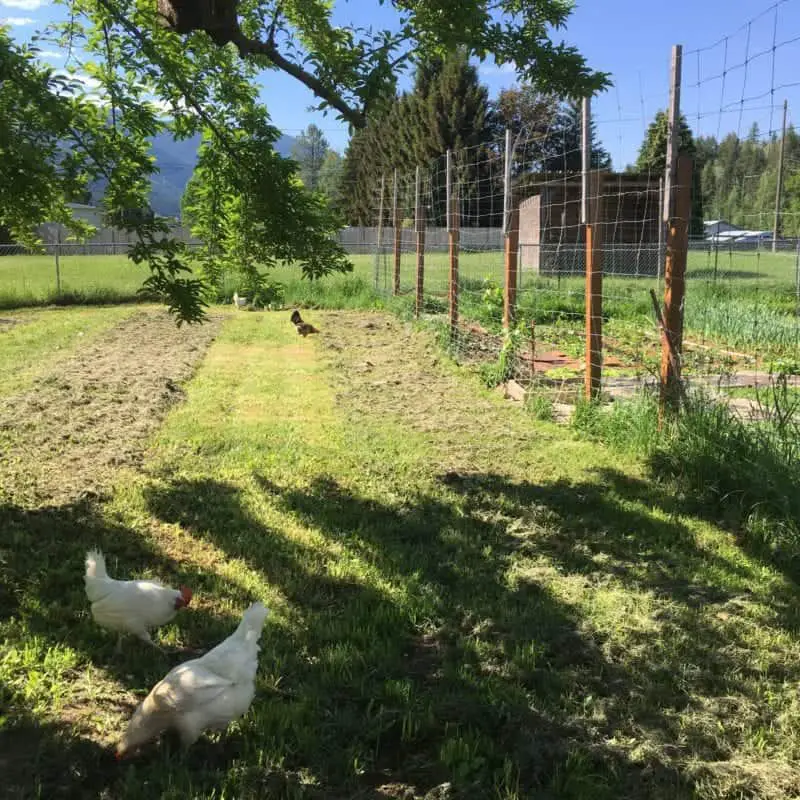 Our food forest is establishing with fruit trees, bushes and we'll be adding a herb layer
We designed our chicken coop next to the garden.
This helps to create a chicken moat to reduce weeds and bugs entering the garden (& rodents, meadow voles are one of the worst pests here)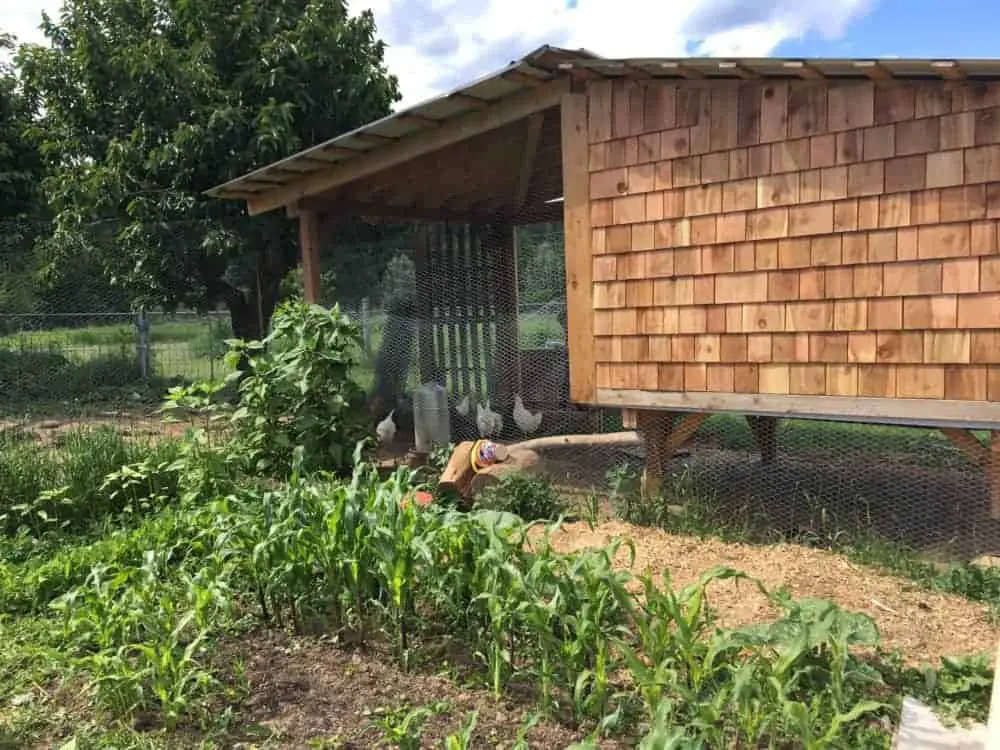 Our permaculture set up is just building and will take years!
I loved Tenth Acre Farms post on developing and designing your permaculture homestead, because it really is a long-term investment. She's got a lot of great permaculture posts so take your time over at her site 🙂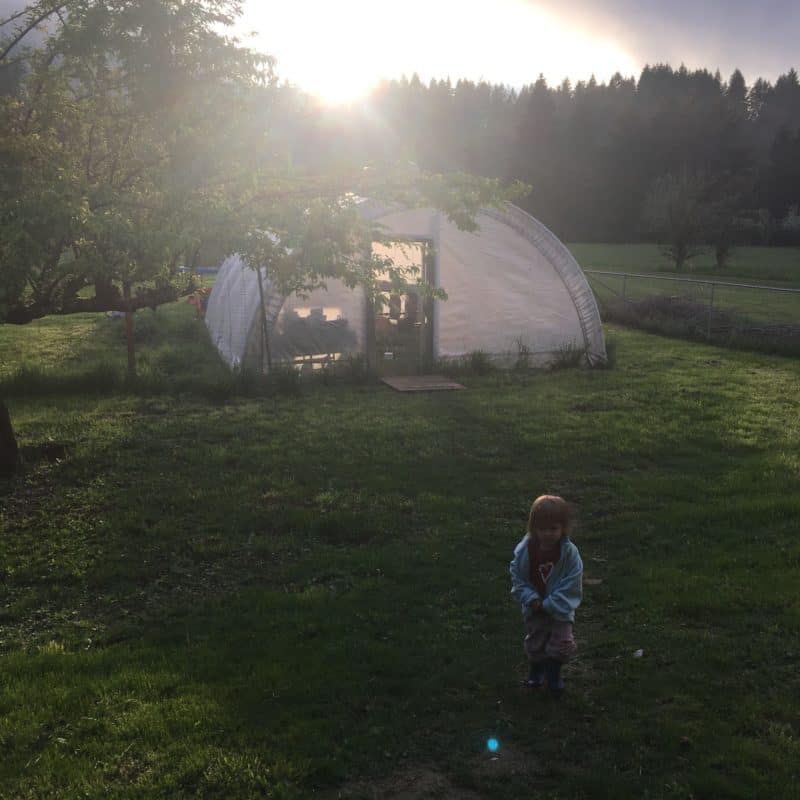 I hope you enjoy planning your permaculture backyard!

My name is Isis Loran, creator of the Family Food Garden. I've been gardening for over 10 years now and push the limits of our zone 5 climates. I love growing heirlooms & experimenting with hundreds of varieties, season extending, crunchy homesteading and permaculture.