Interplanting is one of the best things you can learn to get the most of your garden space.
I talk about interplanting in both my books: Planning & Designing the Family Food Garden & Fresh Greens: Growing Salad Leaves & Baby Greens Year-Round.
What is Interplanting?
Essentially, inter-planting is making the best use of your garden space by growing crops close together based from when they need to be harvested.
Interplanting is growing fast crops in between or around your larger plants that can be harvested within 1-2 months.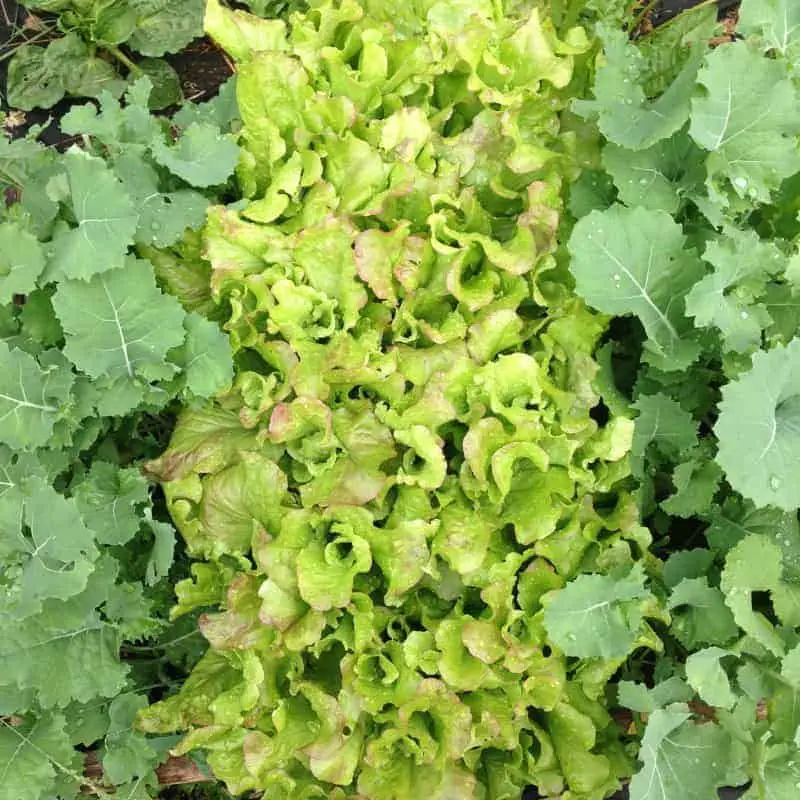 Because some crops are large and need more root space you grow the fast or shallow rooted veggies around or in-between those larger plants. The smaller fast growing crops are harvested  or they bolt/go to seed before the larger plant needs the space to grow. You then pull up those fast growing crops and eat them or compost them if they went to seed.
You end up with either crops or weeds around your transplants so I choose edible crops and less weeding.
When I'm garden planning I no longer plan for specific beds to be salad crops, radishes, spinach, baby turnips and baby greens for this very reason.
My 'go to' garden beds for these crops is to inter-plant them around my summer crops that I usually transplant into the garden. You can have a whole bed of tomatoes, squash or peppers that take a 1-2 months before they need more space to grow, you might as well grow spinach, radishes and baby greens before then. I show an example of this in my 3 season garden design post.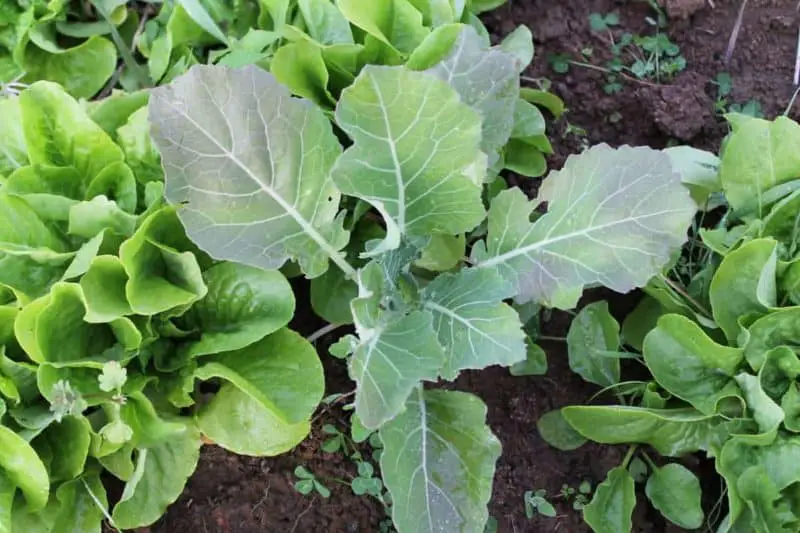 Ways to reduce garden weeds and get more crops from your garden space are:

the Fast Growing Crops for Inter-Planting
Interplanting won't work unless you're sowing the fast growing crops.
You can sow spinach, arugula, leafy lettuce and radishes almost anywhere you see some space in-between larger plants that need another 1-2 months to grow larger.
Some of the fastest veggies to grow that are ready in 30-45 days (the approximate time needed before the larger plants need the space)
Radishes
Leaf Lettuce
Mustard Greens (komatsuna, mizuna, mibuna, tat soi, giant red… just to name a few)
Toy Bok Choi
Baby Turnips (hakurei is a fav)
Baby Kale Greens
Arugula
Spinach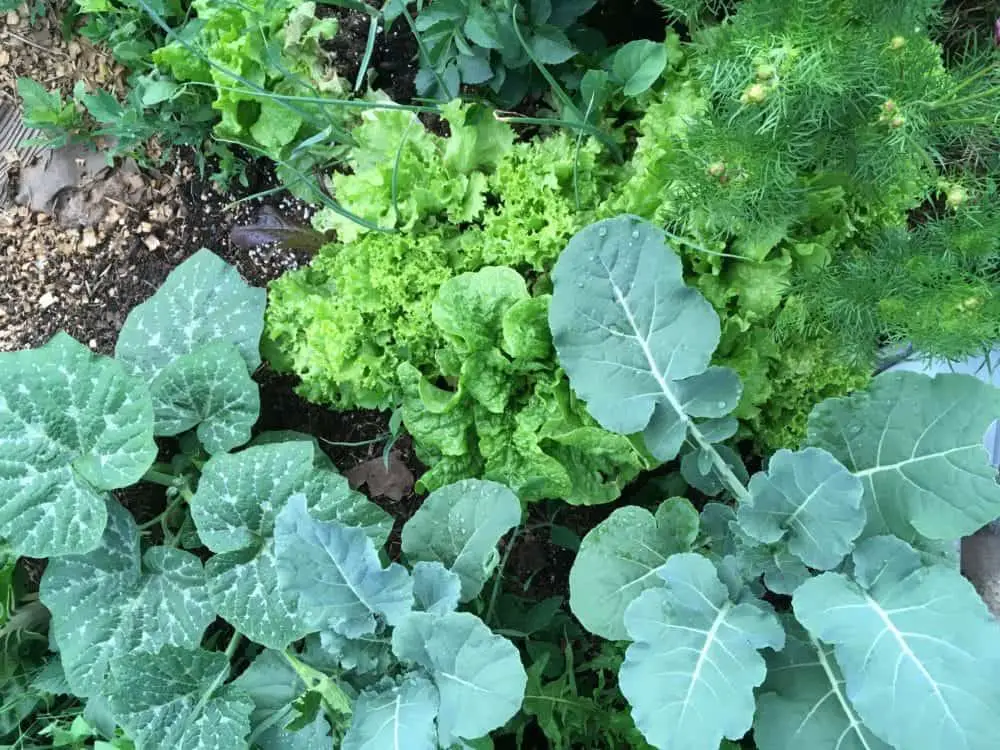 The best large crops to grow smaller crops around
Brassica family: cabbage, broccoli, cauliflower, kale
Tomatoes, Peppers, Eggplant
Vining crops like peas or beans you can under-plant with spinach, mesclun greens or radishes. The shade is welcome for the cool season crops to reduce bolting.
Larger sprawling crops like summer or winter squash, or melons
Crops like corn, although large & planted in the summer are better grown in blocks so I don't bother to inter-plant.
Conclusion
Take some time to observe your larger plants in the spring and early summer to know your available window and spacing for inter-planting. Experiment with varieties and timing for your location 🙂