Create your garden planting schedule!
When it comes to garden planning I'm still a pen & paper girl. There's something satisfying about cold winter days and planning the season ahead. That's why I created this garden planner and love choosing seeds through seed catalogs.
Once you've selected seeds from your favorite seed companies you can begin to create your planting schedule.


Why Have a Planting Schedule?
Whether direct-sown or when you need to grow seedlings you need to know WHEN to get your seed in the ground because there might not be enough time before the fall frost, or your summer drought, etc. You might also be able to maximize your garden and fit in even more crops! Learn about adding pre & post crops around your main-season crops here.
If you're sowing your crops just once in the spring or early summer or have a smaller garden then your garden planning might not be too extensive yet. When you have a few garden beds, or you have 140 varieties to organize into 3 seasons, then it helps to have things organized.
Whether you're a beginner or advanced gardener, the goal of your planting schedule is to know when to put your seeds in the soil or start seeds indoors.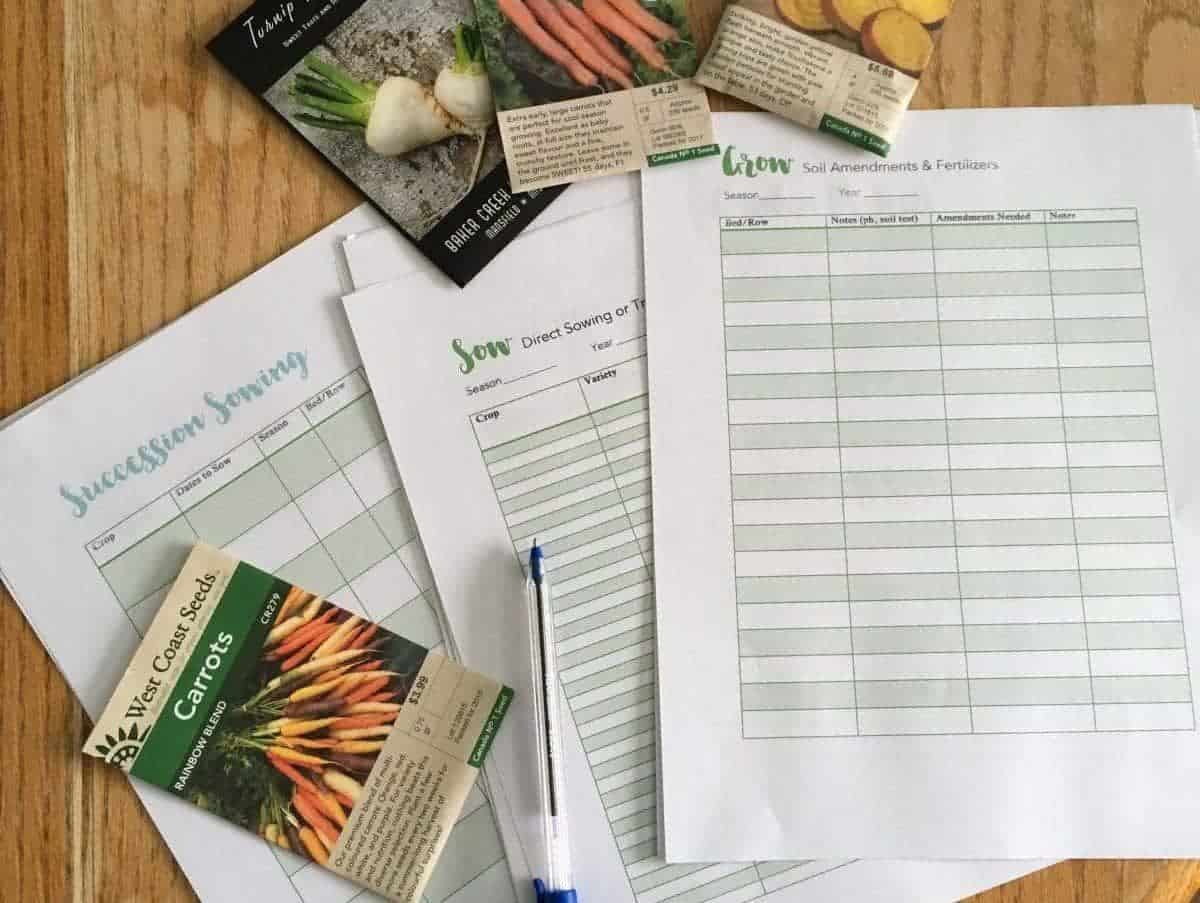 Before Making a Garden Planting Schedule
List of crops you want to grow and that can be grown in your zone.
Your first and last frost dates.
List of how your garden beds/rows & the measurements that you have.
Previous season notes for crop rotation (if any).
Seed packet information for each crop you're wishing to grow. This will have things like: days to germinate, days before transplanting and days to maturity etc.
Backdating in your Garden Planting Schedule
When you make your planting schedule you'll be backdating your crops to see when you need to start your transplants or when it's ok to direct seed them into the garden. For this, you need to read your seed packets. Your seed packets will tell you how many weeks your seedling needs to be before transplanting. For example, most crops will say 75 days, this means from transplanting, not direct sowing. Many crops need to be 6-8 weeks old before transplanting into the garden, but this depends on the crop.

Main Season and Focus Crops
Before I make my sowing schedule I always figure out which crops are my main season crops, as in my 'focus crops' that I definitely want harvests from (weather/pests permitting) and work around those crops to see if there's space before or after those crops for pre and post crops. 
Main season crop: Tomatoes
Transplant date: June 1st
Days to maturity + harvest window for your main season crop: Matures in 85-90 days + 3 week or more harvest window
Last spring & first fall frost: May 5th and October 15th
Crops you can sow before last frost date: lettuce, spinach, arugula, radishes, baby turnips.
Potential extra pre or post crops: Spinach, radishes and arugula in the springtime (make a space for your tomato transplants to go in and the crops continue to grow around them until they bolt/go to seed with the heat. In the fall sow some more radishes and cold hardy lettuce varieties. You could place a season extender over, or grow more spinach and arugula.
I've been gardening long enough now that I know my main season crops that are grown during the summer months and which crops for my growing zone can fit before or after those main crops. Underplanting or interplanting is another great way to grow smaller fast growing crops around those main season crops.

Allowing room for Errors
Many people make the mistake of not allowing room for errors, whether your own or due to the weather. Say it's been pouring rain for 2 weeks and you can't sow your crops in the time you'd planned or maybe it's hotter than normal to sow your fall crops and they bolted right away. In general it helps to add a week or two to allow room for errors. 
Adding the Harvest Window
Many people make the mistake of making a sowing schedule too tightly packed and not allowing a large enough harvest window before the next crop goes in. This means your schedule gets back up. Most crops can be harvested over a period of a few weeks, some crops are one time harvests but can be left to get larger in the ground.
Example: You wanted to grow something after the beets were ready, which according to the seed packet was 55-65 days, but you didn't allow added days for continued growth. You have baby beets but you need another couple of weeks before they become the larger size that you wanted.
Your seed packets will tell you how many weeks the plants need to be before transplanting, but it won't tell you how long they can be in the ground for before harvesting.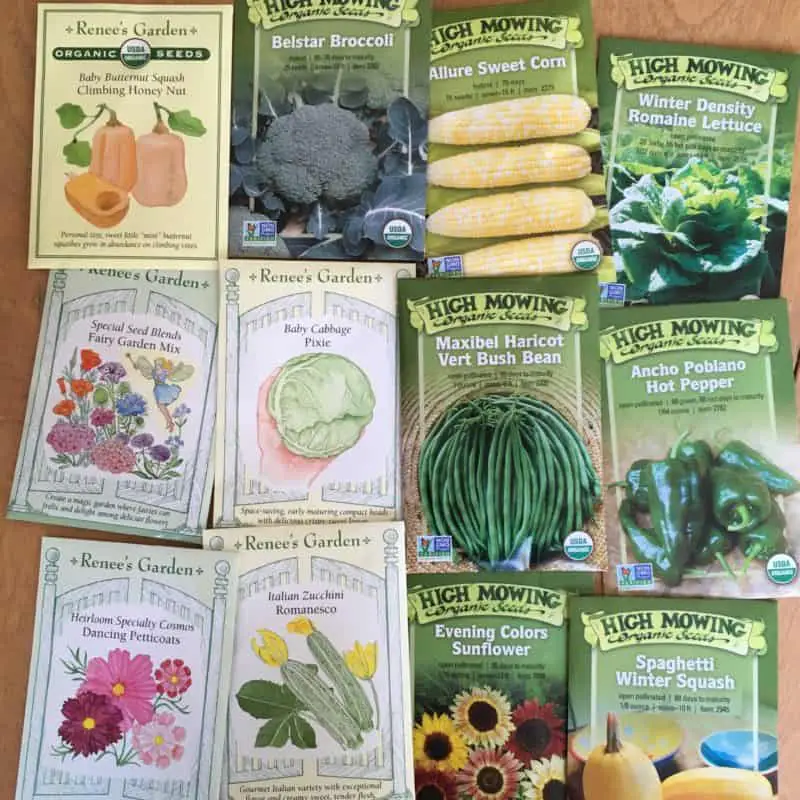 Some veggies can be left in the ground and will continue to grow like carrots, parsnips, beets, swiss chard, kale plants. Other fruits and veggies need to be harvested promptly when mature. Some even need to be harvested every couple of days, otherwise they eventually go bad or go to seed on the plant. You'll need to know when to pick green beans, cucumbers, tomatoes, and melons as they are all examples of crops that need keeping an eye on and harvested when at peak ripeness. Some crops, like cabbages, cauliflower or broccoli, will keep growing to a certain size but will eventually try and grow a flower.
When designing your schedule it helps to have a harvest window added to your transplanting and days to mature slots.

Creating your Sowing Transplanting Schedule
Below is an example of an excel spreadsheet that I made a couple years back. Today my list of crops is more extensive but it gives you a rough idea of what a sowing schedule might look like. This list doesn't have the dates, I use my printables for that information, but when I started organizing my crops I liked the visual of seeing what I could grow when in the season.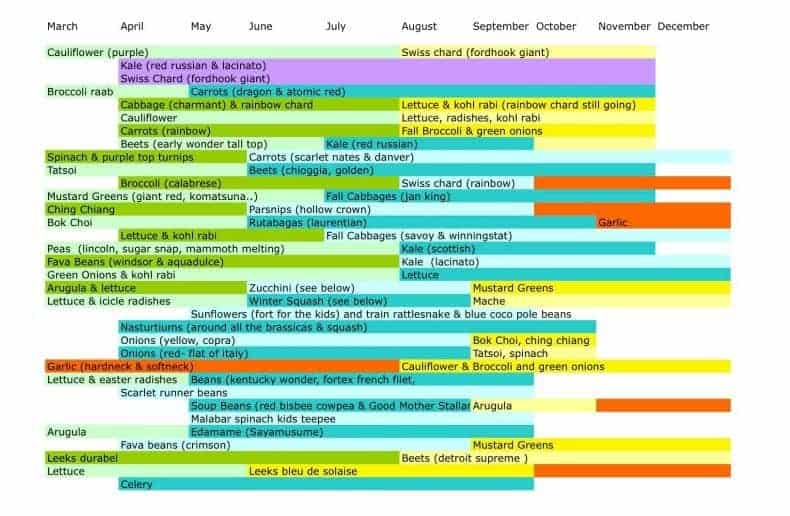 Here's an example of what that might look like on my garden planning printables. I've zoomed in and just shown you one example of 'winter density' lettuce.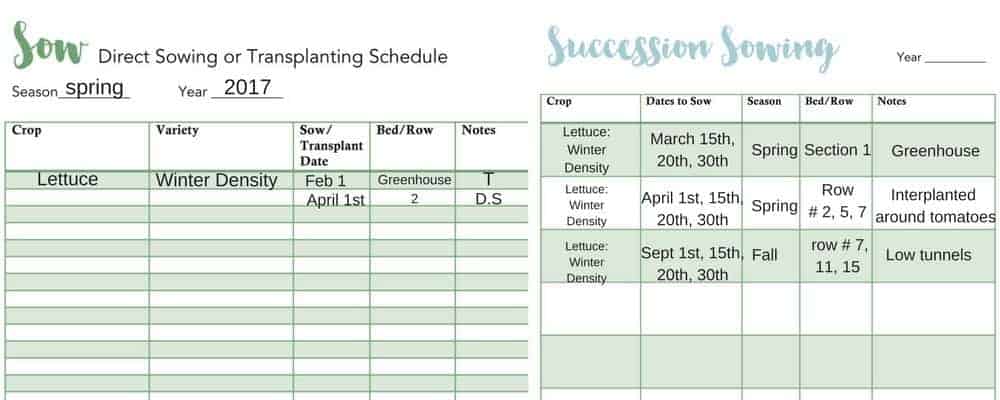 In the end, your sowing and transplanting schedule will take time, practice and learning what grows in your specific climate. It took me years of gardening before I had a good rhythm, and every year I experimented with adding crops before or after my main harvest ones. 🙂
Things to Consider if you're growing multiple crops:
If you're just sowing crops once in the springtime then your sowing and transplanting schedule is more simple. If you want to start getting more harvests from your garden then you'll start organizing your crops into growing seasons and using techniques that increase garden yields. If you wish to learn more about garden planning check out my gardening book.