Family Food Garden may collect a share of sales or other compensation from the links on this page.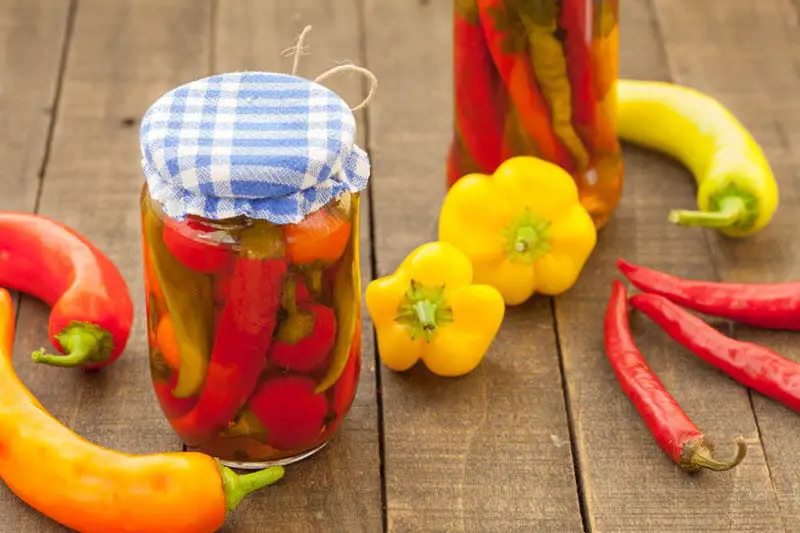 So I never grew up with hot peppers or hot anything, however as I went away from my spice deprived childhood I began to explore the ginger,tummeric and coriander of Indian food, the hot spices of chili peppers and cumin of Mexican food as well.
I discovered that a little hot adds a lot to food. So here are some canned jalapeños recipes including a jalapeños jelly that is worth trying.
Trust me.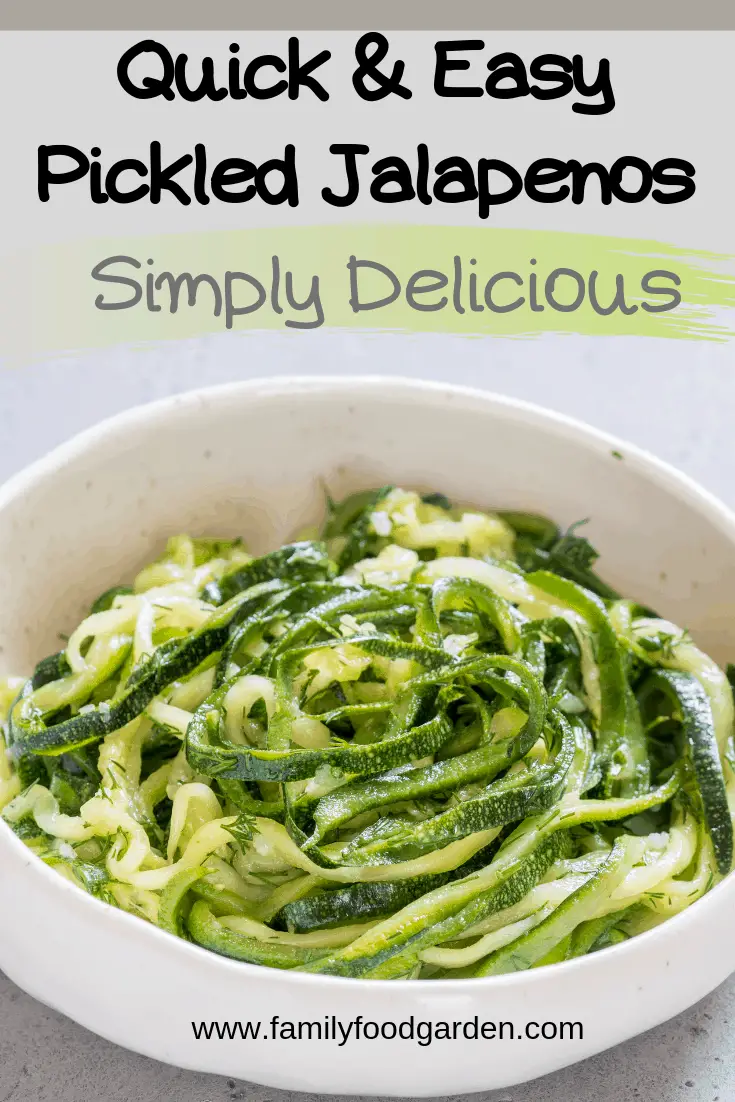 Top your best nachos or eggs with some jalapeño peppers that you canned. It is a very satisfying experience.
Use your canned goods and enjoy them.
Review all the basic water canning process instructions like this short video tips for water bath canning for dummies.
Thorough, simple, and a good review. While you are at it, try out this other video about Pickled Peppers Infused with Olive Oil.
You can use any peppers, cayenne, jalapeños whatever is in your garden or available at your farmers market. The narrator is from Texas where they know their jalapeños. You will enjoy his Texas drawl and his recipe. The recipe does not contain sugar.
A word of caution– When chopping jalapeños or any hot pepper use latex gloves so your hands don't get burned and make sure you don't touch your eyes or wipe your nose or you will be sorry. Thoroughly wash your hands, the knife, and the cutting board after you chop jalapeño peppers or any hot pepper.
Jalapeños jelly recipe: (which definitely has sugar)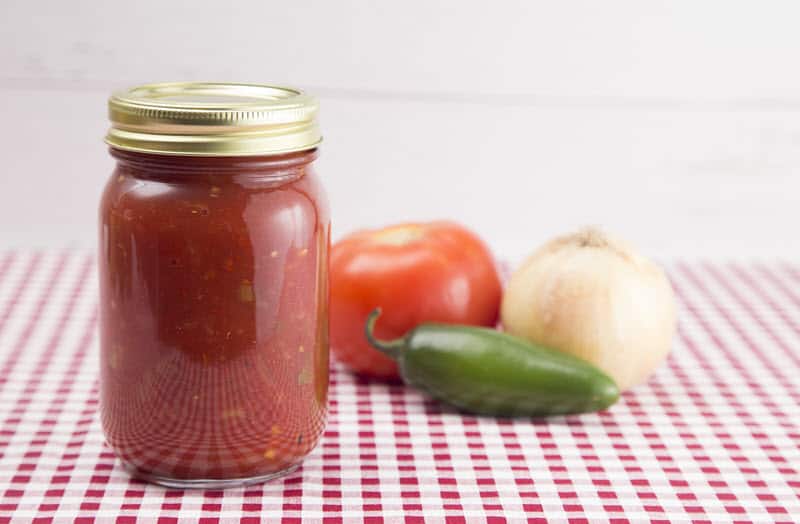 This is a great way to use your abundant jalapeños from your garden. You will be using a water bath canning process. The Jelley is wonderful on meats and poultry, as well as anything you want to add a little zip to. Watch the video
How to make Jalapeños Jelley, an allrecipes recipe so you can trust it to be good. You will need:
Measure 1 cup of the red peppers and ½ cup of the jalapeños and grind in a food processor.

In a saucepan add 1 and ½ cups apple cider vinegar, 5 cups of sugar and I like to add a pinch of salt.

Cook on medium heat for 3 minutes until everything is dissolved.

Remove from heat and let it cook for 5 minutes, stir in one package of liquid pectin and stir.

Let the mixture cool for two more minutes and stir again for a full minute.

Pour into sterilized pint jars or wide mouth half pint jars and wipe off the glass rims before you put on the clean seal and rings that have been checked first and put into hot water (not boiling) for 30 seconds.
This recipe does require hot water processing for 10 minutes. Let the jars sit undisturbed until the seal is made. Check the seal one they have cooled and label and date Check the jars before opening. If there is not a good seal or mold do not even Taste them.
If you prefer here is the site for the written version the only real difference is the color of the not hot peppers and some preparation adjustments. The written recipe calls for green pepper and the video for red. Our personal favorite is the red pepper version but try them both out.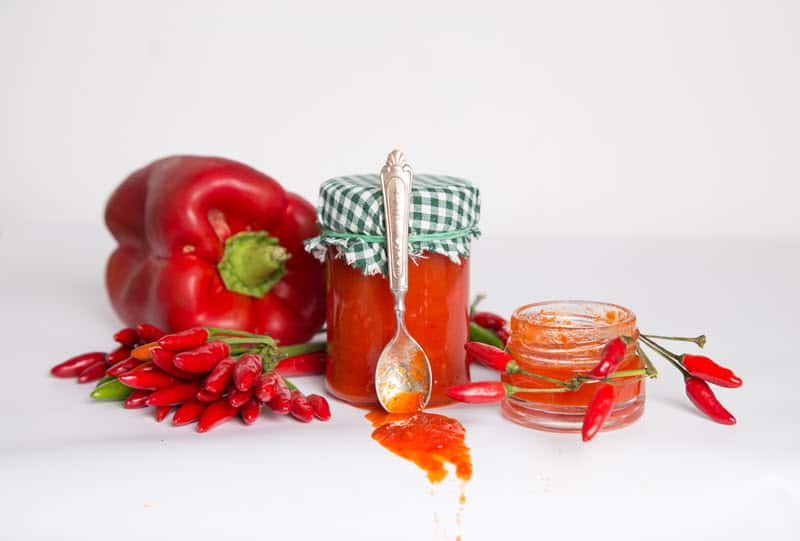 Another canned jalapeños recipe is easy canned jalapeños pickles.
This simple recipe is very good for a beginning canner. It calls for 2 quart jars but I like to use smaller jars when canning jalapeños peppers because they last a while in my house and once they are open you need to refrigerate them.
This recipe calls for 1 ½ pounds of jalapeños, green or red. It uses pickle crisp either manufactured by Ball or Mrs WagesExtra Crunch. It is worth it to use one of these products if you like crunchy pickles. It is basically calcium chloride and you don't need much, but it makes a difference.
Make sure you follow the recipe and water bath process for 10 minutes once the water comes to boil again. Let the pickles cool on the counter on a clean towel, undestrubed for 12-24 hours. It is during the cooling process that the vacuum seal is created. Remember to date and label your pickled jalapeños.
This nextcanned pickled jalapeños recipe comes from FlourOnMyFace.com. This recipe calls for
A basic brine is made by adding vinegar, garlic, water, and kosher or pickling salt. While the brine is heating up slice the peppers wearing a latex glove.

Fill the jars with the peppers and one teaspoon of pickling spices per pint jar, add hot brine up to ½ inch. Wipe the rim clean and seal with clean metal lids and rims,not too tightly.

Process for 10 minutes once the water boils. Let the cans sit in the water for five minutes before removing the jars from the water bath.

Place on a clean towel on the counter undisturbed for 12-24 hours to cool. The vacuum seal is created during the cooling process.

Check the seals before storing and date and label your canned jalapeño pickles.
Quick Jalapeños Peppers
Another good homemade jalapeño pepper pickle recipe to try is Quick Jalapeños peppers using this allrecipe site.
The site includes a how to video which is well worth viewing. These jalapeños are not water bath processed. You just keep them in the fridge. It takes about a day for them to taste just right and you can make them if you intend to use them up quickly.
Nachos and quesadillas here we come!
My name is Isis Loran, creator of the Family Food Garden. I've been gardening for over 10 years now and push the limits of our zone 5 climates. I love growing heirlooms & experimenting with hundreds of varieties, season extending, crunchy homesteading and permaculture.