Family Food Garden may collect a share of sales or other compensation from the links on this page.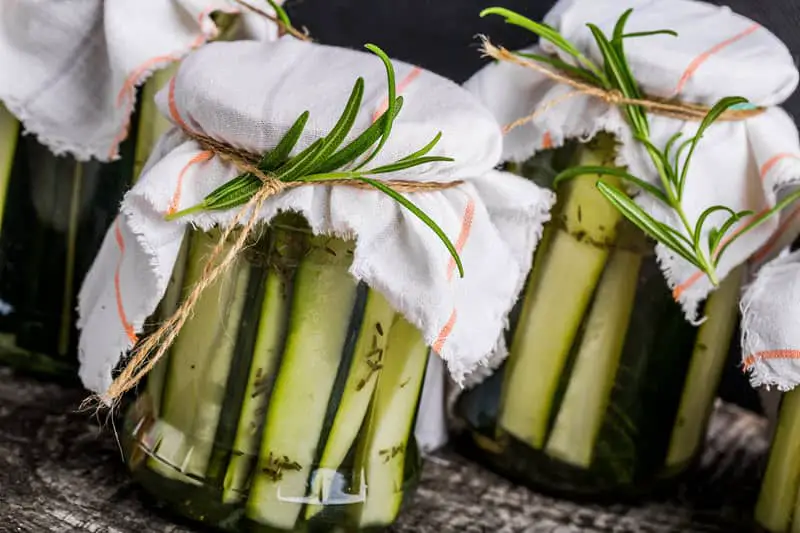 Summer gardens are bursting with summer squash like zucchini and yellow summer squashes. Now is the time to take advantage of this great vegetable. It is low in calories and great in fiber and antioxidants and anti-inflammatoryphytonutrients, B6, folate, C and K.
Zucchini is a great vegetable to make homemade canned zucchini relish, pickles and zucchini pineapple.
Here is Marisa McClellan'szucchini-pepper sweet relish recipe.
This tangy sweet relish goes great on hot dogs, tuna salad, or any time you want a sweet relish.
The recipe can be found on Simple Bites or in Marisa's book 'Food In A Jars'. You can order it online from Book depository or Amazon.Com
| | |
| --- | --- |
| | |
Prepare a boiling water bath and 5 regular-mouth 1-pint/500 ml jars that have been sterilizedas well as the lids and screw rings. Only dip the lids in hot water for 30 seconds, do not boil them.

Combine the chopped bell pepper, zucchini, and onion in a large, nonreactive pot. Stir in 2 cups of the apple cider vinegar and bring to a simmer over medium heat. Cook until the vegetables have cooked down, about 30 minutes.Stir occasionally.

Drain the vegetables and return to the pot this is done so that your pH is acidic enough to process in a water bath. Add the remaining apple cider vinegar, sugar, salt, mustard seed, celery seed, and red pepper flakes. Bring to a simmer and cook for 5 minutes.

Ladle the relish into the prepared jars, leaving 1/2 inch/12 mm of headspace. Gently tap the jars on a towel-lined countertop to help loosen any bubbles before using a wooden chopstick to dislodge any remaining bubbles. Wipe the rims, apply the lids and rings, and process in a boiling water bath for 10 minutes. Add any additional time if you live in a high altitude.

When the processing time is up, remove the canning pot from the heat and remove the lid of the canning pot. Let the jars sit in the pot for an additional 5-minutes. This helps to prevent the relish from reacting to the rapid temperature change and bubbling out of the jars.

Remember to leave your jars on the counter for 12-24 hours undisturbed. I like to place my jars on a clean towel on the counter so they don't get any shock. The vaccum seal is formed during the cooling process. When they have cooled label and date your jars.Check your jars and seals before storing. Check them again before eating. It there is mold or the seal is popped up Don't even Taste the contents but throw the jar away.
Here is a great crunchy zucchini pickle recipe from AllRecipes.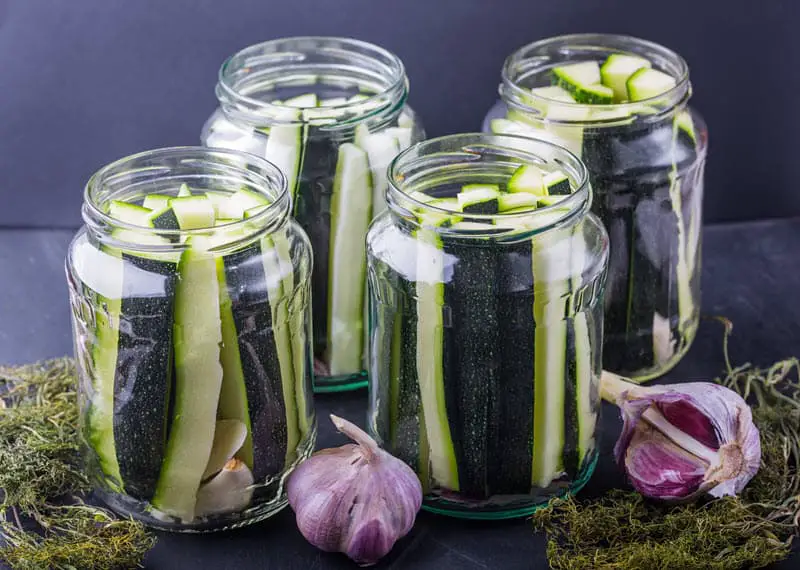 I have tried these and they are really crunchy, and I like the sweet onion taste. This is not a salty pickle.
This is a recipe for canned zucchini pineapple.You need to peel the green zucchini and combine it with lemon juice sugar and canned pineapple.
Your zucchini will pick up the pineapple taste and can be used like pineapple in any recipe.You can cut down on the sugar as it is more for taste.
Read the entire article from Healthy Canning to understand how this recipe developed.
I have very successfully used this in a zucchini pineapple carrot bread I have made for years.
It is an all recipe Carrot Cake of My Dreams.
I use my canned zucchini pineapple instead of the zucchini and pineapple called for and cut down on the white sugar. Taste your batter before adding any sugar. We like the taste of brown sugar so I do use some.
The trick with zucchini is you must be sure about the pH, or acidity in order to process zucchini in a water bath canning method. Foods are generally acid or basic.
Acid like vinegar basic like soap or baking soda. In order to process canned foods in a hot water bath the food needs to be acidic to discourage the growth of microorganisms that could make a person sick.
Not to scare anyone but certain microorganisms can make some people very sick.Use only tested recipes. The more acidic the better.This is whypH is such an issue when canning. Acid foods such as fruits and pickles with a pH of 4.6 or lower may be canned using a water bath process.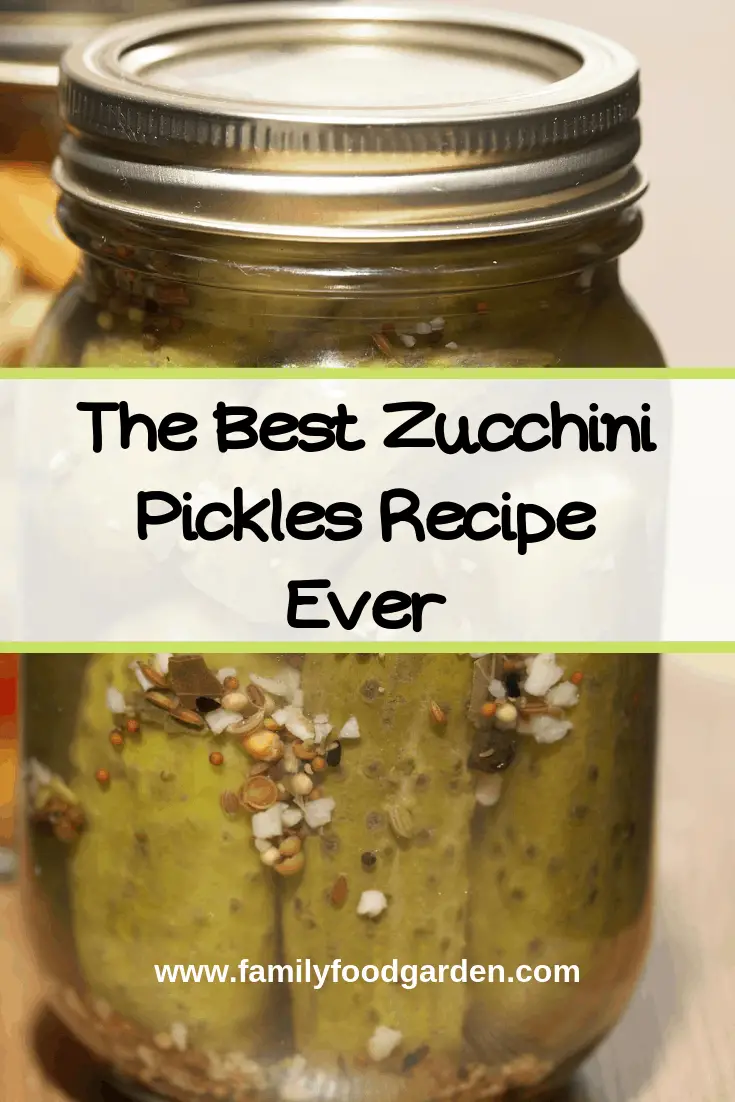 How to test a foods'pH?
You can purchase pH test strips and can test your food before you can it. The food needs to be prepared for pH testing and must be in a more liquid state. You can't just test the pickling juice or syrup. You need to mash a small bit of food after you have cooked it and before you put it in your sterilized jars.
You can use a hand blender and can add a bit of DISTILLED water if need be. Small amounts of distilled water will not change the pH because distilled water is considered neutral, neither acidic nor basic.
Use a pH test strip and let it sit in the pureed/liquid food for about10-20 seconds and read the results by comparing the color you see on the strip with the side of the pH strip jar. You can purchase pH strips in the hard wear store, since they are used in testing soil or possibly a pharmacy.
My name is Isis Loran, creator of the Family Food Garden. I've been gardening for over 10 years now and push the limits of our zone 5 climates. I love growing heirlooms & experimenting with hundreds of varieties, season extending, crunchy homesteading and permaculture.