Family Food Garden may collect a share of sales or other compensation from the links on this page.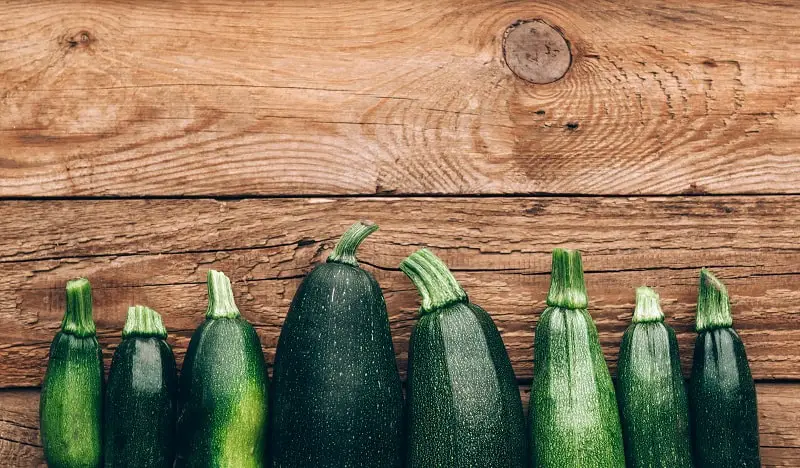 If you are a keen gardener, you may have already tried your hand at growing your own food. Eating veggies picked fresh from your own garden is one of the most satisfying things. But how do you get started? Do you know how far apart to plant zucchini? Have you thought about where to plant your vegetables? What type of soil is best? Do they need to be supported?
These are all questions that I will try to answer for you here. Let's talk about zucchini. Let us consider how far apart to plant zucchini. You may think that it can't be too difficult to grow your own zucchini. After all, you just need some seeds, a patch of soil, and a little time to water your plants regularly.
But the process is a little more complex than that. There are numerous factors to take into consideration when planting zucchini, and one of the aspects that you need to consider is how far apart to plant zucchini.
Here are some commonly asked questions about growing your own zucchini.
Are There Different Varieties Of Zucchini?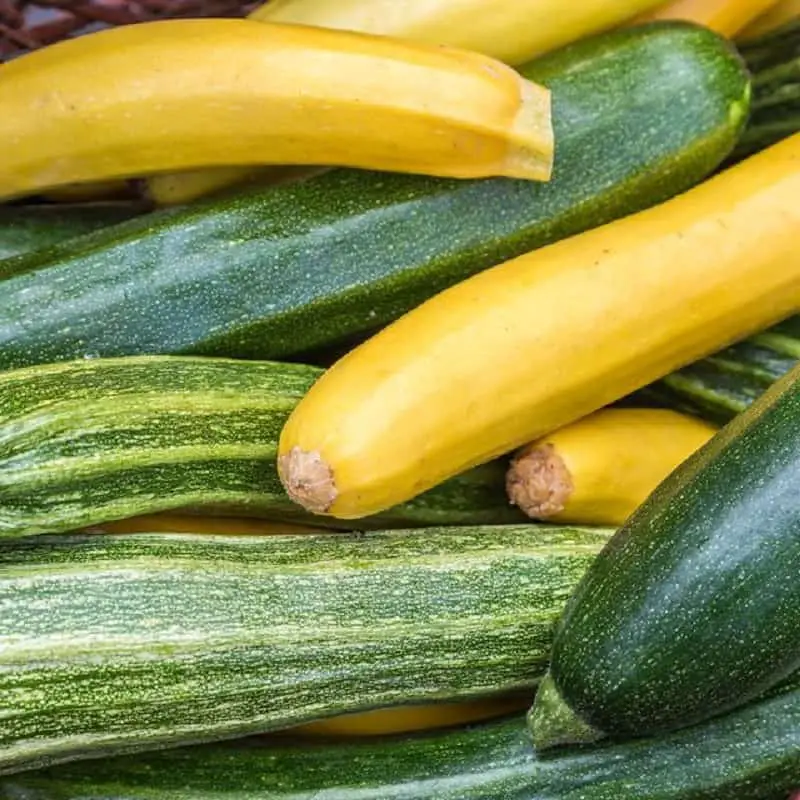 Zucchini is such a versatile vegetable. You can do so much with it, and use it in so many wonderful dishes because there are so many different varieties available.
The peculiar thing about zucchini is that, unlike most other vegetables, it does not have a very strong taste. While it has a deliciously subtle flavor, the flavor is not overpowering, so it will not really add much flavor to your food.
This is why it is seldom served as a vegetable on its own but is rather usually added to other vegetables and foods. In this way, it tends to absorb the flavor of the foods with which it has been cooked.
When looking at the different varieties of zucchini, you will notice that some are long and thin, while others are round or oval in shape. There are also different colors, from yellow to pale green to dark green, and sometimes even a mixture of yellow and green.
Black Beauty is one of the most readily available and popular varieties of zucchini. Ideal for soups, stews, and even salads. This type of zucchini is very easy to grow, provided that you have enough space and you know how far apart to plant zucchini.
Even though it is called Black Beauty, this zucchini actually has a very dark green exterior, with a smooth white flesh inside. When planted correctly, it can grow as big as 15 inches long and will be ready for harvesting only two months after planting.
Gourmet Gold is a bright yellow zucchini that adds an appealing color to your dish. It is so attractive to contrast these with the dark green variety. It will make your dish both look and taste spectacular.
Cocozelle is a striped zucchini, with contrasting light and dark green streaks. It looks amazing on your plate and has a unique flavor.
Round Zucchini has a similar flavor to the longer, thinner, more elongated varieties, but it is a useful type for when you would like to serve stuffed zucchini. It is simple to remove the flesh and fill the shell with anything that grabs your fancy. My favorite is to fill it with mashed potato, mushrooms and cheese, and place it under the grill.
With all of the varieties of zucchini, the planting process is very similar. There are a few aspects to think about in order to get a good harvest.
Preparing The Soil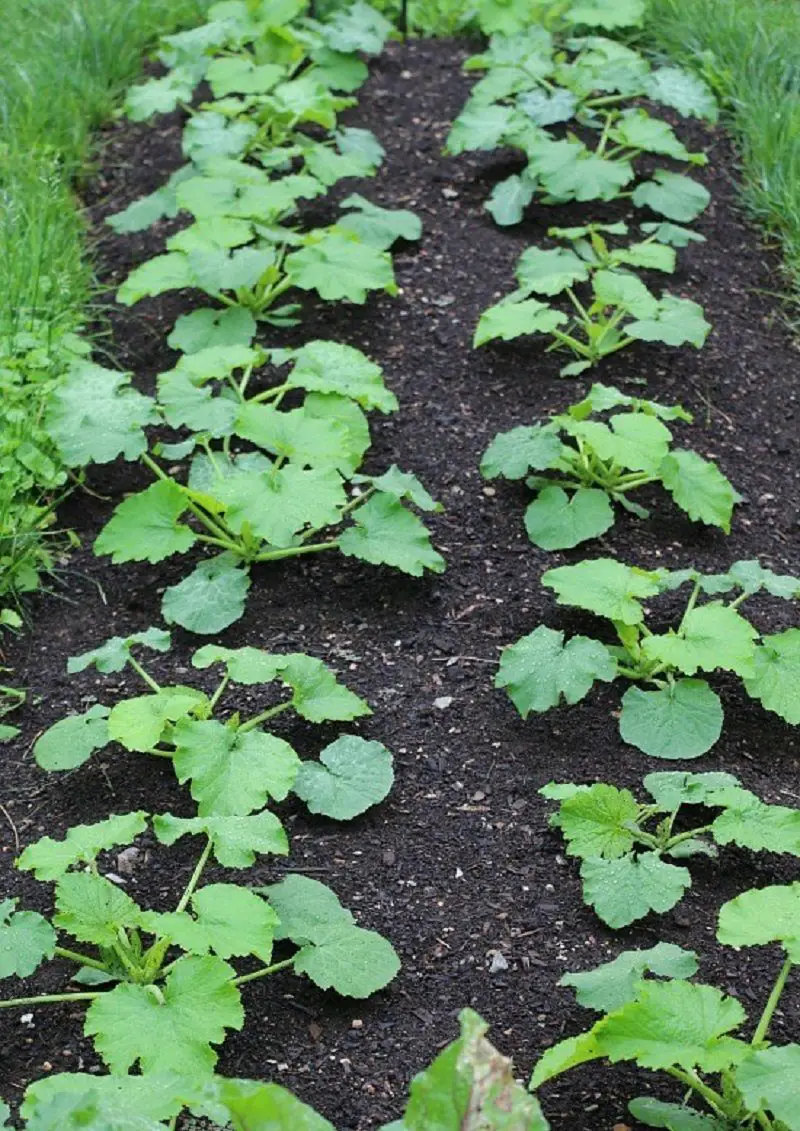 Make sure that your soil has a balanced pH level of between 6.0 and 7.5. If the soil is either too acidic or too alkaline, it will affect the roots, and the plants won't grow. Rainfall affects the pH level of the soil. If there has been a lot of rain, it will create a higher acid level.
When Is The Best Time To Plant Zucchini?
It is best to plant zucchini in early spring. It is at this time of year that the weather is milder, and the plants have the best chance of thriving.
Do Zucchini Plants Need A Lot Of Sun?
Your zucchini plants will need lots of direct sunlight. You should choose a spot that will get 6-8 hours a day of full sun.
How Far Apart Should You Plant Zucchini?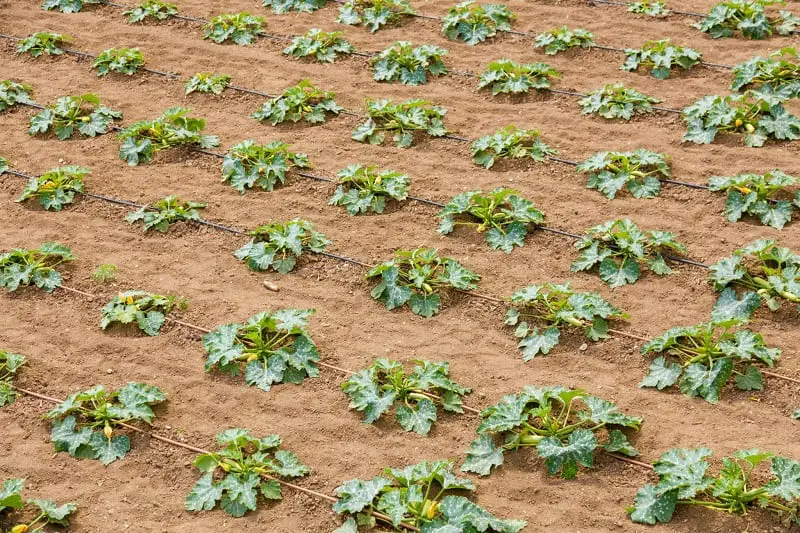 How far apart to plant zucchini depends on whether you are planting seeds or established seedlings. If you are planting seeds, sow them in the ground with about 3 inches between them. As they start growing, you can then thin the seedlings out.
Established seedlings should be planted approximately 20-25 centimeters apart. This will give them enough space to grow.
You May Also Like: How Far Apart to Plant Broccoli
Do Zucchini Plants Need To Be Supported?
The zucchini plant is a climbing plant, also known as a vine plant. Therefore it needs something to support it as it grows, to prevent it from falling over and rotting on the ground.
It is a good idea to erect a trellis to support your zucchini plants. If you plant your zucchini in this way, they will do well and yield a bumper crop.
If you don't have a trellis, you can erect a support structure with some long poles and a long roll of thin wire. Simply plant the poles in the ground, 6 feet apart, and tie the wire across in rows about one foot apart.
Can Zucchini Be Planted In Containers?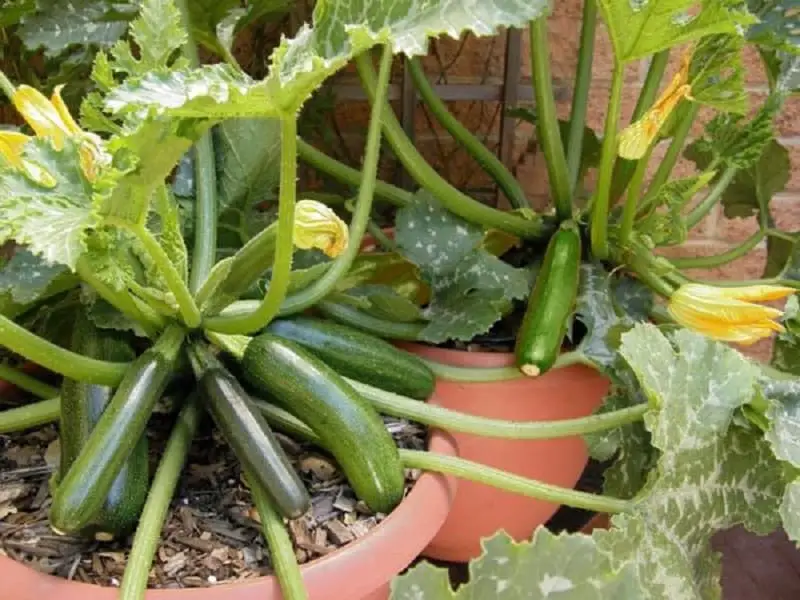 Zucchini plants will do very well in containers. If you don't have a garden with space for growing vegetables, a few pots placed in sunny spots will give you an opportunity to grow your own veggies.
An environmentally friendly way of growing zucchini is to use old buckets from household products such as cleaning agents. Make sure that you wash the buckets out very well before planting, as any chemical residue that remains will damage your plants.
By following these guides, you will be able to enjoy home-grown zucchini.
My name is Isis Loran, creator of the Family Food Garden. I've been gardening for over 10 years now and push the limits of our zone 5 climates. I love growing heirlooms & experimenting with hundreds of varieties, season extending, crunchy homesteading and permaculture.