When I think of canned cucumbers, first I think of crispy pickles. In order for the pickles to be crispy, you need to add an ingredient that contains tannins, like grape or cherry leaves.
Aside from grape or cherry leaves, some people prefer to use alum, but there are new products that can also be used, called Pickle Crisp by Ball or Mrs. Wages Extra Crisp, which are basically calcium chloride.
They're easy to use! You simply add the calcium chloride directly to each canning jar. A single jar of calcium chloride goes a long way. You add a little in each canning jar before processing. If you use food grade calcium chloride, you should be fine. Do not use anything other than food grade product.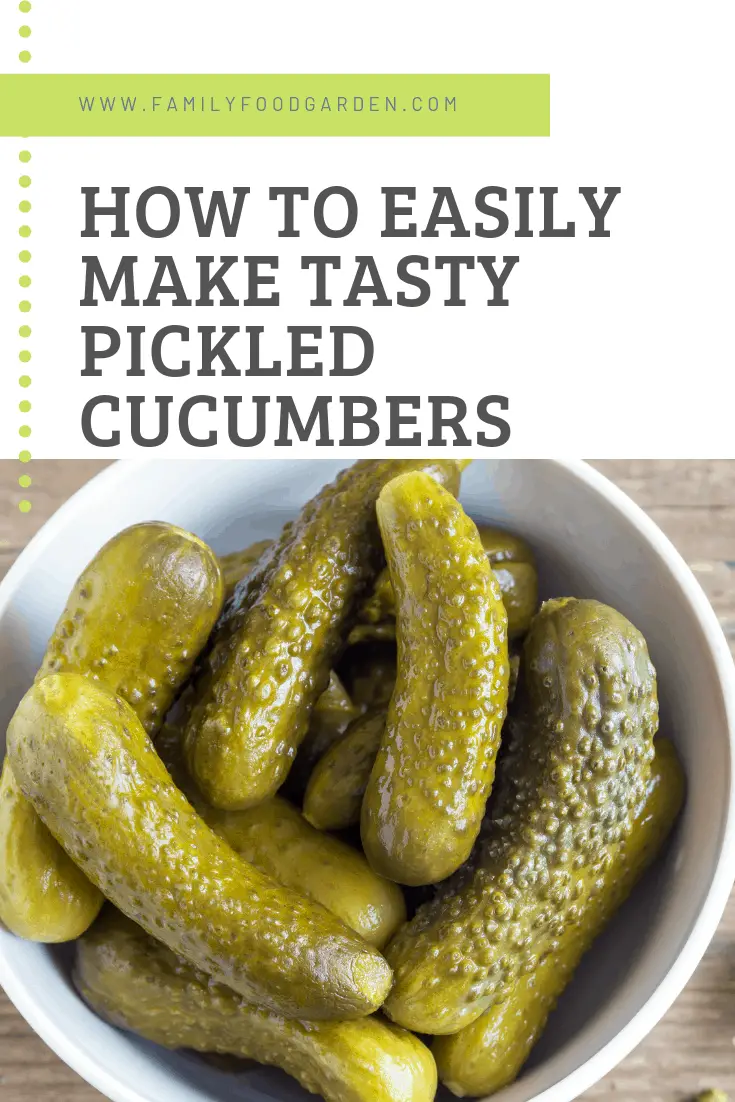 Canning Ideas for Cucumbers
My Grandmother Mini had a great pickle recipe that was put in glass jars but not preserved in a canning process.
My sister was interviewed on National Public Radio about our grandmother's recipe and expert Marisa McClellan, author of the great canning book Food In Jars was consulted on the program. It is a fascinating interview, even if it wasn't Grandma Mini's recipe.
It is worth listening to or reading just to learn about Marisa McClellan's homemade pickling spice. Here is the recipe:
Homemade Pickling Spice
2 tablespoons black peppercorns
2 tablespoons mustard seeds
2 tablespoons coriander seeds
2 tablespoons dill seed
2 tablespoons allspice berries
1 tablespoon crushed red pepper flakes
10-12 bay leaves, crumbled
If you are picking something sweet like sweet pickle relish or pickled beets you may want to add some crumbled cinnamon stick and allspice berries.
This recipe is lacto-fermented which means the pickles are not processed in a hot water bath and the fermentation of the pickles is thought to be very healthy. There are those who feel this method is not safe. Many cultures have fermented pickles of some kind like kimchee and barrel brine pickles.
A canned recipe for pickles is Dill Pickles for Canning
Ashley Adamant of Practical Self Reliance recommends you use small pickles for canning. The smaller the better, and the fresher the better. She also recommends canning pickles in small jars like pints instead of quart jars. I agree and my preference is forwide mouth jars.
Larger pickles can be made into sweet pick relish or bread and butter pickles. Two great recipes for those are
Watch "Bread and Butter Pickles Recipe | How to Can | Allrecipes.com" on YouTube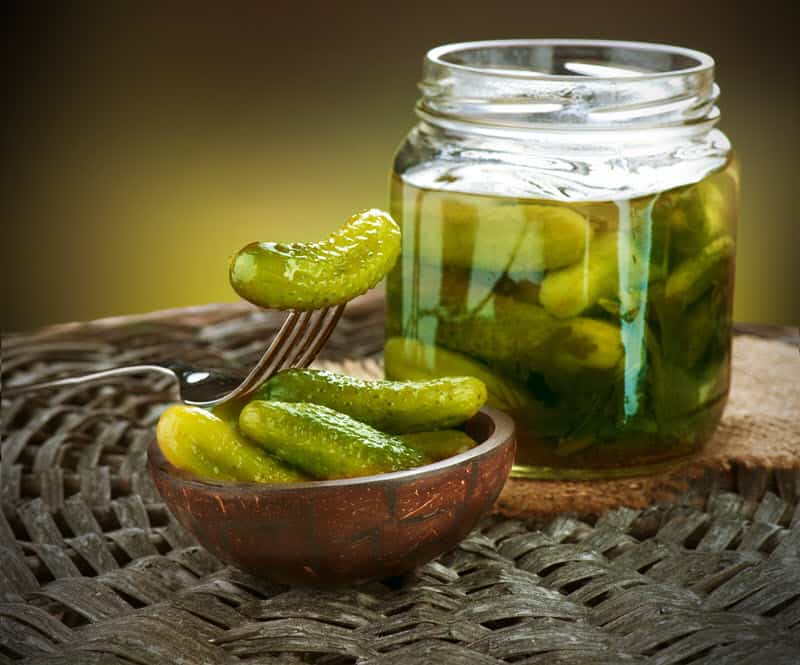 The recipe suggests you sterilize the jars in the oven but I prefer either using a dishwasher on the hottest setting or boiling them.
Clean and heat your lids and screws in hot water but do not boil.
Cut off the ends of the cucumbers and wash them as you don't want any of the blossoms mixed in as there are enzymes in the blossoms that can make your cucumbers less crunchy.
Slice your cucumbers in a food processor or hand slicer. You can also use a knife. Next slice up onions and a red and green bell pepper cored and removing all the seeds.
You will also need some garlic chopped. Mix together all that you have sliced and diced in a large bowl.
Add kosher or coarse salt and mix the salt into the vegetables to draw out extra moisture. Let the mixture sit for 3 hours at room temperature.
In the meantime in a large pot add 5% apple cider vinegar, and the sugar. Heat to dissolve the sugar (you may reduce some of the sugar if you want).
The add mustard and celery seeds, cloves and turmeric which gives the bread and butter pickles their color. Bring the liquid to a boil. Drain your vegetables and run them over some cold water to reduce the sodium from the salt.
Add the rinsed off vegetables that have been drained into the boiling pickling liquid. Continue to let things cook but REMOVE the pot from the heat before it reaches boiling point.
Pack in the sterilized large mouth pint size jars to a ½ inch from the top. Pour in any extra liquid brine up to ½ inch from the top of the jar.
Wipe off the glass rims and seal with the clean lids and metal rings. Process in a hot water bath for 10-15 minutes. Remove from the bath and place on a towel lined counter. Do not disturb them for 12-24 hours.
The seal is formed during the cooling process. Label and date your canned goods. If you want to eat them right away put a few jars in the fridge once they have cooled to room temperature and forget the canning process.
Refrigerated your bread and butter pickles once they are opened or if you did not process them in a hot water bath.
And sweet pickle relish recipe. Sweet Pickle Relish Recipe – Allrecipes.com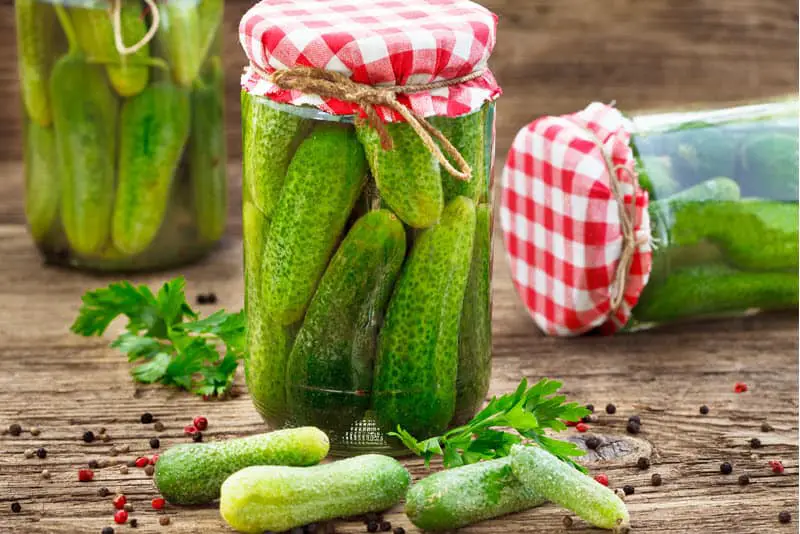 This is similar to the bread and butter pickles but it does not have the turmeric and the cucumbers are not sliced. Salt and vegetable time is an hour less.
Cindy Martin, the author, recommends you remove any extra bubbles after you pack your jars (I recommend using pint size wide mouth canning jars for pickles), using a spatula or wooden chopstick.
This is a good idea and common practice in most canning procedures. Remember to let the jars sit undisturbed after removing them from the water bath and check the seal once they have completely cooled 12-24 hours afterward. You can put your finger on the lid.
It should not move or bulge upward. Before opening any home canned product make sure the seal is tight, there is no mold around the seal or in the jar. If there is mold, do not even taste the food in the jar. Throw it away.
If there are no signs of mold around the seal or bulging in the lid, you can safely enjoy your pickles. Enjoy your meal!