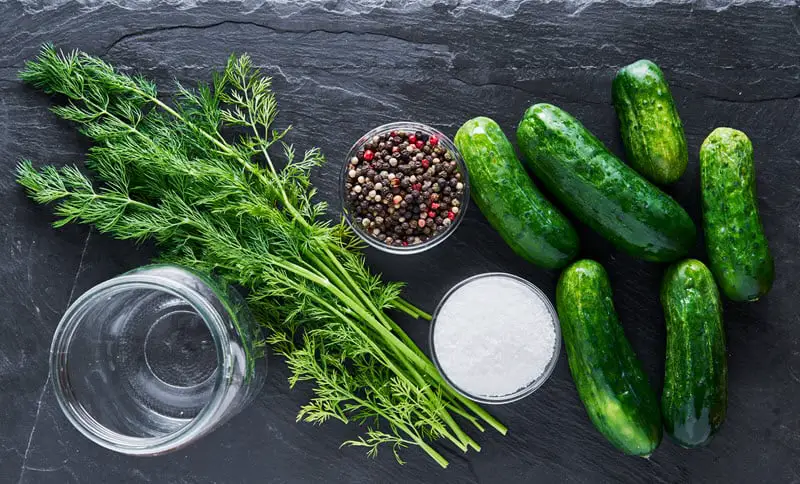 There are a lot of canning recipes out there for pickles, and everyone has a favorite. Some like them really crispy, some really dilly, and some really garlicky.
My Grandma Mini used to make half-sour pickles and my sister Joan did an NPR radio program about them which gives you tips from a food expert about keeping pickles crunchy. The program was called 'The Secret to Crisp Pickles, And a Lost Recipe Found'
Although this is not actually a hot water bath canning recipe, done correctly it will last for up to a year in the fridge and stay crispy. Because you are in control of the sourness of the pickle you have the advantage of making it just as sour as you like it.
The other benefit of this method of preserving is the pickles are Lacto-fermented providing good bacteria for your gut. There is an ongoing debate about which is better, fermented salt pickles or water bath processed pickles.
Recipes for Crisp Dill Canning
You can make your own pickling spice. Here is Marisa McClellan, author of the book Food In Jars, pickling spice recipe

2

tbsp

black peppercorns

2

tbsp

mustard seeds

2

tsp

coriander seeds

2

tbsp

dill seed

2

tbsp

allspice berries

1

tbsp

crushed red-pepper flakes

10-12

bay leaves

crumbled
2

tbsp

black peppercorns

2

tbsp

mustard seeds

2

tsp

coriander seeds

2

tbsp

dill seed

2

tbsp

allspice berries

1

tbsp

crushed red-pepper flakes

10-12

bay leaves

crumbled
Mix the spices together and store in a sealed jar.

Use 2-3 Tablespoons per quart jar.

On the average, you need one pound of pickles per quart jar.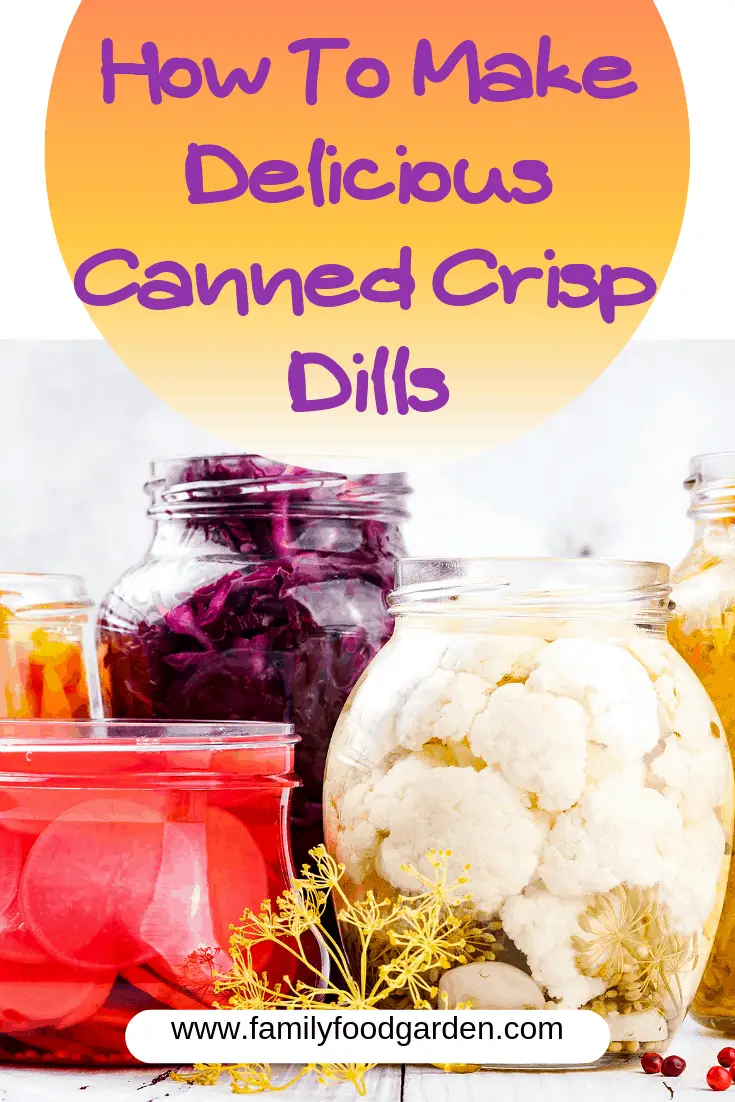 Pickling is an art and chemistry comes into play when creating a crispy pickle. If you are eating pickles for gut health reasons there are those who recommend salt base pickles and not vinegar based.
The fermentation process can be hindered by the hot water bath process. Fermented pickles have been around a long time in many cultures. Fermented vegetables can add good bacteria known as probiotics, protecting the body's microbiome and supporting the good bacteria in the gut. Some studies claim that the vinegar in some pickle recipes may help lower blood sugar.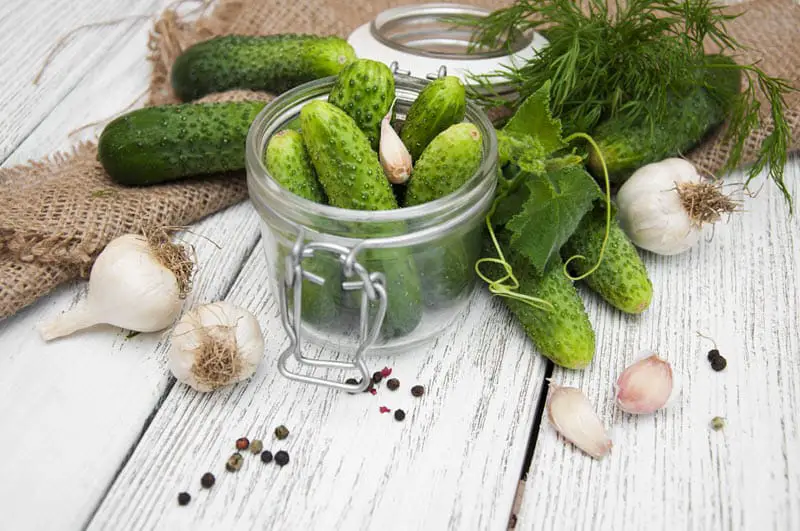 FAQs
Is this fermented food?
Only fermented pickles offer probiotic benefits, such as a reduced risk of yeast infections and better gut health.
Do the pickles contain vinegar?
Vinegar may help control blood sugar.
What is the sodium content of these pickles?
Lower sodium foods are a better choice for almost everyone. Lower sodium content also means it is safer to eat more pickles.
The cooperative extension service on the other hand states:
Processing is necessary for all pickles and relishes to destroy the yeasts, molds, and bacteria that may cause the product to spoil and also to inactivate enzymes that could affect color, flavor, and texture of the pickled product. Process pickled products for the length of time specified in the recipe. If no time is given, process the product for at least 10 minutes.
So it is confusing as to what method is best and what to do. Whom are you going to believe? Sorry, the jury is not clear on this yet.
Regardless of the method what we do know about pickling is the following:
When making pickles DO NOT use iodized salt as it will make your pickle water cloudy and can turn the color of your pickles. Always use either pickling salt or coarse kosher salt.
Many pickle recipes call for soaking the pickles overnight in a (non-iodized) salt brine. This draws out some of the moisture in the pickle.
Make sure you remove any remaining blossoms from the ends of pickles as the enzymes in the flowers can hinder the pickling process and make the pickles soft.
Adding Alum and or tannin-rich leaves found in cherry leaves or grape leaves help make the pickle crispy.
This isn't the time to use big cucumbers, they have more water in them. The fresher and smaller the better and make sure to rinse and check your pickles for bad spots or bruises.
So Let's say you are a home gardener and have just harvested your new crop of small cucumbers that you planted for pickling. If you love lots of dills I would encourage you to try growing dill at home.
The bigger the jar the longer you need to keep the pickle jars in the hot water bath. Remember to always check the seal after processing and make sure the lids are secure and don't click when you press down on them.
Natasha from Natasha's kitchen.com has a canned pickle recipe that uses a vinegar and salt brine. She gets great reviews. See her recipe at Canned dill pickle recipe. Lots of clear how to pictures are included on her site. She also uses a bit of horseradish in her pickles, but you can add another clove of garlic if you don't have any.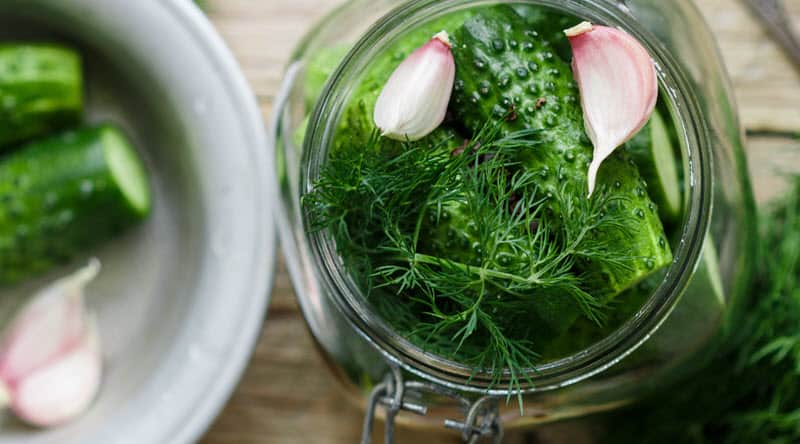 She recommends the following for crispy dill pickles:
Don't over process the pickles as they can become too soft.
Use small fresh cucumbers for the best pickles.
Ashley Adamant uses something called pickle crisp which is calcium chloride in her pickles. Check out her recipe on Practical Self Reliance at: PracticeSelfReliance.com and check out her dill pickle recipe for canning.
She explains that the calcium in, calcium chloride, helps reinforce the cell walls of the cucumber and keeps them firm during the canning process. This avoids a lime bath presoak that canners used to use.
You only need 1/8th of a teaspoon per pint or ¼ teaspoon per quart jar of the calcium chloride. She recommends using pint size jars for quicker processing time.
Her recipe uses 5% vinegar and salt brine.
If you've decided against canning dill pickles, you can also brine them for a few days and immediately enjoy some good dill pickles.
Enjoy!