This recipe is for a natural and clear jalapeno jelly recipe meant for home canning. Often when you see jalapeno jelly there are lots of chunks in it. I prefer a non chunky jelly without the large jalapeno pieces. This jalapeno jelly tastes delicious with cream cheese or goat cheese & crackers. You can make it as hot or mild as you like. A lot of jalapeno jellies tend to be a strange green color, others are dyed green or red.
This recipe uses cranberries for a beautiful red color instead of artificial red dye.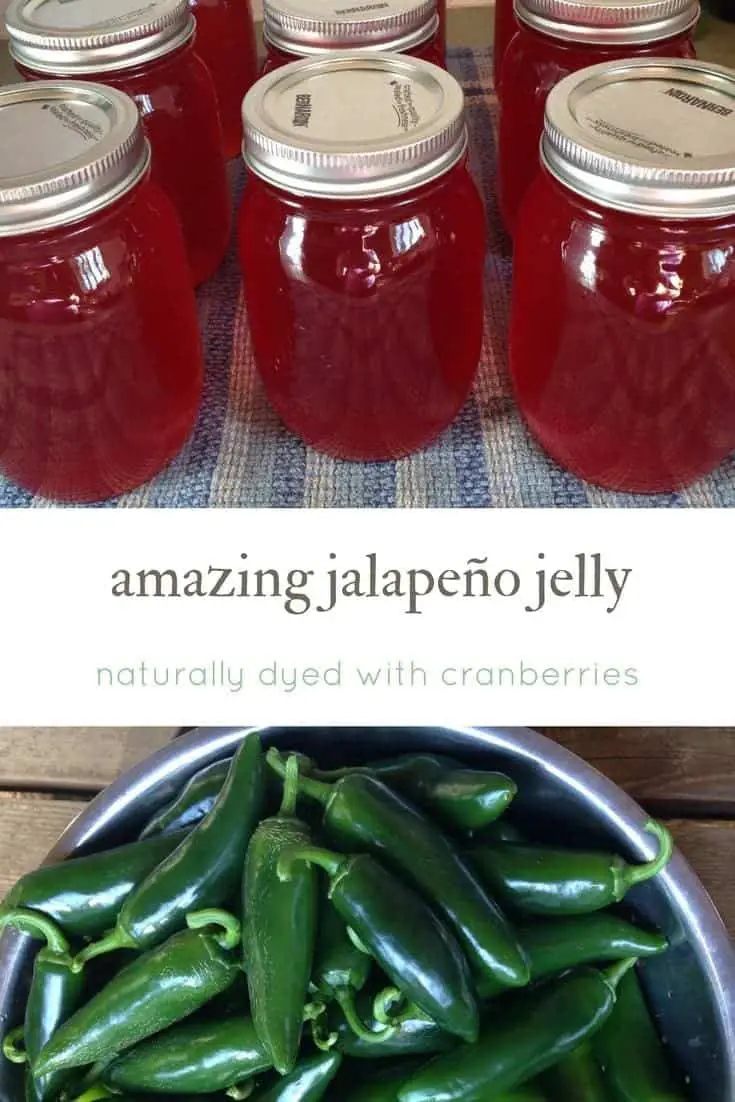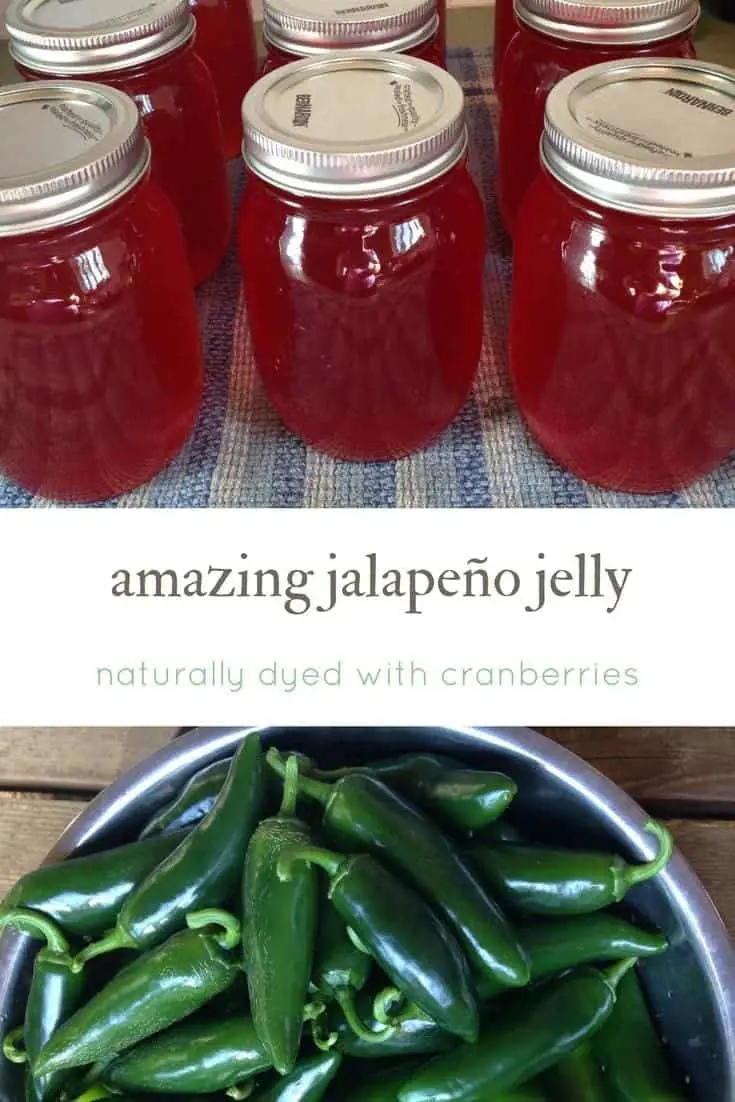 Can you substitute other hot peppers?
Yes, you can substitute other hot peppers. If you don't have jalapenos, or you'd like to create another hot pepper jelly instead of jalapeno jelly, you can use other hot peppers. Remember different peppers have different levels of heat. Jalapenos are a hot pepper, banana peppers are milder, and other peppers like haberano are hotter.
You can change the type of peppers so long as you keep the pepper ratio the same.
Canning Safety
If you're new to canning I highly recommend you read up on the home canning safety processes before using this recipe. Here's a list of resources for you:
Why didn't my jelly set properly?
There are numerous reasons why a jelly doesn't set. A lot of jelly recipes call for a digital thermometer to check the 'set' of the jelly. This helps to determine how it will set later on so it's not too runny.
We usually just do the jelly plate test, rather than the thermometer.
Jellies tend to firm up a couple of hours or days later too, sometimes a jelly is runny when pouring it into the jars, but they set later on. I find the jelly plate test a great way to determine how it will set later on.
Sometimes the pectin you bought didn't work out too. I avoid large-scale commercial pectin with additives. You can buy 'liquid' pectin or a jelly specific one. This recipes uses a natural one without preservatives and you can use less sugar. This requires making a 'calcium water' (super easy) and using pectin powder.  If you wish to use a different pectin for this jelly recipe, follow your package instructions based on the amount of 'liquid' you end up with. 
Pomona's Pectin uses less sugar!
If you're trying to reduce the amount of sugar in your diet, you'll love Pomona's Pectin! It's also GMO free.
Making this jalapeno jelly is easy, buy be sure to wear gloves
I didn't the first time and wiped my eyes. Yep. Rookie homesteader mistake many years back that I'll never forget!
How Spicy to Make Your Red Pepper Jelly
This jelly can be as spicy or as mild as you'd like it to be. If you want a mild jalapeno jelly, remove seeds from half your peppers. If you'd like it hotter, keep the seeds from 3/4 of them. Green jalapenos are less spicy than red ones or greens ones that are starting to get those brown stripes down them. It is fine to vary the ratio of finely chopped bell peppers and jalapeno peppers as long as the ratio of bell/hot pepper is the same. It is fine to use peppers other than jalapenos for the hot peppers.
This is a clear jelly recipe and the jalapenos get strained out before canning. Other jellies keep minced jalapenos in the jelly meaning some of the spiced pieces are still present. I've made this jelly mild, and super spicy. It might take some playing around to get it to your taste buds because we're all different!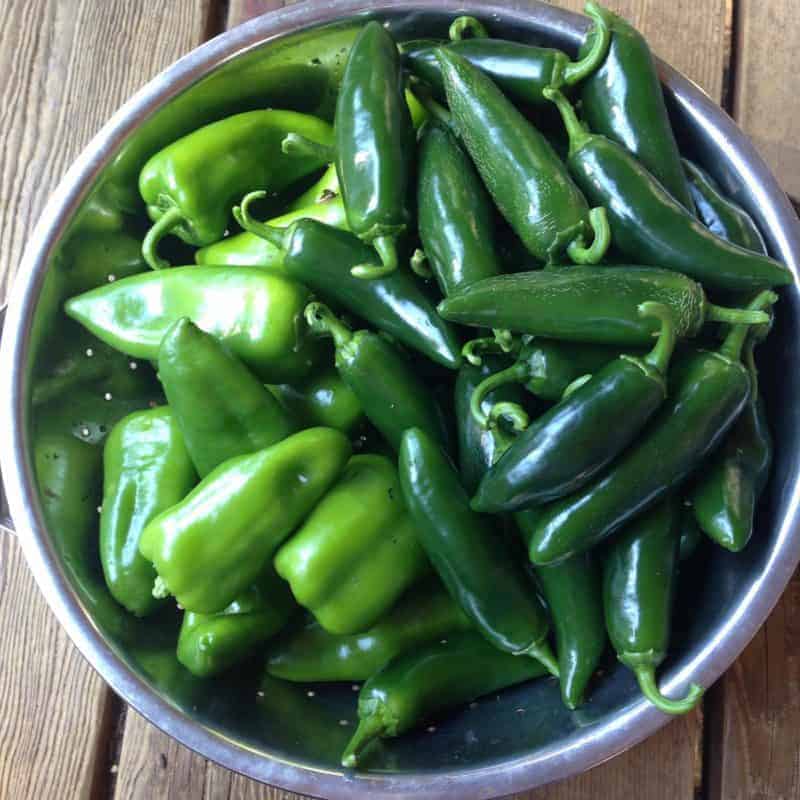 Jalapeno Jelly (with Sugar or Honey)
Ingredients
1 cup of cranberries*
1 cup seeded & chopped bell peppers
1/3 cup minced jalapeno peppers (leave seeds in for more heat)**
1 1/3 cups vinegar standardized to 5% acidity
2 teaspoons calcium water
1½ cups honey or 2 1/3 cups sugar, divided
1½ teaspoons Pomona's pectin powder
*I often add about 1 cup of water with the cranberries during the first boiling down. We all have different climates and humidity levels, how long it takes to turn the cranberries mushy can reduce the liquid in the pot. You could use frozen cranberries too, and probably won't need to add water. Cranberries offer natural pectin in this recipe to help it set. 
**One time I made this recipe spicier, I only used 1/2 cup of bell peppers and the rest hot. You can change the hot & bell peppers if you'd like it spicy. Just make sure you keep it to 1 1/3 cup of peppers 🙂
Peppers are a low-acid food, and must be balanced with the proper quantity of acid (vinegar, in this case) in order for the jelly to be safe for boiling water bath canning. You can double the recipe so long as you stick to the same pepper/vinegar ratio. Use white vinegar, apple cider vinegar, or wine vinegar, as long as it is standardized to 5% acidity.
Red Pepper Jalapeno Jelly Directions
Yield: 3 to 4 cups, about 4 half pint/250 ml jars. I've also doubled this recipe and canned it into pint/500ml size too. Depends on how fast you go through this jelly!
Before You Begin:
Prepare calcium water. To do this, combine ½ teaspoon calcium powder (in the small packet in your box of Pomona's pectin) with ½ cup water in a small, clear jar with a lid. Shake well. Extra calcium water should be stored in the refrigerator for future use.
Combine chopped cranberries, diced pepper, jalapeno peppers, and vinegar in a saucepan. You can also add 1/2 cup- 1 cup of water if desired. Cover, bring to a boil, and then reduce heat and simmer, still covered, for 15-20 minutes until soft. Remove from heat & gently mash the soft fruit and peppers a bit.
Strain through a jelly bag, fine mesh sieve or cheesecloth. Suspend the jelly bag over a large bowl and allow the mashed fruit to drip juice into the bowl. This will likely take 2-4 hours. Don't push through if you want a clear jelly. You want to end up with about 3-4 cups of juice. Compost remaining pulp.
Wash and rinse jars, lids, and screw bands. Set screw bands aside until ready to use. Place jars in boiling water bath canner with a rack, fill at least 2/3 of the way full with water, and bring to a boil. Boil jars for 10 minutes to sterilize (add 1 additional minute of sterilizing time for every 1000 feet above sea level), then turn down heat and let jars stand in hot water until ready to use. Place lids in water in a small pan, bring to a low simmer, and hold there until ready to use.
 In a separate bowl, combine pectin powder with ½ cup of the sugar. Mix thoroughly and set aside.
Add calcium water to the pepper mixture, mix well, and return the mixture to a full boil over high heat. Slowly add pectin-sugar mixture, stirring constantly. Continue to stir vigorously for 1 to 2 minutes to dissolve pectin while the jelly returns to a boil. After the pectin is fully dissolved, add the remaining quantity of sugar and stir to dissolve it. Once sugar is dissolved, and the jelly returns to a full boil, remove it from the heat.
Can Your Jelly: Remove jars from canner and ladle jelly into hot jars, leaving 1/4 inch of headspace. Remove trapped air bubbles, wipe rims with a damp cloth, put on lids and screw bands, and tighten to fingertip tight. Lower filled jars into canner, ensuring jars are not touching each other and are covered with at least 1 to 2 inches of water. Place lid on canner, return to a rolling boil, and process for 10 minutes. (Add 1 extra minute of processing time for every 1000 feet above sea level). Turn off heat and allow canner to sit untouched for 5 minutes, then remove jars and allow to cool undisturbed for 12 to 24 hours. Confirm that jars have sealed, then store properly.
Store in a cool, dry place. Refrigerate after opening.