The scientific name for Panama rose is Rondeletia leucophylla.
It is also commonly called the Bush Penta,' as the blossoms look like pentas, which is another butterfly plant.
These flowers have a light scent during the day, which grows more assertive towards the evening.
Since they grow consistently well, they make for great accent plants when planted at a mid-height hedge along a fence or property line, enhancing the beauty of the landscape.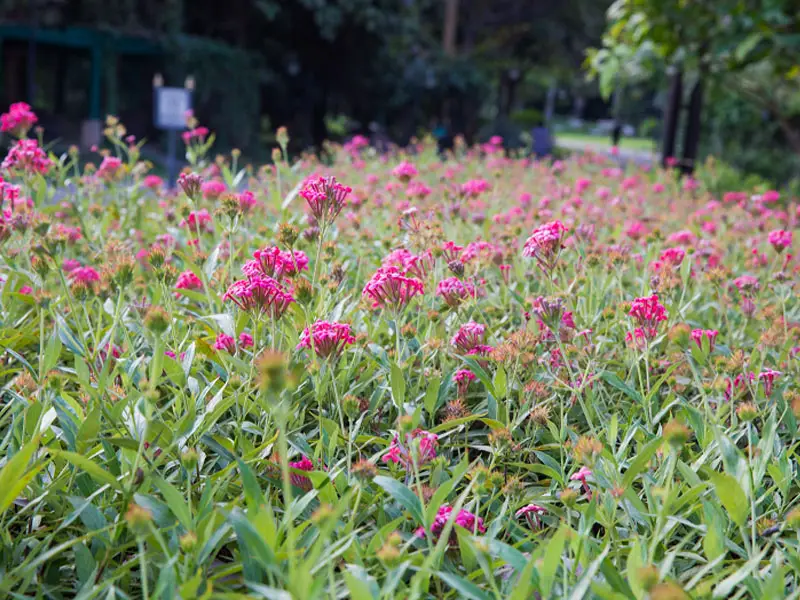 This plant is colorful, as is typical of garden beds of butterfly plants.
A native to Mexico, it is also cultivated widely in the southeastern US, especially in Florida.
It thrives in a tropical environment and is also typically a frost-tender perennial plant.
Scientific Name
Rondeletia leucophylla
Common Names
Bush penta, Fragrant Rondeletia, Fragrant Panama Rose, Sweet Smelling Rondeletia
Hardiness
USDA Zone 10b: to 1.7 °C (35 °F)
USDA Zone 11: above 4.5 °C (40 °F)
Indoor or Outdoor Plant?
Outdoor plant
Sun Exposure
Requires full sun, sunny, part shade, or full sun
Water
Weekly watering
Size
3-5'H x 4-5'W
Soil Type
Well-drained
Soil pH
5.6 to 6.0 (acidic)
6.1 to 6.5 (mildly acidic)
Flower
Reddish orange
Growing Difficulty Level
Easy
Panama Rose Appearance and Characteristics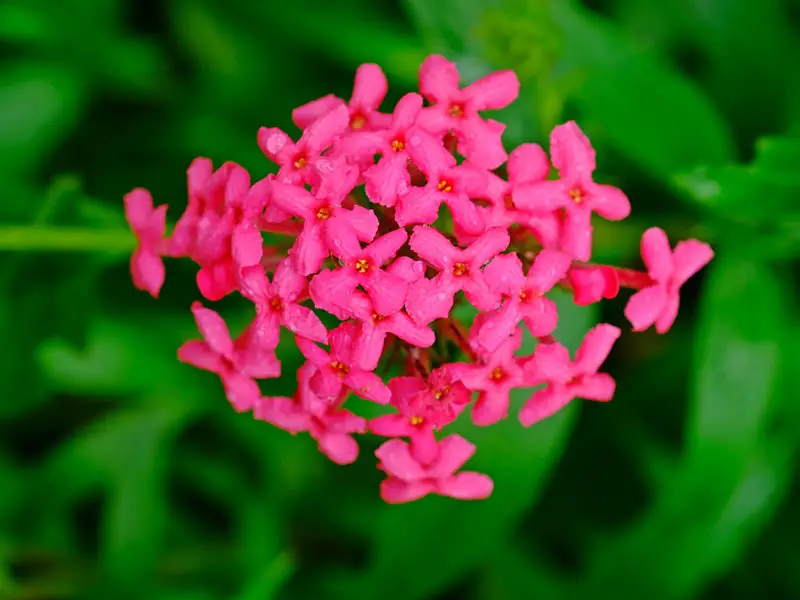 This is an excellent low-maintenance plant that thrives in hot sunny spots. This flower shares its name with two distinctly different plants that have a lot in common.
Both plants produce beautiful blooms for large portions of the year, enjoy a tropical environment, share identical growing conditions, and have similar care needs.
The Rondeletia leucophylla is the larger of the two species. They can grow up to 15 feet.
The foliage is long and lance-shaped, with each leaf measuring around four inches long when mature.
The star-shaped pink flowers are grouped in bunches that dwell just above the plant's dark-green backdrop of leaves.
The small clusters of fragrant pink tubular flowers bloom from late winter to late spring.
Panama Rose Growing Guide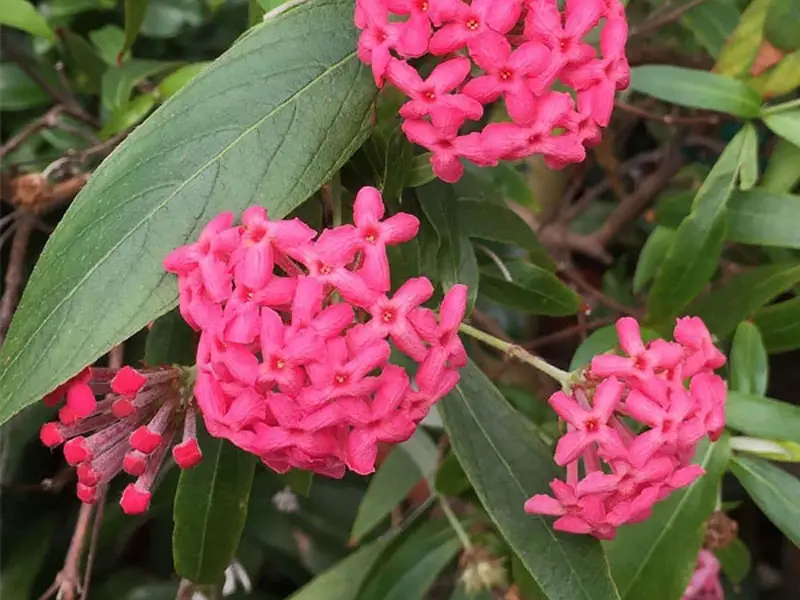 Panama rose is easy to maintain under the right conditions. Since it thrives in tropical climates, it is sturdy and produces great vibrant flowers.
They do need more attention through the winter months. You can grow this shrub successfully in your garden or pot with the proper planting and potting methods.
Water
This shrub needs sufficient water. If you overwater the plant, then it could die within a short period.
If you have planted them in garden beds, then water them deeply only once a week, during the dry season. Do not water them at all during the wet season.
Leucophylla usually produces blooms for an unbelievably long period of time which lasts from May to December.
The splendas species, on the other hand, produces flowers intermittently throughout the whole year. If the region experiences long bouts of dryness, water the Panama rose regularly to get healthy-looking results.
Make sure you allow the soil to dry out completely in between watering for the best results.
Light
This shrub thrives in hot sunny spots and is also quite a low-maintenance plant.
It needs the occasional trimming for size. If the location receives morning sun and shade in the heat of the afternoon, then this plant ideally grows to its fullest bloom.
It is also known to be hardy to USDA zones 9-11. If you grow them in pots, they could be indoors in other zones, or in a greenhouse, provided they grow in a tropical environment.
The Rondeletia splendens can also grow in hardy zones 10-11. Potting them in containers and bringing them indoors is the best way to control their environment.
For best results, grow them in the full sun to partial shade as it prefers to grow in average to moist conditions and shouldn't be allowed to dry out.
You can pot this plant in outdoor containers and hanging baskets.
Soil
Both types of plants should be fertilized in March, June, and September with a 5-5-5, organic, granular fertilizer.
You can use half a cup of fertilizer for a plant that is two feet tall or less and up to three cups of fertilizer for a 15-foot plant.
Before you water the plant, work the fertilizer into the soil at the base of a plant just above the roots. As soon as you add the fertilizer, water the area thoroughly.
Before planting, you could also add topsoil or organic peat moss to your containers.
Additionally, adding composted cow manure enriches the soil around the root ball, bringing immense benefits to the plant.
Temperature and Humidity
The temperature requirements for growing the Panama rose are high.
It needs around 8 hours or more of direct sunlight or partial sun or shade, amounting to 4-6 hours of direct sunlight.
The morning sun or cool sunlight is also great for the plant.
If it is placed in the shade during the day's heat, it can thrive wonderfully.
Bright indirect sunlight for a more significant part of the day also ushers in good growth and reduces too much heat.
You can also place it in filtered shade, such as under the trees but for short periods only.
Potting and Repotting
You must plant Panama rose in well-draining soil directly into the beds.
Maintain a distance of three feet for the smaller splendens and ten feet for the larger leucophylla.
It's also quite prone to root rot which usually happens in winter, where it drops all of its leaves.
In this case, move the plant to a large clay pot instead of leaving them in the ground.
The moisture levels are controlled and keep the roots from getting too much water.
Propagating and Pruning
For effective propagation, use softwood cuttings and semi-hardwood cuttings of the stems and roots.
Take some of the cuttings and place them about a half-inch under the soil's surface.
Make sure to keep it out of direct sunlight for the first two weeks. Water it deeply as soon as the cutting is planted.
Do it once more as the soil begins to dry out completely. Always place these shrubs at least 3 feet apart.
In the spring, once the blooming cycle is complete, cut back the plant by two-thirds.
Pruning should be done after midsummer since it is busy making blooms for the upcoming winter. This also prevents it from spreading all around.
Advantages of Growing Panama Rose
While the reason for cultivating both species in the tropical regions is not known, it is believed that it is due to the shrubs' characteristics.
These shrubs have a long blooming period and have a high production of beautiful vibrant flowers.
Since they are cost-effective and fragrant, they make for good decorative pieces and add to the beauty of any house, garden, or pathway, so you can enjoy the scent throughout the day.
This plant is also cultivated to attract butterflies, bees, moths, hummingbirds, and other regional pollinators, enabling better flora and fauna.
Panama Rose Pests, Diseases, and Problems
While this plant is mostly disease and pest-free, it is prone to root rot. So don't overwater them when they are planted directly in the ground.
Panama Rose Seeds
You can find high-quality seeds online and at your local garden center. Seeds are sometimes hard to come across, so keep your eyes peeled for these seeds all year round.
FAQs
Some frequently asked questions about the Panama Rose plant are as follows:
Is Panama rose salt tolerant?
Yes. It is somewhat salt tolerant.
Is it a fragrant plant?
Yes. They have a sweet-smelling scent that is more prominent during the night.
Is the Panama rose easy to maintain?
Yes. It thrives best with minimum water and under the sun.
You May Also Like: The Complete Valerian Flower Growing Guide