Clay soil can be challenging to grow vegetables in.
It wasn't until my 8th year of gardening that I found out firsthand the challenges of amending clay soil. My first garden was also clay soil, but being a newbie gardener I didn't know what I was doing in general. I still remember trying to grow and harvest carrots in clay soil and they snapped in half as the soil compacted them down!

Best Plants for Clay Soil
Despite the challenges of clay soil certain crops actually do well.
Shallow rooted crops like lettuce, spinach, swiss chard and snap beans grow well in clay soil.
The brassicas like cabbages and Brussel sprouts apparently appreciate the root support. I've been told by neighbors that beets and corn do well in clay soil.
Any of the crops that have a deep root system you can dig a hole, add lots of compost or good topsoil under each seedling to help them grow. Pumpkins and squash do well with this method, and so far our tomatoes have done well because we gave them good soil under each transplant. This is a great way to grow healthier crops without spending the money to amend a whole garden bed.
Because nutrients are hard for your crops to absorb using an organic fertilizer the first couple of years might be necessary.
Although compost and organic matter are better for your garden, it tends to be more expensive than using an organic fertilizer.
I've become a fan of 'The Perfect Blend' 4-4-4- fertilizer as it feeds the plants and the soil. It also helps to re-mineralize the soil and support your soil at the molecular level. This year gardening with clay soil I noticed a huge difference in yield on the beds that I didn't add the perfect blend to!
Root veggies like long carrots or parsnips might have a hard time growing downwards.
Add some topsoil for better drainage for these crops. Also be mindful of harvesting, you might need to loosen up the soil around deep root crops otherwise they will snap off instead of coming out of the soil. Varieties like the small rounded 'Paris' carrots can work better than deeper ones.
Another harvesting trick is that if it just rained or you watered the garden the clay soil will stick heavily to the roots and be harder to clean.
Try harvesting before you water unless you want to deal with the extra clean up!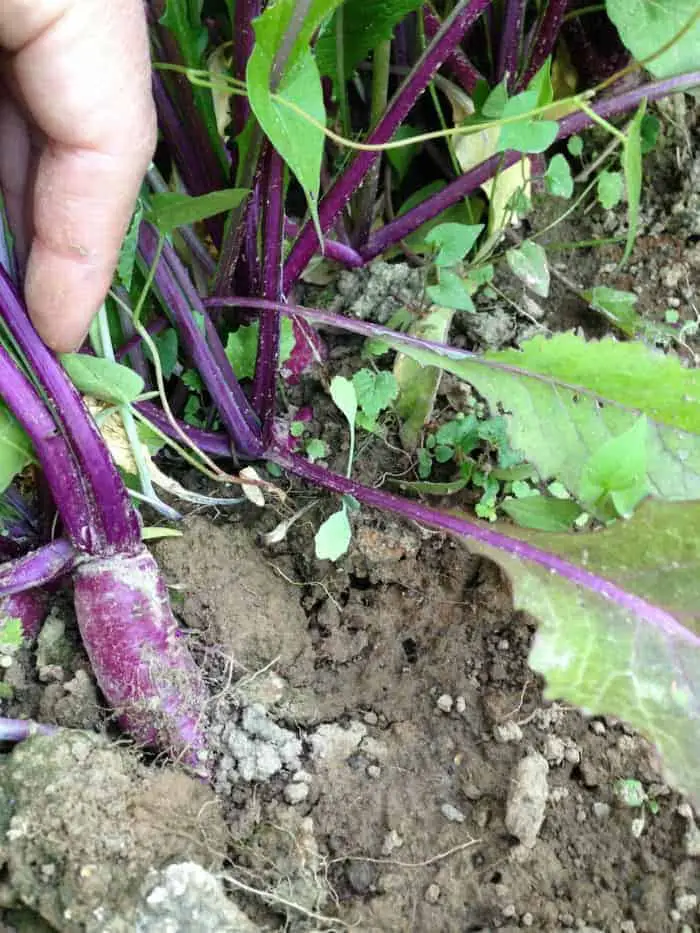 Conclusion
Although clay soil can be challenging so can many gardening locations or soil types. In general not matter what type of soil you have focusing on building up the organic matter and microorganisms in your garden will give you long term gardening success.
Do you grow in clay soil? Any tips to add?