Family Food Garden may collect a share of sales or other compensation from the links on this page.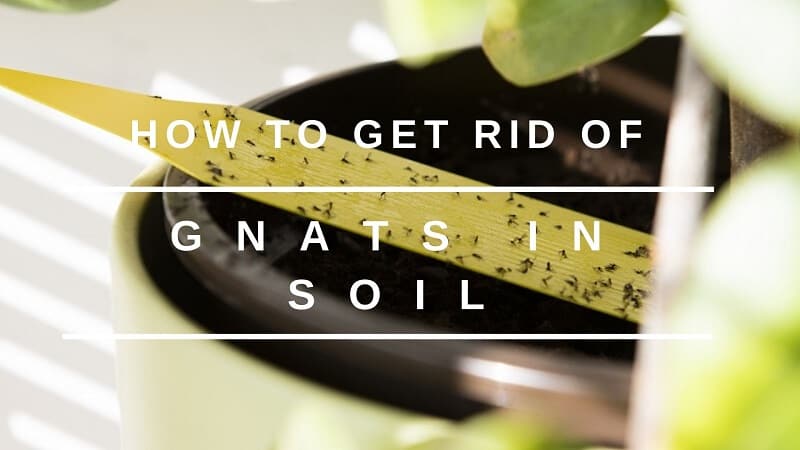 There you are, going about your gardening business in peace when all of a sudden you notice tiny gnats in and around your soil. Although some worms, bugs, and insects are more than okay and actually welcomes as they aid in fertilizing the soil, fungus gnats are not the kindest or any good to have around your plants.
Gnats are commonly found in potting soil. If you have recently planted a new raised bed of vegetables, or added a new house plant or two to your home then you will most likely encounter gnats.
What Are Fungus Gnats?
Fungus gnats and fruit flies look really similar, most people can barely tell the difference. The problem with fungus gnats is that they lay eggs in the soil and their larvae eat the plant's roots, causing it to deteriorate very quickly.
Fruit flies will only want the fruit and will hover around the top of the plant, whereas gnats stay close to the soil, where they live and breed. Fungus gnats pose a real threat to your plants.
Soil That is Prone to Fungus Gnats
The truth is, it doesn't really matter what brand of soil you buy. Sure, you could purchase soil that contains an anti-pesticide and is treated against nuisance pests, but if you want to grow herbs or vegetables, you may be hesitant to purchase chemically treated soil.
Organic soil is more likely to arrive with fungus gnats than any other soil. However, sometimes you can get infested with the annoying creatures simply due to the time of the year. Gnats like to find a warm hideout during the fall as the winter creeps in and what better place than your cozy house. That doesn't mean you won't find them in your outdoor vegetable patch in the summer, it is just a little less common.
Read Related Article: Best Soil For Seedlings
How to Recognise a Fungus Gnat Infestation Before it Gets Out of Hand
There are little telltale signs of a gnat infestation even before you see them flying around your plants. The first thing to look out for is slower than the usual growth rate. This could be due to a few factors, the main ones being the plant is under-watered, or the roots are disturbed in some way (usually by fungus gnat larvae).
The second sign is yellowing leaves. Leaves yellow or become bleached-looking when exposed to too much heat sunlight, but if this is something that's happening at the end of winter then you can be pretty certain it isn't due to sun damage.
Obviously, the third sign is a visual sighting of the annoying pest. Have a close look at the soil. Fungus gnat larvae are hard to spot with the naked eye but if there are enough of them you will notice a soft wriggling motion in the soil.
Fungus Gnats and Plant Diseases
Unfortunately, once a fungus gnat infestation is eliminated, there may still be other issues with your plant. Fungus gnats are notorious for spreading plant diseases, because of this it is very important you keep a close eye on your plants' recovery process and act quickly if you suspect that your plants are diseased.
A common disease for plants to be infected with after hosting fungus gnats is fungus spores. You can avoid this by treating the plant with fungicide in the week following fungus gnat treatment.
How to Get Rid of Fungus Gnats
Accepting that pests such as fungus gnats are inevitable, and knowing that at some point during your plant keeping journey you will come in contact with them is important. Luckily there are plenty of ways to prevent and extinguish them that don't all include harsh chemicals. Here are a few methods that you will find useful in your battle with the dreaded fungus gnat.
Prevention is better than cure, is it not? Fungus gnats are suckers for moisture-rich soil, therefore over-watered plants will be more prone to becoming infested with gnats than any other plant. Gnats can't live in dry soil, so give the plants just the right amount of water that they need. If you have plants that require a lot of water you may want to consider watering them from the drip tray. Yes, you read correctly, bottom watering is a thing. Gnats live on the top few inches of moist soil, so watering a demanding plant from the drip tray is the best way forward.
Use sticky traps to catch adult gnats, hopefully, before they lay any eggs.
Using mulch to cover the soil on both indoor and outdoor plants will stop gnats from reaching the soil and therefore prevent them from laying their eggs.
Organic pest control products are a lifesaver for when all else fails. There are water and soap mixtures that you can use on the soil that only take a couple of treatments to completely eliminate the gnats. Alternatively, neem oil is a potted plant pesticide solution and also great prevention.
Some people microwave their new soil to kill any eggs that may come in a new bag of soil. If you do this, wait for the soil to completely cool down before potting your plant.
Frequently replacing the top layer of soil with new soil is a great way of stopping fungus gnats in their tracks.
Scattering about an inch or two of sand or gravel on top of your soil will stop gnats from laying their eggs in the soil. This technique is only appropriate for potted indoor plants.
You May Also Like: Organic Pest Control in your Garden
FYI: Reusing soil is a big no-no. Investing a few extra bucks in new and sterile potting soil is well worth the money. Your plants would thank you if they could!
Top Tip: Treat all of your plants if you notice one of them has been infested with fungus gnats. Gnats can fly from one plant to another really easily and it is more likely than not that more than one plant has been infested.
My name is Isis Loran, creator of the Family Food Garden. I've been gardening for over 10 years now and push the limits of our zone 5 climates. I love growing heirlooms & experimenting with hundreds of varieties, season extending, crunchy homesteading and permaculture.