Family Food Garden may collect a share of sales or other compensation from the links on this page.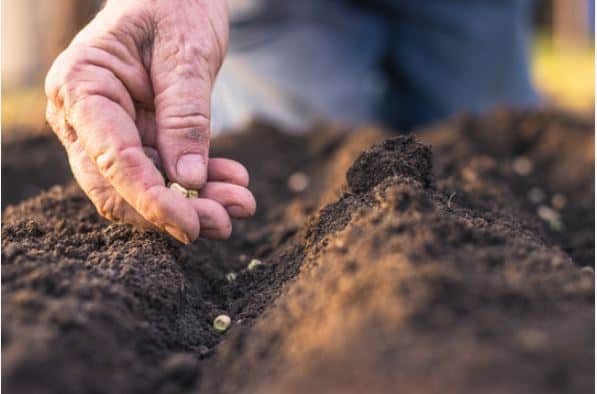 How far apart should you plant peas? You may think that planting peas is a simple process; take your seeds, put them in the ground, cover with a little bit of soil and water regularly, and watch them grow. Then harvest and eat them, enjoying the fruits of your labor. Easy, right? Well, it's not quite that simple. 
There are certain guidelines that are important if you want to reap a good harvest, and one of these is how far apart to plant the seeds. But before you actually put them in the ground, let's look at some other important factors to consider and let me give you some useful tips.
Are there different varieties of peas?
There are numerous varieties of peas. Some, like Garden peas or English peas, are meant to be shelled, while others, like Sugar peas or Snow peas, are usually eaten in their pods. Whichever variety you choose, it is important to plant at the correct time of year.
When should you plant?
The best season for planting is in early spring, but it is important to start preparing your soil well in advance, to ensure that you have the right pH balance. 
See Related Topic: 10 Vegetable Garden Tips for a Successful Season
Why is the pH of the soil important?
If the soil is too acidic, certain components can become toxic to plants and inhibit healthy growth. Many factors affect the pH level of soil, but one of the most significant of these is rainfall. When there is a lot of rain, the acid level in the soil will be elevated. This is why it is best to plant in early spring. An ideal pH level should be between 6.0 and  7.5.
How can I check the pH level of the soil?
There are many different testing kits available from garden centers and nurseries, but it is possible to avoid the expense of buying these. You can test your soil's pH level using simple ingredients that you probably have in your kitchen right now. All you need is vinegar, baking soda, and distilled water. 
Take a cup of soil from your garden. Now you need two separate small containers. Put two spoons of soil in each. Add three or four spoons of vinegar to the first container. If you have alkaline soil, it will fizz. This means your pH level is between 7 and 8.
If nothing happens, add some distilled water to the second container to get a muddy consistency. Add a few spoons of baking soda. If you have acidic soil with a level of between 5 and 6, it will fizz. 
How do I adjust the pH level of the soil?
You can adjust the pH level of the soil to create the optimal conditions for planting your peas. It is easy to do this. If the level is too low, you have too much acid in your soil and you need to add some ground limestone. If it is too high, it is too alkaline and you should add some soil sulfur. Both of these are available from your local garden center or nursery.
Where should you plant peas?
Peas generally need sunlight. Choose an area that is in direct sunlight for about 6 to 8 hours a day.
You May Also Like: List of Vegetables to Plant in Spring
The planting process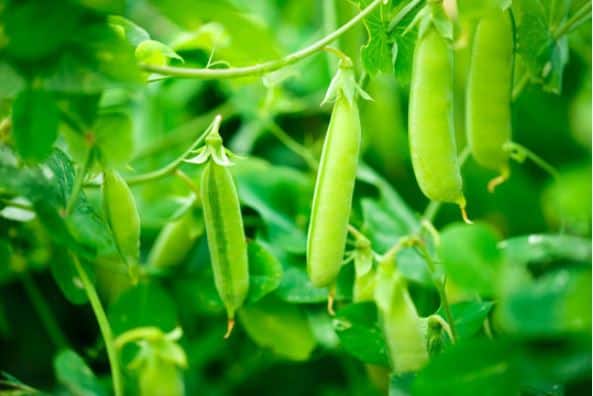 Before actually placing in the ground, it is good to soak the seeds for about four or five hours. This helps to hydrate them, giving them a better chance of germinating. 
Seeds should be sown approximately 2 inches or 5cm deep. Try to space them roughly 2 to 3 inches apart, with 2 seeds in each hole. You can plant two rows alongside each other, with about 18 inches (46cm) between rows. 
Because they are climbing plants, they will need something to support them as they grow. For this, you can either use a trellis, or you can create your own support structure using some upright poles with strong string or wire tied across. 
See Related Article: How Far Apart to Plant Broccoli
Thinning the plants
Once your plants are growing, it is often necessary to thin them out a little to prevent over-crowding. This is a delicate process, as these young little plants are still quite fragile and need to be handled carefully and gently. Separate them by carefully inserting a blunt knife into the soil and loosen them gently. Pull out very carefully and transplant, again spacing out carefully, at least 2 inches apart. Now you are ready to watch them grow.
Fertilizing the plants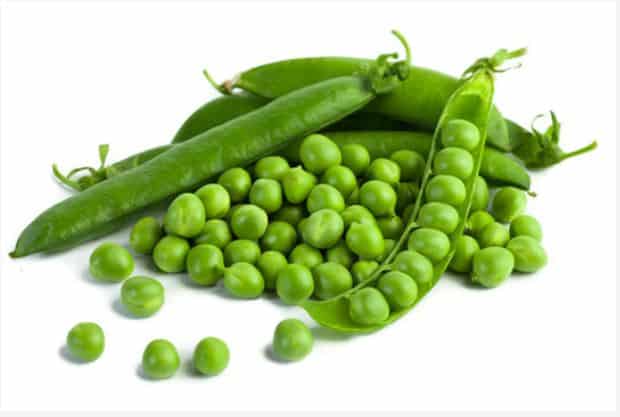 You will see better growth if you add some water-soluble fertilizer to your seedlings once a week. The seeds themselves, and the first leaves of the very young plants, are rich in natural nutrients, so it is not necessary to add fertilizer at the planting stage. However, these natural nutrients will all be absorbed by the plants eventually. 
When the seedlings start developing more leaves it is time to add fertilizer. There are many different organic and synthetic fertilizers on the market. It really depends on your personal choice. Your local garden center is sure to have a wide range available for you to select from.
Take care not to fall into the trap of thinking, "Well, if a little fertilizer is good, then a little more will be better." Over-dosing with fertilizer can cause a lot of damage to your delicate seedlings. The chemicals in the fertilizer can burn the plants. This is why it is crucial to very carefully follow the recommended dosage instructions on the package.
Growing peas in containers
Even if you do not have a garden it does not mean that you have to lose out on the joy of growing your own vegetables. It is very easy, and also very satisfying, to grow peas in pots. Simply follow all of the above recommendations, and place your pots in a nice sunny spot where they will thrive. 
Harvesting your peas
Once they start to ripen, pick regularly. This will stimulate the plants to produce more. Either eat them raw or cook and freeze them within a few days, as they don't stay fresh for long after picking. Enjoy the fruits of your labor! There is nothing more rewarding than eating your own home-grown vegetables!