Family Food Garden may collect a share of sales or other compensation from the links on this page.
Summers are fun and should be about trying new things and creating tradition with old favorites
After our girls learned how to fish recently I thought 'this is great, having the kids learn new things outside'.
Indeed summer should be about being outside as much as possible.
Living in the Canadian mountains makes outdoor adventures easy here, but no matter where you live, you can make the most out of summer. I encourage you to try local seasonal foods, look up local markets and festivals, enjoy your town like a tourist, cool down in water and enjoy wild adventures in nature.
Here are some summer bucket list ideas
Go on a day trip
Camp in your backyard
Try a new ice cream shop
Enjoy a hammock
Buy local food at a farmers market
Look at the stars
Visit a museum
Enjoy your town like a tourist
Hike a new trail
Plant a garden
Dance in the rain
Try a new fruit
Read 5 books
Take a summer class
Draw outside
Grow some flowers for the bees
Start a nature journal
Go for a picnic
Learn how to fish
Head to the mountains
Learn something new
Geocache
Try miniature golfing
Spend a day at a new beach
Go to a summer market or festival
Water fight with friends
Host a summer dinner party or BBQ
Sit in silence in nature
Make popsicles at home
Learn a musical instrument
Drink your coffee outside
Rent a cabin
Go on a boat or canoe
 Try surfing
 Watch the sunrise and sunset
 Go for a bike ride
Create a scrapbook
Blow bubbles
Make a sandcastle
 Go rock hunting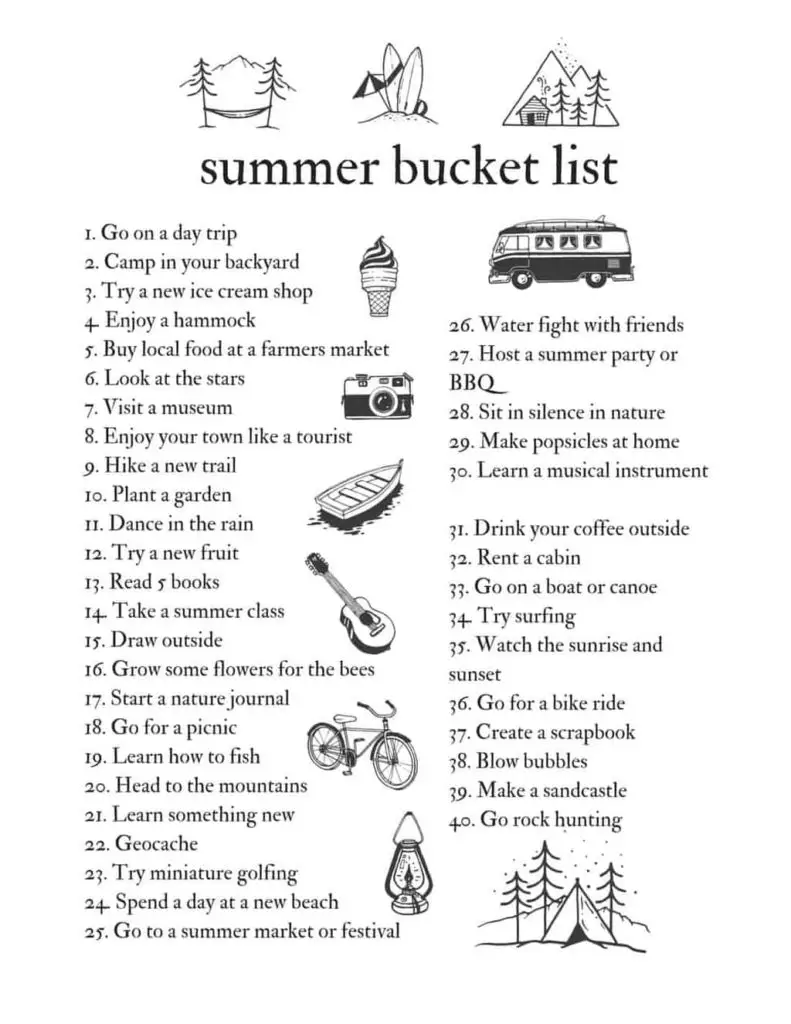 What is your favorite summer tradition?
My name is Isis Loran, creator of the Family Food Garden. I've been gardening for over 10 years now and push the limits of our zone 5 climates. I love growing heirlooms & experimenting with hundreds of varieties, season extending, crunchy homesteading and permaculture.