Family Food Garden may collect a share of sales or other compensation from the links on this page.
A vegetable garden planting guide to help you
Grow. More. Food.
Growing a food garden is very rewarding. To make it successful it helps to have a plan!
If you're new to gardening you might be wondering
What veggies to grow
What crops are the best use of your garden space
How to dent your grocery bill the most
How to plan your garden
Where to put your garden
How to practice crop rotation
What crops to grow in what seasons
How to keep a garden journal or create planting schedules
This printable food planting guide will help answer all these questions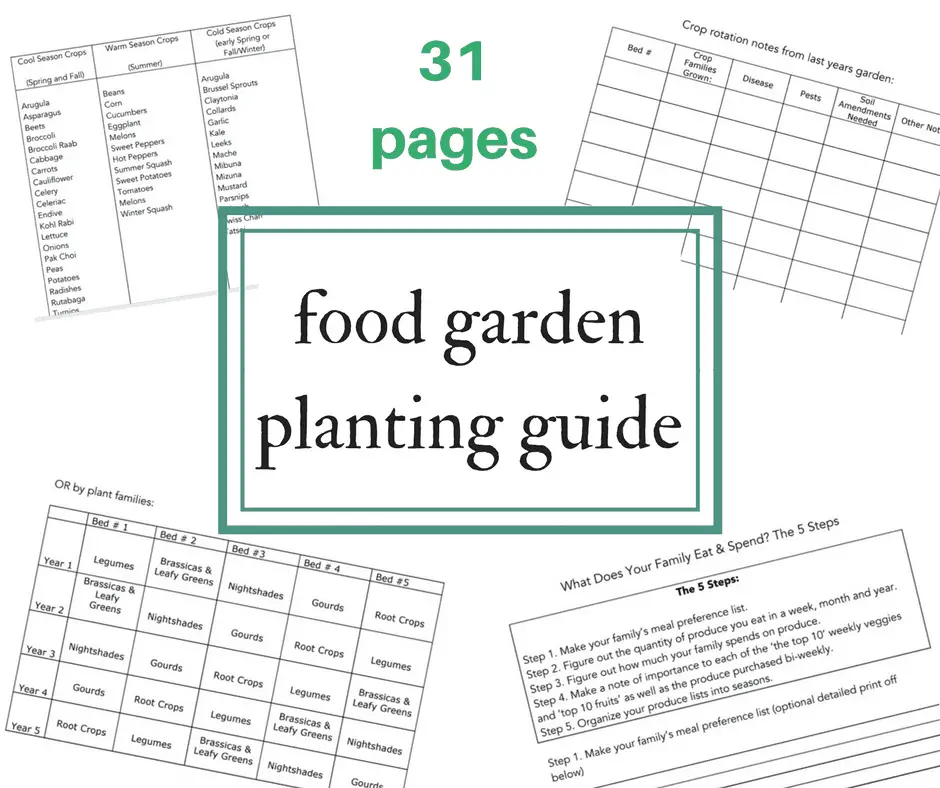 Is your goal to grow a food garden?
Dent your grocery spending?
This vegetable garden planting guide asks you many questions to help you figure out important garden planning information. The goal is to help you figure out what you should grow by what you currently spend on produce and what you can grow in your area. This guide will help you plan your garden, set goals, design and plant your best food garden.
This printable garden planning guide includes 31 pages and will help you with
* Garden design, climate & limitations
* What you eat & spend on produce
* 5 Steps to figuring out what to grow
* Table of crops organized into cool season, warm season and cold hardy
* Seeds & taking seed inventory
* Figure out what seeds to buy
* Important seed planting information to record
* Crop rotation planting charts (by nutrient demand or plant families)
* Crop rotation notes of your garden for record keeping
* Organize your garden beds and what you're growing in each one
* Teach you backdating your frost dates
* Create a sowing and transplanting schedule
* Create a succession sowing schedule
* Keep track of your garden spending
* Price out your homegrown produce & keep a harvest log
* 20 questions for your garden journal
This food garden planning guide comes FREE with
Yep. FREE. With my 145 page ebook on planning & designing your food garden (ONLY $6.99!!)
What will you learn in the ebook?
How to plan & design a high yield vegetable garden to reduce your grocery bill
This Book Will Teach You:
The basics of garden design.

Factors in deciding what to grow.

Figure out what your family eats and spends on produce.

How to maximize your food production with 20 methods.

Grow the most profitable crops to really dent your grocery bill.

How to design your garden & offset the costs on new garden beds.

The basics of succession sowing for increased productivity.

How to select your seeds and when to sow your crops.

Creating an awesome sowing and transplanting schedule.

How to practice crop rotation for healthier soil.

Advanced crop rotation: when you practice intensive or companion planting.

Creating a back up plan with crop failures.

Learn how you can expand your garden and knowledge over the years.

How to write a garden journal.
Buy this 147 page ebook + Get the
BONUS FREE vegetable garden planting guide
My name is Isis Loran, creator of the Family Food Garden. I've been gardening for over 10 years now and push the limits of our zone 5 climates. I love growing heirlooms & experimenting with hundreds of varieties, season extending, crunchy homesteading and permaculture.