Family Food Garden may collect a share of sales or other compensation from the links on this page.
Trying to think of great, vegan, gluten-free meal options can be stressful on a good day; but that pressure is nothing when stacked against hosting a gluten-free/vegan meal!
How to please everyone? How to fit in the classic favorites with your dietary requirements? This vegan takes on the classics will make sure no one will even ask about the turkey.
Related Reading: Gluten-Free Thanksgiving Side Dishes
Creamy, Cheesy Gluten-Free Vegan Lasagna
Welcome the cooler months with a heart vegan lasagna.
Ingredients
3 large zucchini
1 1/4 teaspoons kosher salt, divided
2 tablespoons olive oil
3 garlic cloves, minced
2 medium red bell peppers, chopped
2 cups sliced white mushrooms
1 pound firm tofu
1/3 cup vegan mayonnaise (such as Vegenaise)
2 tablespoons nutritional yeast
1/4 teaspoon black pepper, or to taste
1/2 teaspoon onion powder
1 teaspoon dried oregano
1 teaspoon dried basil
Cooking spray
3 cups low-sodium marinara sauce
1 cup non-dairy cheese
Instructions:
Preheat the oven to 400ºF.
Slice the zucchini lengthwise with a mandoline
Toss the sliced zucchini with ½ a teaspoon of kosher salt and set aside in the colander to sweat.
Over medium heat, add olive oil, garlic, bell pepper, onion and mushrooms in a large pan to saute until vegetables are soft.
Drain the tofu and crush it in a big bowl.
Mix in vegan mayonnaise, nutritional yeast, pepper, onion powder, oregano, and basil. Then set that aside.
Grab a 11×7 inch baking dish, spray it with cooking oil.
Pour 1.5 cups of tomato sauce
Layer the zucchini, then the cooked vegetables, followed by more zucchini, then the tofu, followed by the last layer of zucchini, and finally the remaining sauce.
Cover in non-dairy cheese before popping it in the oven to bake for 30 minutes.
Before cutting allow your delicious lasagna to sit for five minutes. The wait is tricky but worth it.
Pumpkin Chickpea Fritters
Crispy, pumpkin goodness!
Makes: 6-7 fritters
Ingredients:
1 can chickpeas, drained
1/2 cup organic pumpkin puree
1/4 cup hemp seeds
1 tsp garlic granules
2 tsp apple cider vinegar
Sprinkle of pepper, cayenne, and salt
To Make:
Mash chickpeas and pumpkin together into a large mixing bowl. It doesn't have to be a thorough mash, just make sure that at least ⅔ of chickpeas are mashed in nicely.
All your spices, hemp seeds, optional flour, and apple cider. Fold it all together in the large mixing bowl until it's a thorough moist mixture.
In a large skillet preheat 2-3 tablespoons of safflower oil.
As the mixture heats, roll your mixture into balls and cover them in your panko/bread crumbs. Then flatten the panko-crusted ball with your palm.
Place the patties into the oil. Leave about an inch between patties so they have space to crisp up and making them easier to flip.
Cook each side until crispy brown.
Pop them onto a paper towel to absorb excess oil and cool.
Once cooled, these guys can be frozen and reheated, but of course, they're best straight out of the pan!
Option:
If you're not into frying, you can also make these delicious fritters in the oven. Just bake them on a parchment paper at 350 degrees for around 20 minutes. You will want to use a lighter bread crumb instead of panko and panko really works best with frying.
Vegan/Gluten-free Cornbread Muffins
Who doesn't love a classic cornbread? It's probably good that they're in muffin form, helps with portion control!
Ingredients:
1 cup organic unsweetened almond milk
1 tablespoon apple cider vinegar
1 tablespoon baking powder
1 teaspoon baking soda
2 cups fine ground cornmeal
1 teaspoon of sea salt
2 tablespoons maple syrup
1/4 cup organic unsweetened plain apple sauce
1/4 cup oil (melted coconut or olive oil)
Added extras: corn, jalapeños, shredded vegan cheese
Instructions:
Preheat oven to 375 degrees F and line your muffin tin with paper liners
Mix your milk and vinegar and set it to the side.
In a separate large mixing bowl mix all your dry ingredients: cornmeal, baking powder, sea salt, and baking soda.
In another medium-sized bowl mix the apple sauce, maple syrup, olive oil, plus the milk and vinegar mixture from earlier, whisk it all up.
Mix the dry and the wet slowly, folding as you pour.
Fold in any additions that tickle your fancy.
Spoon your mixture into the muffin tray.
Bake for 20-25 mins or until muffins are firm on the top and singed brown on the edges.
Hot tip: this is a great gluten-free and vegan stuffing as well!
SAVORY MUSHROOM AND QUINOA STUFFED MINI PUMPKINS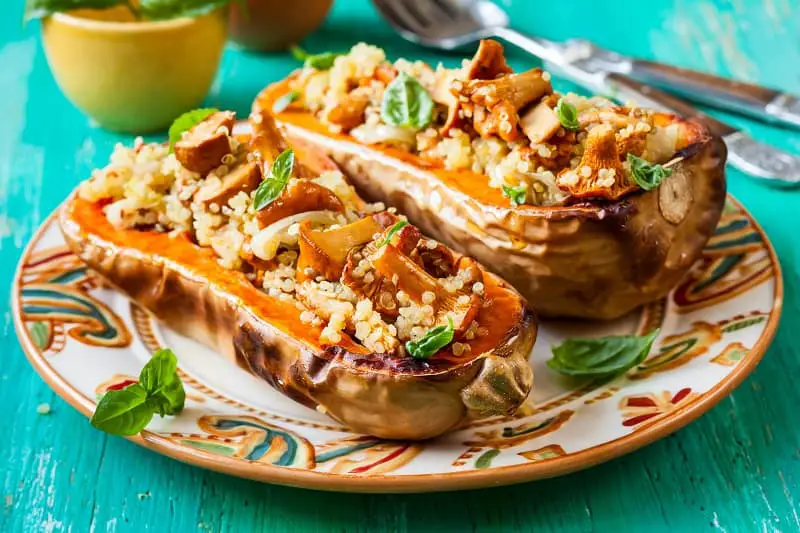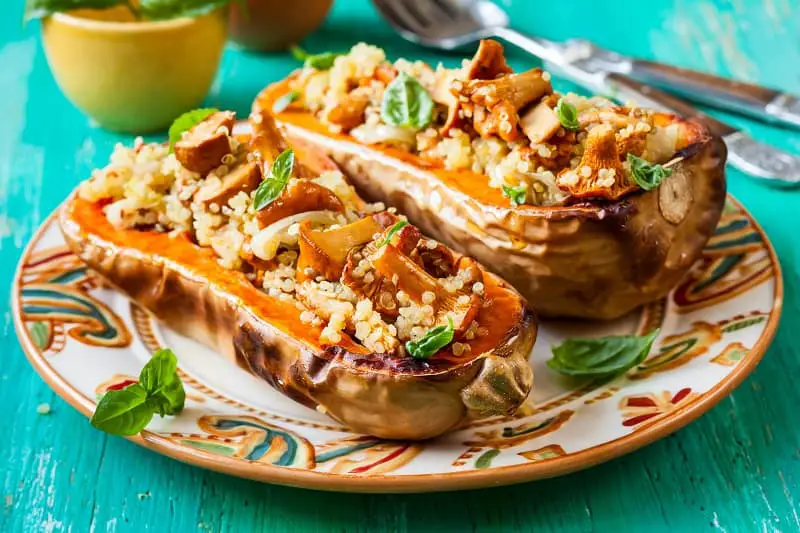 Impress your friends and family with personal mini pumpkins. This way they can all get a head start at carving this year!
Ingredients:
6 mini pumpkins
1 C uncooked quinoa
2 C vegetable broth
1 Tbsp plus 2 tsp olive oil
8 oz sliced button mushrooms
1 C chopped leeks
1 clove minced garlic
⅛ tsp rosemary
¼ tsp thyme
⅓ C dry white wine
½ tsp salt
⅛ tsp black pepper
Instructions:
Preheat oven to 400 degrees F
As the oven heats, cut off the tops of your mini pumpkins (6) and de-seed them.
Give the pumpkins a light coat of olive oil inside and out, bottoms and tops, and season to taste.
Bake them for 25-30 minutes, both tops and bottoms. When you see the flesh is tender, they're good to go.
While the pumpkins are in the oven, let's make the quinoa.
Rinse well, bring to boil one cup of quinoa in a pan to 2 cups of veggie broth.
Once at boiling point, reduce heat to a simmer and cover it until the liquid absorbs.
2 tablespoons of olive oil in a pan, pop the mushrooms and leeks in to saute until tender.
Add white wine and cook until you see that it has mostly evaporated. Season to taste.
Together at last:
5. Take 2 cups of your quinoa and add it to the mushrooms and leeks.
6. Remove the pumpkins and fill your pumpkins with your delicious quinoa.
Enter your text here…