Family Food Garden may collect a share of sales or other compensation from the links on this page.
This is a sponsored post written by me on behalf of Tasty Bite. All opinions are 100% mine.

As gardeners we love homegrown fresh food.
But there are many people that cannot grow their own fresh veggies, and even more that cannot afford to buy fresh produce. That is why I was delighted to hear about Tasty Bite Good Seed Program and their goals of having more gardeners donate to food pantries and eliminate food waste.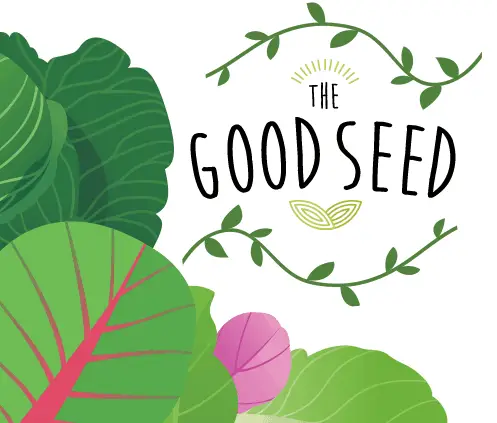 I'm sharing this with you in hopes that as a gardener you'll wish to join Tasty Bite on this great mission.
Because as a gardener we know that some years we planted too much and can't keep up with preserving it. We often share our excess harvests with friends and family, but did you know there's more you could do?

Many readers have told me that they donate extra harvests to local food banks or shelters.
This brings happiness to my heart because there are so many people that need healthy fresh food but they cannot afford to purchase it themselves. This is happening more frequently with the rising cost of produce. It's been one of the big reasons why we've seen more backyard gardens again.
Tasty Bite wants to help YOU grow & donate food with the Seeds for Good Contest.
With this contest they're encouraging people to share their good deeds on Instagram or Twitter with the hashtag #goodseeds.  For every photo shared Tasty Bite is donating $10 to AmpleHarvest.org, a wonderful organization helping million homes and gardeners donate excess harvests to reduce food waste and give people access to fresh food with almost 8,000 food pantries. By entering this contest you could also win a year's supply of Tasty Bite! 
First I'd like to share with you more details of who TastyBite is & why it's important to them.

Tasty Bite
When you need a fast natural meal!
I don't know about you, but I'm a busy stay at home working mom of 3 (+ one on the way!) that loves to cook from scratch. A couple nights a week though I need something quick and easy.
Quick meals are especially important when it comes to the busy gardening and preserving season!
I'm quite picky however with what I purchase. This is especially true with those fast meals which tend to be full of artificial ingredients.
Did you know?

Tasty Bite's all-natural products use 75 different vegetables and are grown on farms using sustainable farming.

I love that TastyBite products are GMO free, have BPA-free pouches & use real ingredients that aren't artificial.
They're great to bring with you camping or for those long summer days full of adventure when you get home blissfully exhausted. Tasty Bite offers 15 Thai, Indian and Asian dishes full of flavour, are super convenient and ready in minutes. Our family likes to enjoy some homemade naan (which I freeze for these quick meals) & a few Tasty Bite dishes. I also love adding them into healthy salad wraps.
You can spot Tasty Bite with the yellow pouch in your grocer's international food aisle.
I like supporting companies that aim to create more good in the world. Tasty Bite uses renewable energy to create their products & promotes sustainable farming.
Tasty Bite began the Good Seed Program because millions of people can't access fresh food anymore.

Seeds for Good
Tasty Bite wants more people growing gardens and sharing those harvests with others in need. This helps to eliminate food waste and helps millions of families in need by donating fresh food to nearly 8,000 food pantries with AmpleHarvest.org.
the Good Seeds Contest
I love that Tasty Bite is encouraging people to do more good deeds with the seeds for good contest.
Tasty Bite is offering a Year's Supply of Tasty Bite when you share your photo and use the hashtag #goodseeds on Instagram, Facebook or Twitter.
Tasty Bite will also be donating $10 to AmpleHarvest.org for every photo shared on social media (up to $10,000)!


Tasty Bite Good Seed Program
Instagram
Facebook
My name is Isis Loran, creator of the Family Food Garden. I've been gardening for over 10 years now and push the limits of our zone 5 climates. I love growing heirlooms & experimenting with hundreds of varieties, season extending, crunchy homesteading and permaculture.