Family Food Garden may collect a share of sales or other compensation from the links on this page.

Spring is an amazing time, especially if you live in a northern climate
Spring eating is lighter after long winters of craving heavier meals. Wild spring greens tend to be bitter, as are many homegrown greens or ones available at the farmers market. Bitter greens are full of vitamins and help in digestion.
One thing to note for seasonal spring eating is a trend of lighter eating: baby salad leaves, bitter greens, fresh herbs & certain fruit
This post will show you what spring vegetables and spring fruits are in season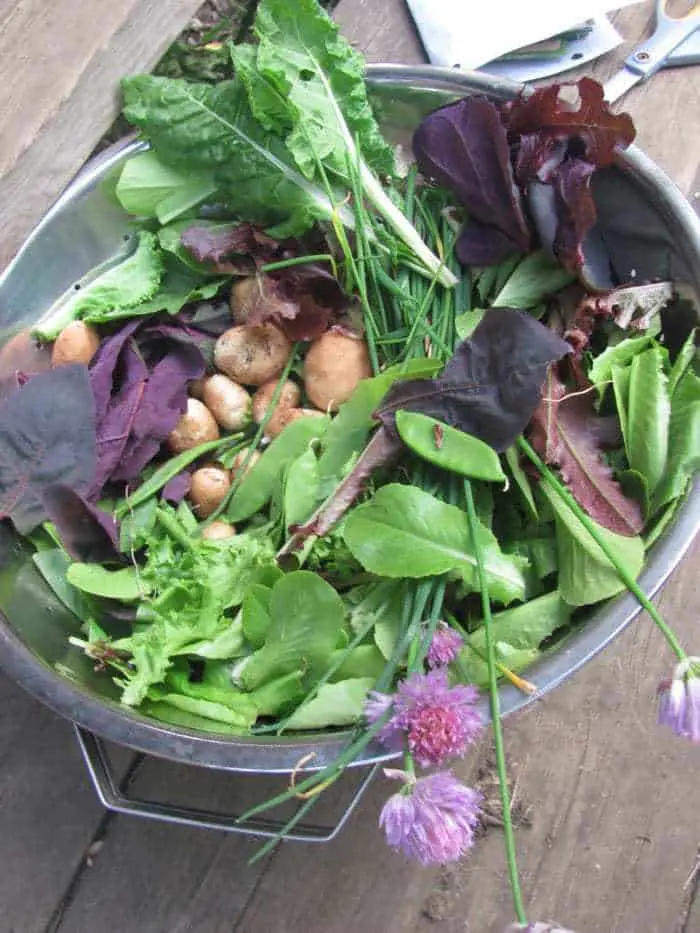 First of all, what spring vegetables or fruit are in season greatly depends on your climate.
If you live in zone 3, spring might not arrive until May. If you are lucky and live in a zone 8 then your spring is much sooner. The first 'day' of spring is in March, but some have snow then and some are able to purchase foods that are in season already. I live in zone 5, somewhat in the middle of these two.
There are different ways to get spring veggies
Eating veggies that were directly sown in the springtime from your garden or farmers market
Harvesting perennials and offer early harvests
Using spring season extenders like hoop tunnels or cold frames to get extra early harvests. We're thankful we grow food year-round in a greenhouse
Overwintering veggies for late winter and early spring harvests
Foraging for wild edibles like dandelions, nettles, wild leeks & more

List of veggies that are in season during the spring
Overwintered veggies: Parsnips, arugula, spinach, mache, overwintered greens (learn how to grow greens year-round with my 60 page guide), even forgotten about baby potatoes!
Early Spring Gardening with Season Extenders: Arugula, spinach, mache, mustards, baby greens, radishes.
Seasonal spring vegetables
Asparagus
Spring garlic shoots
Baby greens
Lettuce leaves like mesclun greens
Wild bitter greens like dandelions, lambs quarters, nettles
Spinach
Kale (see some kale varieties & how to grow)
Baby turnips like Hakurei or Tokyo
Baby beets & beet greens
Asian crops like pac choi
New potatoes (baby potatoes)
Herbs like chives, cilantro, overwintered herbs like oregano, sage, anything that's starting to grow again
Mint, lemon balm and many other kitchen herbs

Spring fruits
My name is Isis Loran, creator of the Family Food Garden. I've been gardening for over 10 years now and push the limits of our zone 5 climates. I love growing heirlooms & experimenting with hundreds of varieties, season extending, crunchy homesteading and permaculture.