Family Food Garden may collect a share of sales or other compensation from the links on this page.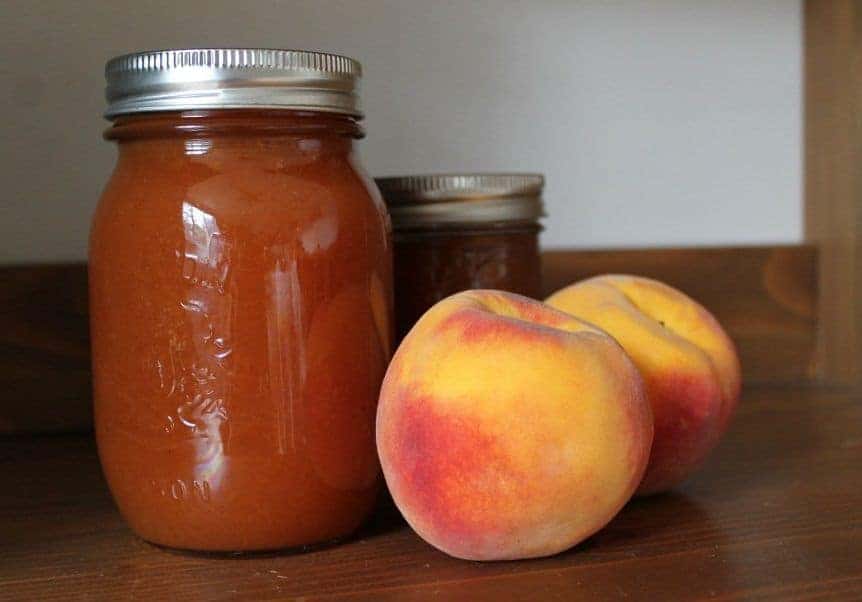 Peach sauce is so yummy!
Pumpkin spice is a fall seasonal favorite yet most people associate pumpkin spices with pumpkins, squash, or apples.
This recipe makes a great use of summer peaches with a taste of fall. This pumpkin spiced peach (or pear) sauce is delicious in crepes, inside a cake, make into smoothies, baked into sweet breads or on pancakes. I also love using peaches to make Vanilla Peach Jam.
If you're new to canning I highly recommend you read up on the home canning safety processes before using this recipe. Here's a list of resources for you:

Combine fruit, lemon juice and water into a large deep stainless steel saucepan: cook gently 10 minutes.

Add sugar and cook for 15 mins.

Add pumpkin spice mix towards the end and gently cook another 5 mins. OR Tie 1 tsp (5ml) whole cloves, 1 stick cinnamon and 1/2 tsp (2ml) whole allspice or cracker nutmeg in a spice bag. Cook spices with fruit mixture; remove spice bag before ladling jam into jars.

Remove the pot from the heat & ladle the jam into the prepared jars. Wipe the rims, apply the lids & rings and process in a boiling water bath canner for 10 mins (adjust the time with altitude).
Yield: 8 x 250 ml jars (8 oz. / Half-Pint)
We are hosting an Outdoor Canning Mega-Giveaway this week where the winner will receive:
•DOUBLE BURNER OUTDOOR CAMP STOVE
• THE ALL-NEW BALL BLUE BOOK OF CANNING
The giveaway runs from today, Monday August 22nd, through next Monday at 11:59pm EST (August 29th.) It is open to US and Canadian residents. Please make sure that you enter with an email address that you will check. The winning entry will be verified if applicable. The winner will have 3 days to respond or another winner will be chosen. The winner will be announced within the widget on Tuesday morning within the entry widget.
---
Why don't you take a moment and visit the amazing homesteaders who are making this giveaway possible?
My name is Isis Loran, creator of the Family Food Garden. I've been gardening for over 10 years now and push the limits of our zone 5 climates. I love growing heirlooms & experimenting with hundreds of varieties, season extending, crunchy homesteading and permaculture.