Family Food Garden may collect a share of sales or other compensation from the links on this page.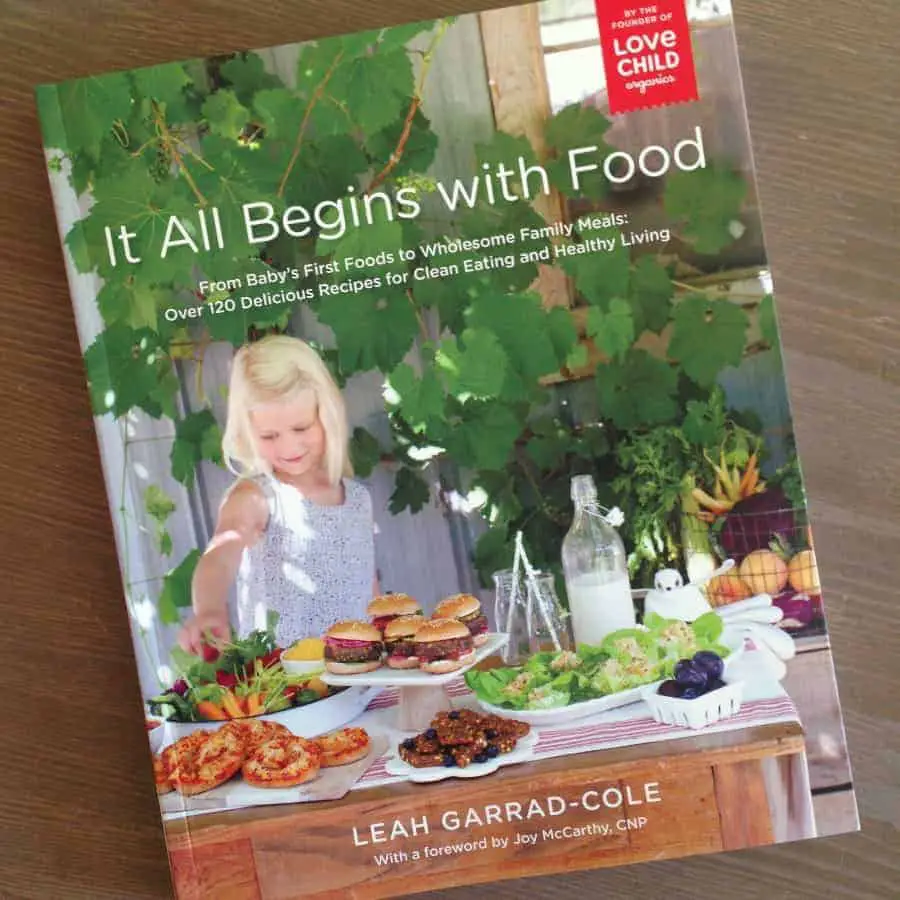 Today I'm delighted to share a review of a wonderful book 'It All Begins with Food' by Leah Garrad-Cole.
Thanks to the Food Bloggers of Canada for this book to review.
Healthy Family Food with Organic or Local Ingredients
As a mother of 3 littles 7 & under and pregnant with our 4th baby this book spoke to me.
Leah Garrad-Cole, the creator of Love Child Organics (which is the only pre-made baby food that I've tasted that actually tastes good!) has done a wonderful job at writing a book about the importance of where the food that we give our children comes from. From GMO's, to healthier meat and produce options, to buying easier to digest grains and choosing sweeteners that are better for little ones growing bodies, Leah Garrad-Cole has it covered.
Inspiring from the beginning and full of seasonal colour, this book is a go-to resource for anyone wishing to feed their family healthy meals.
One of my favourite things about the book is the mix of fun with the kid-friendly recipes.
She includes healthier options for celebrations (as kids birthdays etc tend to be the worst for ingredients) and uses coconut sugar in her desserts. She offers alternatives for many recipes and each recipe includes an easy to read guide of what the recipe is free of (for example egg-free, grain-free, gluten-free, plant-based or can be frozen).
I loved the baby food section, which includes purees and a chapter on first finger food. The recipes are super healthy and balanced.
Feeding your baby from scratch foods can seem daunting but 'It All Begins with Food' makes it very approachable. She also discusses when you should start feeding solids, sizes and shapes of food to transition with and how often.
I highly recommend this book to new mothers with babies wishing to feed their babies from scratch.
Kids can help look through the book and choose recipes to make together as a family.
Our girls loved going through this book and choosing what we should make. It inspired even them to eat healthier!
It all begins with food is not only full of healthy recipes but she really helps you have a clean pantry too. Having ingredients on hand to make meals full of wholesome ingredients is important, and she goes through different protein options and healthy grains and discusses food intolerances and true allergies.
This book also helps you with meal planning.
Because most moms are super busy the meal planning section will help you organise your week and purchasing your groceries.
Although many of recipes include locally sourced meat, there are many vegetarian or food allergy specific ones marked easily with symbols.
The 'superhero breakfast' chapter was great because so many of family's struggle with terrible sugary cereal instead of high protein substance that will stop your kids whining for food an hour later. Other chapters include 'easy lunches' and 'healthier snacks and treats' which include super fun kid friendly healthy food.

All in all this book is absolutely amazing and I'd highly recommend it to any family wishing to eat healthy and organic locally sourced food!
My name is Isis Loran, creator of the Family Food Garden. I've been gardening for over 10 years now and push the limits of our zone 5 climates. I love growing heirlooms & experimenting with hundreds of varieties, season extending, crunchy homesteading and permaculture.