Family Food Garden may collect a share of sales or other compensation from the links on this page.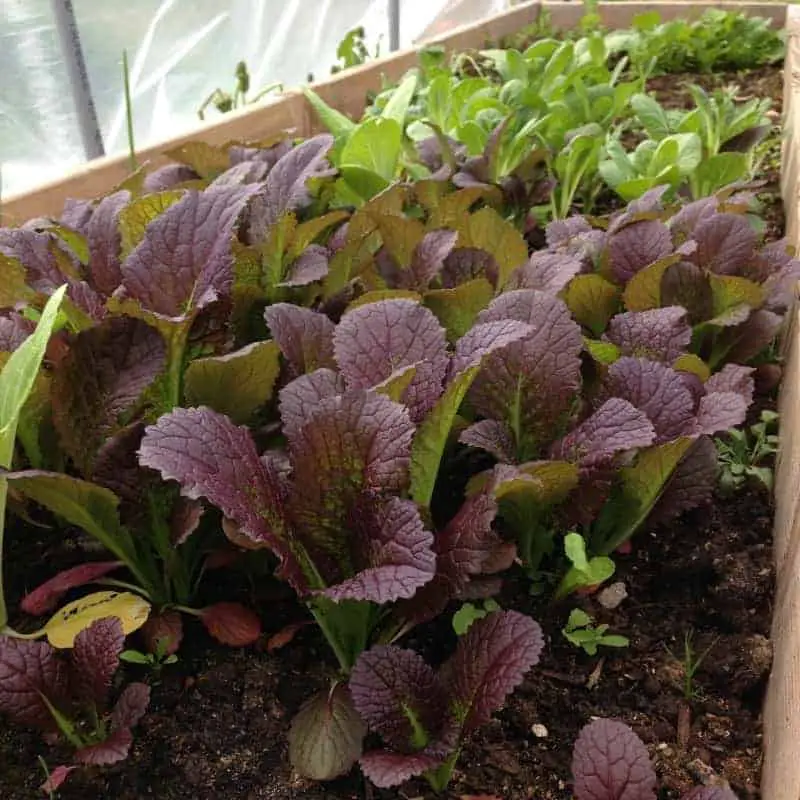 Pre & Post Crops are wonderful way to get more from your garden!
Pre or post crops are a fast growing crop you harvest before, or after, your main season crops. They grow in the same bed as your main season crops and they allow you to get more from your space. All it takes is getting the right timing and carefully looking at your sowing and transplanting schedule. You might even want to see if you can shuffle things around to get more from your garden. You'd be surprised that you can do this even a growing zone 3.
Things you need to know about growing 

Pre & Post Crops
What the main season crops are that you want to grow
How long your main season crops are in the ground for
The days or weeks before your first and last frost date
A list of fast growing crops that take 30-50 days to mature and harvest
The available growing time before or after your main season crops to see if you can fit in the pre or post crops

Example
Main season crop: Tomatoes
Transplant date: June 1st
Days to maturity + harvest window for your main season crop: Matures in 85-90 days + 3 week or more harvest window
Last spring & first fall frost: May 5th and October 15th
Crops you can sow before last frost date: lettuce, spinach, arugula, radishes, baby turnips. Click here for more fast growing crops.
Potential extra pre or post crops: Spinach, radishes and arugula in the springtime (make a space for your tomato transplants to go in and the crops continue to grow around them until they bolt/go to seed with the heat. In the fall sow some more radishes and cold hardy lettuce varieties. You could place a season extender over, or grow more spinach and arugula.
*Click here to see a garden bed design example of pre & post crops in the spring, summer, and fall*

Things to consider about Pre & Post Crops
Your potential for pre and post crops greatly depends on your location and hardiness zone. For example a zone 3 climate might be able to grow spinach followed by leaf lettuce in the same bed but you might not have enough time to grow head lettuce and then tomatoes. If you're in a growing zone 7 however, you can safely grow head lettuce then bush beans for example as you have enough frost-free weeks to do so.
Days to maturity doesn't always mean they're ready in that time frame. I find the best bumper crops are leafy greens and baby veggies (unless you have a year-round climate). Leafy greens like mescluns, leaf lettuce, arugula, spinach, mustard and asian veggies etc can be harvested at multiple life-stages. Root veggies on the other hand, even though it might say on the seed packet that they take 50 days to mature, they often take longer because of germination, thinning, and can't always be harvested at the baby stage.
In general you won't be able to grow fruiting crops (peppers, tomatoes, pumpkins, zucchini, cukes etc) one after the other as they have a long harvest window and days to maturity.
The plants that bolt with the heat are the perfect spring pre-crop because they will naturally make space because the crop is done as it goes to seed (bolts) with the heat.
In the fall the daylight hours shorten and crops take longer to grow than the seed packet says. These are called persephone days and you can learn more about them from Mother of a Hubbard. Cool season crops however thrive with cooling days instead of warming days like in the springtime. You'd be amazed at how many are frost tolerant!
Restoring the soil is needed when you sow many crops in a single bed because there's more nutrient depletion. Make sure you add the necessary soil amendments in-between sowing or transplanting the next crops.
Growing veggies at the base of future transplants that grow larger (tomatoes, broccoli, zucchini, cabbage etc) is a great use of space. You can keep harvesting around your transplants until they are larger and need the space to grow. Learn more about inter-planting here.
Using season extenders can add weeks to your pre and post crops! Once you've had a couple of years experience gardening I highly recommend venturing into season extending. I managed to grow a crop of bush peas before a main season crop (see photo below) simply because I used a low tunnel in our garden in the spring. Learn more about using season extenders or fall/winter gardening.

Conclusion
Although it might seem daunting to grow extra crops at first, you're adding lots of dollar value to your garden by learning how to do it. Start with one bed if it's new to you, or if you're like me, you will keep shuffling your crops around until you can get the absolute maximum from your garden with your given growing space.
Want to learn more about garden planning and getting the most from your garden?
Check out my ebook 'Planning & Designing the Family Food Garden' which includes a bonus 30 page garden planner which helps you organize your garden to increase yields!