Family Food Garden may collect a share of sales or other compensation from the links on this page.
You've seen it in all your favorite vegan spots, you've used it in your curries and smoothies. You may even be drinking some variation of it right now. What is coconut milk, and how can we make it ourselves?
Related Reading: Coconut Milk Yogurt
Coconut Milk  vs. Coconut Water
Coconut milk is the liquid found inside the coconut, right? Nope! It's the liquid found inside, the inside of the coconut. It's coco-ception.
The liquid inside the coconut is coconut water. Coconut water could be what you're drinking right now. It's full of nutrients and is pretty great for you. It comes from not quite ripe coconuts.
Coconut milk, however, is made from the flesh of full, mature coconuts. Anything after five to seven months is considered a mature coconut. Once coconuts mature, the liquid that once could have been coconut water, thicken and turns to the coconut flesh. All the nutrients of the coconut water become intensified and result in a creamy, nutritious meat.
How does this flesh turn to milk? The coconut is cut open, shredded, and 'milked'.
Cracking Open a Fresh Coconut
You can make your fresh coconut milk from shredded coconut flesh, or you can choose to do it from scratch with a raw coconut. If you choose the latter, you're going to want to know how to safely open a coconut.
First, hold the coconut in your non-dominant hand.
Every coconut has an 'imperfect equator line', it's an uneven line that will go through the whole fruit.
Take a hammer and with swift hard hits, bang along the line. Watch for your fingers!
Keep turning the coconut and whacking along the line until it splits.
Use your fingers to pull the two halves apart.
This way can get messy. There may be water spillage or other mess if you're not careful with that hammer. If you're looking for a less intensive fresh experience try this:
Preheat oven to 400 degrees
Place coconut on a rimmed baking sheet and bake for 20 minutes
You should see some cracking in the outer shell
Take out the coconut and let it cool
Hold the coconut in one hand and tap it with the back of a chef's knife or hammer a few times and you should be able to open it with your hands.
Now You're Ready to Make Some Milk!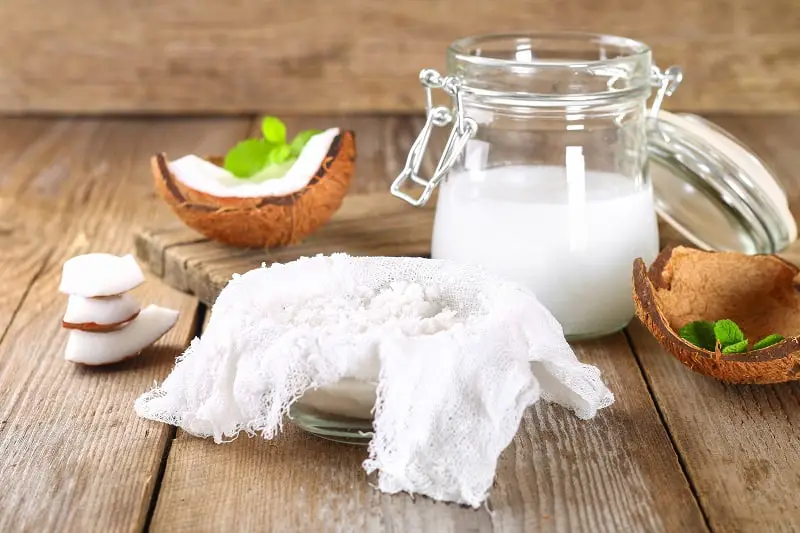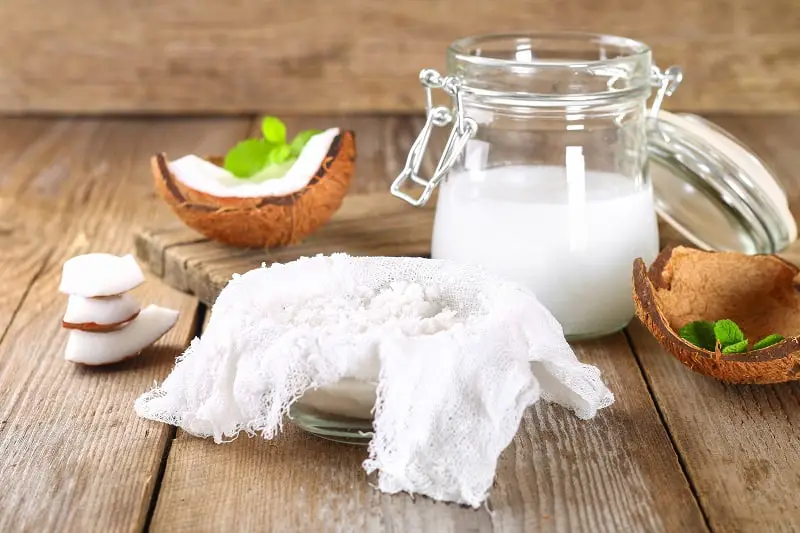 You'll need:
3/4 cup fresh shredded coconut or a 2 lb. fresh coconut
4 cups to 5 1/2 water
A fine mesh sieve
Cheesecloth
Blender
Instructions
Shredded Coconut:
Place 1 ½ cups of water in a high power blender + shredded coconut
Blend on medium high for 45 seconds
Add another 2.12 cups of water
Blend for 3 more minutes
You may need to scrape down the sides during the process.
Fresh Coconut:
Break open the shell and remove the hard outer layer. This is the flesh. The brown skin does not need to be removed.
Chop the meat into pieces
Place 2 ¾ cups of water in the blender, and then add the coconut meat.
Puree for 2 minutes.
Start blending on a low setting and move up to high over the course of 30 seconds.
Pour this mixture into another container and repeat the process with the rest of your meat.
Both:
Line your sieve with cheesecloth.
Pour your mixture in to strain.
Leave it to strain for a few minutes and then lift out of the strainer.
Gater the edges of the cloth and make a ball.
Squeeze out any extra coconut milk.
The milk can be refrigerated for up to four days or frozen for longer-term use.
Benefits of Coconut Milk:
Coconut Milk Provides Electrolytes and Prevents Fatigue
Coconut milk provides a condensed source of potassium and magnesium that maintain blood volume, regulate heart health and prevent dehydration and diarrhea. With all that a boost of electrolytes coconut milk is perfect for athletes, or beating the heat. It's electrolytes help prevent muscle aches and cramps; heatstroke, heart problems and prevents exhaustion.
The MTCs in coconut oil are easily accessed by your brain for better function and increased energy. Unlike other fats it goes directly to your brain, completely bypassing your digestive tract making sure you get all the good stuff.
It's considered brain food because instead of its energy getting circulated and making stops, it just hits your brain with all the fatty goodness that it needs to focus and do its job.
Fight Nasty Tummy Troubles
If you're suffering from a sensitive stomach, diarrhea, constipation, or even IBS, coconut milk is for you! When your digestive tract is well hydrated, it's able to work efficiently. Nourishing the digestive lining with electrolytes and healthy fats, coconut milk is your digestive system's best friend.
On top of that, it's completely dairy-free, tell all your lactose-intolerant friends! With coconut milk, you get the creamy texture with no fear of the painful repercussions.
Say No to Joint Inflammation and Arthritis
Arthritis, general joint and muscle aches are all traced back to inflammation. The MTCs in coconut milk have proven properties that reverse the damage of aging on the joint and the inflammation that comes with it, providing relief for sufferers of arthritis or toothaches alike.
Using coconut milk in place of refined sugar can also do a world of good for those suffering from inflammation, as sugar has been traced back to swelling and pain as a pro-inflammatory.
Gets Your Blood Pressure Down, So Your Heart Health Stays Up
We've mentioned that coconuts contain nutrients that help out circulation and blood flow? So not only do these nutrients strengthen the blood, but they control blood flow. When blood flow is controlled the pressure goes down and the vessels get flexible which means the likelihood of a clot goes down considerably.