Family Food Garden may collect a share of sales or other compensation from the links on this page.

My goal with site & my book is to help you get the most from you garden!
So today I wanted to share with you a super easy way to get double your garden harvests.
It's all about the Tops & Bottoms
Veggies that you can eat both the tops & the bottoms of are a fantastic way to get double your garden harvests with your given growing space.
These are vegetables that you can eat two parts of, usually the bottoms which are often (but not always) a root, and the tops which is often a leafy green part. Most people discard these tops to the trash, compost or give them to the chickens. However in the name of frugality and health, you really should try these great nutritious veggie tops.
Veggies with their tops attached is also an indication of freshness.
Let's learn about these healthy veggies that give you double your value for your growing space!

Beets
I love beets. They are excellent roasted, in soups, boiled, you name it (our family makes an amazing cheesy beetroot pie). But many people discard the tops or buy them without them. Beet greens taste similar to swiss chard and are in the same family as spinach. You can eat them any way that you'd eat other greens. Here are some ideas for using beets & their greens, beet green chips (instead of kale chips!), beet green pesto, and a roasted beet & goat cheese salad.

Garlic Scapes
Garlic scapes are the super tasty, un-opened flowering tops of hardneck garlic. They have an excellent, milder, garlic flavour. They can be used in stir frys, sautéed with other veggies and in many other ways. Here's a list of 25 recipes + tips for harvesting them.
Sweet Potatoes
Many people love eating mashed sweet potatoes or sweet potato pie, but you can also eat the leaves! Here are some great ways to use sweet potato leaves.

Kohl Rabi
Kohl rabi is a funny alien spaceship looking veggie which happens to have great green tops that can be eaten like kale. Here's a list of recipes.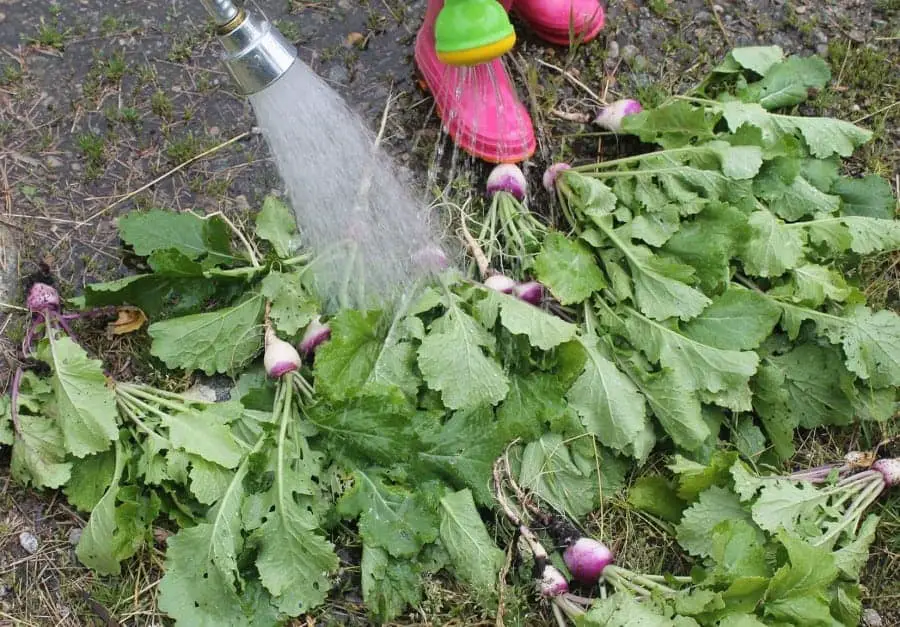 Turnips
Although they have slightly prickly leaves they have fantastic nutritional benefits and cooking the leaves makes them more tender. Turnips are one of my fav root veggies to roast, sauté or mash and the greens can be used in any way you'd eat other greens. Here's a recipe for spicy sautéed turnip greens & tips for cooking bitter greens in general. There's also apparently turnip varieties that have smooth leaves, but I can't recall which ones (I'd love help from my lovely readers!).
Quinoa
Quinoa is a grain but did you know you can also eat the leaves? They're a relative of wild lambs quarters, also edible. Here's a recipe for using quinoa greens.

Radishes
Radishes grow fast and are ready in 30 days. That also means you have greens that fast too! Many people eat radishes raw but I happen to prefer them sautéed. Here's some recipe ideas for radish tops.
Carrots
Say whaaaaat? Yes you can eat carrot tops. No they aren't poisonous, although I personally dislike the taste. Here's a carrot top salsa recipe.
My name is Isis Loran, creator of the Family Food Garden. I've been gardening for over 10 years now and push the limits of our zone 5 climates. I love growing heirlooms & experimenting with hundreds of varieties, season extending, crunchy homesteading and permaculture.