Family Food Garden may collect a share of sales or other compensation from the links on this page.

Baker Creek offers nearly 2,000 varieties of vegetables, flowers and herbs—the largest selection of heirloom varieties in the USA.

You can see *some* of the varieties I'm growing this year in the above photo (I have more on the way!).
I'm personally completely in love with heirloom seeds. I love the unique and rare varieties, I love the stories and the history that kept the seeds around today and delighted to keep that tradition going. I've been buying, growing and loving baker creek seeds for the past 7 years.
That is why I'm delighted to share this giveaway with you today!
I've teamed up with Baker Creek Seeds to offer one winner the Heirloom Collection ($48 value).
The Heirloom Collection

This is the perfect way to save money and acquire a safe, secure food supply. Most of the seeds in this package will store 4-10 years if kept cool and dry. What a great way to try many of our favorite, easy-to-grow varieties!
It contains 25 full-sized packets of seeds and a Clyde's Garden Planner—all packaged in a sturdy, resealable, mylar bag for long lasting storage.
Varieties in this package are chosen to be productive in most climates throughout the United States. They selected early, hardy varieties that are always popular.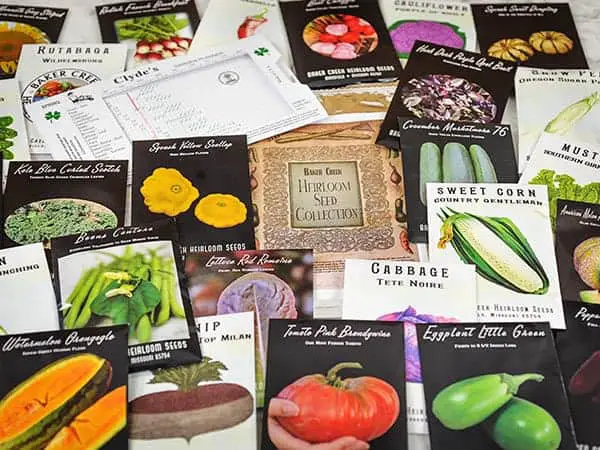 This collection may include: Greens, Onion, Peppers, Kohlrabi, Herb, Eggplant, Flower, Cucumber, Rutabaga, Summer Squash, Winter Squash, Spinach, Tomatoes, Lettuce, Turnip, Watermelon, Radish, Peas, Beans, Melon, Cabbage, Cauliflower, Beet, Carrot and Corn.
Enter the Giveaway
*Giveaway rules*: This giveaway is open to US and Canadian residents. One entry per person. One winner will be selected to receive one Baker Creek Seeds Heirloom Collection ($48 value). The winner will be emailed and must claim the prize within 5 days or new winner will be drawn. Contest opens Jan 26, 2017 and ends on Feb 10th, 2017. Best of luck everyone!
*EDITED NOTE*
Step 1. One Free entry at the Rafflecopter
Step 2. OPTIONAL for extra points: Leave a comment at the comment section at the BOTTOM of the blog post. You will have to go past over 200 comments to reach it (sorry it's a hot giveaway).
Step 3. Go back up to the Rafflecopter, use your email or facebook to log in and say 'I commented' in the rafflecopter and you're entered.
family food garden social media:
My name is Isis Loran, creator of the Family Food Garden. I've been gardening for over 10 years now and push the limits of our zone 5 climates. I love growing heirlooms & experimenting with hundreds of varieties, season extending, crunchy homesteading and permaculture.