This post will show you all the doTERRA diffusers with photos & descriptions
I absolutely love doTERRA and when I purchased a starter kit I chose the one with the petal diffuser.
I love the warm glow of the Petal Diffuser, it's very inviting and this diffuser is super easy to use and great for beginners.
Related Article: doTERRA'S Starter Kits
You don't need to buy a starter kit to buy a doTERRA diffuser!
You can buy a doTERRA diffuser at  retail or wholesale prices depending on the account you have.
The main reason why people buy enrollment starter kits is because they want a diffuser and oils to try out. The enrollment kits give you a wholesale discount of 25% OFF.
This post will show you the doTERRA diffusers and description.
Petal Diffuser
The doTERRA Petal Diffuser is a small, user-friendly diffuser that delivers health-promoting benefits to your family and home. It has a relaxing mist and soft white ambient light, making it ideal for nighttime diffusion. It can cover up to 330 square feet. The Petal Diffuser has three timed settings—1, 2, and 4 hours—allowing you to customize the release of essential oils into the air. This convenient diffuser is stable, light, and easy to use. It's perfect for home or office use.
The Petal Diffuser permeates an ultra-fine, yet substantial mist output into the air. Releasing the aromatic and therapeutic benefits of doTERRA CPTG®essential oils quickly and safely. This high quality, affordable diffuser is perfect for both novice and experienced essential oil users who want a reliable, easy-to-use essential oil diffuser.
Product Features
Substantial mist output helps purify and humidify the air
1, 2, and 4 hour diffuser settings
Optional LED light
Ultra-fine mist reaches up to 330 square feet
Simple, 3-piece diffuser is easy and convenient to use
Stable and light for the many spaces in your life
The Petal Diffuser comes with some of the enrollment kits
These kits also offer a wholesale discount (25% OFF doTERRA products). These are the kits that the petal diffuser comes with.
AromaTouch® Diffused Kit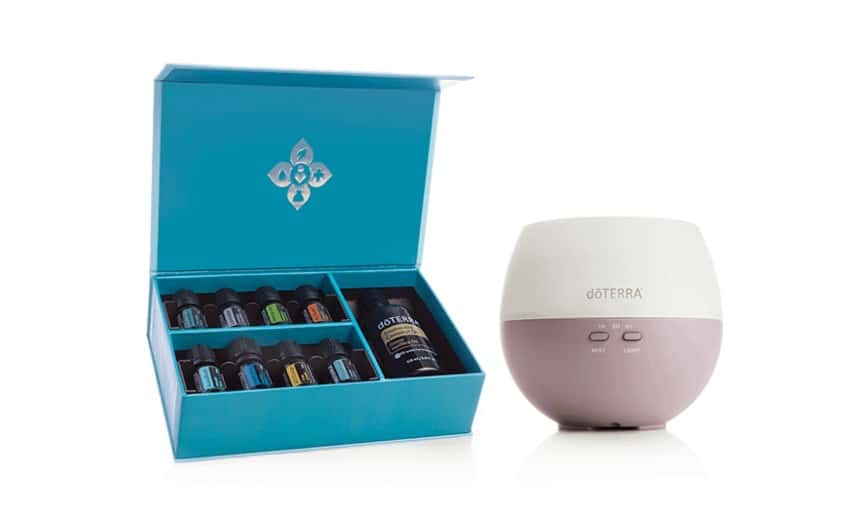 Enroll with this kit to experience a variety of essential oils that can also be used for the AromaTouch Technique.
dōTERRA Lumo Diffuser
Transform any room into a serene or uplifting environment by diffusing CPTG® essential oils with a custom-designed, nature-inspired, ultrasonic diffuser. We are happy to offer the doTERRA Lumo diffuser as a permanent product!
Influenced by nature, the Lumo diffuser features a maple wood base and several light settings inspired by natural elements. Offering customizable output, Lumo can run 2 to 5 hours continuously and 10 hours intermittently.
Product Features
Customizable output: 2 or 5 hrs continuous preset/10 hrs intermittent preset (5 min. on/5 min. off)
Ultrasonic technology
Seven lighting color options
Maple wood base
Coverage of up to 540 sq. feet
Emotional Aromatherapy Diffused
The Emotional Aromatherapy Diffused Enrollment Kit includes the perfect combination of materials to experience the uplifting and emotion boosting benefits of the aromatherapy system.
Aroma Lite Diffuser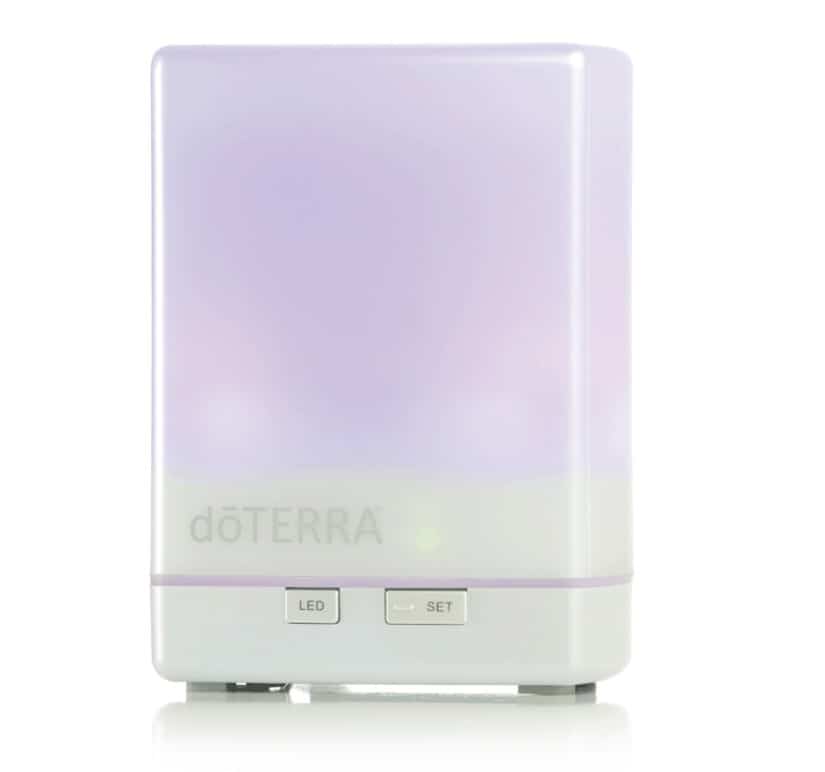 Designed to bring you optimum relaxation and therapeutic benefits, the Aroma Lite Diffuser is an advanced diffuser with four mist output settings and real-time atomization technology.
The Aroma Lite Diffuser features a large reservoir and multiple settings, allowing you to customize the diffusion of doTERRA single oils, oil blends, or your own customized blends for up to eight hours (depending on the setting). Small and compact, the Aroma Lite Diffuser silently purifies and humidifies the air and has an optional night light, making it perfect for night time use and for traveling.
Product Features
Silently and powerfully diffuses essential oils
Releases essential oils through high frequency oscillation for up to eight hours (depending on mist setting)
Features four mist output settings and an optional night light
Real-time atomization technology
Creates an ultra-fine mist (1–3 microns) for maximum essential oil diffusion
Helps purify and humidify the air
Designed to be small and compact—perfect for traveling and hotel use
Relaxing and therapeutic
Lotus Diffuser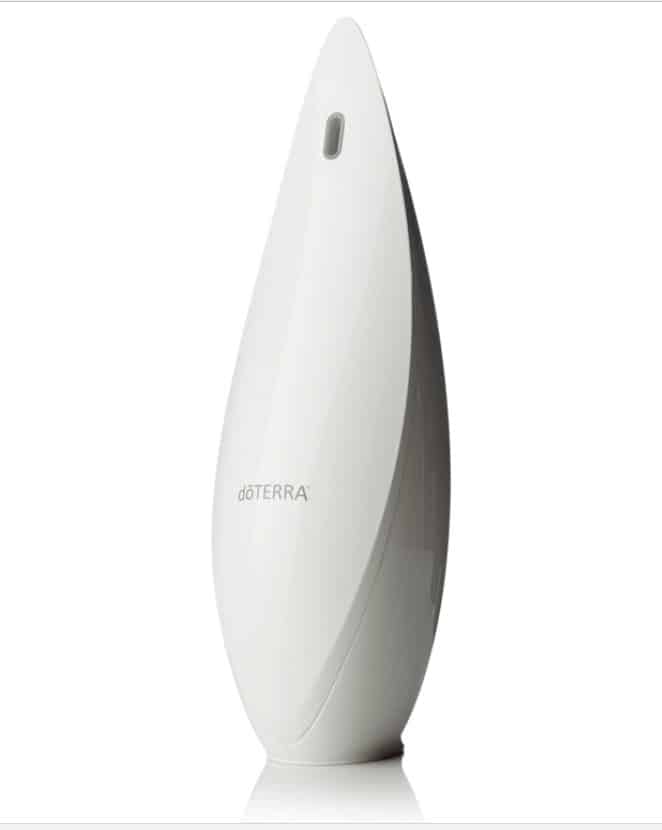 The Lotus Diffuser is a well-designed diffuser structured to take up minimal surface space.
Modern and elegant, the Lotus diffuser provides an aromatic and serene essential oil experience. This high quality diffuser quickly releases the therapeutic benefits of doTERRA essential oils into the air without a sound. This diffuser can run for up to three hours. The contemporary look of the Lotus diffuser provides a decorative piece to any home or office. It emits an ultra-fine, soothing mist of CPTG® essential oils that covers up to 330 square feet.
The Lotus diffuser has three settings—1, 2, and 3 hours—and features an optional soft-white night light. The front panel is easily removed for quick access to the reservoir and cleaning. The Lotus provides state-of-the-art diffuser technology. The Lotus has an exclusive, modern design for essential oil diffusion that promotes sleep savvy, health and vitality.
Product Features
Elegant stream of mist quickly fills a space with your favorite essential oils
1, 2, and 3 hour diffuser settings
Optional LED light
Ultra-fine mist reaches up to 330 square feet
New, 3-piece model allows for easy access when filling and cleaning
Slender design takes up minimal surface space while being a great decorative piece
Aroma-Ace Diffuser

With its impressive area coverage and waterless diffusion, the Aroma-Ace diffuser is a technologically evolved. It has multiple settings, connects directly to oil bottles, and dispels strong aroma.
Enjoy the convenience and flexibility of an advanced aromatherapy system. The Aroma-Ace is a powerful, compact, and easy to use essential oil diffuser system. It has built in on/off timers and output volume control for easy adjustments. Made in the USA.
Product Features
Connects directly to oil bottle
Strong aroma
Multiple settings
Run time—varies depending on output level
Have more questions? Read this in-depth Q & A from doTERRA