Family Food Garden may collect a share of sales or other compensation from the links on this page.
Once upon a time a coconut was something you ate when it came into season.  If you really love the meat then it was worth taking out the hammer and screwdriver to scrape out the fleshy treat inside.
Coconut was found in your local ice cream shop as a chopped and toasted topping to add to your sundae.  Or you loved it in your chocolate candy bar. Remember Mounds…sometimes you feel like a nut, sometimes you don't?
Nowadays, coconut has stepped up in so many forms.  It has become a kitchen staple for many. Coconut has expanded both in form and use.
As a flour this food is an optimal substitute for grain-based flours.  Our gluten-free, keto and paleo followers will enjoy all the health benefits derived from coconut flour that cannot be found in other flours.
We're going to discuss the origins of coconut flour, how to best use it and how it impacts our dietary needs.
Related Reading: How Long Does Coconut Milk Last?
What Is A Coconut?
Coconuts are botanically described as a fibrous one-seeded drupe or a dry drupe. In layman's terms the coconut can fall under three categories: fruit, nut, and seed.
In its original form, the coconut has three layers. The outermost layer is a greenish color called the exocarp.  The second layer is fibrous husk called the mesocarp.
The third hard and woody layer is the endocarp. The endocarp is the outer covering that we see at the supermarket.
What Makes Coconut So Popular?
If you are a coconut lover then its current variety of uses have created a happy place for you.
You can eat the coconut flesh and drink its water.  It is available as an edible oil for cooking, You will find it to be a staple ingredient in cosmetics and toiletries.
Research continues to discover more nutritional and medicinal benefits from coconut. For people who follow a gluten-free, keto or paleo diet, coconut flour is a definitive substitute for its grain-based counterparts.
Tell Me More About Coconut Flour
Coconut flour was originally a by-product of coconut milk  After it is cracked open, the coconut is drained of all the liquid and the flesh scraped out of the shell.
The flesh is rinsed, grated and strained to separate the milk from the solid.  The flesh would be baked at a low temperature to dry up and then grounded into powder form.
This powder is coconut flour.  It is similar to grain-based flours both in appearance and texture. That is where the similarities end.
Coconut flour is richer in nutrients, like manganese, iron, potassium, selenium and B6. It is a high-fiber, low-calorie, low-carb, healthy-fat and gluten-free option that has found no equal.
Some Caveats Using Coconut Flour
Coconut flour is rich in salicylates. This is commonly found in strawberries, citrus and coconut. Salicylates can exacerbate headaches and hyperactivity.  It can also cause skin problems like eczema.
If you are sensitive to salicylates, then you need to stay away from coconut and any products that contain coconut.
Coconut flour has a gritty texture. Whatever you bake with this flour will have a distinct coconut flavor that is desirable in many cake or muffin recipes.
But before you jump into your creative side when baking with this ingredient, it is recommended to first use proven coconut flour based recipes.
But before you jump into your creative side when baking with this ingredient, it is recommended to first use proven coconut flour based recipes.
Here are some coconut flour baking tips to always keep in mind when you use coconut flour:
Coconut flour is highly absorbent which means you need to add more liquid

Add more eggs to your recipes to retain moisture

To make lighter baked goods add egg yolks into the dry ingredients. Fold whipped egg whites into the mixture

This flour does not substitute at 1:1 ratio. Substitute ¼ cup of coconut flour plus 1 egg for 1 cup of grain-based flour

Natural egg replacements work just as well as whole eggs

Coconut flour can be paired up with many nut flours to get the desired results
Here are a couple of coconut flour muffin recipes to add to your cookbooks.
Coconut Flour Muffins
Here is a good starter recipe. You will enjoy the results.
Each muffin has 95 calories and 3 grams net carbs, which fits right into many dietary needs!   You can also modify this recipe by adding blueberries.
Ingredients
Coconut oil spray for liners

4 large eggs

1 cup canned coconut milk, unsweetened, full fat, stirred until smooth before using it

1/2 cup granulated sweetener (such as erythritol)

1 tablespoon vanilla extract

3/4 cup coconut flour (84 grams)

1/4 teaspoon kosher salt

1 teaspoon baking soda
Instructions
Preheat oven to 350 degrees F. Line 12 muffin cups with foil liners (muffins stick to paper liners), and spray the liners with oil.

In a medium bowl, beat eggs with hand whisk. Whisk in the remaining ingredients one at a time.

If the batter is so thick that its difficult to mix then add a tablespoon or two of water.

Using a 4-tablespoon ice cream scoop, fill each muffin cup ¾ full with the batter.

Bake for approximately 20 minutes until the muffins are browned; insert with a toothpick in the center, check that it comes out clean.

Cool the muffins 5 minutes in the pan on a cooling rack; transfer the muffins directly to the cooling rack to cool 10 more minutes.

Enjoy!
Grain Free Omega-3 Fudgy Walnut Brownie Skillet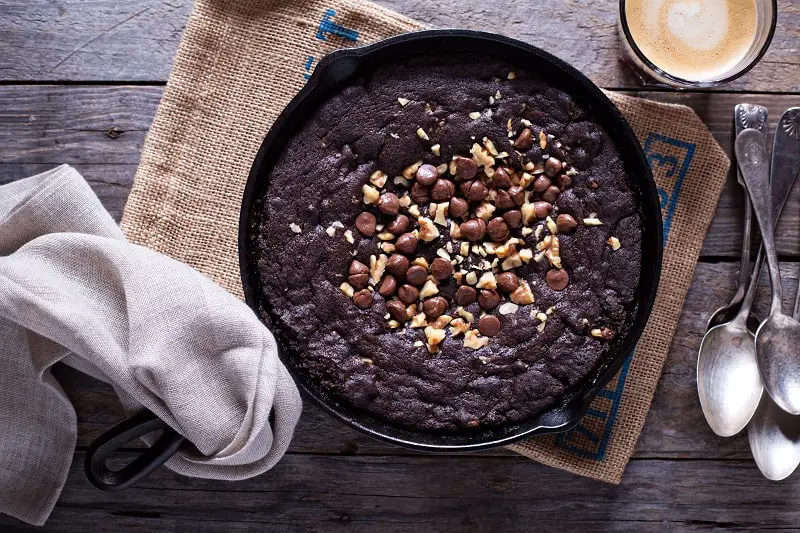 For our chocolate lovers who love brownies, here is a treat that is grain-free, gluten-free and dairy-free.  Who does not benefit from the omega-3 found in walnuts and chia seeds? A delicious and yummy combo.
Ingredients
2 ½ cups raw walnut halves (10 oz)

⅓ cup coconut sugar

¼ cup pure maple syrup

2 eggs

1 teaspoon vanilla extract

1 tablespoon chia seed

⅓ cup unsweetened cocoa powder

1 tablespoon coconut flour

½ teaspoon baking soda

¼ teaspoon salt

⅓ cup chocolate chips, dairy free if desired

2 tablespoons chopped walnuts
For the topping:
​2 tablespoons chocolate chips, dairy free if desired
1 teaspoon coconut oil
Instructions
Preheat oven to 350 degrees F. Toast walnut halves on a baking sheet in the oven for 8-10 minutes or until fragrant and slightly toasted. Allow to cool on baking sheet for 5 minutes.

Put walnuts in a food processor and process until it is smooth like a nut butter. Scraping down the sides throughout the process to ensure all of it is smooth.

Transfer walnut butter to a large bowl and add in coconut sugar, pure maple syrup, eggs and vanilla extract; combine thoroughly until smooth.

Gently stir in the cocoa powder, coconut flour, baking soda and salt until smooth. Fold in chocolate chips and chia seeds.

Spray a 10 inch skillet or a 9×9 inch square baking pan with nonstick cooking spray.

Pour brownie batter into the skillet coated or baking pan.

Sprinkle walnuts on top.

Bake for 25 minutes or until brownies are done. Insert a toothpick and when it comes out clean with a few crumbs the brownies are ready.

In a small saucepan add chocolate chips and coconut oil and place over low heat. Stir until completely smooth and melted. Drizzle all over the brownies. Cut into 16 squares.

Enjoy!