Family Food Garden may collect a share of sales or other compensation from the links on this page.

Last year I started an 'eat from the garden challenge'  (you can see it here) and I'm doing it again this year.
Our goal for this year is to 'Eat from the Garden' from May-Dec (we're in zone 5 Canada).
To explain how we accomplish this I thought the best way is to share with you our gardening goals, what it will look like, what we're eating fresh and what we're preserving.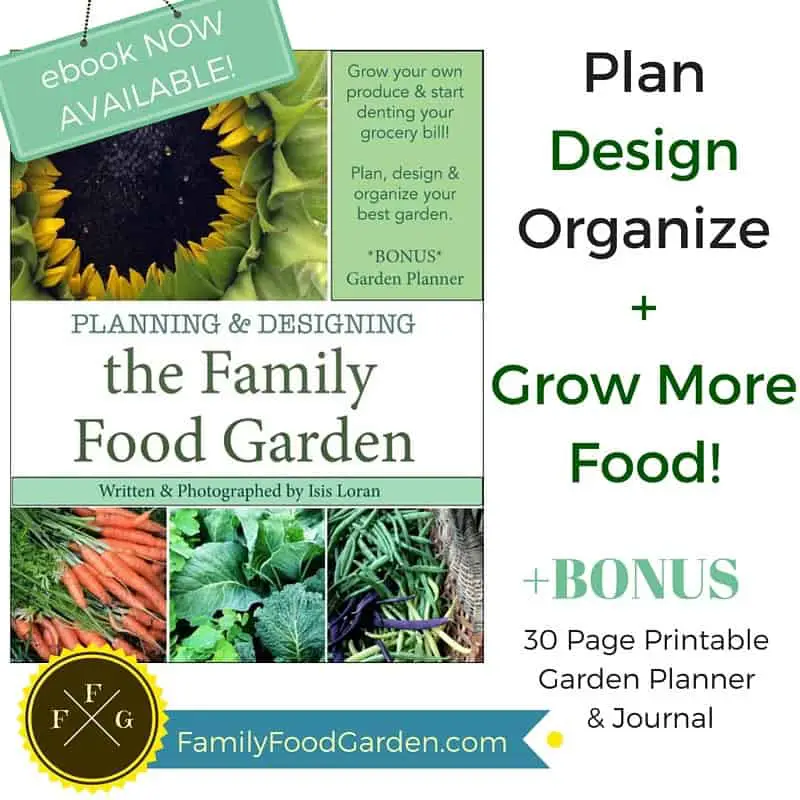 Our long term goal?
Don't buy ANY produce from the grocery store ALL year-round. But one cannot jump into full year-round gardening here in Canada, it takes practice to get it right. My honest goal is to have enough from the garden preserved to fill in those winter months too, but as I'm pregnant with baby #4 (& due mid-July!) I need to downsize my goals a little.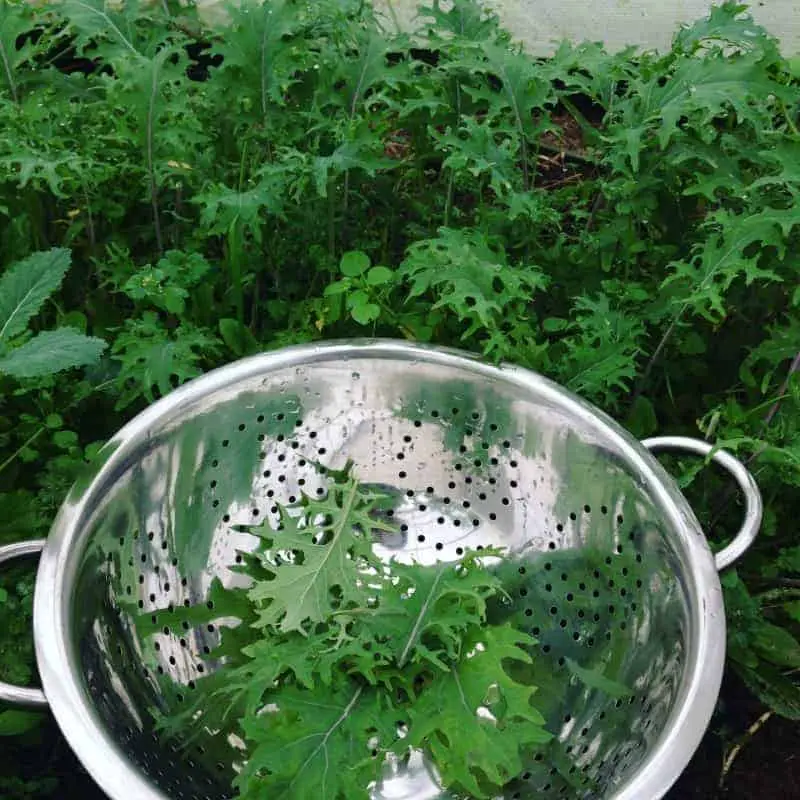 I'm done buying 'fresh' food that comes from far away via planes and trucks.
I have no idea whose hands have touched it, the water quality it was watered with, what its potentially being sprayed with (even organic!) and if it's been contaminated. Thus the drive for home-food production.

Large-Scale Gardening to beat the Grocery Store

Here's what we're hoping our garden will look like in 2017. I do 85% of my garden planning via paper, but I do use the GrowVeg garden app to get the spacing measurements. Already since making these images I'm moving and changing things around, but I know *roughly* what will fit, then with my printable gardening sheets I organize our garden season by-season.
These design examples are our summer garden, you won't see the spring and fall crops here.
Most of the baby greens, radishes, fast growing spring crops that will bolt come June go where the pumpkin and squash go, even around the broccoli and cabbages because they are harvested within 30-45 days when those summer crops need the space. Once the garlic and early potatoes are harvested end of July I sow more fall greens, baby roots etc too. Same with in the greenhouse, I start sowing crops for fall early Sept for winter harvesting and overwintering.
Click here for more growing year-round articles.
Our Greenhouse (20×20)
Goals
Harvest overwintered greens in the springtime from March-April & transplant the summer crops early May. Sow fall crops for winter harvest and overwintering after summer crops have been pulled.
Preserve
Canning tomato sauce, peppers and pickles! Lots of fresh eating.
Our Garden *rough draft* (60×40)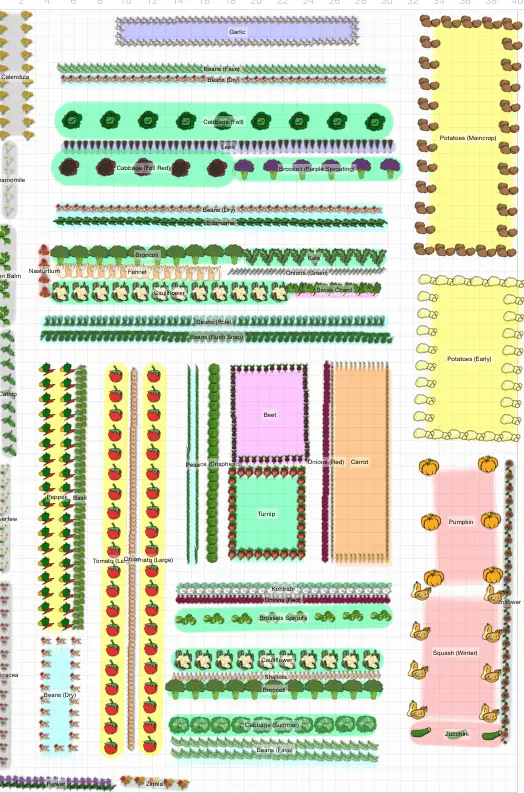 Goals
Have low tunnels in early spring to get a head start on the garden. Most of the beds are organized that when I do some canning (say a row of bush beans or beets) then the soil is amended and another crop is sown for fall or winter harvest. Put the low tunnels back over the beds mid-Oct for fall and winter harvests of cold hardy crops for our fall and winter garden.
Some examples: 
Once the bush beans and early beets, turnips and carrots are preserved mid-June then the fall broccoli and cauliflower gets transplanted
Early potatoes and garlic are harvested end of July, fall crops get sown: kale, turnips, kohl rabi, daikon radishes, beets, fast hybrid carrots (napoli)
Winter squash & pumpkins in the fall and greens can be planted. Spinach, arugula, winter lettuce, mustards etc.  A low tunnel will be placed over top once the cold dips happen in Oct. (we now use an unheated greenhouse).

Preserve
Lots and lots! Dehydrate zucchini, beet and root veggie chips. Freeze herbs, greens, peas, beans and peppers. Canning: tomato sauce, pimento peppers, ajvar, crushed tomatoes, roasted red peppers, pickles & more. Cure onions and squash/pumpkins to eat all winter. Store root veggies and potatoes in a cold room and have low tunnels of fresh greens to eat before digging into the frozen greens inside. I will be writing about it all as I go 🙂
 Stay tuned for more awesome large-scale gardening!
My name is Isis Loran, creator of the Family Food Garden. I've been gardening for over 10 years now and push the limits of our zone 5 climates. I love growing heirlooms & experimenting with hundreds of varieties, season extending, crunchy homesteading and permaculture.