Family Food Garden may collect a share of sales or other compensation from the links on this page.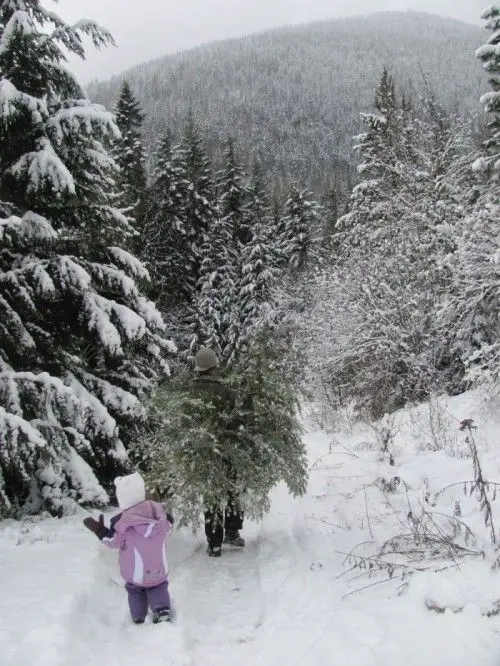 עץ חג מולד אמיתי מהיער הוא מסורת נפלאה.
כשאנחנו גרים בהרים אנחנו אוהבים למצוא את סופת החורף / עץ חג המולד שלנו מהיער. זה הפך להרפתקה קטנה ומהנה לחופשה משפחתית מאז שילדת ילדים .
קריאה קשורה: חג המולד ידידותי לסביבה
עץ חג המולד אמיתי לא ייראה 'מושלם' כמו אלה בחוות עץ חג המולד שלך, אבל זה חלק מההנאה.
כמו כן, סוגי עצים שונים מחזיקים מעמד זמן רב יותר מאחרים, ולחלקם יש ריחות טובים יותר שאשתף בטיפים שלהלן. זכור אם אתה רוצה את הריח הטבעי הזה של עץ חג המולד, אתה תמיד יכול להשתמש בשמנים אתריים & לטשטש באופן טבעי את העץ שלך.
Tips for finding a real Christmas tree
I like waiting for fresh fluffy snow to take the family trip into the forest. It enriches the experience and holiday joy. I usually start looking mid-November before it snows as you can tell the tree's size and branch thickness easier.
Check local regulations for real Christmas tree harvesting
Before you head out, make sure you check your local state or province for the legalities of cutting down a Christmas tree in your area. Sometimes you need a Christmas tree permit, sometimes you don't. The government of B.C. requires a permit (click here for the guidelines) whereas in Ontario a family may harvest one Christmas tree a year (check here for the full info).  Equally important is to make sure you're not on someone else's land. If you happen to know of someone that has a forested acreage ask them if you can harvest a tree.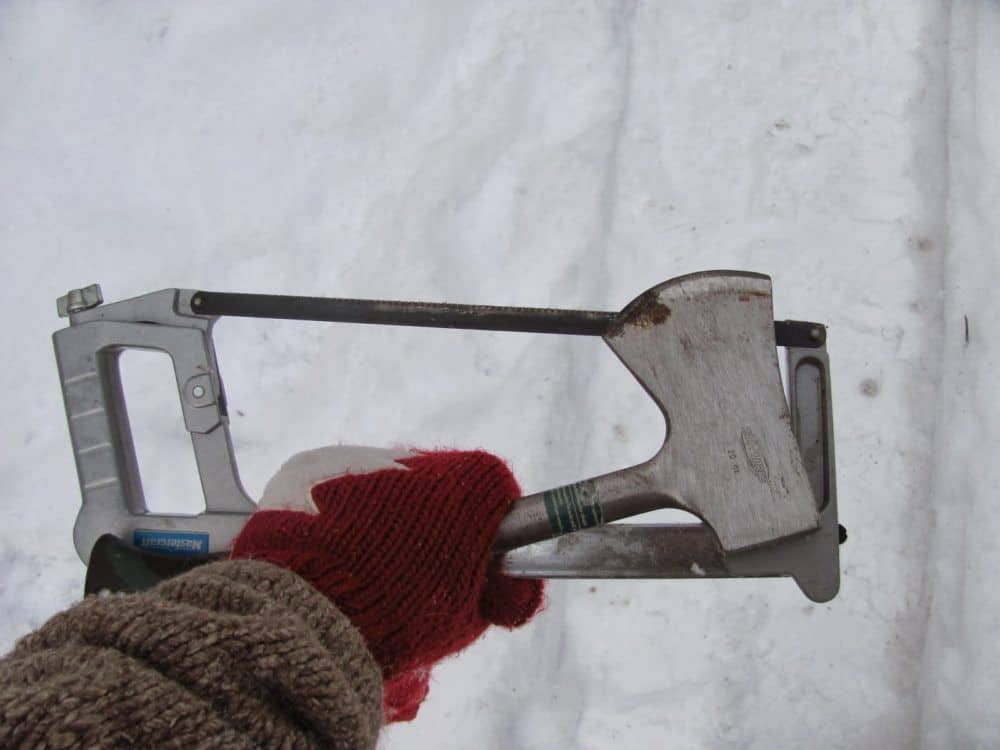 Remember to  bring the right tools to chop or saw the tree down.
This might seem silly to mention but you don't want to head into the forest only to find out that you forgot the saw and/or hatchet (remember National Lampoons Christmas? 🙂 ).
What kind of real tree is best?
Definitely, a Balsam Fir for that strong real Christmas tree scent Here's a list some of the most lasting trees.
Shake off the snow before you chop the tree down. This will allow you to properly circulate the tree and see how full it is from all angles. . Sometimes a tree can look fuller than it is so make sure you double check that your happy with the fullness of the tree before cutting it down. Finding out that your not content with the tree after cutting it down is extremely wasteful.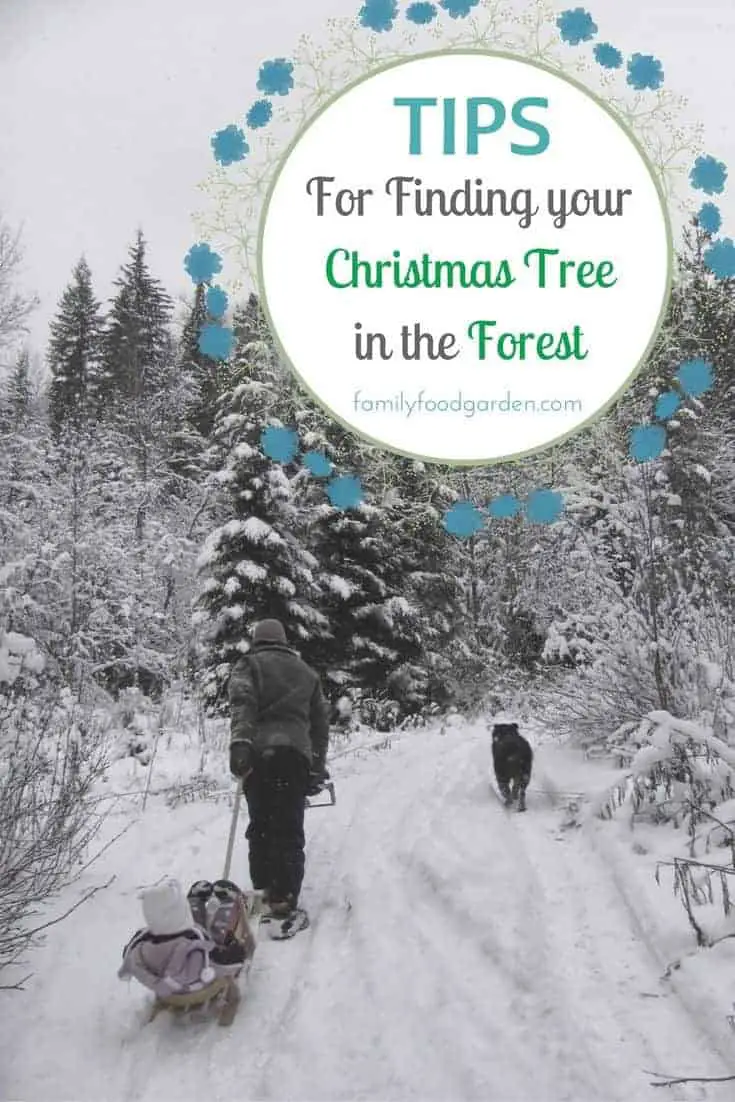 If you have little kids bring a sleigh for them to sit on to reduce how tired and cranky they might get. Many kids might happily walk the way there but enjoy a sleigh ride back down the mountain. It also keeps them occupied while the adults look for the tree. Also make sure they go to the bathroom before you head out and put snow pants on.
Keep everyone well bundled up and check the weather forecast before setting off that day. If the weather is forecasted to have a snow storm or strong winds it might be best to pick another day, especially if you have little kids.
Think about how you will carry the tree back. Make sure you bring along a large enough sleigh or wagon to bring it back home!
Consider where you're heading into the woods. It helps to bring a dog or two to alert you of any wildlife in the area. If there are bears and cougars you may want to bring additional protection or noise makers.
Make sure you have cable ties to attach the tree to your roof. You don't want to get the tree back to your vehicle only to realize you can't transport it back!
Bring the camera to take family pictures of the experience. 🙂
When we get back home we warm up with hot cocoa or tea!
Make sure you let the tree dry a little before bringing it inside if it had lots of snow on it.
כאשר הגיע הזמן להוריד את העץ שלך לאחר תקופת החגים, הקפד להחזיר אותו ליער כדי להתפרק, לקומפוסט אותו או לגלות אם העיר שלך מציעה איסוף עצים. אנו אוהבים להחזיר את העץ ליער שכן זו תזכורת יפה למחזור חיי היער.
חג שמח עם עץ חג המולד האמיתי שלכם!